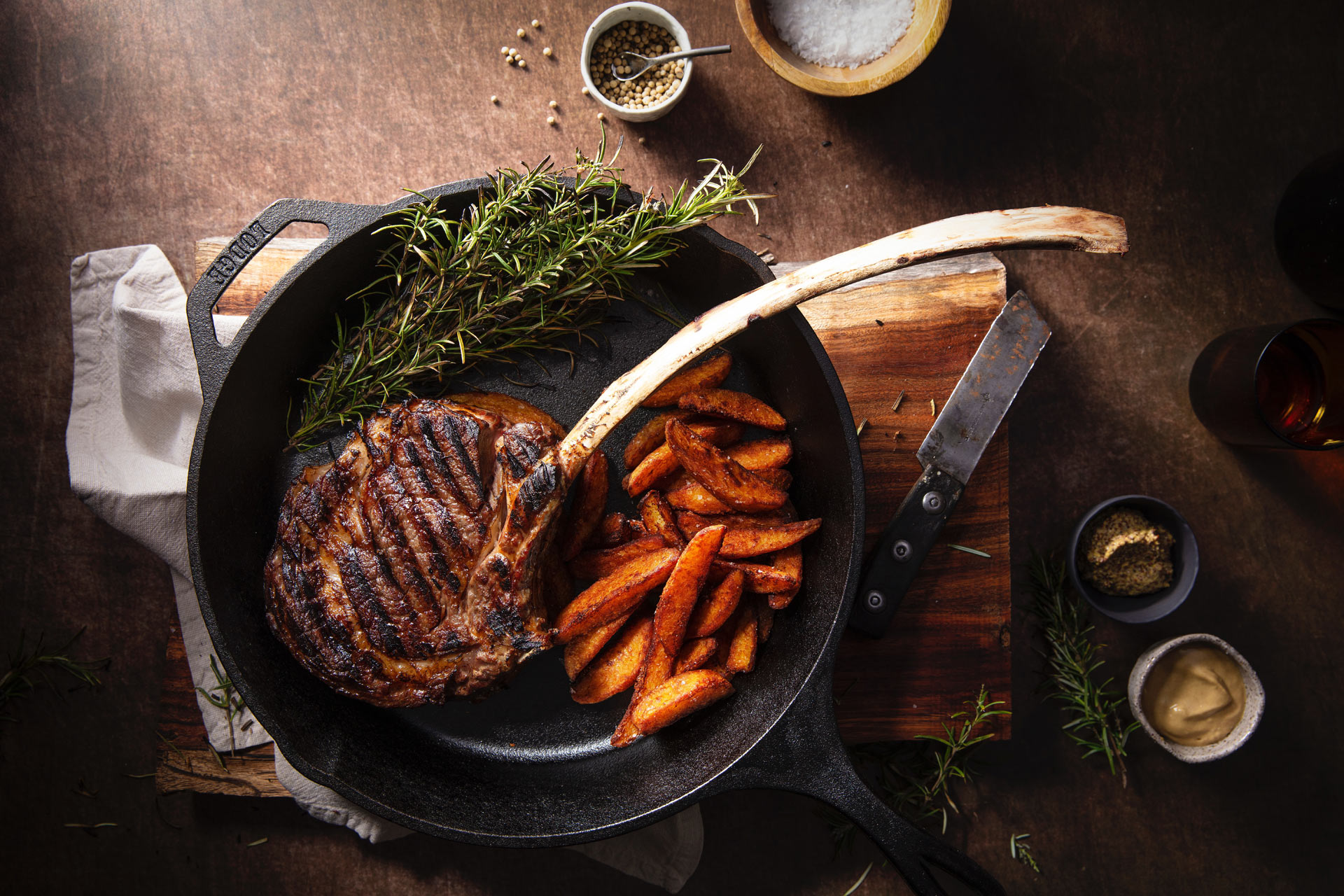 Where To Find the Best Steak in London
---
Prime cuts in the capital
What makes the perfect steak? Of course there's how it's cooked: the type of pan or grill, the timings (some chefs believe it needs just two minutes), and the sauce – but perhaps most important is where the beef comes from. These London steakhouses have scouted out the producers worth raving about – both for their premium quality meat, and for their ethical and environmental principles. And, of course, their chefs know all the tips and tricks for achieving that unparalleled juicy taste. Read on to discover where to find the best steak in London, from high-end restaurants by Michelin-starred chefs to more low-key neighbourhood eateries, serving everything from Argentinian ribeye to Scottish sirloin.
Best Steak Restaurants in London
CUT at 45 Park Lane
This glitzy steakhouse is the first London foray for A-list US chef Wolfgang Puck, who rose to fame with Beverley Hills hotspot Spago. It's located in The Dorchester's trendier younger sibling, 45 Park Lane, so you need to be prepared to splash the cash (the Japanese rib-eye will set you back a casual £170) – but it's premium stuff. Choose from an extensive menu of prime cuts, from Australian wagyu to 28-day dry aged beef from the UK – or if you can't make up your mind, opt for the Tasting of New York Sirloin, which includes smaller portions of three different steak varieties. All manner of sauces are on offer too (the Argentinian chimichurri gets our vote), plus you can choose to top your steak with the likes of foie gras, caramelised onions or roasted bone marrow. Sides-wise, the crispy La Ratte potatoes with garlic aioli are a winner.
45 Park Ln, London W1K 1PN, dorchestercollection.com
Le Petit Beefbar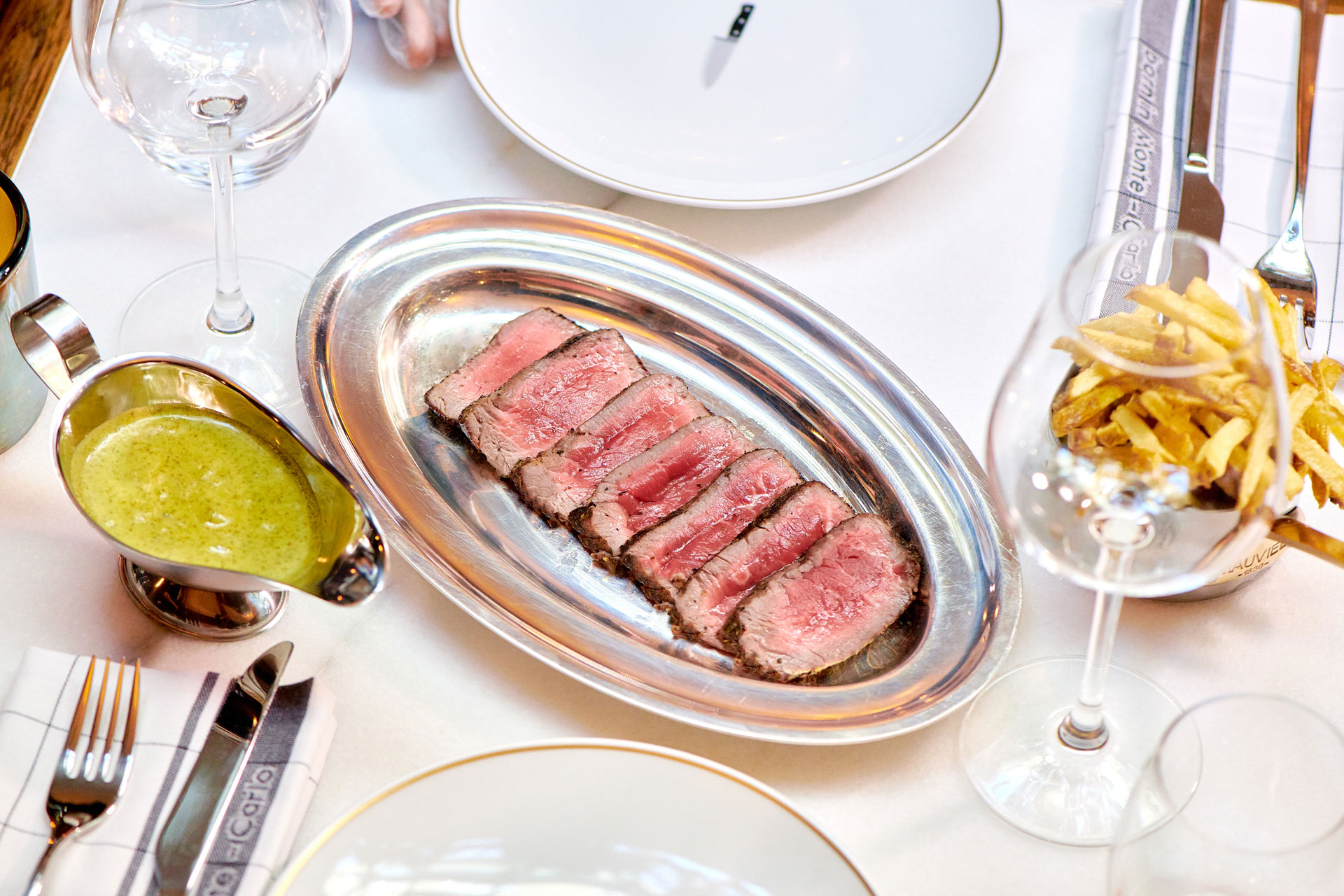 Following launches in glamorous destinations all over the world from Mykonos to Saint-Tropez, an outpost of Riccardo Giraudi's Le Petit Beefbar landed in London's Chelsea in 2021. Tucked away on a little street near the King's Road, the restaurant has a hole-in-the-wall, speakeasy vibe – it feels almost like stepping into a Parisian brasserie. Giraudi's aim was to break the mould of pretentious steakhouses and create something that felt like modern luxury, which comes across in the ambience here. It feels classy without being stuffy; 'in the know' without being overly exclusive. As the name suggests, beef is the star of the show here, with steak taking centre stage. Whether you go for filet mignon, prime New York strip or splash out on the Kobe (which is a whopping £275), it will be cooked to perfection, sliced up and served with a pot of some of the smoothest, creamiest mashed potato we've ever tried. Be sure to add some of the house sauce – a buttery, herby number infused with truffle which perfectly complements the meat. 
27 Cale St, London SW3 3QP, beefbar.com
Blacklock
With branches dotted around the capital, Blacklock is a homage to old-school chophouses established in the 1600s, which often stood as the beating heart of towns. They were designed as warm, welcoming places open to all, and that's what Blacklock channels today. Beef comes from Cornwall's oldest third-generation farmers Philip Warren Butchers, who ensure animals live long, happy lives grazing on lush Cornish grass – and nose-to-tail principles are used in the menu. Steaks are dry-aged for up to 55 days, with a choice of denver, rump, rump cap or sixth ribeye, or thicker cuts of prime rib, porterhouse or bone in sirloin – and it won't break the bank, with the most expensive option just £18. Enjoy alongside beef dripping chips or kale and parmesan, with sauces on offer including a special Blacklock gravy and garlic marrow spread.
Locations in Soho, City, Shoreditch, Covent Garden, Canary Wharf, theblacklock.com
World's End Market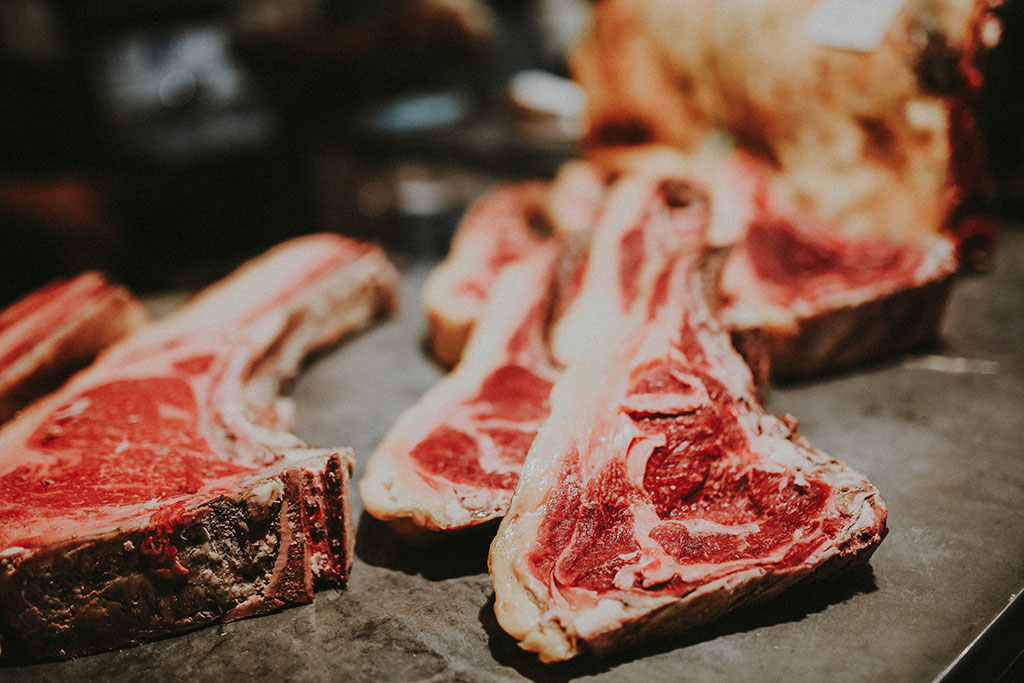 Non-locals may be surprised to hear that what looks like an upmarket pub from outside in fact houses a delightful restaurant serving what has been described as the 'finest meat on earth'. You may recognise José Gordón from the Netflix documentary Steak (R)evolution, a journey around the world in search of the best meats available. José's restaurant in Spain, El Capricho, was voted as serving the best steak in the world thanks largely to the care he takes in raising, ageing and cooking the meats from his nearby farm. Fast forward a few years and José's cuts are now exclusively available at World's End Market just off the King's Road, which proudly displays the deep red meats for diners to choose from. The exquisite quality of the food is evident even to the untrained eye, and the relaxed atmosphere makes this the perfect spot for a more low-key, but still memorable, evening.
459 King's Rd, London SW10 0LR, theworldsendmarket.com
Flat Iron
A great steak doesn't have to break the bank, thanks to places like Flat Iron, which serves a delicious cut of beef for just £13. Founder Charlie Caroll's aim was to turn the traditional steakhouse model on its head and make steak more accessible. He spent nine months working through a list of 38 suppliers to find the right beef, and in 2012, he served his first steak at a pop-up above the Owl & Pussycat pub in Shoreditch – the rest is history. Nowadays there are Flat Iron branches dotted around the capital in locations including Waterloo, Soho and Marylebone. Beef served is principally grown in extensive or regenerative systems, usually raised on small family-run farms in the UK and Ireland, with just one simple cut on offer which you can pair with homemade beef dripping chips, truffle mac 'n' cheese or bone marrow garlic mash.
Multiple locations, flatironsteak.co.uk
Gaucho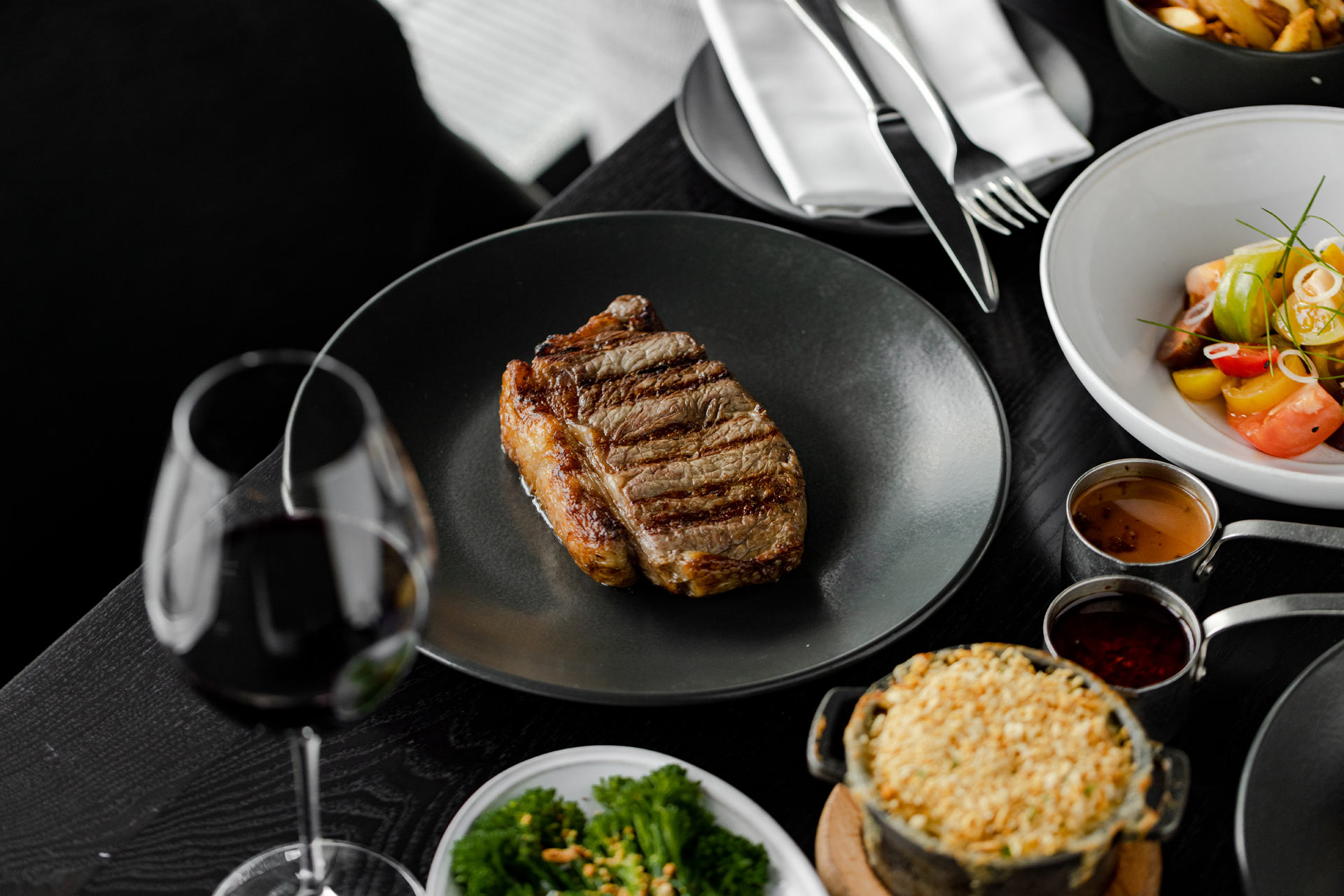 Argentinian restaurant group Gaucho is steak world royalty. The group's first restaurant opened back in 1994 in London's Piccadilly, with the aim being to bring the renowned steak of Argentina to UK shores. It quickly became known for offering world-class Argentinian beef alongside a Latin wine list amid relaxed settings – a first for the capital. The Piccadilly restaurant remains Gaucho's flagship, but now there are 12 branches across London, as well as outposts in other UK cities. The premise remains pretty much the same as it did when it first began: top-quality beef from Black-Angus cattle bred at hand-selected farms in the Pampas provinces, where cows enjoy a lush lifestyle in an area famed for its fertile soil. Recently, though, Gaucho has focused its attention on improving its environmental impact, carbon offsetting its beef and partnering with a charity to help reforestation projects in the Amazon. On the menu, you'll find a wide range of cuts, from ancho ribeye to cuadril rump, plus specialty cuts such as churrasco de chorizo and a sharing chateaubriand.
Multiple locations, gauchorestuarants.com
Knife
This neighbourhood eatery on Clapham Park Road serves steaks and Sunday roasts in rustic, cosy settings (think exposed brick walls and hanging plants). Beef is sourced from Lake District Farmers, an ethical, low-intervention farm and butcher which supplies meat to many Michelin-starred restaurants around the city such as Core by Clare Smyth and Pollen Street Social. A short and sweet menu includes cuts like Bluegrey Sirloin and Long Horn Fillet, plus a Belted Galloway Cote Du Boeuf, with sides on offer including potatoes dauphinoise, garlic and parsley fries, and a powerful Stinking Bishop mac 'n' cheese. 
160 Clapham Park Rd, London SW4 7DE, kniferestaurant.co.uk
Berners Tavern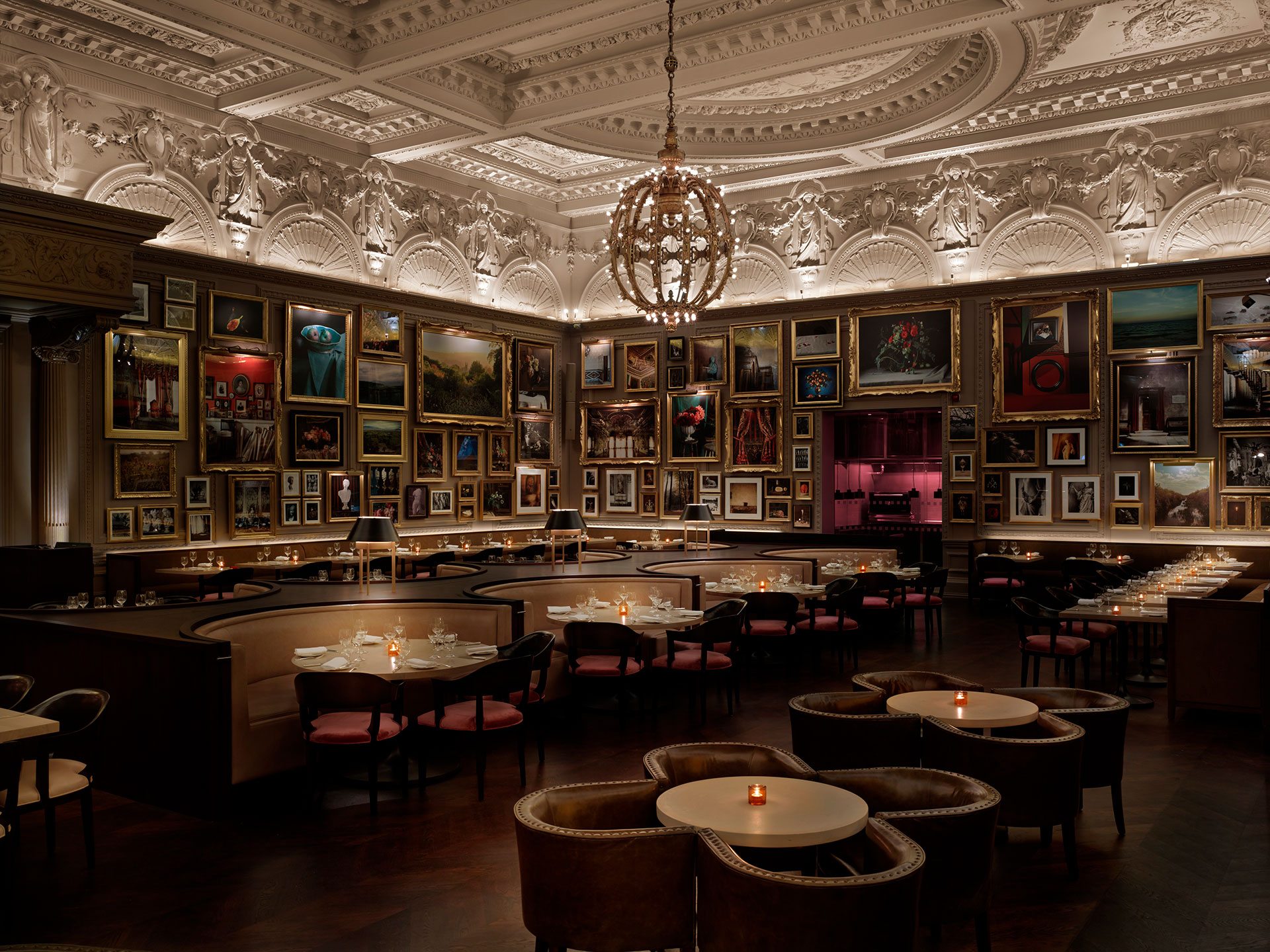 Jason Atherton's grand baroque ballroom isn't just a feast for the eyes. The Michelin-starred chef spearheads a menu of twists on British classics, including a selection of grass-fed Scottish steaks sourced from the Buccleuch Estate. These are chargrilled on the restaurant's Harrison grill – choose between ribeye, sirloin and fillet – and served with fries, with a choice of peppercorn or bernaise sauce. 
10 Berners St, London W1T 3NP, bernerstavern.com
Featured image: Madie Hamilton, Unsplash