Five Minutes With… Arabella Lennox Boyd
Meet the doyenne of British garden design, ahead of the release of her new book
Arabella Lennox Boyd has masterminded some of the most beautiful and extraordinary gardens around the world, from English country estates to Italian palazzos and contemporary roof gardens in Asia. On 16 April she joins C&TH interiors editor, Carole Annett, on the House Guest podcast to discuss her life's work. Until then, here's a sneak preview of what to expect… 
Five Minutes With… Arabella Lennox Boyd
At your home, Gresgarth, you've married Italianate style with British planting, can you give us a taste of what you've done?
Gresgarth is situated in a little valley surrounded by hills and trees. It's very intimate, with a lovely river running through, but quite shady so I had to create my views. The only formal gardens were created around the house, and the garden melts into the landscape.
The Best Outdoor Furniture: Spring Edit
What inspired your love of gardens?
My love of nature. Nature and surroundings always come first for me. Gardens are an imposition that we put on nature – I grew up in the countryside so I always needed greenery and trees around me, and natural vegetation which I always admired far more than more manicured plants.
Is it more difficult working with small spaces?
Not really, at Le Bristol (in Paris), for example I planted hornbeams and put up a trellis to give a vertical dimension and disrupt your view as you're looking at it. It makes you wonder what's behind the trellis and topiary, which is a good effect that you can create in a smaller space.
The Guide to Sustainable Interior Design / More on Gardening
Tell us about some of the extraordinary places where you've created gardens?
The most obvious answer would be the garden I designed in Barbados. I've been a trustee at Kew gardens for years, so I knew the plants that grew in the greenhouses and conservatories, but I had to learn a lot about native plants. Getting to grips with tropical trees and shrubs was a new challenge.
Do you have a favourite time of year?
At the moment my favourite time is spring, probably because we've just come out of winter! For me every season has a terrific excitement. In the spring it's seeing the small plants and details, then you have the mid-season when lilacs and peonies appear, and finally roses. My favourite time of year is when the roses come out.
Sign Up to The C&TH Interiors Newsletter
Tell us about your latest book?
Gardens in my Life is a list of some of my favourite gardens. Having worked so much on it, it's nice to finally see the end result in print, and to be able to show it to people. It's not really instructive, more a collection of inspirations and ideas for what to do in different gardens.
Where are you happiest?
I'm at my happiest outside. When I can't go out, I feel tired and as though I'm missing something very important. I love my potting shed, preparing pots, finding the right compost, sowing seeds and seeing them grow. That's absolutely wonderful for me. And I'm very excited when I have a new project that I'm thinking about.
Is there anything that grates on you in gardens?
The only thing I find challenging are rockeries, they're difficult because they fill up with weeds. But I always think difficulties present new possibilities. It would be very boring to always work with flat areas where you can do whatever you want.
Stylish Ideas for Postage Stamp Gardens
Are there any garden designers through history which you've drawn inspiration from?
The garden which has been most inspirational for me is Ninfa. It was designed by the owner, south of Rome, and is the most beautiful place in the world. Paradise on earth, basically.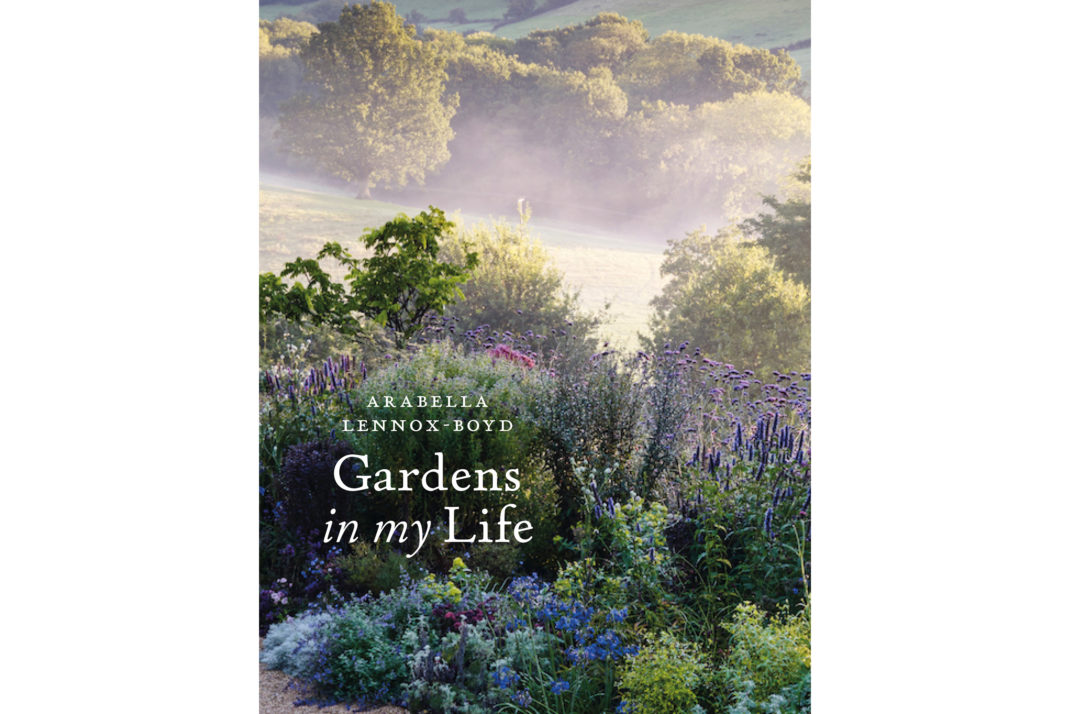 Gardens in my Life, by Arabella Lennox Boyd is out on 15 April (Apollo, £40). Find out more at arabellalennoxboyd.com.
READ MORE 
Spring Planting with Randle Siddeley / Courtyard Planting with Arthur Parkinson / The Best Outdoor Furniture: Spring Edit