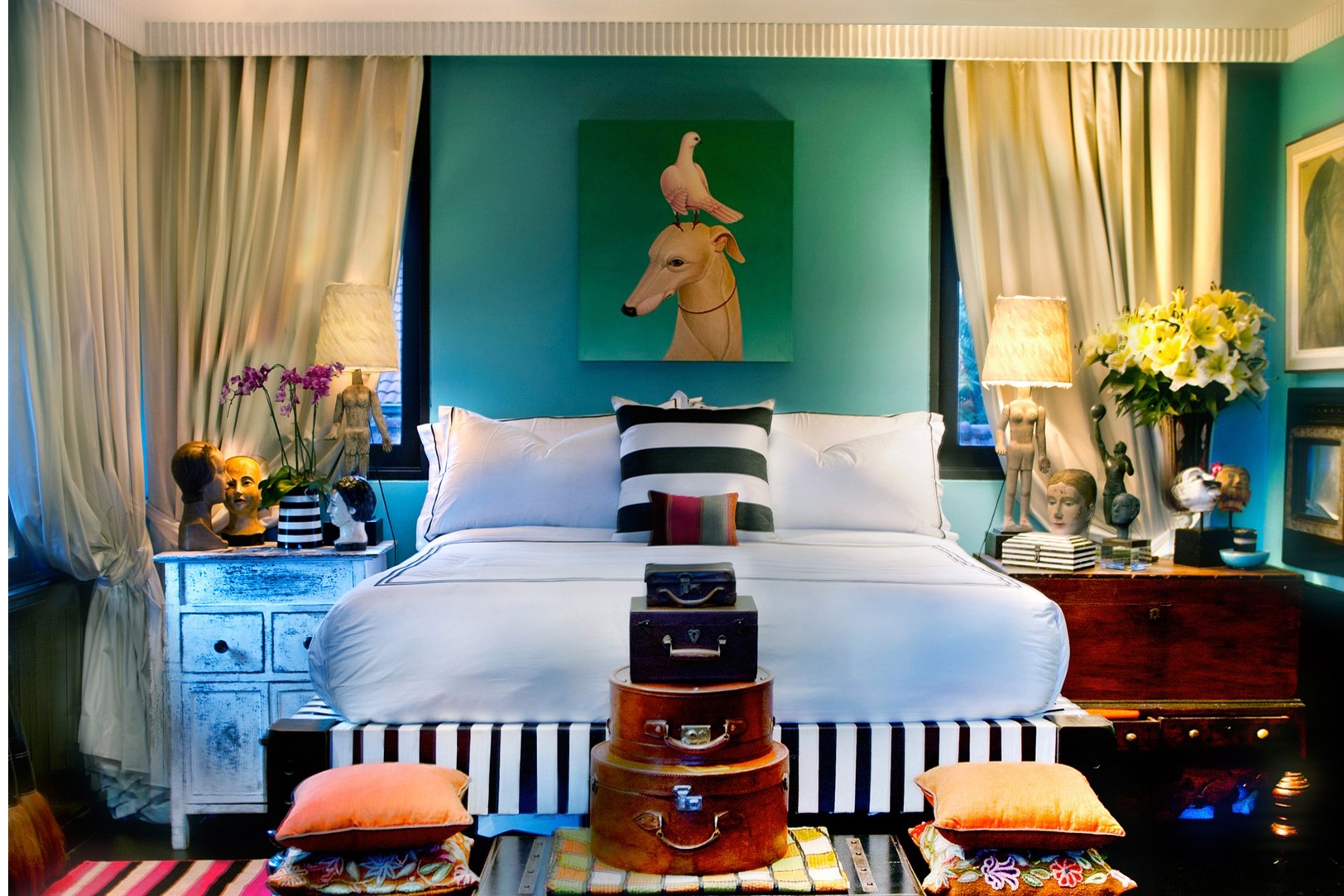 At Home With… Bill Bensley
Inside the architect, landscaper and interior designer's tropical Bangkok home
Bill Bensley's designs for Baan Botanica, shared with husband, horticulturist Jirachai Rengthong, reflects his love of travel, and passion for landscape design and architecture 
At Home With Bill Bensley
What's the story behind your home?
I bought this little black and white house from an American named Billy Bones. I admit – I came to have a look as I was more intrigued by the name of the owner than the house itself. We fell in love with its charming architecture and the potential of the garden space, and the rest is history. It's tucked away in a tiny soi (side street) off Bangkok's bustling Sukhumvit, but you wouldn't realise when you walk in through one of the gates. As an architect, interior designer and landscape architect, I am always renovating or building something – we add to and convert it endlessly, it's the test run for all of my projects.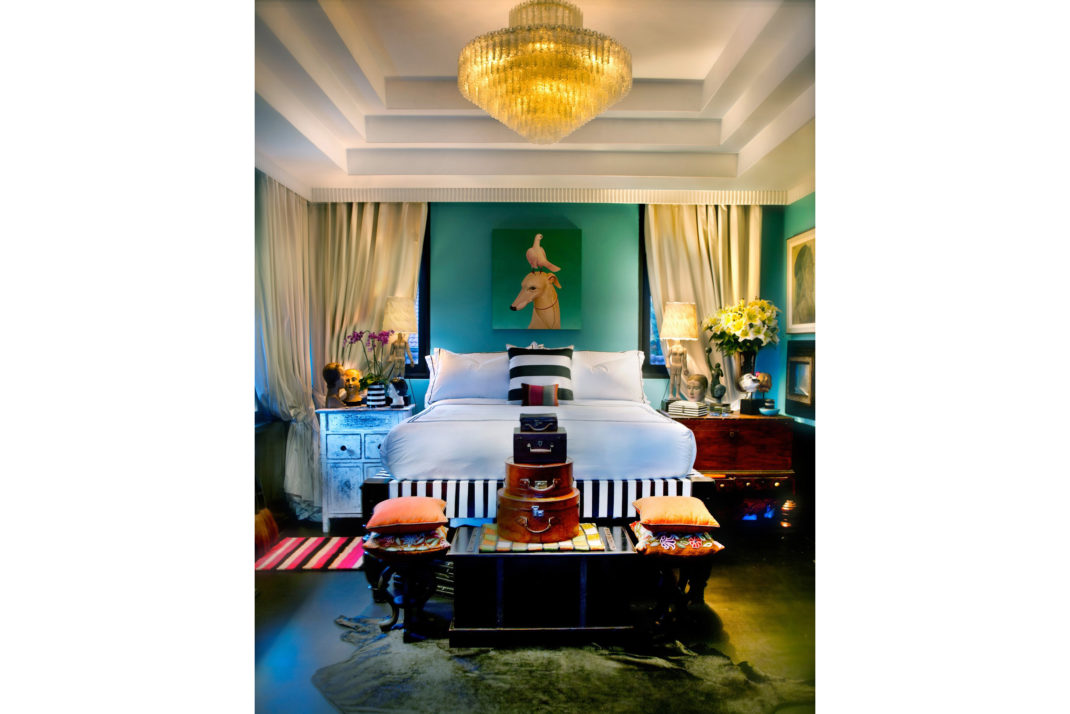 What was your inspiration for the design?
Baan Botanica is in many ways a record of our lives, travels and love – a mixing pot of different cultures and places. This translates to both the interiors and gardens, the shape of the blue garden gate, for example, is inspired by Bali and the lion atop it is a design feature we saw in Portugal. We didn't hire an interior designer, there's no fun in watching someone else do what you love most. We have fun with the design, and let it run wild, a little madness and spontaneity has always been a driving factor for me both at work and at home. I'm married to a horticulturist, so it's our ever changing playground, often disorienting even friends who visit weekly as it constantly evolves.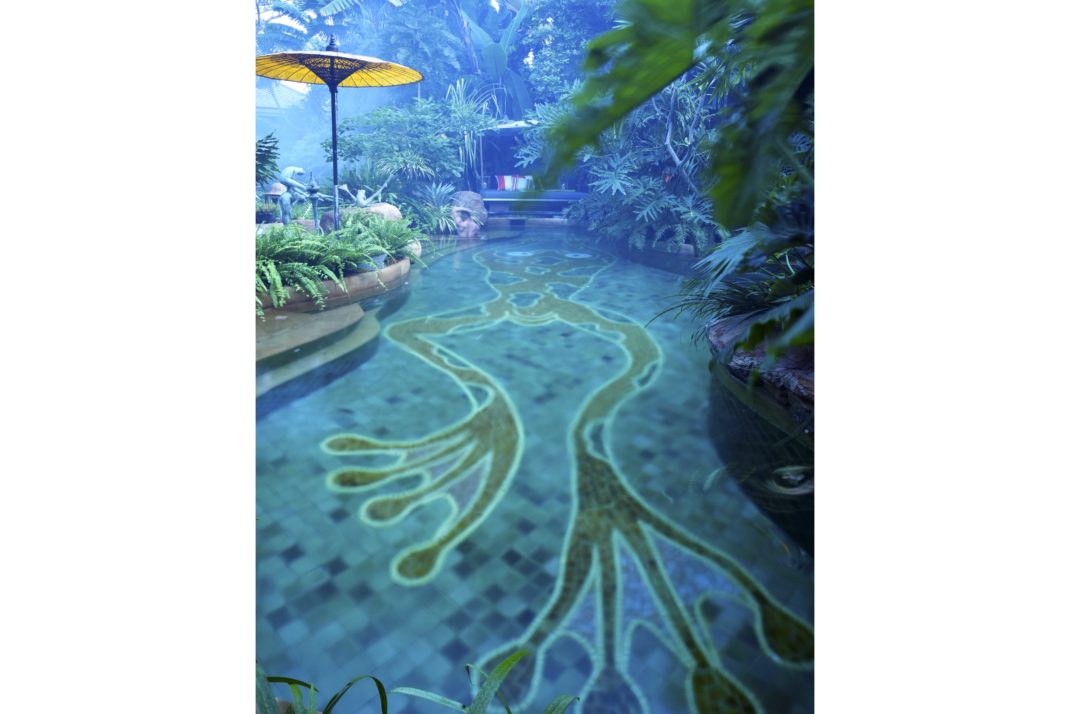 Do you have any interior brands that you love and always go back to?
I have a passion for antiques and upcycling. Chatuchak market here in Bangkok always yields something to write home about. We also love Pagoda & Co , Champacawood and rugs designed by my brilliant friend, Mook. I enjoy working with craftsmen, as keeping their trades alive is essential. Among my favourite here in Thailand are Ajan Narong, who creates incredible sculptures and has cast many for the Four Seasons Chiang Mai.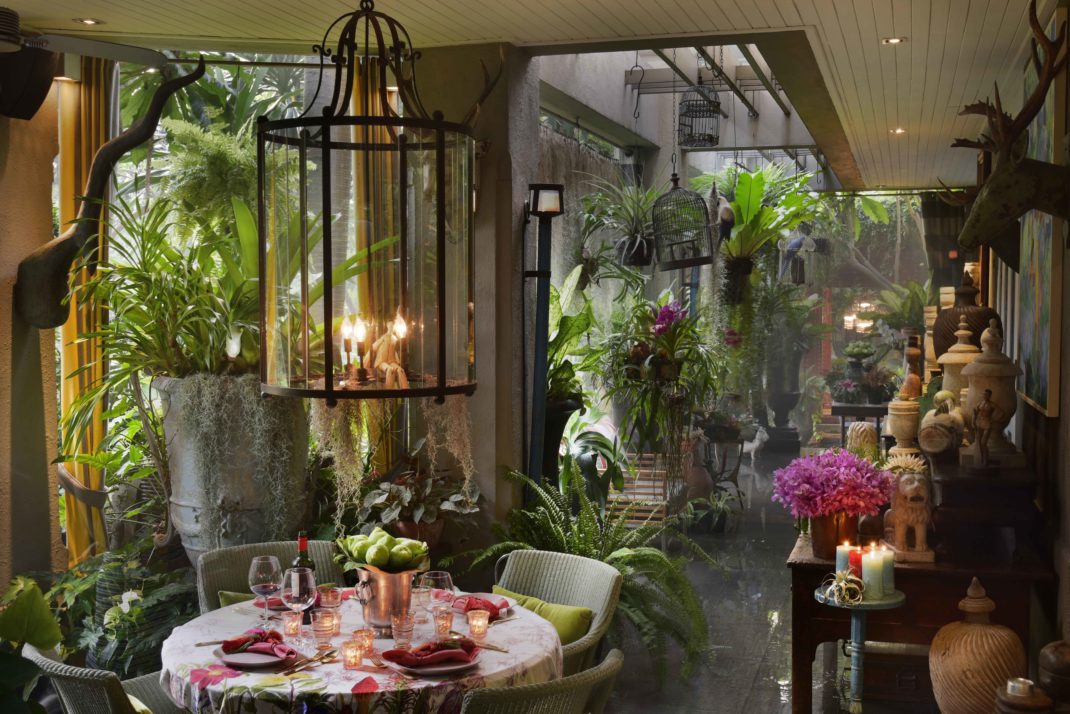 What's your favourite room in your house and why?
In the downstairs loo we went completely overboard, it's a shrine to our travels in Africa and India. The door frame and window frame are both from Rajasthan, and all over the walls we have objects from across Africa – Benin, Yoruba, Congo, South Africa: statues, beaded marvels, masks, and shell vests from the island of Nias. It's a sensory overload that always leaves guests in awe. We also added speakers that play birdsong, to complete the experience.
The 50 Best Interior Designers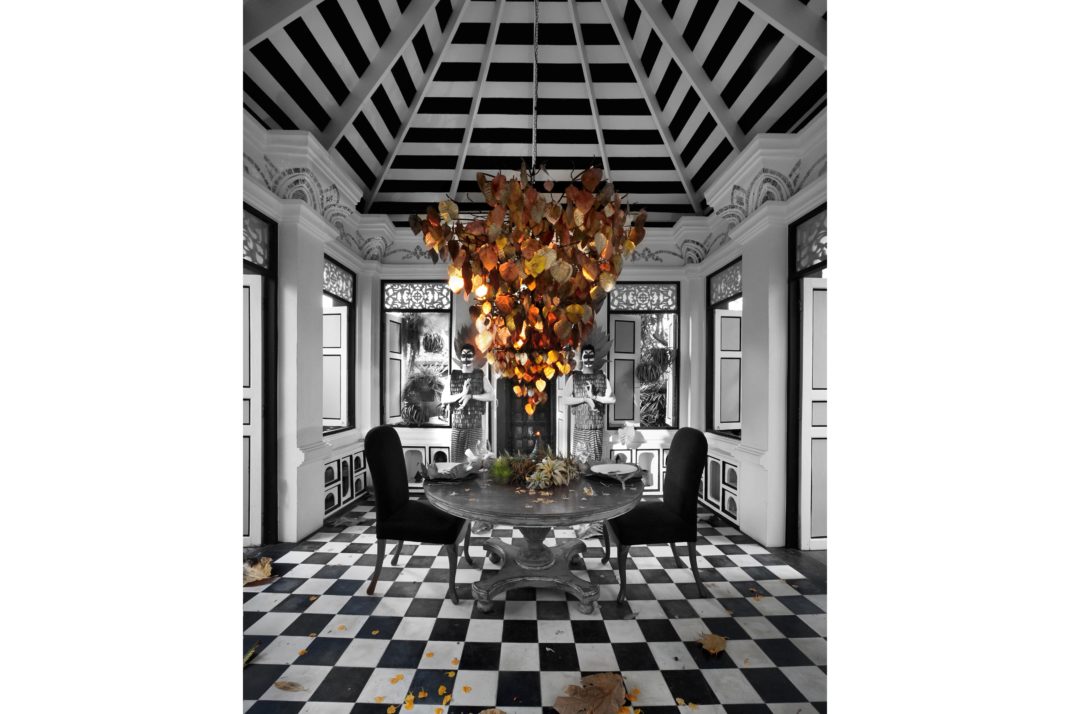 Does your house in any way reflect your profession?
Completely – it's my sounding board for ideas before they're realised in our projects. My husband, Jirachai, recently came up with the idea of a bromeliad fountain. Whoever would have thought to put bromeliads into a turn-of-the-century cast iron fountain? I love it so much that we're integrating it into the gardens at the Sukhothai Bangkok and the Capella, Chiang Mai – both projects of mine which are currently in the works.
What's your best view?
My bathroom looks out onto the gardens of Baan Botanica – we have an outdoor bathroom with an open air shower and statues holding my toothpaste and toothbrush, which always makes me smile. It's a real luxury to shower accompanied by the birdsong and warm breeze, I enjoy it every day.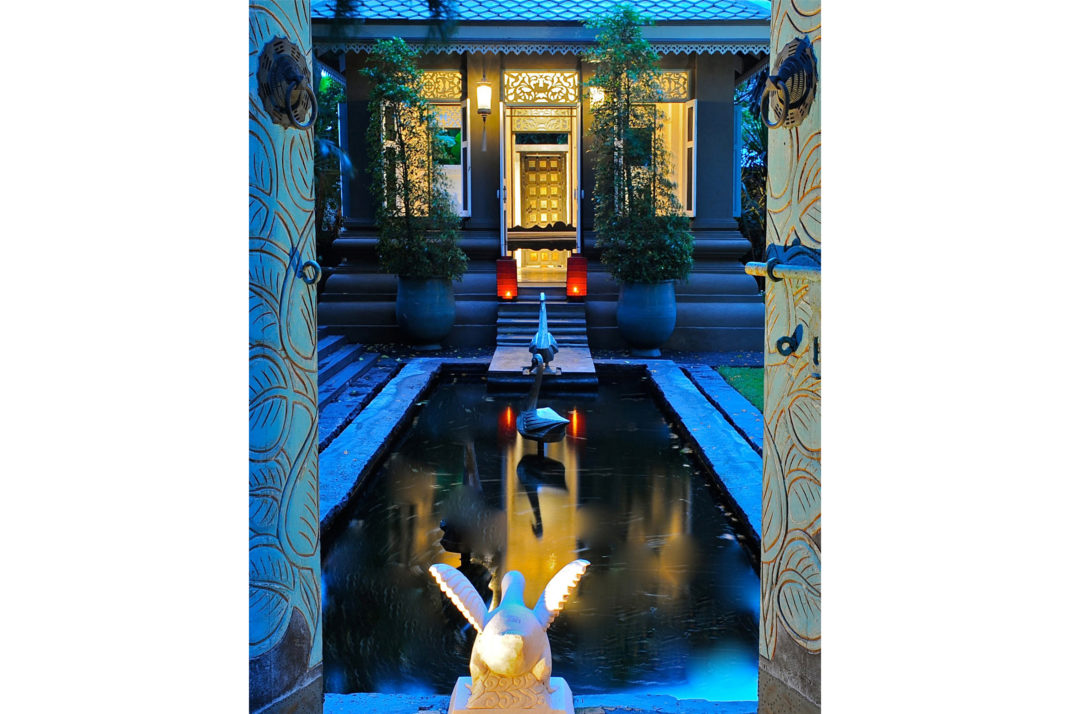 What's your signature dish – can you share the recipe with us?
I can't cook an egg, but I do love a nut pie. One of my favourite recipes is the la creme de la crumb brown sugar walnut pie, which there is a recipe for here. Actually – we had it just yesterday for my birthday.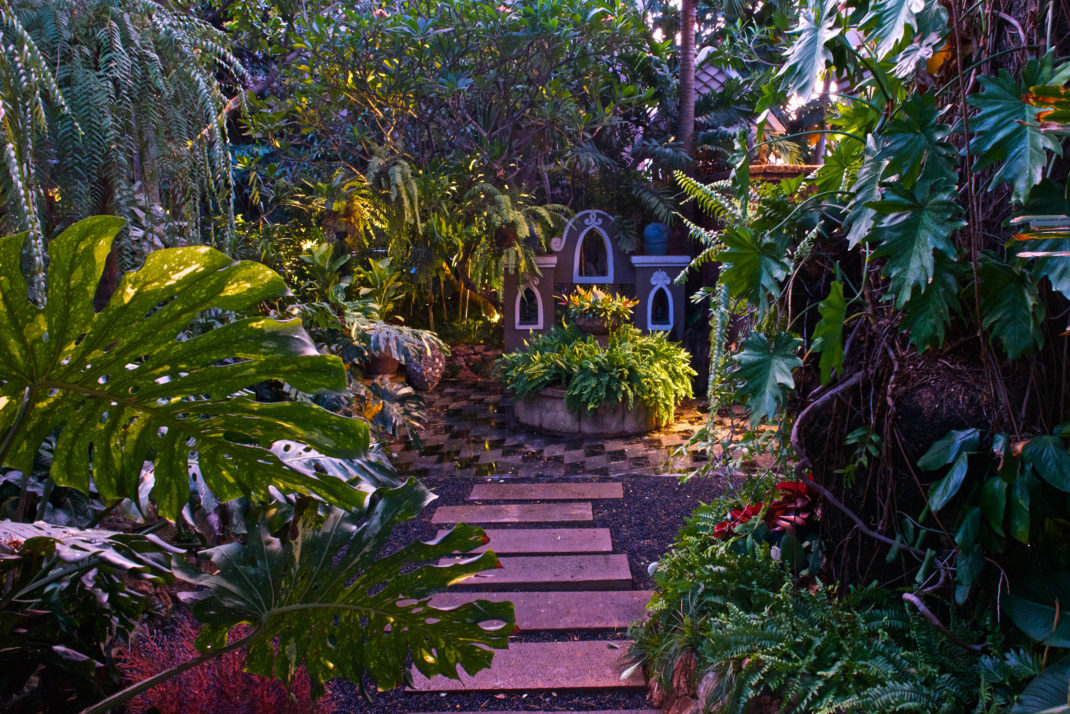 Share your top five books with us if you were to start a book club:
Leonardo Da Vinci, by Walter Isaacson – I just finished it and simply adored it
Shantaram, by Gregory David Roberts – he tells an incredible story, that is mostly true
Don't Stop the Carnival, by Herman Wouk – which I read preparing for a project in Antigua and it was ever so much fun
The God of Small Things, by Arundhati Roy – which I believe is a modern classic
In Cold Blood, by Truman Capote –the prose is just so beautiful, he truly invented the non-fiction novel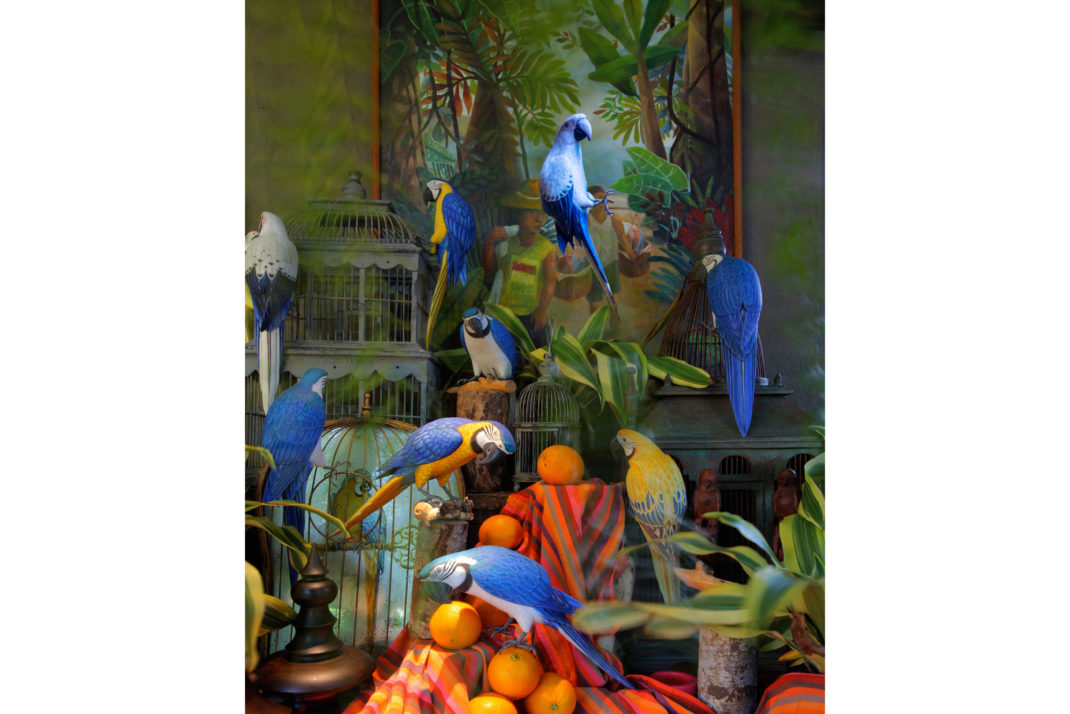 Share your must-see TV and movie list:
Game of Thrones (of course), Outlander, RuPaul UK, Monty Python, Absolutely Fabulous (I love Joanna Lumley), recently I also hopped on the current bandwagon – I love Bridgerton on Netflix.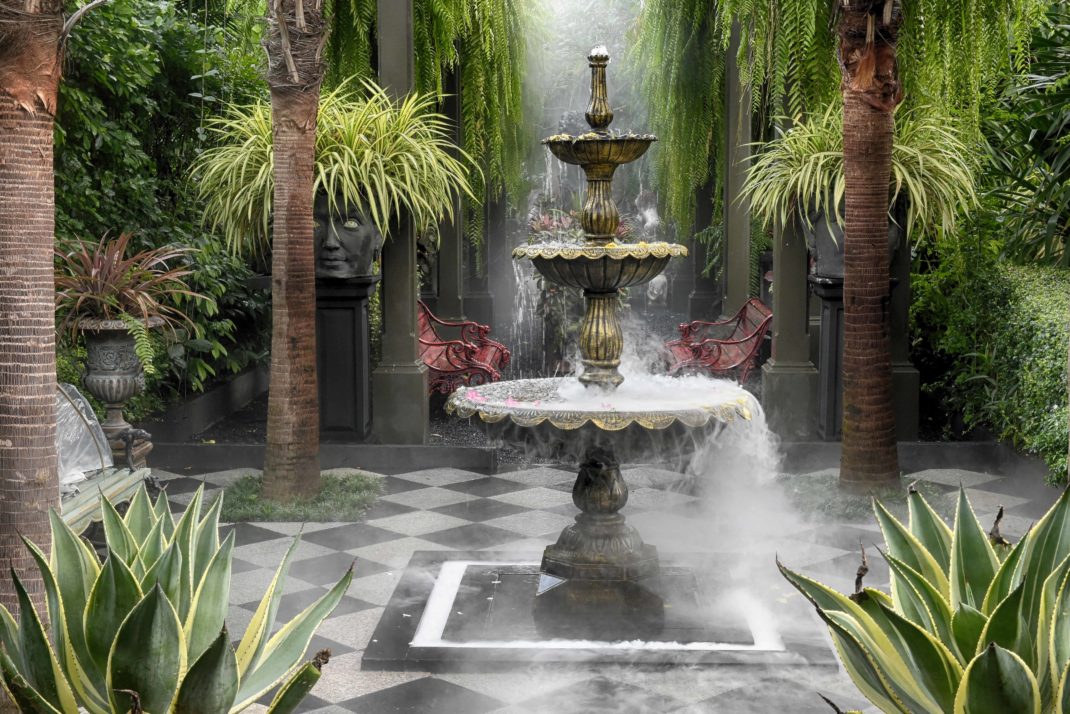 Describe your office space?
Luckily here in Bangkok we have very few covid cases, so I'm still able to be in the office with my team of about 80 designers, artists, and architects. It's an old embassy which we converted – recently we added an Art Deco wing to house new meeting rooms and its very own outside art gallery. I don't have an office space as such – having surrendered it to one of my most talented architects to allow for  social distancing in the pandemic, I found I don't spend much time there anyway. I walk around the office with my laptop, talking to different people and working as I go, or firing out emails from the meeting room in between Zoom calls. It's a beautiful office, with gardens not at all unlike those at Baan Botanica, and filled with objects brought from all over the world. I go around the office every day talking to each person and figuring out what crazy thing we can do next. My motto is 'Mai mun mai tum' ('if it ain't fun, don't do it!')
Get The Look: Matthew Williamson's Colourful Interiors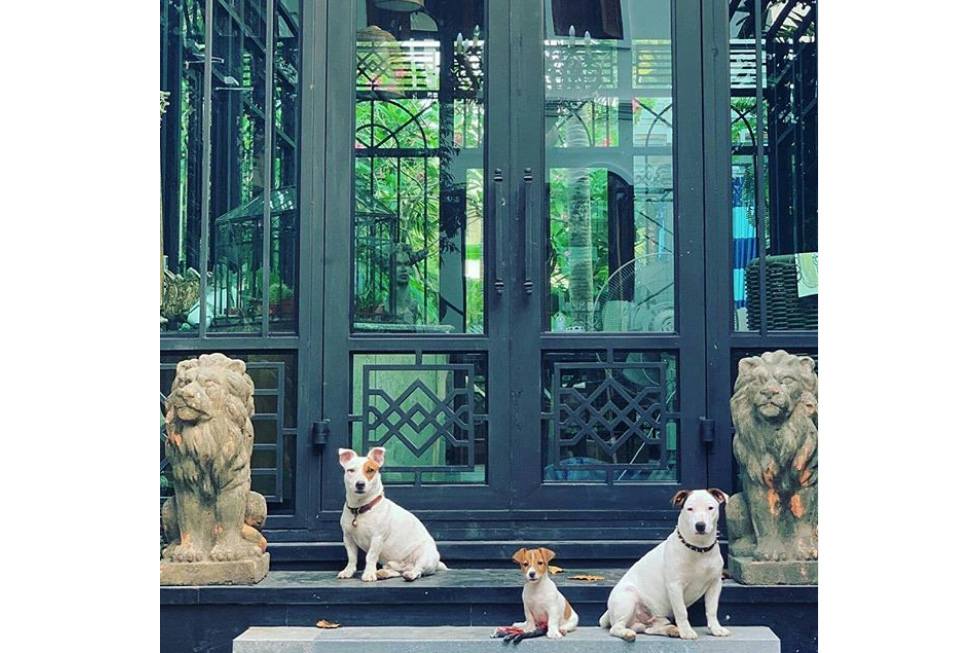 What's the first thing you do when you get up in the morning?
I go for a run with my six Jack Russells: Chuck Berry, Bobby Brown, Sammy Davis Jr, Jesse James, Frank Sinatra, and Tommy Bahama.
And how do you love to spend your evenings?
With a very strong Thai massage while I answer emails. Paired with my morning run – I think it's the secret to good health.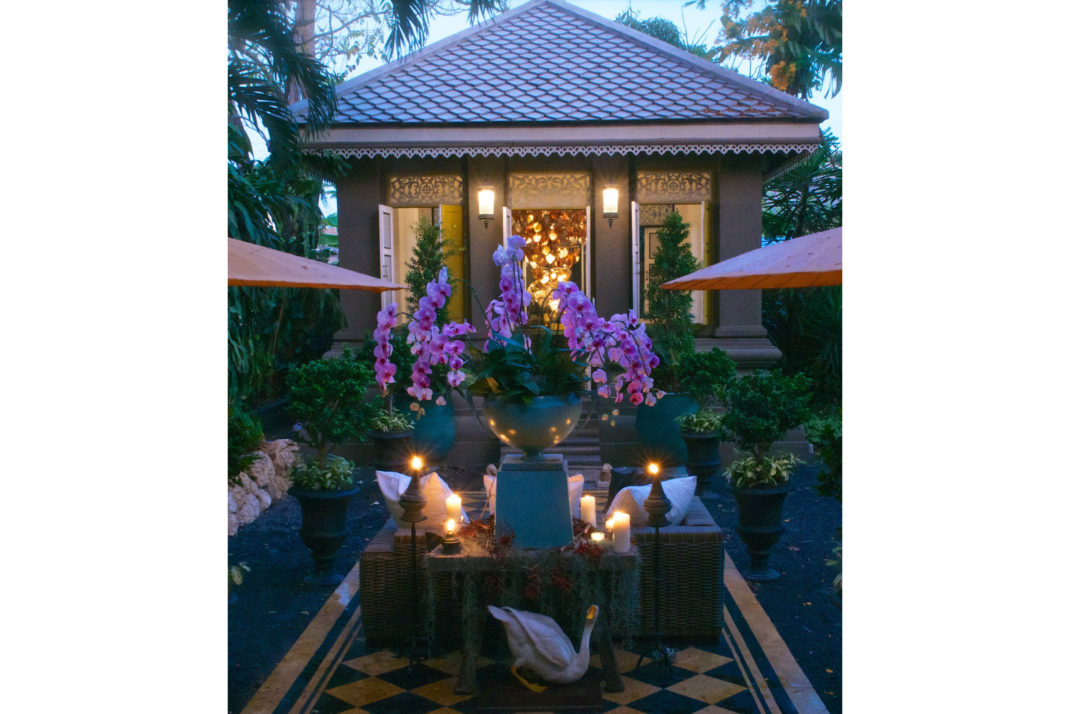 If you were to throw a party at home, what are the key ingredients to make it go with a swing?
We throw many parties – you can have a peek inside them on Instagram, as my husband often livestreams (@baan_botanica). The essentials are: topless muscled waiting staff serving bottomless cocktails, giant goblets of wine and at least three drag queens performing live on our Baan Botanica stage, with acoustic guitar in the intervals. Plus, an abundance of very hot and spicy homemade Thai food. Our next party, this weekend, will be a moonlit picnic on the grass.
What gadget could you not live without in your home?
I am not really a gadget person – but at home we do live by the mosquito racquet.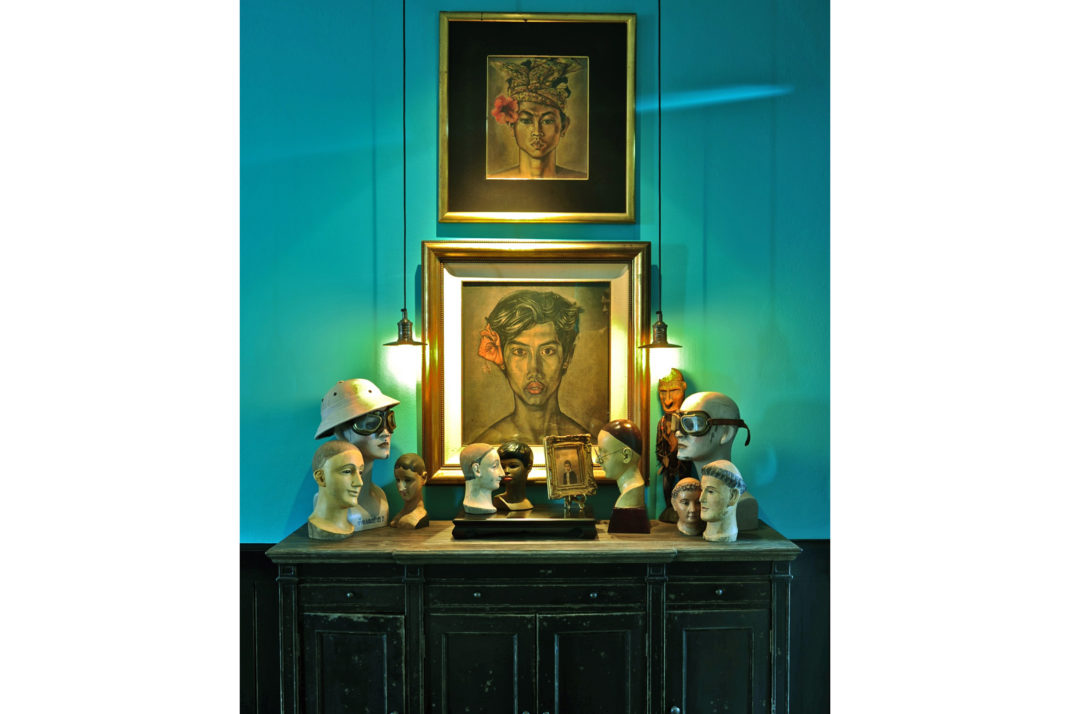 How's your garden behaving at the moment?
It's quite wild, which is just how I like it. We named our home and garden Baan Botanica (Baan meaning 'home' or 'house' in Thai) in tribute to the 1,500 plus species of plants growing in the gardens. We collected them from across Thailand and Southeast Asia. My husband Jirachai has a nursery up in Chiang Mai, and is a master horticulturist who specialises in grafting and budding, he's always bringing magical new plants into our home and studio. Recently, we played around with some male mannequins to create what I like to call 'The Courtyard of the Bad Hair Day', they all wear Medusa-like wigs of tumbling succulents. We're lucky in that Bangkok has a great rainy season, the climate here is brilliant for growing, but Jirachai gets up at six o'clock every single morning, seven days a week. He's out there all the time, because maintaining a garden like ours is constant work.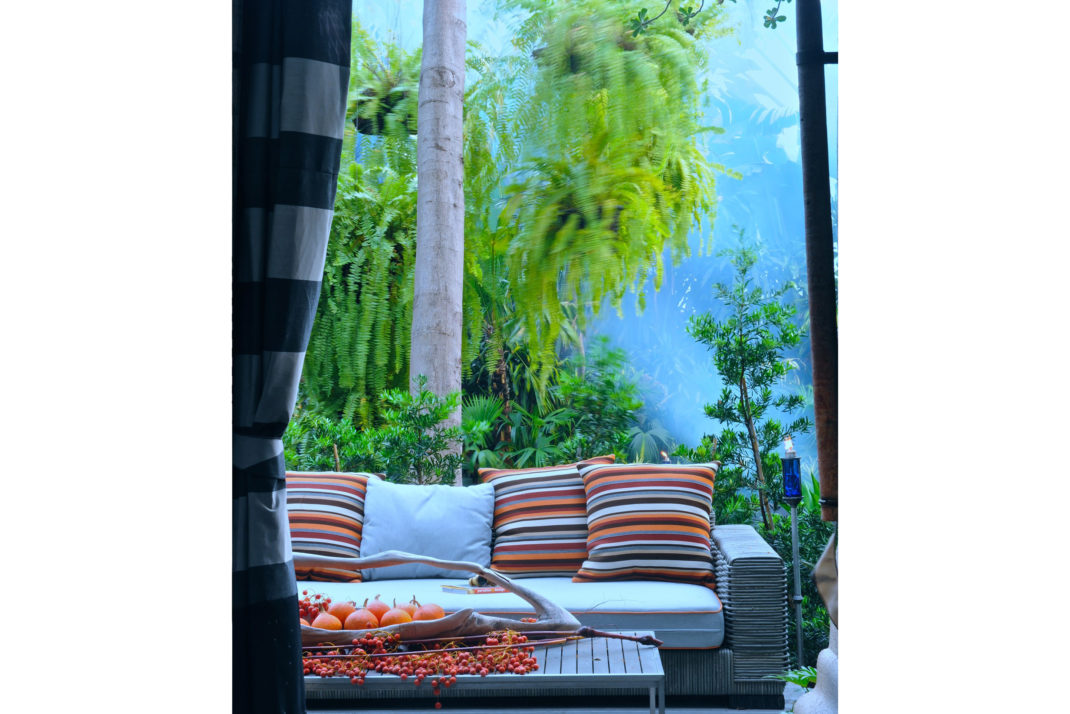 Whose home would you like to be a fly on the wall in and why?
Leonardo Da Vinci's, we know him best as an artist but he was an incredibly talented man who thought about everything, why birds fly, why the sun is where it is in the universe, and posed the radical idea that we might revolve around it several hundreds of years before Newton and other great scientists did. He was also known for inventing rather tortuous machines but actually they were originally commissioned by the Medici family. They taxed the people so heavily, that to appease them they would put on fantastical plays, all using theatre machinery designed by Da Vinci.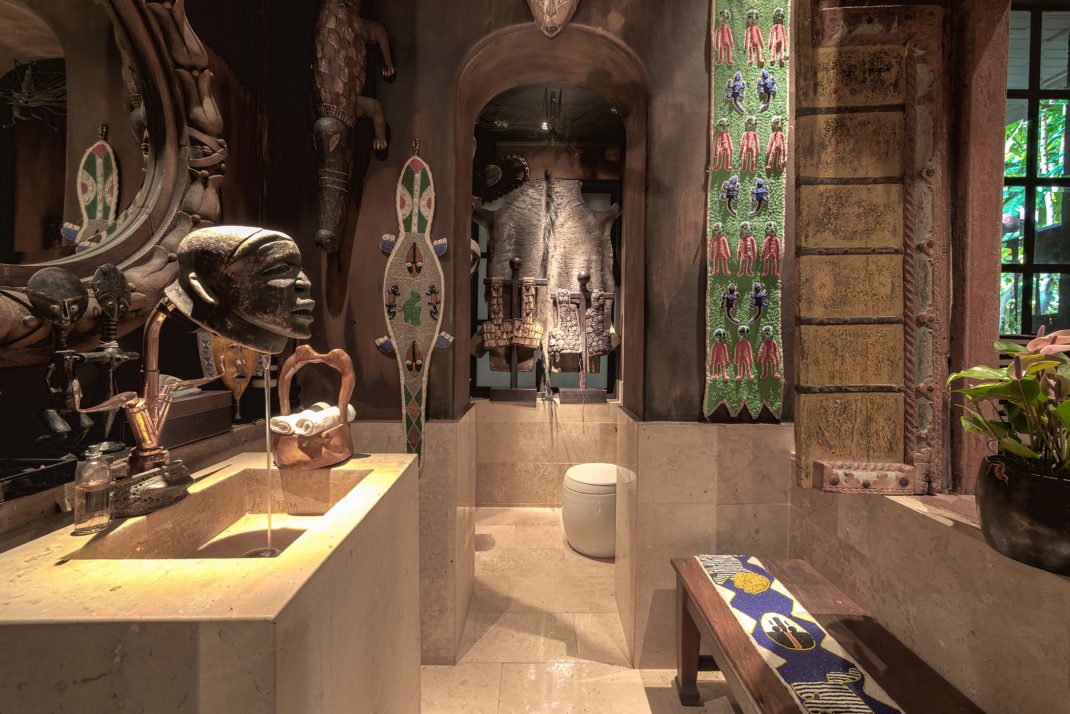 Has lockdown made you reassess your work and home life balance?
I used to travel 250 days a year and hop on a plane at the drop of a hat – to South Africa, or India or London. As much as I would love to travel, spending almost a year based in Thailand has changed our office structure forever, we no longer do overtime, and it's made me even more creative as I now have the time to get into the detail. I've also been able to explore new places in Thailand, and indulge my love of painting. I'm close to having finished 100 pieces now, and I'm learning more every day.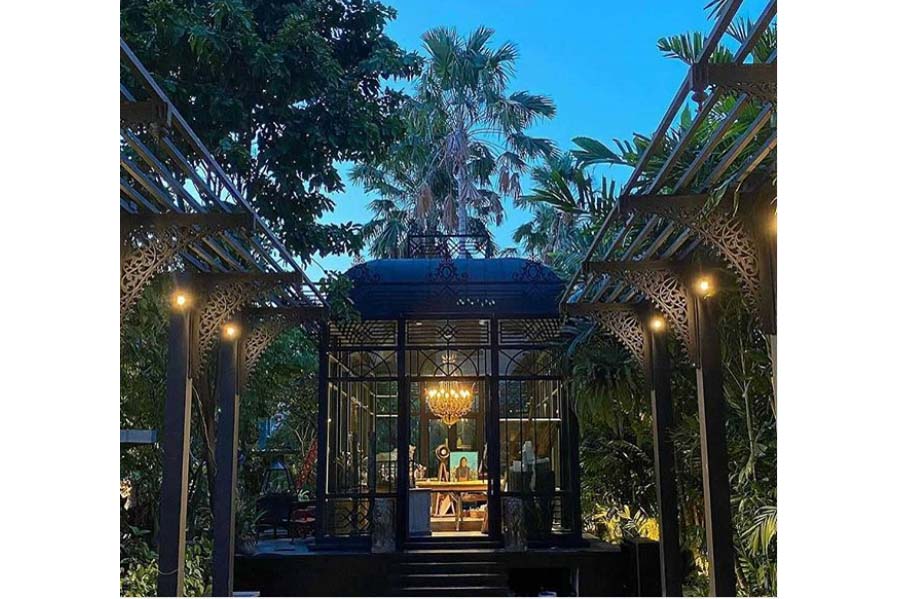 What makes a house a home?
The memories you make, the friends you welcome, and the stuff. Bring your travels back with you – I think artefacts from travel reflect your identity, and I encourage friends and clients to incorporate them in their homes. Create collections of all things blue or Indian or elephant or one material, and group them together, organise, reorganise, rethink, reshuffle,  take photos, study the photos for composition, adjust, and then love.
READ MORE
At Home With Martin Brudnizki / At Home With Martyn Lawrence Bullard / At Home With Matthew Williamson