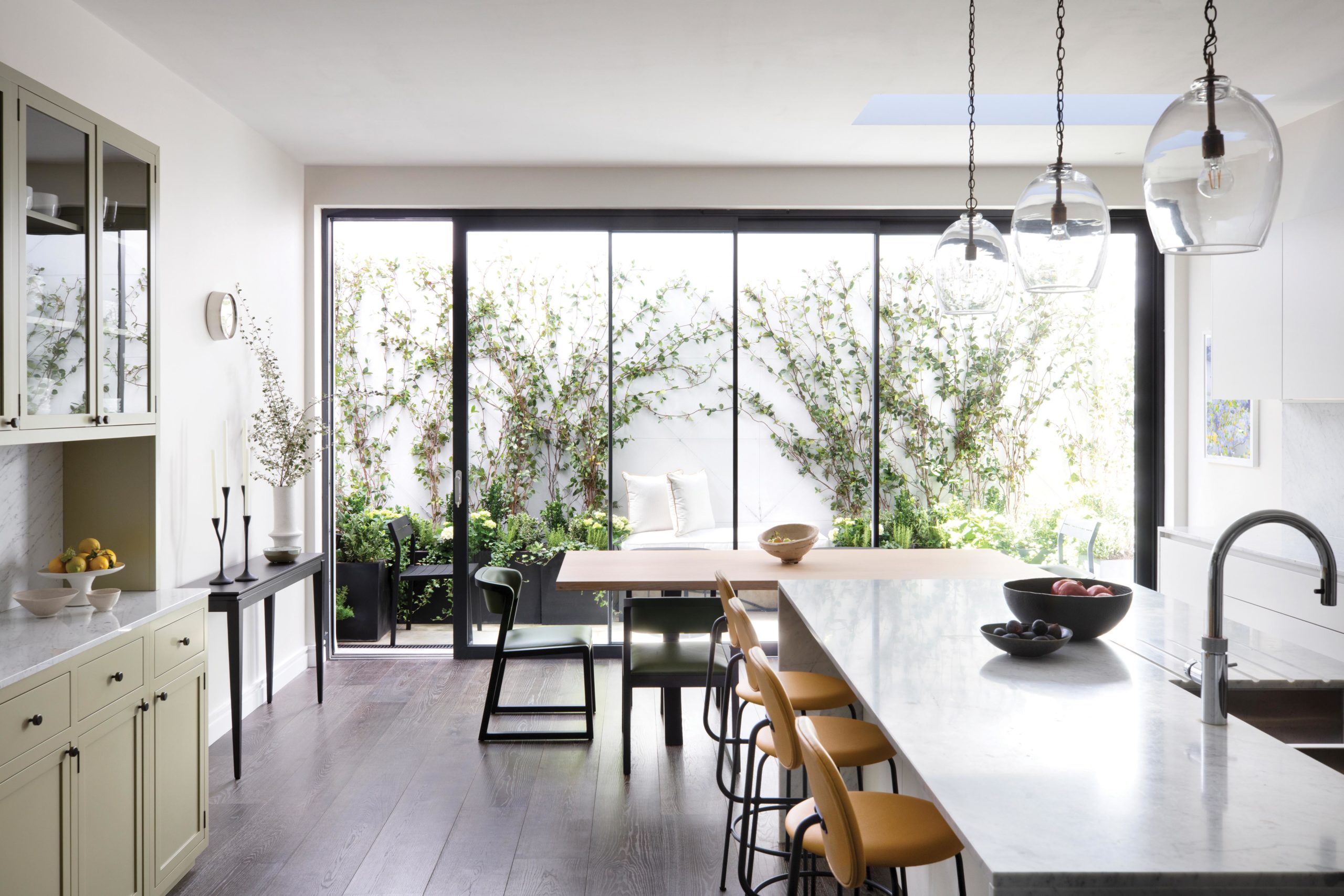 Room Service: Inside a South Kensington Townhouse by BradyWilliams
---
Design studio BradyWilliams perfects the home-meets-hotel vibe
Balancing serenity with character, flair, luxury and personality – Emily Williams of BradyWilliams tell Sofia Tindall how she recreated the feel of a high-end hotel in a townhouse in London's South Kensington.
After a year spent mostly indoors, the experience of staying in a hotel is a pre-Covid luxury craved by many. But how to go about recreating it in a functional family home? This was the challenge design studio BradyWilliams was presented with when it took on a townhouse project in South Kensington.
'The family [who live between Lagos, Nigeria and London and have four children] love luxury and wanted a hotel feel, but also for it to be a fun family home,' explains co-founder Emily Williams. Luckily, BradyWilliams is more than equipped. The studio launched almost nine years ago, combining the talents of Emily and Shayne Brady, who met designing interiors for hotels and decided to pool their skills – Williams taking on high-end residential, and Brady the hospitality clients. Together, their calling card is refined, timeless interiors, with 'layered minimalism but that also feel very welcoming, with a serenity to the spaces.'
The 50 Best Interior Designers 
For this London family home, honing the layout was key. Rooms felt disjointed, lacking character and personality. BradyWilliams' mission was to reconnect a sense of flow, while tapping into the heritage and history of the property's Royal Borough location. An initial moodboard focussed on sculptural furniture. 'We really wanted to emphasise the notion of texture and form in terms of sculptural pieces,' explains Emily. Collaboration was also key from the offset – and the client's art consultant, Alison Heath, became central to the process. 'She added a lot of expressive art with Nigerian origins – and she was fantastic at marrying art to the furniture pieces we were looking for.'
Sign Up to the Country & Town House Interiors Newsletter
Especially striking is the connected sitting room and ante-room, which initially felt 'very much like two separate spaces,' Emily remembers. 'We needed to give it the feel of one space and the sense of grandeur that the house deserves on arrival.' Installing open double doors linking between the rooms unified the space, while the sense of a double reception was achieved by cleverly mirroring features, from carrying the same flooring finish throughout to the twinned fireplaces, window treatments and chandeliers.
While this is a space that instinctively feels minimalist, it's all part of the BradyWilliams sleight of hand; layering colour on colour and subtly disrupting textures. 'If you look closer there's a lot going,' says Emily. 'In the reception there's a linen wallcovering [by Phillip Jeffries], deep mossy velvet on the chairs and a polished plaster finish.'
Wallpaper Ideas for Every Room
But of course, in any family home where there is a beautiful reception room, there must also be a foil that can withstand paint spills, coffee splashes and baking clutter. With custom green units and pops of sunny colour, the open plan kitchen on the lower ground floor ticks this box. Sliding French windows open up into a compact sun-trap of a walled garden, which typifies the fresh, al fresco spaces that became so desirable in lockdown, and it's impossible for the eye not to alight upon the living wall, teeming with scented jasmine.
'The family wanted an English garden feel,' says Emily, 'so we planted lots of hydrangeas and herbs that can be used in the kitchen.' As a final touch, a miniature banquette seat was incorporated, providing a perfect perch for coffee in the sun. Even here, attention to detail wasn't spared. 'The upholstery has a small piping of yellow,' points out Emily, 'that connects the colour scheme in a subtle way, chiming with yellow stools inside.'
Perhaps the greatest feat of the overall end result, however, is the fact that all this was achieved in the short summer respite from lockdown. Was it all moodboards pulled together at kitchen tables, decisions made over Zoom, and socially distanced-decorating logistics?
'It was a real challenge,' admits Emily. 'You're always learning on the job and not much surprises me – but there was a lot more to think about. We finished at the eleventh hour, which I haven't experienced in many years.' Nonetheless, it had its silver linings: 'I was so proud of my team, and everyone had such a can-do attitude,' she concludes. 'It was a learning curve, and challenge is important to us.'
Balancing serenity with character, flair, luxury and personality, this South Kensington project more than met the USP of hotel-meets-family-home. In fact – it's exactly the sort of property you wish you really could turn up at, drop off your bags and sign into for a BradyWilliams-styled night off.
READ MORE
Inside Monsieur George Hotel & Spa / The 50 Best Interior Designers / The Guide to Sustainable Interior Design