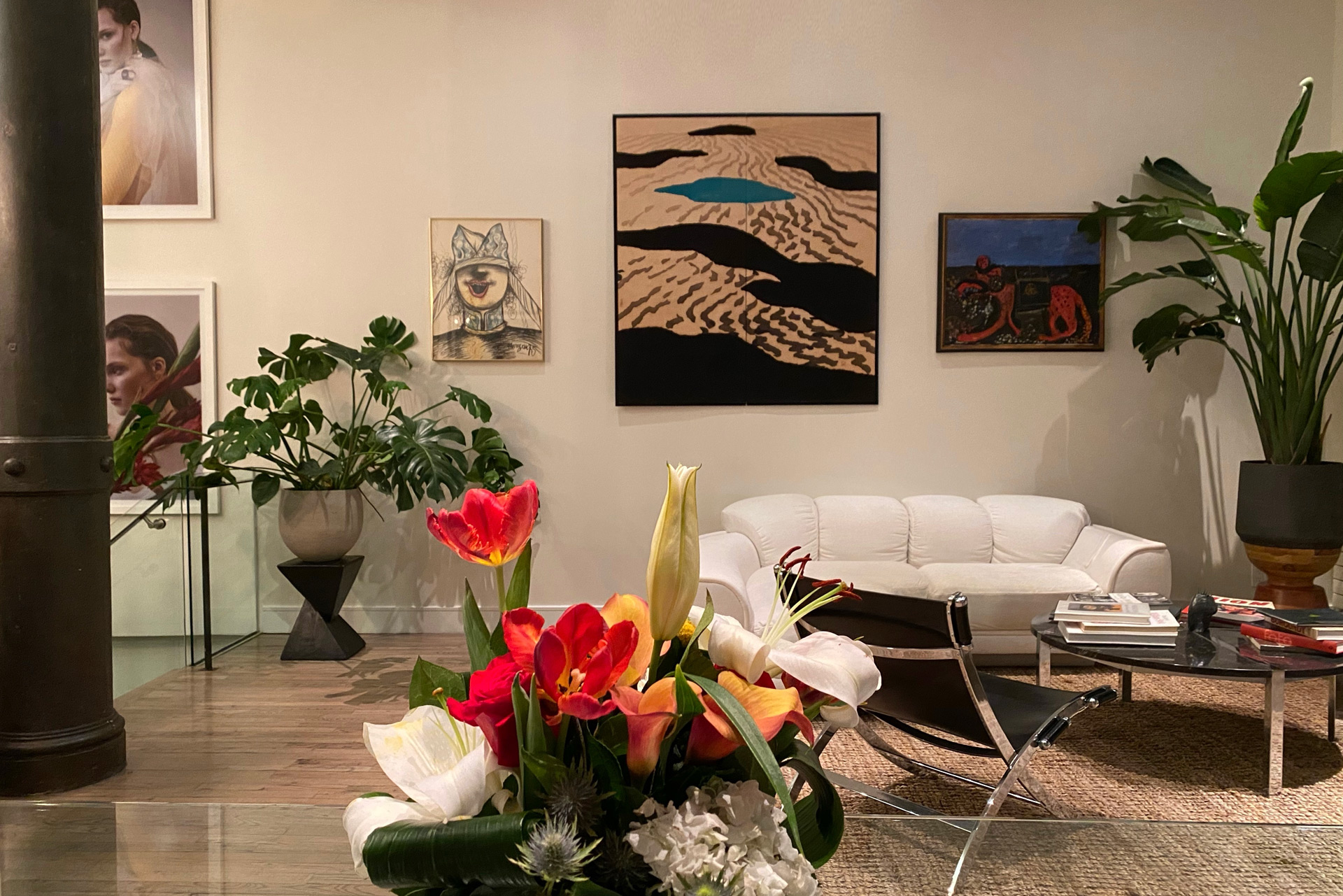 At Home With… Katherine Holmgren
---
Galvan's co-founder takes us inside her New York loft
The co-founder of party-dress go-to Galvan shows us how to whip up a soufflé, hunt for vintage finds and throw a killer party 
At Home With Katherine Holmgren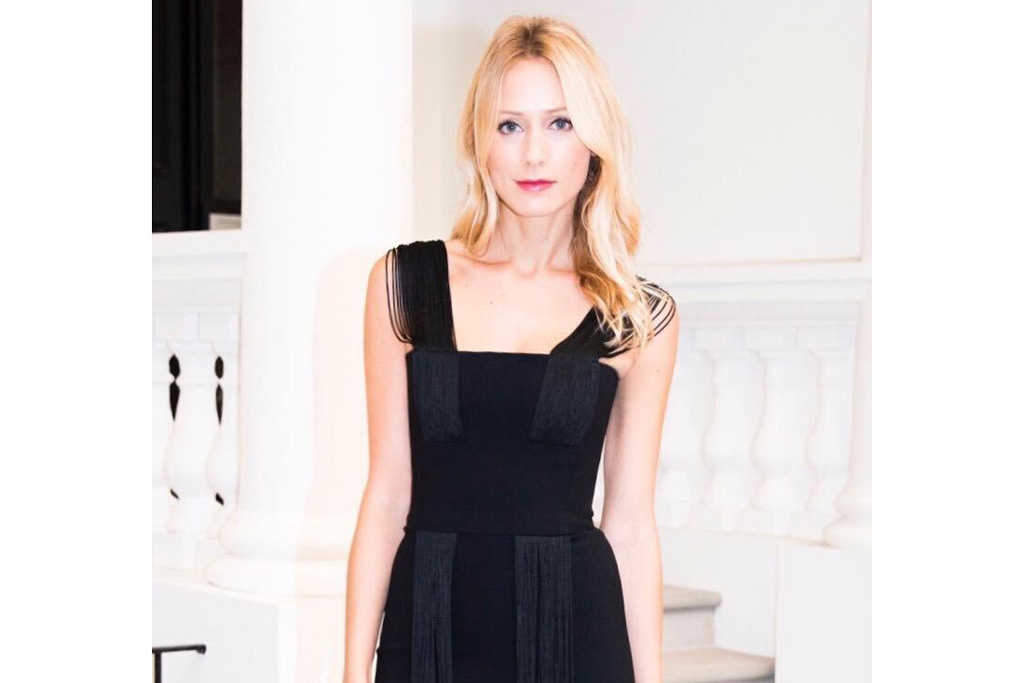 What's the story behind your home?
I grew up in New York City, but have been living in London for the past 12 years. Shortly after we opened our Galvan store in SoHo, my husband and I decided to move back for a few years. I looked at more than 30 properties before finding the duplex on Bleecker Street, which had recently been gutted and renovated.
What was your inspiration when it came to designing it? Did you use an interior designer?
I'm a huge fan of mid-century modern design, and this period is perfectly suited for a classic New York loft with clean lines, high ceilings and pared-down beauty. I also love collecting vintage furniture. It's more time absorbing than buying contemporary furniture, but much more rewarding – the hunt is the best part! I didn't use an interior decorator, but I worked with a couple design dealers who sourced one-off vintage items for us.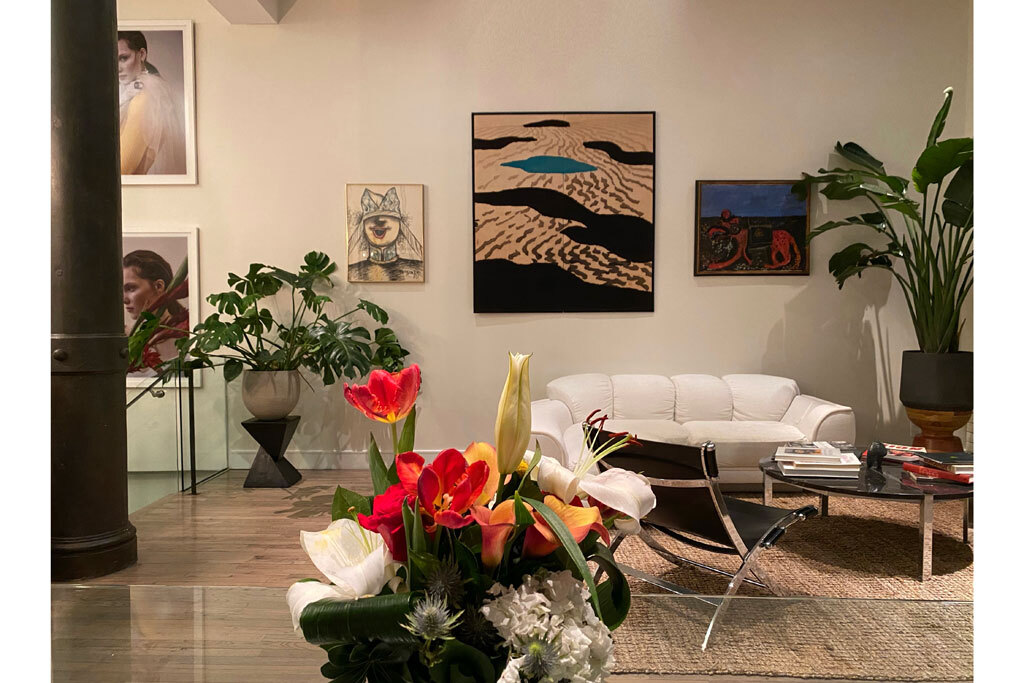 Do you have any interior brands that you love and always go back to?
Pamono and 1stdibs are my favourite websites for top-quality vintage finds. I focused on Danish and Scandinavian furniture from the 1950s and 1960s, and Italian furniture from the 1970s. Because mid-century furniture is on the minimal side, we also have lots of plants (palm trees, a monstera, and freshly-cut flowers), as well as colourful tableware. All of our serving plates and bowls are from Ceramica Assunta in Positano.
What's your favourite room in your house?
The open kitchen, dining room and lounge. My husband and I love to entertain and we have dinner parties nearly every week (except during quarantine!) After living in London where there are lots of small rooms, it feels so liberating and inviting to host in one big open space.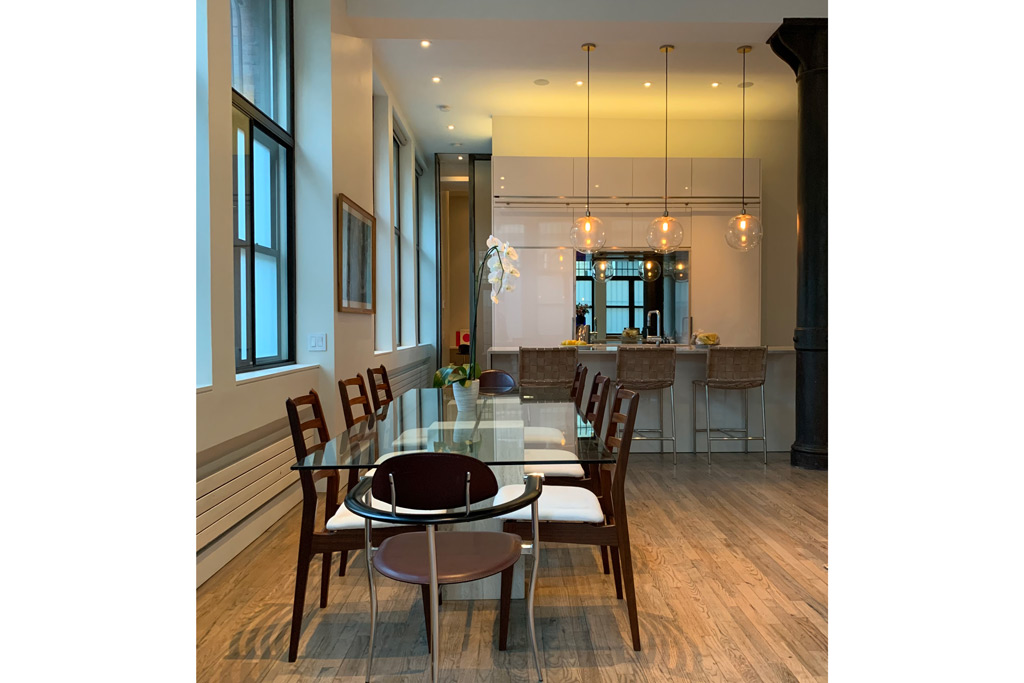 What's your signature dish – can you share the recipe with us?
During quarantine I learned to make a killer soufflé! It's easier than you would think and never fails to impress… at least, my husband always seems blown away by it.
WILD MUSHROOM, SPINACH & GRUYÈRE SOUFFLÉ
Ingredients
4 tablespoons unsalted butter, plus more for baking dish
½ cup grated parmesan, divided
1 medium shallot, finely chopped
8 ounces wild mushrooms (such as oyster, shiitake, or a mix), stems removed and chopped
1 10-oz. package frozen chopped spinach, thawed and squeezed dry.
4 ounces gruyére, grated
¼ cup all-purpose flour
1½ cups of either whole or 2% milk
Pinch nutmeg
6 large eggs, separated
Method
Preheat oven to 400°F with oven rack in lowest third of oven. Generously butter a 2-quart soufflé or baking dish and coat with ¼ cup parmesan. Then melt butter in medium saucepan over medium heat. Add shallot and mushrooms and cook, stirring often, until mushrooms begin to soften, about 5 minutes. Add flour and cook, stirring with a wooden spoon, until nutty smelling, about 3 minutes. Gradually whisk in milk in 4 additions. Bring to a gentle simmer and cook, whisking often, until thickened and mixture coats a spoon, 4 to 5 minutes. Remove from heat and stir in the spinach, ½ teaspoon kosher salt, several grinds black pepper, a pinch of nutmeg, and gruyere. Whisk in the egg yolks.Beat egg whites with an electric mixer on low speed. When they begin to foam, increase speed to high and beat until stiff peaks form, about 3 minutes. Gently fold ¼ of the whites into mushroom mixture, then fold mixture into remaining whites. Quickly transfer to prepared dish and top with remaining ¼ cup Parmesan. Transfer to oven on lower rack and immediately reduce temperature to 375°F. Then bake until puffed and golden, for 25 to 30 minutes.
Share your top five books with us if you were to start a book club – and why
I am a big reader and would always choose a great novel over Netflix. A few favourites that I read this year include:
Days Without End by Sebastian Barry – Barry's prose reads like poetry, and he manages to make the most violent subject matter (soldiers in the US during the Civil War) into something gorgeous.
Circe  by Madeline Miller brings to life ancient Greek stories, making the characters so real and contemporary.
Shoe Dog by Phil Knight is the memoir from the founder of Nike (but the ghost writer is a Pulitzer Prize winner, so the writing is top notch), and especially riveting for any entrepreneur.
Pachinko by Min Jin Lee – one of the finalists for the National Book Award in the US and a great, meaty epic about a Korean family in Japan in the 20th century.
Call Me by Your Name by André Aciman. I couldn't put it down… Aciman is an incredible writer.
Share your must-see TV and movie list
During quarantine this spring we went on a stellar '90s Brad Pitt & Anthony Hopkins marathon… Legends of the Fall, Meet Joe Black, Remains of the Day, and Interview with the Vampire. For TV, it would have to be Succession, Fleabag, The Loudest Voice, and The Great.
What's the first thing you do when you get up in the morning?
I'm not a morning person, so I sleep as late as possible. Then hop in the shower with my husband, followed by my skincare routine with Dr Sturm products (foam cleanser, serum, face cream and eye cream). Next, I make a matcha with T2 matcha powder and oat milk, and go for a 15-minute walk through SoHo to the Galvan store. I also check the news headlines for the UK & US.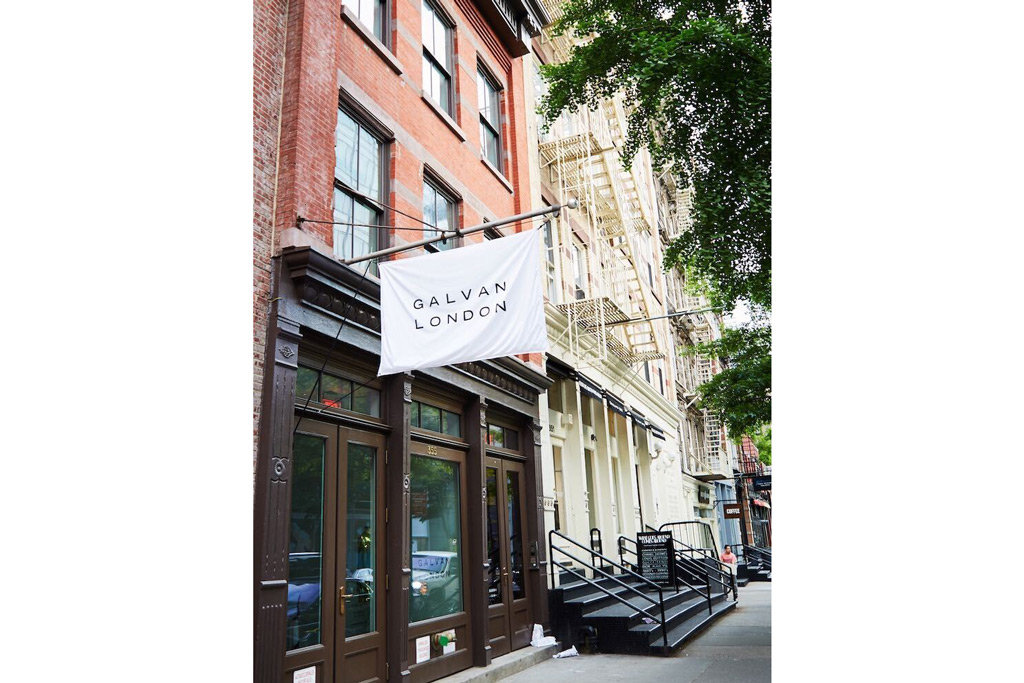 If you were to throw a party at home, what are the key ingredients to make it go with a swing?
A sense of abundance: generous cocktails (ideally spicy margaritas), bountiful food, and a couple guests more than you think can fit. Great music and dimmed lights or candlelight are a must for atmosphere. And of course, a carefully thought out seating plan: not only can you matchmake couples – I've had 6 successes and counting – but you also ensure that everyone has the best time by sitting next to the person they find most engaging.
What gadget could you not live without in your home?
Sonos speakers.
How do you keep fit at home?
Yoga – either one-on-one classes over Zoom with my regular teacher, or else, Alo Yoga has a great app called Alo Moves with hundreds of yoga classes. The Nike Training Club app also has some fantastic HIIT classes that you can do at home with just a mat. I particularly like one trainer called Kirsty Godso. I synch my phone with our big projector screen so that I feel like the trainers are in the room with me.
What are you doing in your garden at the moment?
We have a rooftop, so we're sunbathing and al fresco dining at every possible chance!
What makes a house a home?
Objects that have personal meaning: hand-picked furniture, art you've collected, trinkets from travels. Little reminders everywhere of the life you've lived, and the people that you love.
MORE AT HOME WITH: