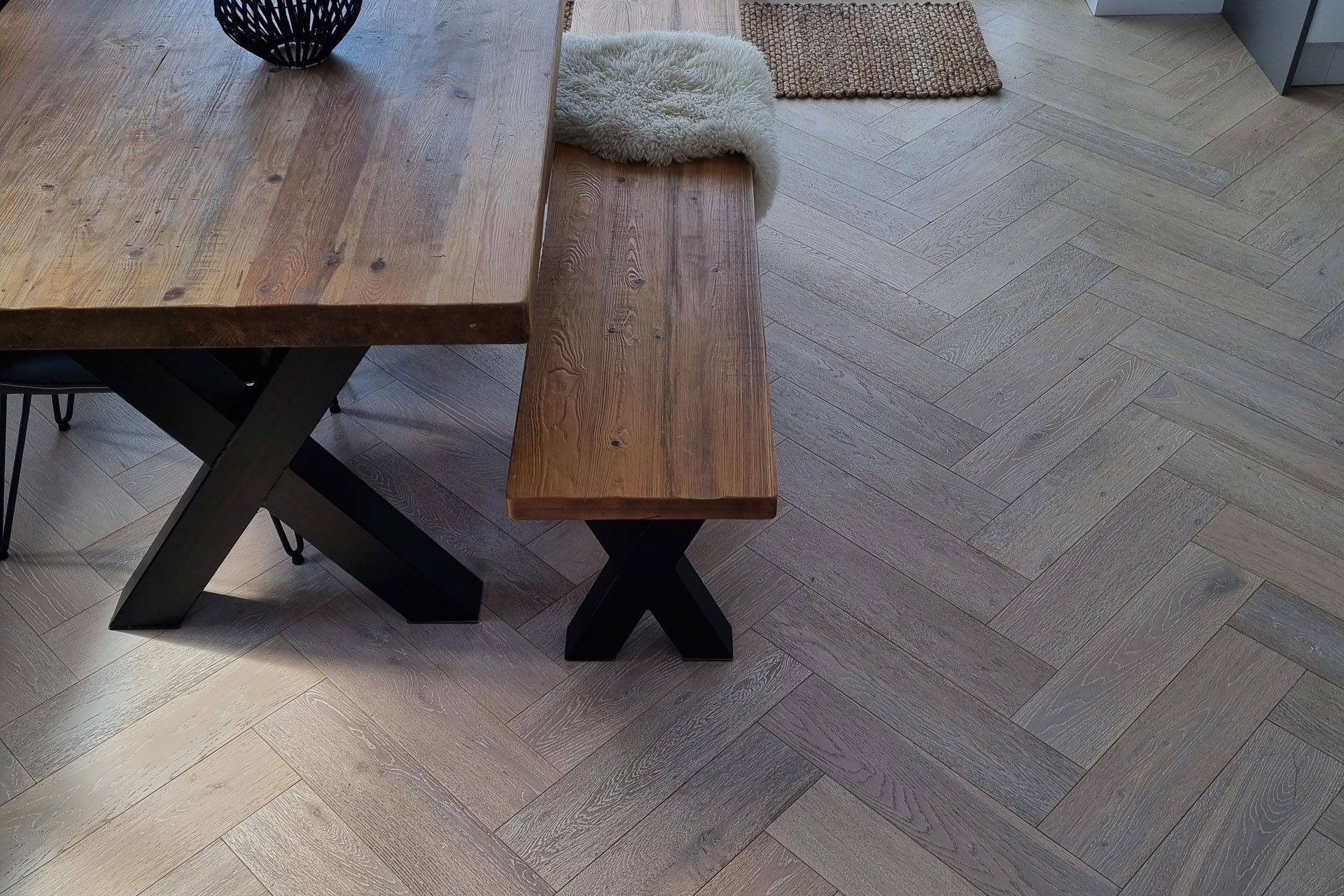 The Best Buy for Your Home? Here's Why It's Your Floor
---
Read on for free samples....
Don't get distracted by the endless trend circus of interior trinkets: the perfect statement piece for your home was under your nose this whole time and you didn't see it. Yes, it's of course beautiful flooring. And naturally, we're looking to Luxury Flooring to fit the bill. 
The Best Buy for Your Home? *Look Down* It's Always Been Your Floor
So why Luxury Flooring? Of course, if we're completely honest with ourselves, our first thought is the samples (because, who doesn't love free things?). But it also just so happens that Luxury Flooring has the most stunning array of arboreal options, where it's been featured in TV shows like Grand Designs, DIY SOS and Extraordinary Extensions, unsurprisingly. 
If you click through the link, you'll be able to order a limitless array of wooden floor samples that'll arrive to your home next first class delivery. Consider it a tangible, tactile asset to help you visualise the room of your dreams — or a gratuit souvenir for reading this article. Unlikely, but the choice is still yours.
Order Your Free Sample
When we're dreaming, Pinteresting, and mood boarding our dream kitchen or living room, a parquet's play of light maybe isn't the first thing we think of. Flooring hasn't got the rock and roll status of a head turning headboard or a jaunty lamp let's say, but when you're committing to an interiors buy, a wooden floor is the difference between that much more cosy home, that much cleaner living space, as well as it adding value to your home. So what's not to loose? 
Here are all the reasons why taking care on choosing your flooring will always be the most sensible, beautiful, decision you'll make for your home. 
It'll Save Money in the Long Run
The knowledge that wooden floors are the perfect investment piece, was understood way back when in France 1680, when Louis XIV was running into issues with the marble floors that he'd installed, naturally, in the Palais de Versailles (where else?). In The King's Grand Apartment especially, the marble floors were leaking and rotting at the joists. 
His solution was to install a wooden alternative, the 'Paraquet de Versailles', which is where we get the name 'parquet' today. The aesthetics, durability, and potentially the geometrical sobriety of the pattern play of this wooden flooring, plus it's ease in which to repair, makes it no surprise this choice of floor (parque in french means 'parquetry' or 'small compartment'), still reigns supreme as the ultimate choix. 
For a taste of regal grandeur, we're looking at Luxury Flooring, because its an affordable access point, but yet it doesn't compromise on quality. We're especially partial to its francophile flooring offering, such as the La Roche Parlour Engineered Oak, since it has our vote for historical attention to detail. The Painswick Paradise Engineered Oak can't ever be bad choice in our books. 
The best part, if it's all too much of a pinch to drop an investment all at once, it's possible to spread out the costs with Luxury Flooring have just announced Klarna option of payment, where you can pay in instalments with 0% interest options.
You Can Get a Free Sample at Luxury Flooring
Who doesn't love a free sample? To stave off any frantic indecisions you may harbour (we don't blame you, there's choices aplenty on the Luxury Flooring website). Luckily for us, Luxury Flooring are offering free samples of their wood flooring that's on free first class delivery and there's no limit on how many you can order. It's a great way to check out the weight, quality to hand, and get that 'gut instinct' on which is best. All from the comfort of your home.
Order Your Free Sample
… And, In-Room Delivery
At the start of August, Luxury Flooring is offering an in-home, in-room delivery, with two people delivering in your room of choice. The more a brand thinks about swerving the awkward time consuming installation faffs, the better.
If Anything, Do it for the Aesthetics
If that doesn't tempt you, then, reason alone is just for the aesthetics (obviously). Who doesn't love a zig zag play of a herringbone floor? Wooden flooring is always a visual delight, that'll add a sense of calm, and it goes without saying that layering rugs over, will look extra gorgeous in the winter when wanting to channel that hygge or lagom style cosiness. 
Plus the perk with wooden flooring is that it's interchangeable when trends inevitably come and go. It's going to feel just as relevant for historical aficionados with a penchant for Versailles, as it does for the slick city minimalists who keep mood boards on styles like Japandi. 
What is Japandi? The Interiors Trend You Need to Know About / The Best TV Shows for Interior Lovers
It'll Add Value to Your Home
If you're in the market for floor investment, it's likely that you've already bought your home. But perhaps unlike a slightly peculiar clock you picked up on a whim, investing in wooden flooring is likely to pick up the price of your home. 
In fact, a survey by National Wood Flooring suggests that 80 per cent of estate agents agree that installing wood flooring increases the home value by 1 per cent to 10 per cent. Not bad. 
It's Much Easier to Clean
Despite our best efforts when we move into a new home, and all the promises we tell ourselves, we inevitably let things go astray in terms of cleanliness now and again. If you're not sold on the visual delight of flooring, you'll probably be convinced when it's a floor that works wonders when doing a quick manic clean of the house before guests arrive. Sweep, mop, or vacuum, it's ideal.
SEE MORE
The Guide to Sustainable Interior Design / 50+ Interior Design Ideas for Your Townhouse
Main Image:  Courtesy of Luxury Flooring, luxuryflooringandfurnishing.co.uk