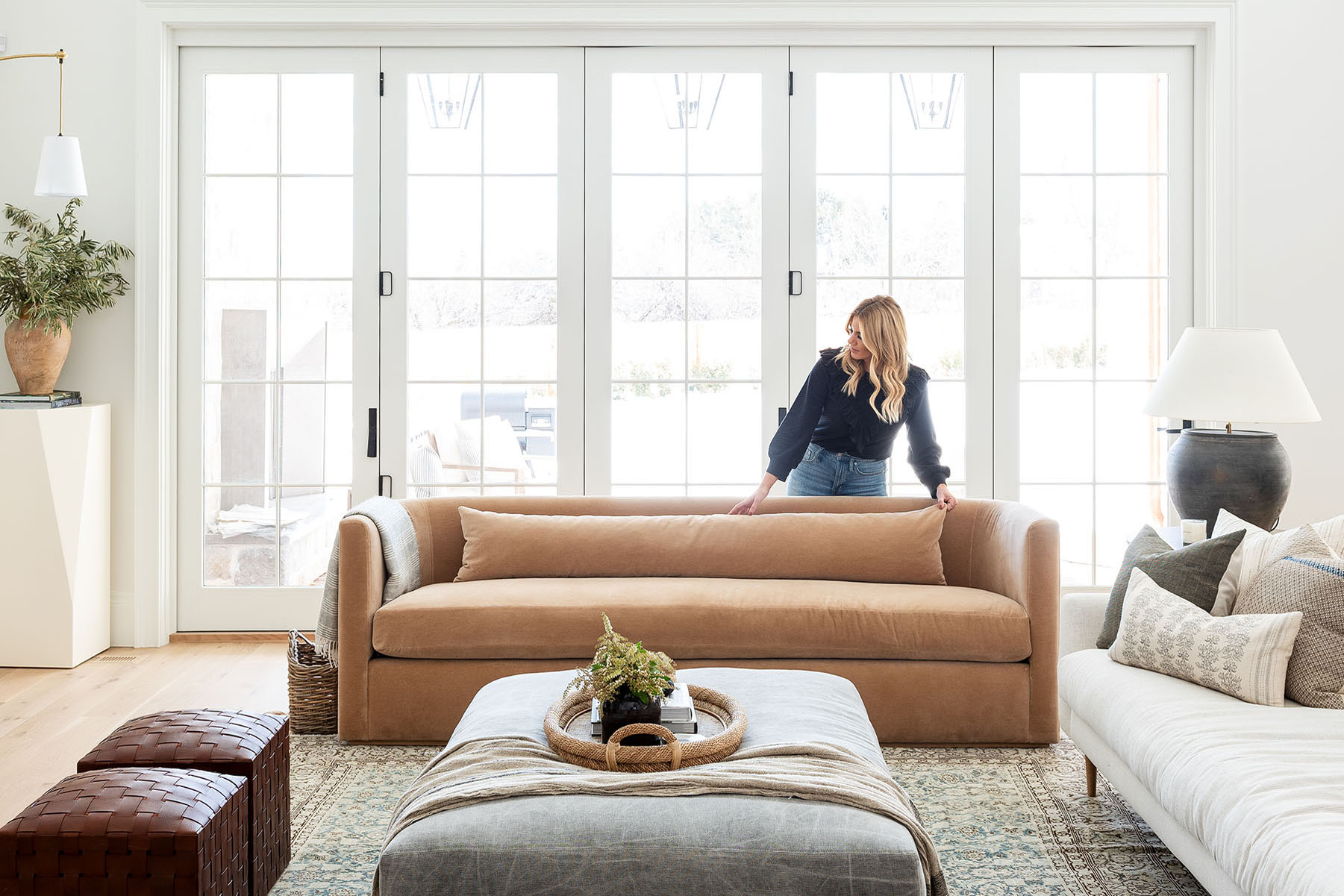 2021 Interior Trend Predictions With Netflix's Studio McGee
---
Your interiors need-to-know for the year ahead
From how to organise a home pantry to design hacks and top colour trends to tap into this year, Studio McGee's Shea Mcgee gives her inside tips.
2021 Interior Trend Predictions With Netflix's Studio McGee
If over lockdown you fell in love with Netflix's Dream Home Makeover and its decorating duo, Studio McGee, you'll already be familiar with their dreamy transformations of dull spaces into elegant, light-filled interior design sanctuaries. With homes that have filled up with an abundance of office clutter and home workout gear over lockdown, what we're really hankering to know is how to do it ourselves this year? We caught up with Shea Mcgee to find out her top interior trend predictions for 2021…
What will be the biggest interior trends for 2021?
Curved furniture and soft lines. We're seeing this in everything from sofas to beds. Paired with more minimalist nightstands, a curved headboard brings a modern-meets-traditional feel to your bedroom that's both effortless and approachable.
Also, wicker and rattan furniture inside. Things that were old are becoming new, in almost a grandma-chic way. Whether you're styling a wicker chair in the corner of your room, or a rattan bench at the end of a bed, this on-trend moment can be created in a low cost way by finding vintage pieces at thrift stores.
Sign Up to the C&TH Interiors Newsletter
Where should you start when planning a home makeover?
I always like to ask myself two questions: how is the space functioning now, and how do I want it to function in the end? This determines the overall goal of the home makeover, because you need your end design to be not only beautiful, but functional.
Easy and impactful ways to give your home an instant refresh?
Wallpaper! Pattern is in right now and I'm here for it. Whether it's a more whimsical pattern in a kids room or even a statement-making motif on your ceiling, adding wallpaper can be a simple update to give your space an instant refresh and a little more character.
We've all been spending a lot of time in our home offices recently – what are your tips for creating a tranquil home working space?
A lot of the members of our team, and people throughout the world in general have created their home offices in multi-use spaces. When it comes down to it, you need a good office chair for comfort, then it's all about creating a relaxing work atmosphere. Light a candle by your computer, and style some flowers or a planter nearby, try to keep a simplified and organised workspace to stay relaxed and efficient.
The 50 Best Interior Designers
What colour trends should we be tapping into in 2021?
Warmer earth tones. I love seeing beiges, browns and rusts in textiles, but I'm ready to commit to warmer hues in bigger ways, using them as more of a focal point in headboards and sofas.
Do you have any interior brands that you love and always go back to?
Shameless plug – but McGee & Co! Our website is curated with items that work in a variety of homes from modern to traditional. I also really love Benjamin Moore for paint, and I'm a big fan of Kohler.
What are your top home organisation and storage tips?
If you're looking to add storage to an existing space, the easiest way is baskets – I have baskets everywhere throughout my home, it's a great way to corral blankets or toys, and it keeps the clutter out of sight.
Any pantry design and organisation tips?
If you're building a pantry from scratch, design with function in mind and maximise the space with built-ins. If you're reworking an existing pantry, keep it simple! You can use wire baskets big or small for organising anything from snacks to canned goods.
Wallpaper Ideas for Every Room
What design rules should you follow for a home makeover?
There's only one rule that I always stay true to when planning a home makeover, and that is trust your gut! If something doesn't feel right, change it. Your space only needs to be both beautiful and functional to you.
How do you create a peaceful, calming sanctuary in the bedroom?
Only have items you love in your bedroom, and focus on neutrals! I love using a tan, grey or cream bed in a room, then creating layered dimension and texture through textiles and blankets for a look that is timeless and calming.
Any under-the-radar interiors brands to watch for 2021 or hero items we should invest in?
Invest in comfort! If this past year has taught us anything, it's that our homes should be a place where we enjoy spending time and relaxing. Invest in a comfortable sofa, reading chair, or new bed, anything that makes you comfortable is worth it.
What will be inspiring you for 2021?
I always find inspiration through traveling and spending time outdoors, hopefully we'll all be able to do a bit more of both those things in 2021.
Follow Studio McGee on Instagram @studiomcgee. Find out more at studio-mcgee.com
READ MORE
10 Ways to Reorganise for a Peaceful Home / The 50 Best Interior Designers / Wallpaper Ideas for Every Room