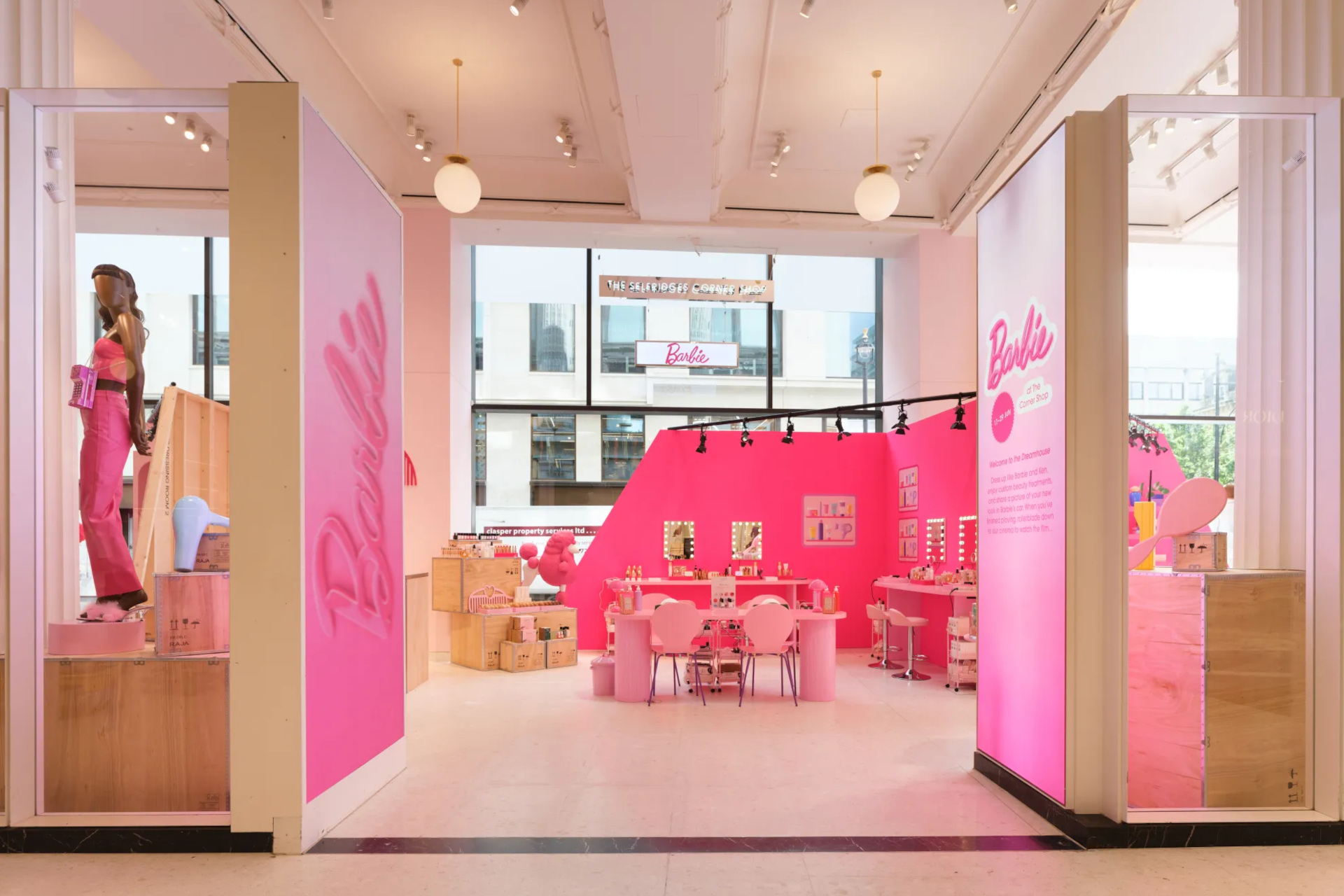 Barbie Takes Over Selfridges Ahead Of Live Action Film
Selfridges turns pink this July
Come on Barbie, let's go Selfridges! The iconic department store is throwing open the hot pink doors to its London store, where a series of Barbie pop-ups will be taking up residence for the next two weeks. Here's everything you need to know.
More Fashion & Beauty Pop-Ups In London
Barbie Takes Over Selfridges Ahead Of Live Action Film
In celebration of the soon-to-be-released Barbie live action (mark 21 July in your calendars), British department store Selfridges has set off a series of hot pink activations throughout its London store. From window displays and cinema experiences to official Barbie merchandise and beauty experiences, Selfridges is gearing up to become Malibu's answer to the DreamHouse.
View this post on Instagram
'Barbie is such an interesting pop culture icon. We fell in love with the idea of Barbie shopping and spending time at Selfridges,' said Judd Crane, Executive Buying Director at Selfridges. 'We've been following the creative trajectory of the "World of Barbie" over the last decade, embracing inclusive attitudes and positivity. The Barbie brand today and new movie inspired us to take action and bring Barbie to life for this conceptual take on Barbie's dream world.'
What Can We Expect From The Barbie x Selfridges Pop-Up
Official Barbie Movie Costumes, Front Windows
Before you pop in, make sure to take a look at the windows adjacent to the main entrance of Selfridges, which have been transformed to show recreated scenes from Barbie. The windows will also house official costumes from the film, including the official disco costumes worn by Margot Robbie (a sequin jumpsuit for Barbie) and Ryan Gosling (a white and gold jumpsuit for Ken). Barbie's dressing room has also been recreated, with the pink and white gingham dress and two-piece skirt suit worn by Robbie in the film.
The Corner Shop
Transformed into Selfridge's version of Barbie World, the Corner Shop has had rose hued upgrade. Reimagined as places where Barbie would shop and hang out in London, the space has been decked out in Barbie-themed paraphernalia – think dressing rooms, beauty vanities and a pink Corvette modelled after the one used in the film.
The Corner Shop is also home to the first ever Barbie Dream Wardrobe Rental; curated by stylist and art director Theo White in collaboration with Selfridges Rental, the selection features outfits that look back on the doll's 64-year history. There's also opportunity for fans to emulate Barbie's 250 plus careers – from Dream CEO Barbie to Dream Fairytale Barbie – as well as try out the store's Barbiecore edit.
'This is the ultimate styling job,' said Theo White. 'Mining the treasure trove of Barbie's fashion doll archive to curate an edit of modern and vintage pieces so that fans can pay homage to icon Barbie careers and eras from power dressing CEO looks to dream 70s California pieces by renting "Barbie's Dream Wardrobe!"'
View this post on Instagram
Visitors will also be able to book Barbie-inspired hair and nail services from the Gisou Dry Styling Bar and Manucurist respectively, as well as beauty looks created Lisa Eldridge, the artist who created the makeup for Dua Lipa's Dance The Night music video.
As is to be expected, there will also be lots of Barbie merchandise available to shop, including the Barbie toy line and the iconic Impala x Barbie roller skates.
The Toy Shop
Barbie will also be staging a takeover of the Selfridges Toy Store, with a veritable Barbie playground featuring the movie line and core ranges from Mattel. Search the shelves for your favourite Barbie (or Ken) and let your collection grow.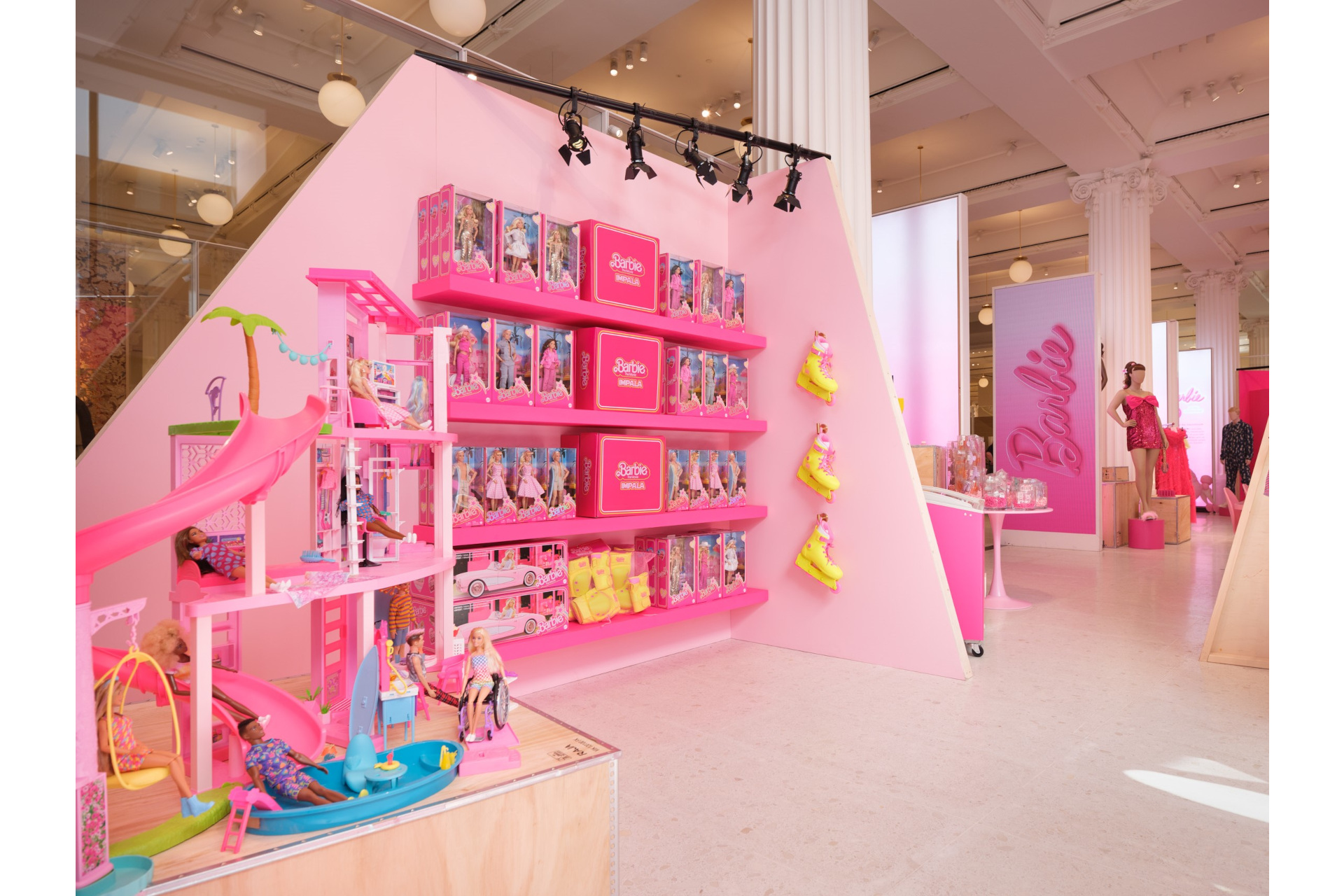 The Cinema At Selfridges
The department store's cinema will also be getting the pink treatment, with rosy lighting, a Barbie backdrop and Barbie-themed uniforms for staff (who will be serving bespoke popcorn trays and candyfloss), and even a pink vintage photobooth (complete with printed black and white selfie photo strips) giving visitors a real Barbie moment. The Barbie movie will be playing back to back in the cinema from 21 July. You can book your tickets here.
How To Visit The Barbie x Selfridges Pop-Up
Make your way over to the Corner Shop at Selfridges to explore the new pop-up.
Address:  Selfridges, 400 Oxford St, London W1A 1AB
Nearest Tube Stops: Bond Street (Central, Jubilee and Elizabeth line) and Marble Arch (Central line)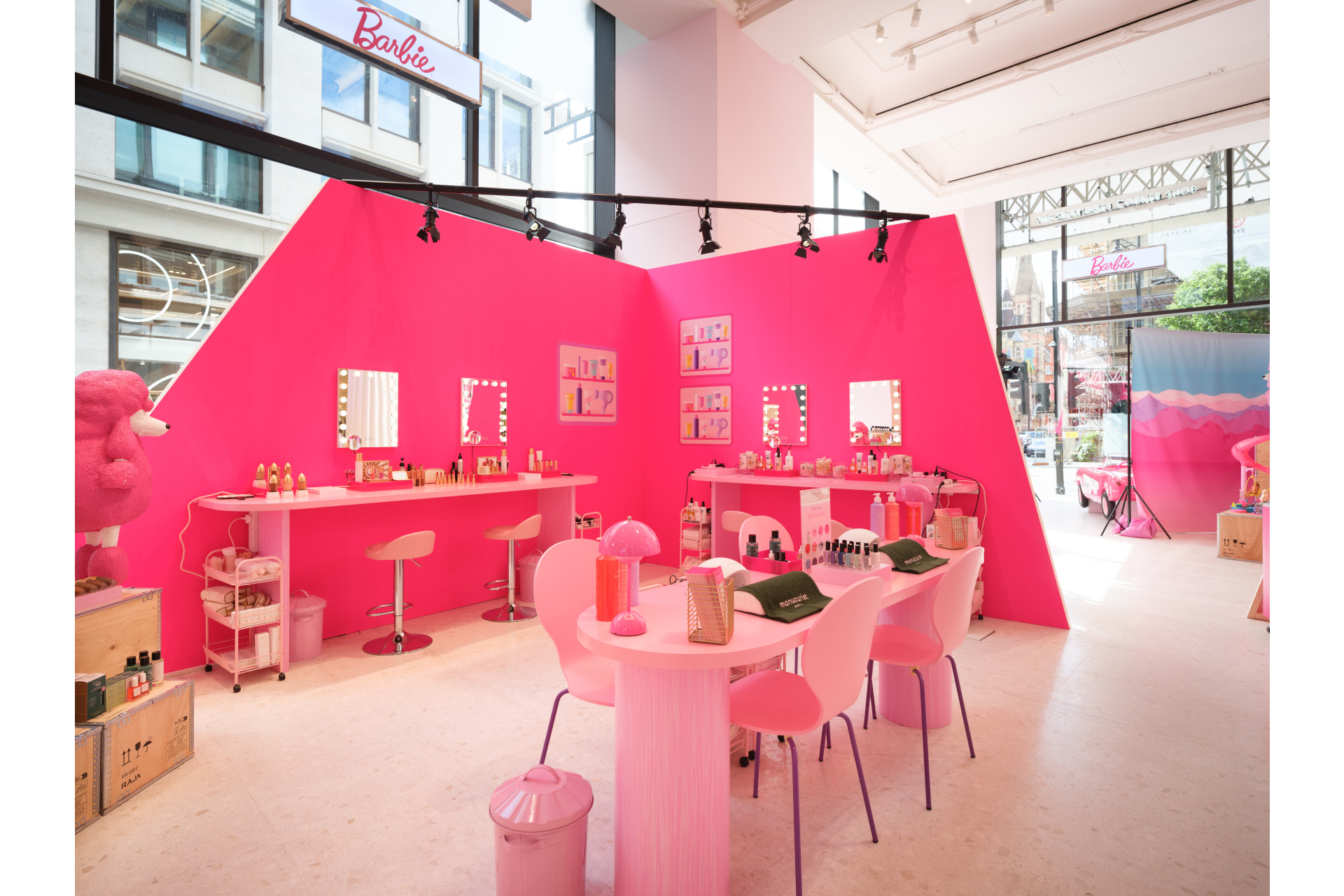 How Long Will The Pop-Up Be Open For?
The Barbie pop-up opened in the Corner Shop at Selfridges on 17 July 2023, and will run until 29 July 2023.
Celebrating Barbie Outside London
Not in London? Not to worry. Selfridges shoppers in Manchester can visit the Trafford branch, where another Barbie pop-up has just opened featuring dolls from the movie and other Barbie merchandise. Similarly, Selfridges Birmingham is currently hosting a Barbie destination where you can shop merchandise and grab a selfie moment.
Selfridges Manchester: 60 The Trafford Centre, Trafford Park, Stretford, Manchester M17 8DA
Selfridges Birmingham: The Bullring Upper Mall East, Moor Street Queensway, Birmingham B5 4BP
Images courtesy of Selfridges (c) Lewis Ronald