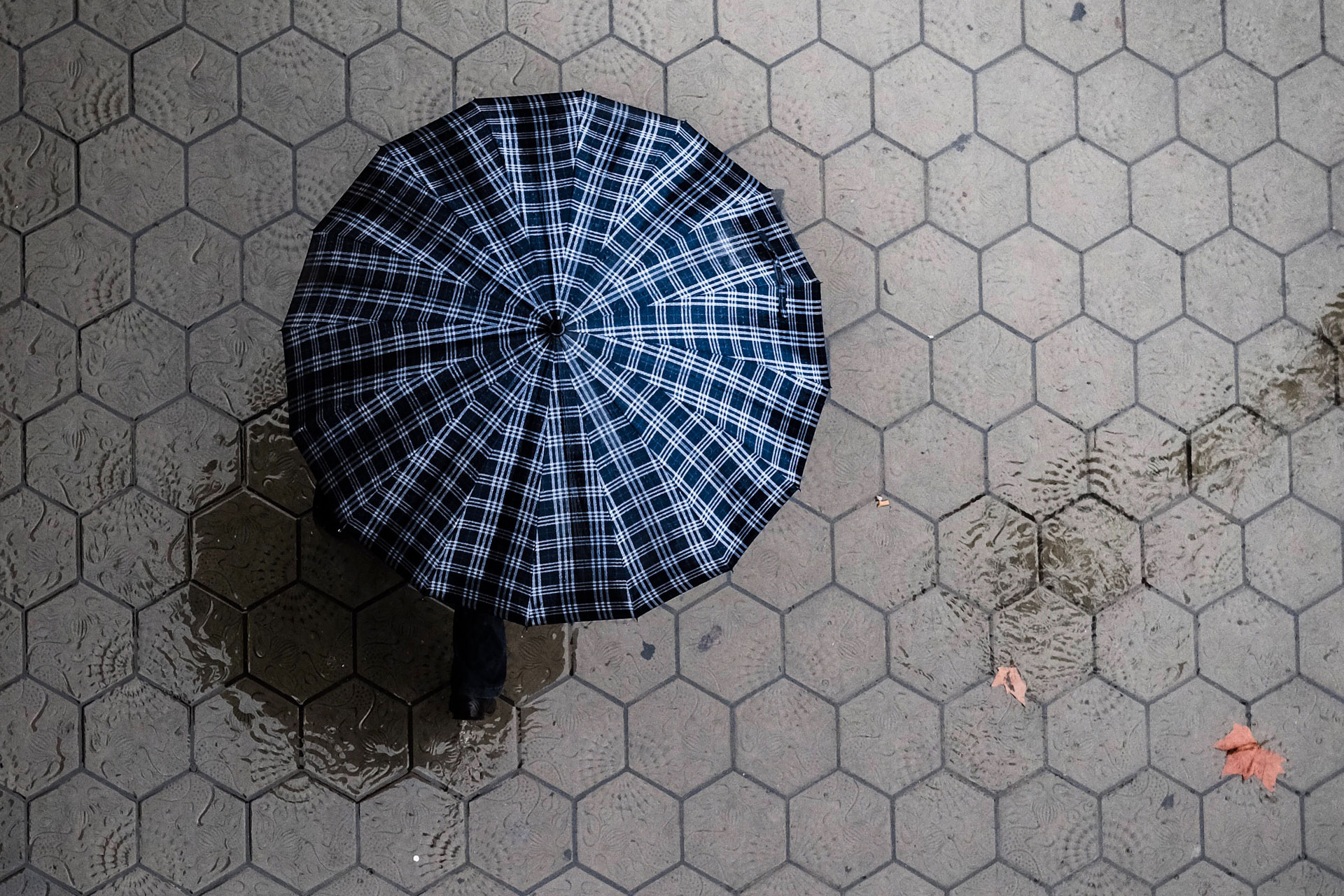 The Best British Umbrella Brands
---
British weather may often be dreary, but your umbrella doesn't have to be...
It's umbrella day! Time to celebrate. On average, it rains one-hundred-and-thirty-three days a year in Britain. That is just over one-third of each year that we spend battling through the torrents with our umbrellas. This makes it all the more surprising that the humble umbrella is not considered a lifelong investment in the way our shoes, bags, or watches are. Having a sturdy umbrella on hand can save you valuable time sheltering under restaurant canopies, or from having your hair ruined by the inevitable downpour.
For centuries, British umbrella makers have built a reputation as crafting the very best in the world, supplying customers with a diverse range of pieces to match all personalities and protect them from the ghastliest of weather. While costlier than those you can pick up cheaply at a souvenir shop or supermarket, the umbrellas on this list are actually built to last, ensuring you won't need to replace it again after a single year of use. A good umbrella, as many of these brands will tell you, should survive a lifetime.
To help you decide which umbrella is best for you, we have compiled a list of the very best British umbrella brands in operation today, and how their unique styles can make a little show of rain rather fun. Before you learn more about the brands, shop our edit, below.
The Best of British Style – Fashion, Beauty, Brands & More
Umbrellas To Buy For Winter 2022
The Best British Umbrella Brands
Fox Umbrellas: For Understatement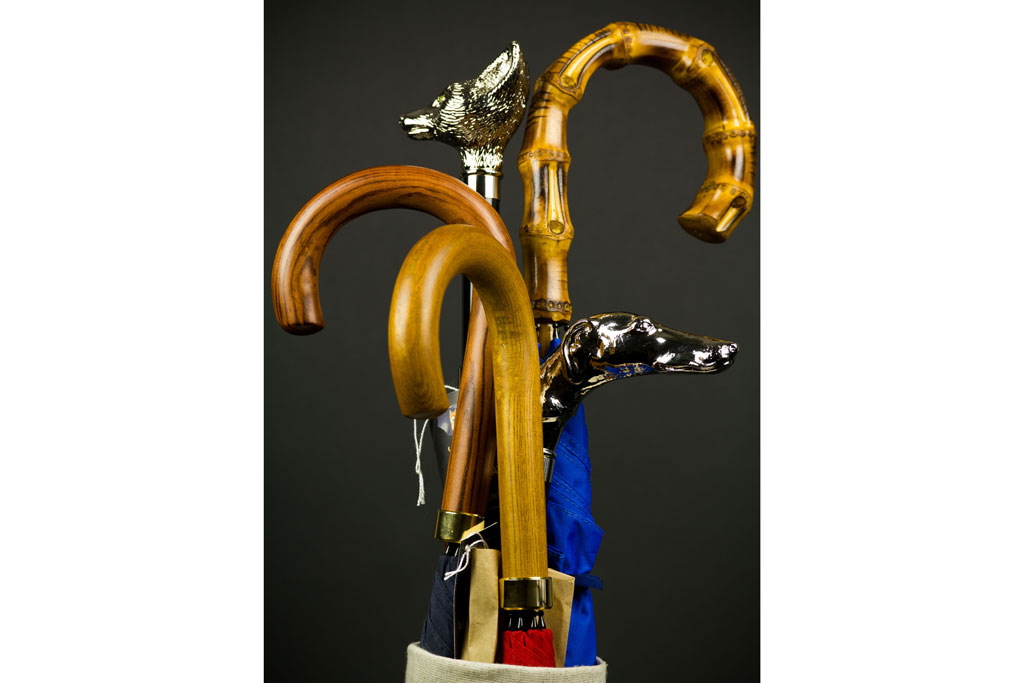 The Duke and Duchess of Cambridge, Charlize Theron, and Emily Blunt are amongst those who have used Fox's Umbrellas at any point in time. Although the Fox family business has been making umbrellas in various forms since 1868, when Queen Victoria was still on the throne, today the London based-firm is the quintessentially English pick. Aside from a few animal-head designs and whangee crooks, these Made in England umbrellas are understated and extremely well-crafted – coming in foldable, telescopic and pure stick. Fox also produces a popular line of raincoats – so you'll be fully prepared to battle the torrents from head to torso. foxumbrellas.com
London Undercover: For Media Types
This is the trendier, contemporary choice (think an afternoon hanging around Soho House). Less classic, but more youthful than the others on this list, London Undercover – founded in 2008 – has collaborated with the likes of Monocle, Carhartt, and Fred Perry. Styles include standard colourways, but also patterns and motifs that make them an expression of your character as well as a practical piece of kit; one such example is the gorgeous star constellation design. Along with the trendy styling are sustainable means of production, which underpin each part of the manufacture process. Why not pick up one of their spectacular, and very affordable, foldables with a whangee crook? You might even look forward to a little rain. londonundercover.co.uk
Lockwood Umbrellas: For the City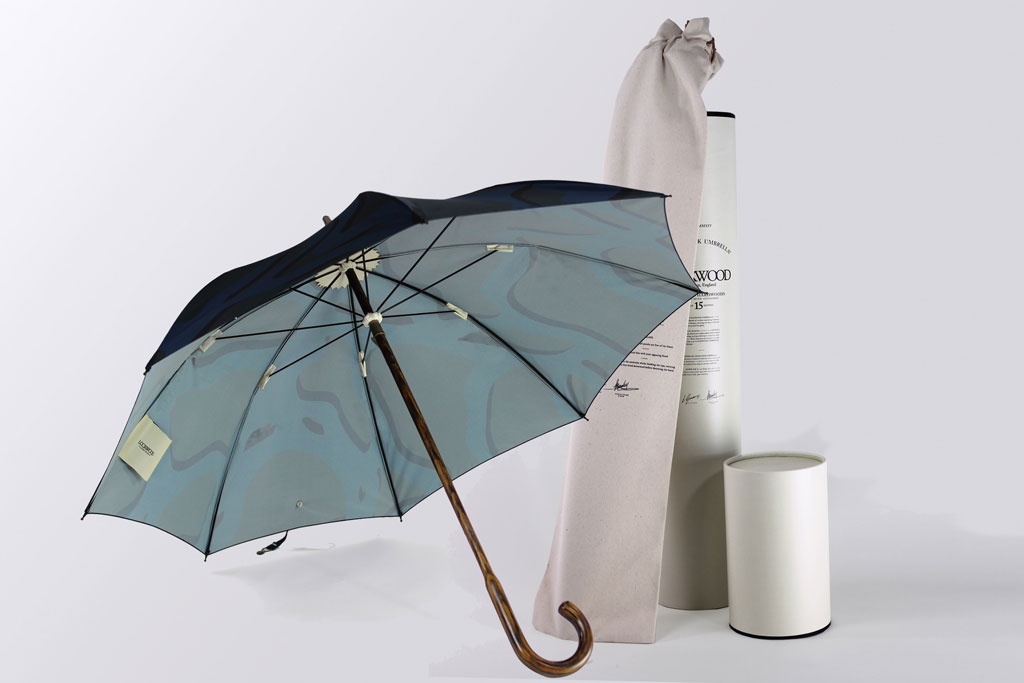 Lockwood, like London Undercover, are new-comers to the umbrella market. Where the two differ is in their style. If LU is Soho House, Lockwood is St James, crafting pieces that stay true to the image of a classic English gentleman/woman, but with a modern touch. Every Lockwood umbrella is hand-crafted in North London using the finest sustainable materials from around the globe. The company employs centuries-old techniques, chooses sturdy hardwoods, Grade-A steel frames, and proofed water-resistant cloth that all come together for an umbrella that lasts the user a lifetime – Lockwood is an investment. And if you want to go the full-mile, you can have your very own made to order, which includes matching the stick length to your own height and personalising the button-strap. lockwoodumbrellas.com
Swaine-Adeney Brigg: For Traditionalists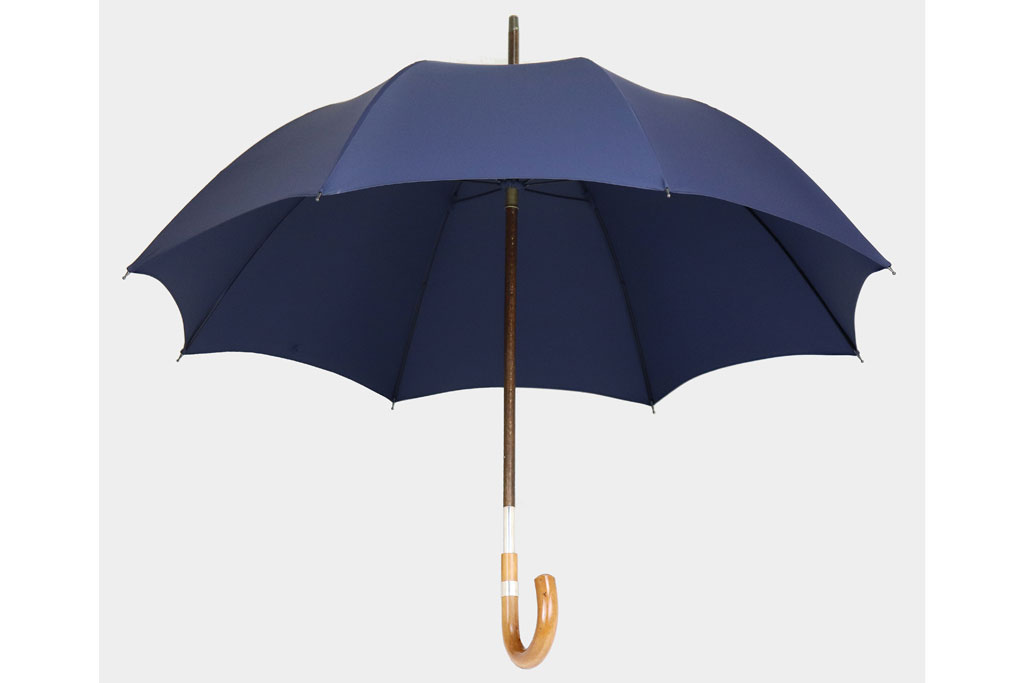 The Brigg umbrella is an internationally-renown symbol of great British umbrella making, in operation since 1836, and recently selected for the big-screen in the highly acclaimed 'Kingsman' films. Being chosen exclusively as the ideal brolly for an undercover spy, it's no surprise that some of Brigg's offerings include the easily-foldable Malacca Traveller (with a detachable handle for storage) and also their masterstroke: the Malacca Flask. This unusual piece includes a fitted screw-in drinking flask for those days when 'under the weather' can take on a variety of meanings. Brigg is indeed a British classic, arguably the top-tier of umbrella-making; justifying a rather high price-point (£350 for starters) compared to others on the list. swaineadneybrigg.com
James Smith & Sons: For the Country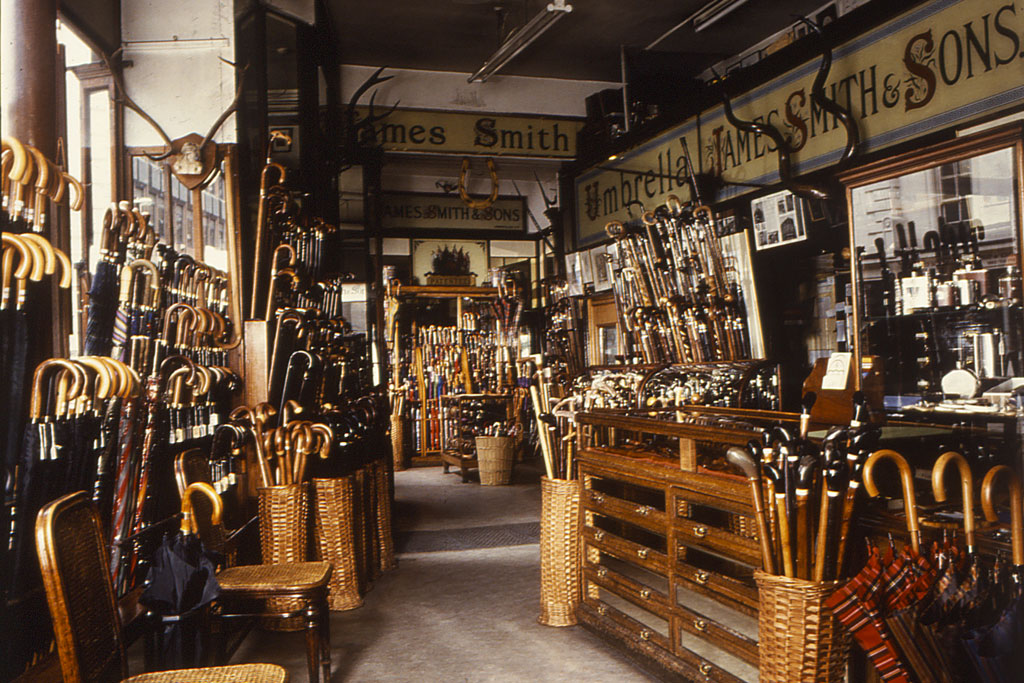 A love for English eccentricity is very obvious at James Smith & Sons, where their famous umbrellas include strikingly carved animal-head shapes and unusual, natural knob-stick ends. Operating since 1830, their London emporium has supplied men and women with all manner of umbrellas to suit their needs (their Garden and Golf styles are particularly popular). If you decide on a James Smith piece, it is certainly worth popping in-store to consult with their knowledgeable and attentive team, or peruse the creative handle-designs. James Smith & Sons is so famous, in fact, that if you ask a London cabbie to take you to 'the Umbrella Shop', you will likely find yourself here; and aside from their own umbrellas, they sell a vast choice of affordable brands – some starting at £16 a piece. james-smith.co.uk
Pickett London: For Luxury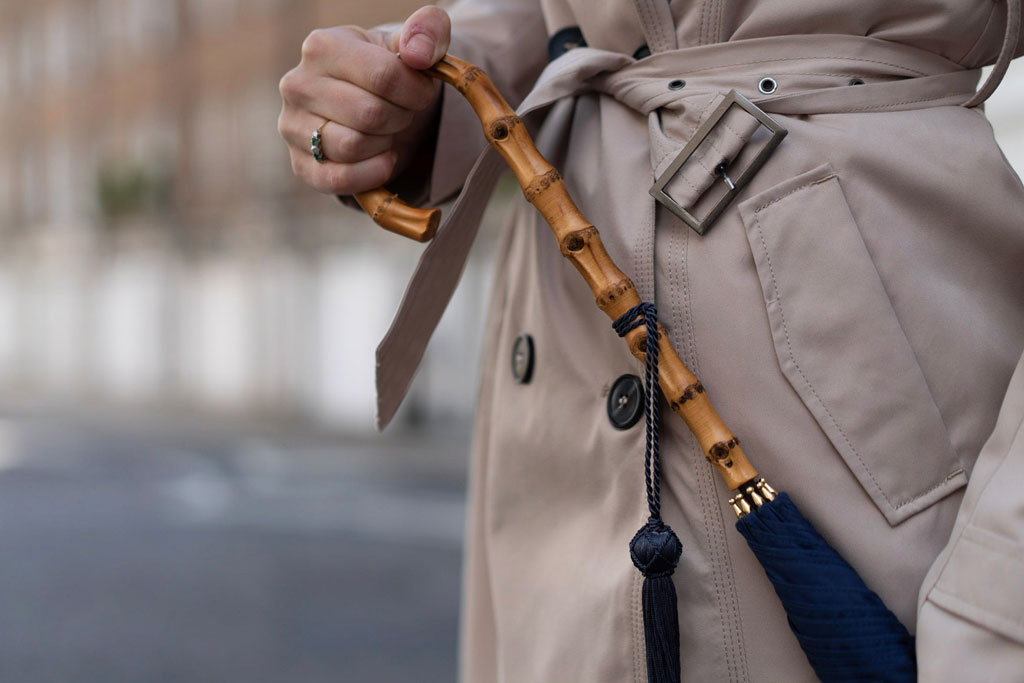 Elegance is the order of the day at Pickett, which was established in 1988 by Trevor Pickett. When it comes to their range of hand-crafted umbrellas, the London-based accessories brand focus on luxury over eccentric design, ensuring each umbrella is more tasteful than flash, and focusing on the type of wood used. Their bespoke choice, however, allows customers to use their own fabrics, adapt the shaft, or print a photograph (perhaps an inviting Caribbean sunset) inside the canopy. Their bespoke service also offers some unusual additional features, like crook concealed pencils. Pickett will work to deliver the umbrella of your wildest dreams. And if that wasn't enough, each umbrella is incredibly practical, having been wind-tested to withstand speeds of 27mph. pickett.co.uk 
READ MORE:
Summer: The Best Places To Visit In The UK This Season / The C&TH Luxury List / Beautiful Fine Jewellery to Invest In Now
Photo by Craig Whitehead