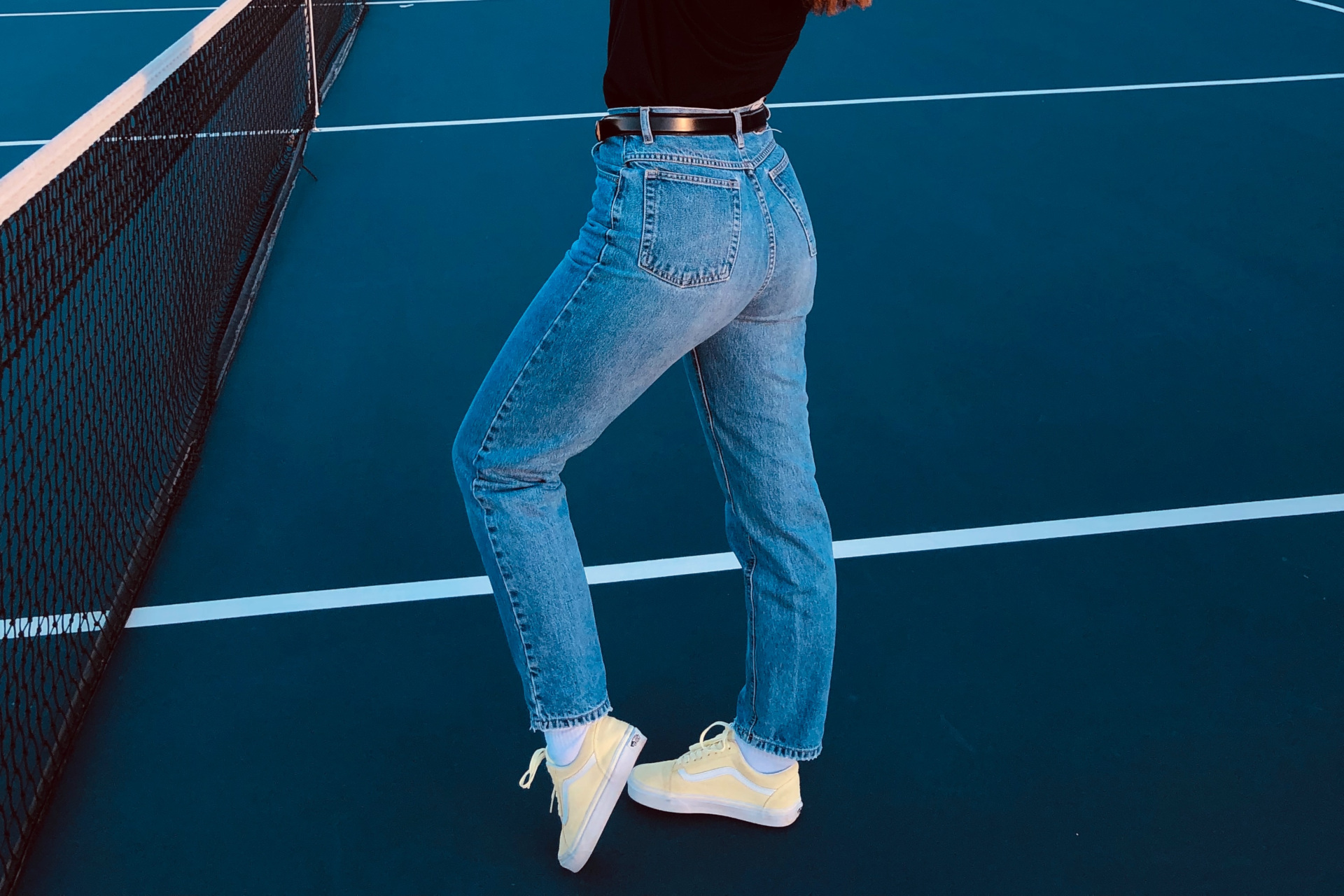 Throwback Fashion: The Best 90s Jeans For Spring
---
90s nostalgia is thriving this season
It's common to see nostalgia creep into even the most daring of trends – so it should be no surprise to see it rear its head when it comes to the ultimate wardrobe basic: jeans. The latest iteration making the rounds comes from a more recent era, more specifically the 90s. Find out how to wear the trend below, and where to find the best 90s jeans for spring.
The Country & Town House Responsible Buyers' Guide
What Are 90s Jeans?
90s jeans mimic the style of the decade in all its variations: mom jeans, baggy jeans, tapered jeans and even the occasional pair of flares. The only things that don't fall under the umbrella are skinny jeans and stretch denim. In essence, loose styles that avoid being too form-fitting make up the ideal pair of 90s jeans. A quick browse through some old school TV shows like The Fresh Prince of Bel-Air or Friends will give you a few quick ideas of the style we have in mind.
How To Wear 90s Jeans
1. Simple Basics
You can keep things minimal with a baggy jean, white tank top and trainers for a relaxed streetwear look. This style also give you the opportunity to do a Britney by adding a denim jacket when the weather is cooler.
2. Vintage Athleisure
While the stories from our favourite TV shows are great, sometimes the outfits are better. Just look at Fresh Prince for example. We're a big fan of this gender neutral take on athleisure, which you can achieve by pairing your jeans with a letterman jacket and a plain tee.
3. Double Denim
We might have scoffed at the idea of double denim just a few years ago, but in 2023 it's here to stay. This outfit donned by Emrata blends a super baggy jean with a 70s-style bralette, which the model tones down with a cap and trainers.
4. Cropped Top
It can be tempting to opt for something more fitted on top to counterbalance the bagginess of our bottom half. If you're interested in mixing things up, but aren't quite ready to fully commit to a baggy-on-baggy look, go for a cropped top or jacket that accentuates your waist and gives the illusion of an hourglass figure.
5. Oversized Layers
Did we mention we love an oversized silhouette? Pair your jeans with a loose-fitting shirt or jacket (even better if it's a men's jacket) to emulate an effortlessly put-together outfit.
 6. Monochrome
If you prefer to steer clear of blue denim, it's not the end of the world. Black denim can channel the trend just as well, as shown by Gigi Hadid below. The model pairs her 90s jeans with a black butterfly tie top, old school converse and sunnies.
Throwback Fashion: The Best 90s Jeans For Spring