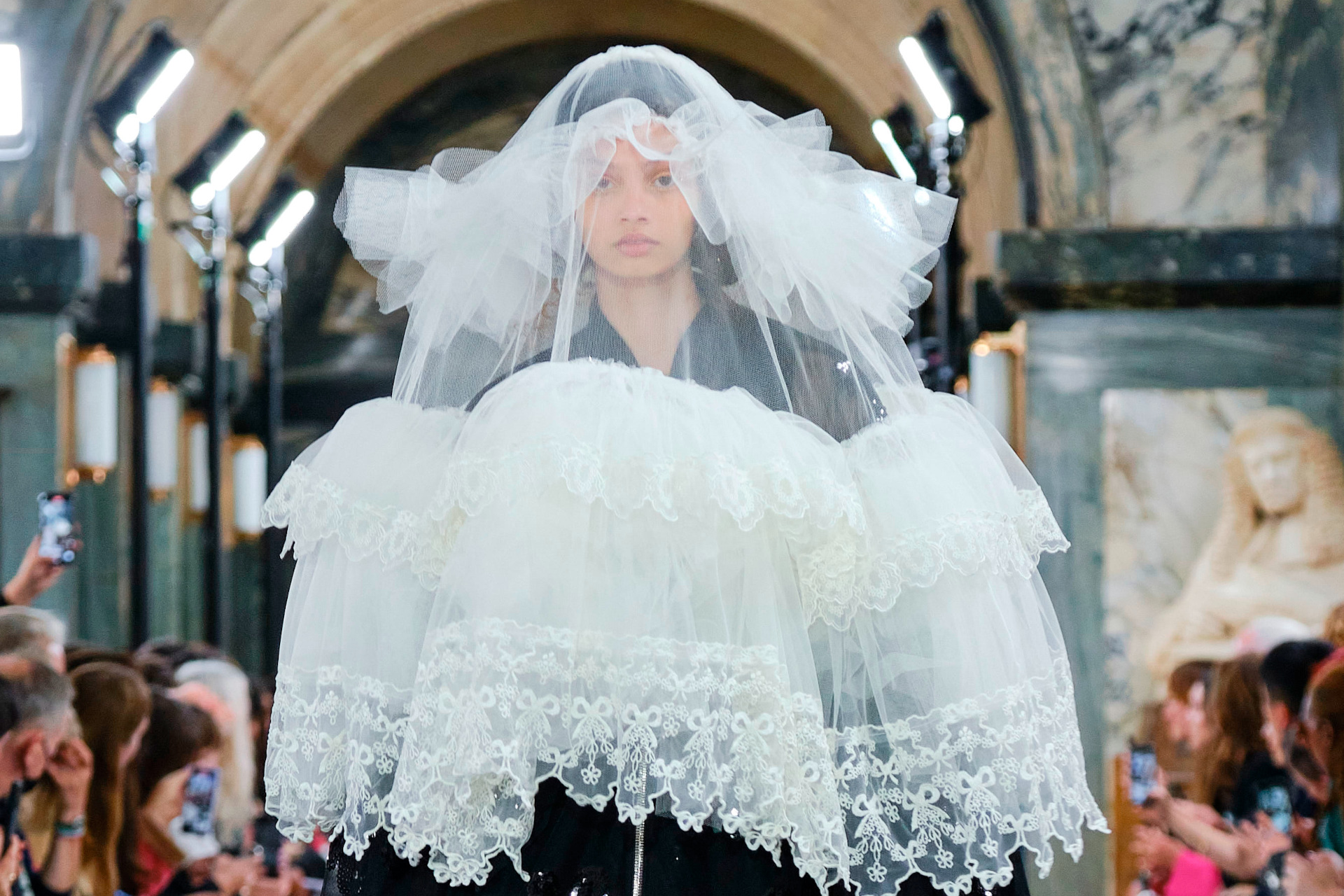 The 10 Biggest Fashion Trends For 2023
The future of fashion is here
Fashion waits for no one, and when it comes to trends they fly by at lightspeed. Here, we round up some of the biggest fashion trends forecasted for 2023, so you (and your wardrobe) can stay ahead of the curve season to season.
Read the C&TH Responsible Buyers' Guide
The Biggest Fashion Trends For 2023
We're going big and bold with the way we dress in 2023. We're entering our main character era, which means we'll be dressing up for fun (and turning heads as we do). We may be divided on how we use colour this year – will you go for vivid hues or try a gothic colour palette? – but we're all still keen to try nostalgia-inducing styles, genderless fashion and sustainable alternatives. Are you ready? These are the biggest fashion trends we'll see in 2023:
Top Trends at a Glance
Airy styles
Romcom core
Sci-fi fits
Boudoir dressing
Fringe fashion
Column dressing
Purple hues
Hip-sters
Goth glam
Rental revolution
1. Airy Styles
Ultra femme fashion experienced a bit of a renaissance in 2022, with more of us opting for floaty fabrics and feminine silhouettes. This is trend embedded in romance, with an aesthetic centred around light pastel shades, sheer fabrics (tulle, lace and chiffon) and whimsical narratives – think Bridgerton, but with contemporary styling. As highlighted by the Pinterest Predicts 2023 report, '2023 fashion will be filled with lace, tulle, ruffles and shimmer for everyone, based on rising searches from Gen Z and Millennials. "Ruffle shirt for men" and "sheer trouser outfit" are just two examples of this floaty trend. Time to trade in that biker jacket and combat boots for ethereal details – no matter how you identify. This year will be femme for all.'
2. Romcom Core
Ever wanted to feel like the main character? In 2023, we'll all be searching for that feel-good moment promised in the countless romcoms we consumed in the nineties and noughties. Whether that means being a chaotic Bridget Jones, stylishly savvy Andy Sachs or high-flying Kenya McQueen, the choice is up to you – just make sure you have your finest Y2K and noughties garms at the ready. 'In 2023, Gen Z and Millennials will romanticise their wardrobes with slip dresses, tube tops, cargos and claw clips,' says Pinterest. 'Get ready for a new kind of meet-cute, inspired by your favourite romantic comedies from the 2000s.
'Y2K fashion has been trending for a while. Now, people are chasing more than an aesthetic: they want that main character energy that defined the movie industry in the 2000s,' says Pinterest. 'That means upgrading everyday moments and making small habits, such as trips to the coffee shop, feel like a scene from their favourite romcom. But this time, they're the star.'
3. Sci-fi Fits
Do you hear the future calling? Today's designers do. Brought on by our growing digital reality – hello, metaverse – and our fascination with the sci-fi genre in TV, films and gaming, futuristic fashion is bleeding onto the runway in a big way. Designers are interweaving their collections with dystopian narratives and reflections on the future of modern society, picking up on darker storylines for more dramatic pieces with a sleek edge (you won't see any robotic armour or laser guns here).
'2023 fashion will be light years ahead. Searches for dystopian outfits and futuristic fits will spike as Gen Z and Millennials opt for cyber streetwear, galactic glasses and gamer girl styles,' says Pinterest. 'The interplay between the digital future and cyber aesthetics has led to "sci-fi fits". Taking inspiration from dark cinematic fantasies, people are pushing the boundaries of fashion. In direct opposition to last year's "dopamine dressing" trend, this new style reflects our current times: dark, moody and dystopian.'
4. Boudoir Dressing
A trend carrying over from 2022 is the 'underwear as outerwear' piece, which (as the name suggests) will see us incorporating our undergarments into our visible, everyday wardrobe. This spans from corsets and lingerie detailing to bralettes, visible thongs and risque sleepwear. 'This is pillow talk fashion,' says Francesca Salih, stylist and founder of StyleGrid. 'Soft silks, delicate lace trims, romantic ruffles, cut out fabrics and barely-there flashes of skin, bedroom dressing is going public. Summer will see us strip this down to the bare minimum, but while the weather's still cold expect to see nighties layered over turtle necks and teamed with blazers.'
5. Fringe Fashion
Don't be fooled by this one; while it may be the unofficial uniform of cowboys, flappers and bohemian festival-goers, fringe is getting a glamorous update in 2023. This is a trend that has bubbled under the surface for a while – making a splash over the summer and giving our partywear some fun textures – but this year it's getting its very own spotlight. Fringe will make itself known everywhere, from subtle detailing along cuffs and hemlines to all-over full-fringe drama.
'Seen in the designs from Proenza Schouler, Jil Sander, Alexander McQueen, and Bottega Veneta, fringe is having a moment,' highlights Francesca. 'Fringing is a great way to add depth and movement, and can be done as small or as big as you like.' Explore the trend further with the C&TH deep dive here.
6. Column Dressing
Are you crazy about one specific colour? Or know there's a certain shade you feel amazing when wearing? Then maybe you should try column dressing. Another carry-over trend from 2022, this is one that indulges a love for colour – one shade at a time. 'Column dressing involves wearing one colour shoulder to hemline,' says Francesca. 'This creates one long unbroken vertical line, giving a visual illusion of looking taller and slimmer – making it a win-win.'
Most designers revert to column dressing on the runway for one collection or another, but notable names taking on the trend for SS23 include Rejina Pyo, Fendi, Valentino, Bora Aksu and Baum und Pferdgarten.
7. Purple Hues
2022's Colour of the Year, a shade of periwinkle dubbed 'Very Peri', will continue to thrive next year on the runway and high street alike – as well as its sister shades of purple. Whether you're fond of a pretty pastel, muted mauve or funky fuschia, there's room in everyone's wardrobe for this wonder colour in 2023. 'From lilac to deep hues, we saw this vibrant colour popping up across the runways throughout 2022, from casual separates to glamorous occasionwear,' says Francesca. Many designers have included the colour in their SS23 collections too, indicating it will likely flourish well into next year.
8. Hip-sters
We're saying goodbye to boring silhouettes and simple shapes in 2023 – after all, who needs minimalism when you can turn heads with something big, bold and beautiful? Sculptural design will make a comeback next year, especially for occasionwear and events, with designers paying specific attention to the waist and hips. Think puff balls, ruffles upon ruffles and crinolines reimagined as mini skirts. While these may not seem for the faint of heart, this is a flexible trend – meaning you can go over-the-top dramatic or simple, depending on what you prefer – and it looks rather spectacular if you do decide to try it out.
9. Goth Glam
A continuation of the moody theme, another trend expected to hit wardrobes hard in 2023 is gothic glamour. Spearheaded by the likes of Dolce & Gabbana – whose SS23 collab with Kim Kardashian perfectly summarises the aesthetic – Valentino, Simone Rocha and Richard Quinn, this is a trend dominated by monochromatic colour palettes, sheer fabrics and lace detailing. The 'glam' part of the equation comes with modern styling, with sequins, ultra feminine silhouettes and sleek tailoring (think Wednesday and Morticia Addams from Netflix's smash-hit Wednesday). Explore the trend through the lens of popular culture with our Gothcore piece, here.
10. Rental Revolution
As many of us become more aware of the ongoing climate crisis and the damaging impact of the fashion industry (textile waste alone is estimated at 92 million tons each year), more of us are turning to alternative means when it comes to wearing the latest trends. Cue: the rental revolution. While not an unheard of practice, renting clothing, shoes and accessories became a lot more common in 2022 – and more of us will want to get involved in 2023. This is a trend that is ultimately kinder to the planet (and your wallet), keeping clothing and renewed fashion trends in circulation for more people to try.
Some of our favourite rental looks from the last year include the Princess of Wales' green Solace London gown rented HURR Collective (still available here), which she wore to the Earthshot Prize ceremony in Boston, model Sienna King's black Roksanda look from My Wardrobe HQ, worn on the red carpet at 2022 Fashion Awards, and Holly Willoughby's black Saloni mini dress also from HURR, which she wore while presenting This Morning.
Featured image: Simone Rocha SS23 (c) Ben Broomfield