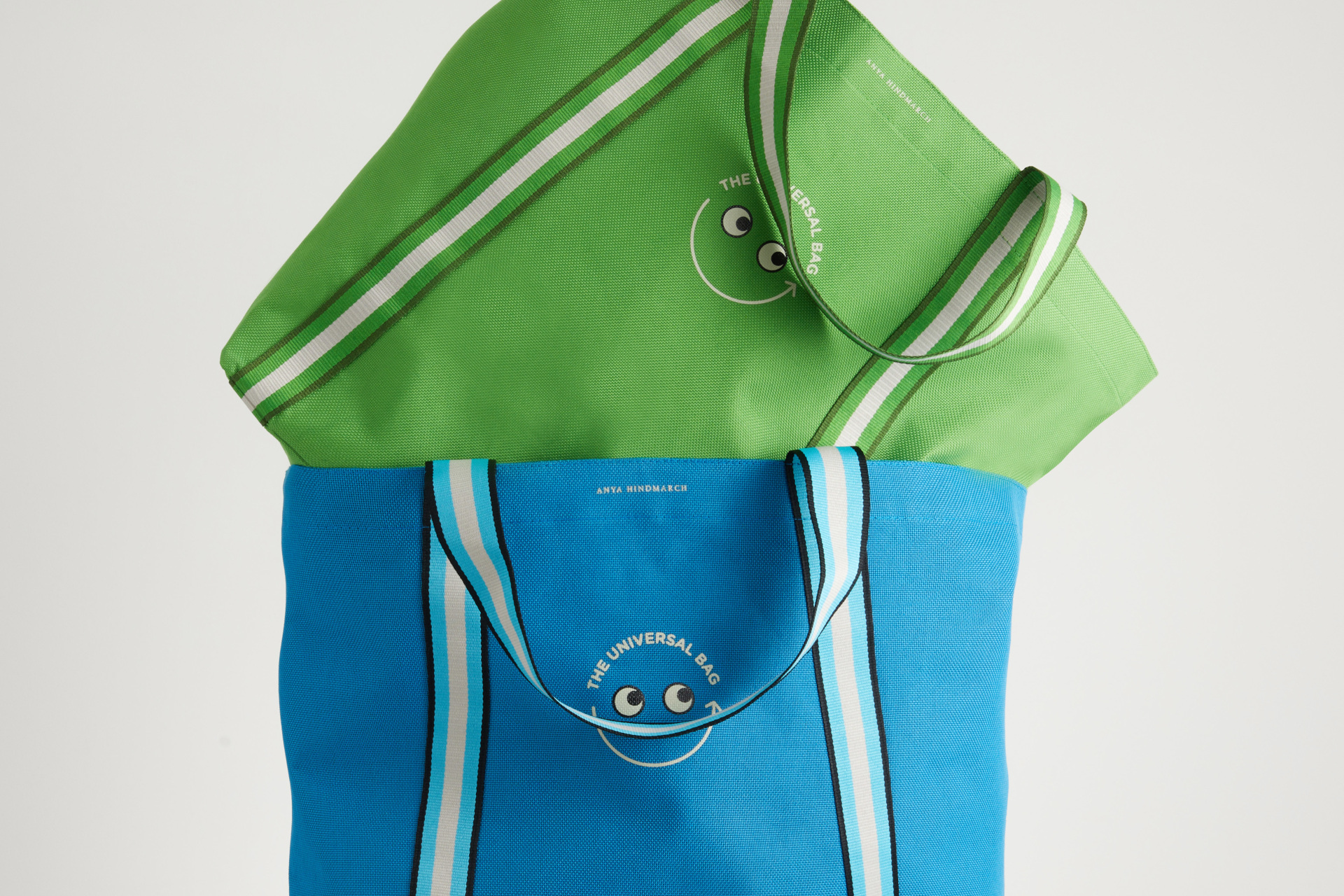 Ditch The Plastic: Anya Hindmarch's New Universal Bag Campaign Is Here
---
Meet the new generation of shopping bags
Over 15 years on from the brand's first 'I Am Not A Plastic Bag' campaign, Anya Hindmarch has launched a new campaign in collaboration with British supermarkets Asda and Co-op. Read on for all the details (and where to get your own Universal Bag).
The Country & Town House Responsible Buyers' Guide
Anya Hindmarch's New Universal Bag Campaign Is Here
British luxury brand Anya Hindmarch launched its 'I Am Not A Plastic Bag' campaign 16 years ago, with the goal to raise awareness of the worldwide single-use plastic bag predicament. Since then, the UK Government has introduced new legislation to tackle the issue, with sales of single-use plastic bags falling by 95 percent between 2015 and 2020 in our country alone – but still, an eye-watering half a billion were sold in the UK between 2021 and 2022.
To address the ongoing problem, Anya Hindmarch has collaborated with two food retailers on a new campaign: Asda and Co-op. The campaign, which showcases two new, reusable shopping bags (new versions of the Universal Bag), is hoped to sway public mindsets to continue using what they have for longer.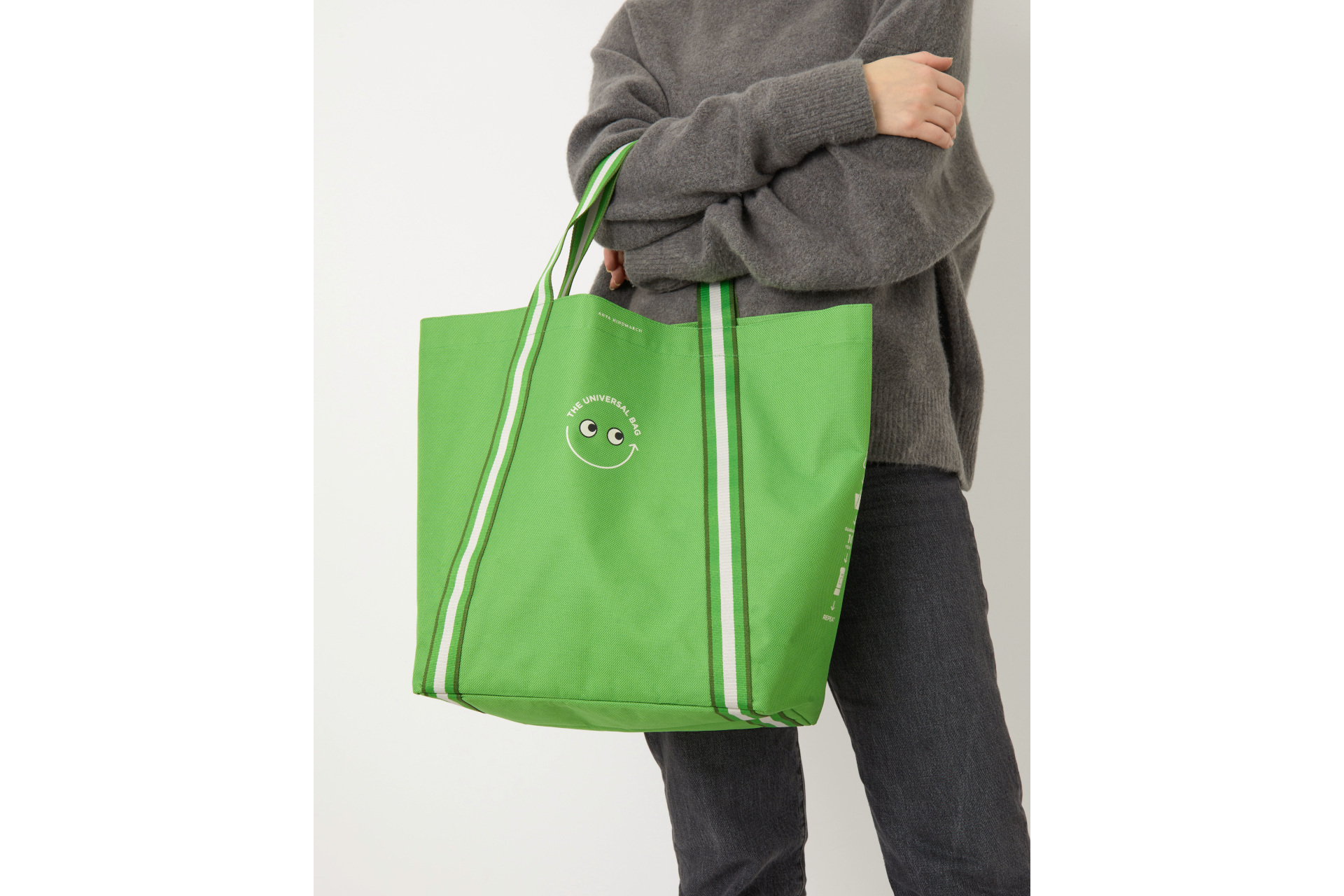 This marks the beginning of the Universal Bag rollout, with the project calling on all food retailers globally to get involved and create their own version of the Universal Bag in collaboration with Anya Hindmarch. The desired outcome? A new generation of shopping bags.
'Since launching The Universal Bag, we have saved over 97 tonnes of virgin plastic from landfill, the equivalent weight of over eight London double decker buses,' said Anya Hindmarch. 'The problem of single use plastic is far from solved. Working together with major global food retailers shows how the solution needs to be collaborative and that together we can make a big difference.'
What Makes The Universal Bag Better Than Plastic?
But why chose the Universal Bag instead of your shabby, single-use plastic one? Designed by Anya Hindmarch and manufactured by the Solent Group, the Universal Bag is made from 100 percent recycled plastic – with each step and material fully certified under the Global Recycling Scheme (GRS). This is a reusable bag that is guaranteed to last up to 10 years – and if it doesn't quite live to see 10 years, or you simply wish to recycle the bag, you can fold it into its free returns pocket for a replacement. The built-in pocket acts as a pre-addressed envelope which you can pop through any letter box, so that it can be delivered to the correct address and recycled locally.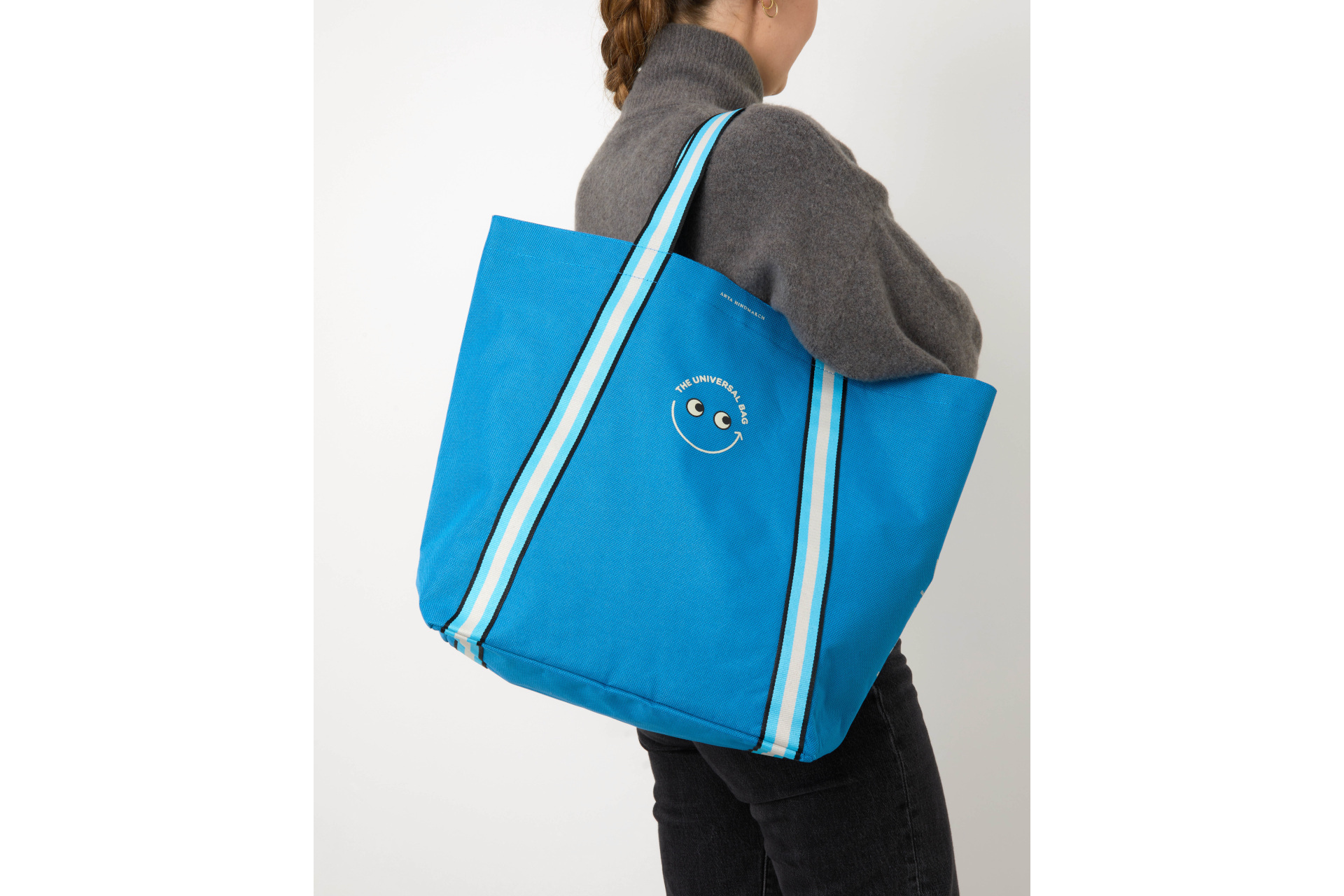 It features an extremely durable structure (perfect for lugging around cartons of milk and tins of beans), as well as a stylish design that elevates the typical shopping bag. And who doesn't want to look good while browsing the aisles for produce?
What's The Difference Between The Asda Bag And The Co-op Bag?
The Universal Bag will be available in multiple Asda and Co-op stores across the UK, following editions unveiled in Sainsbury's, Waitrose and Selfridges Food Halls. The design, a reusable bag with a striped handle, is the same structurally but comes in different colours to better reflect each retailer's identity.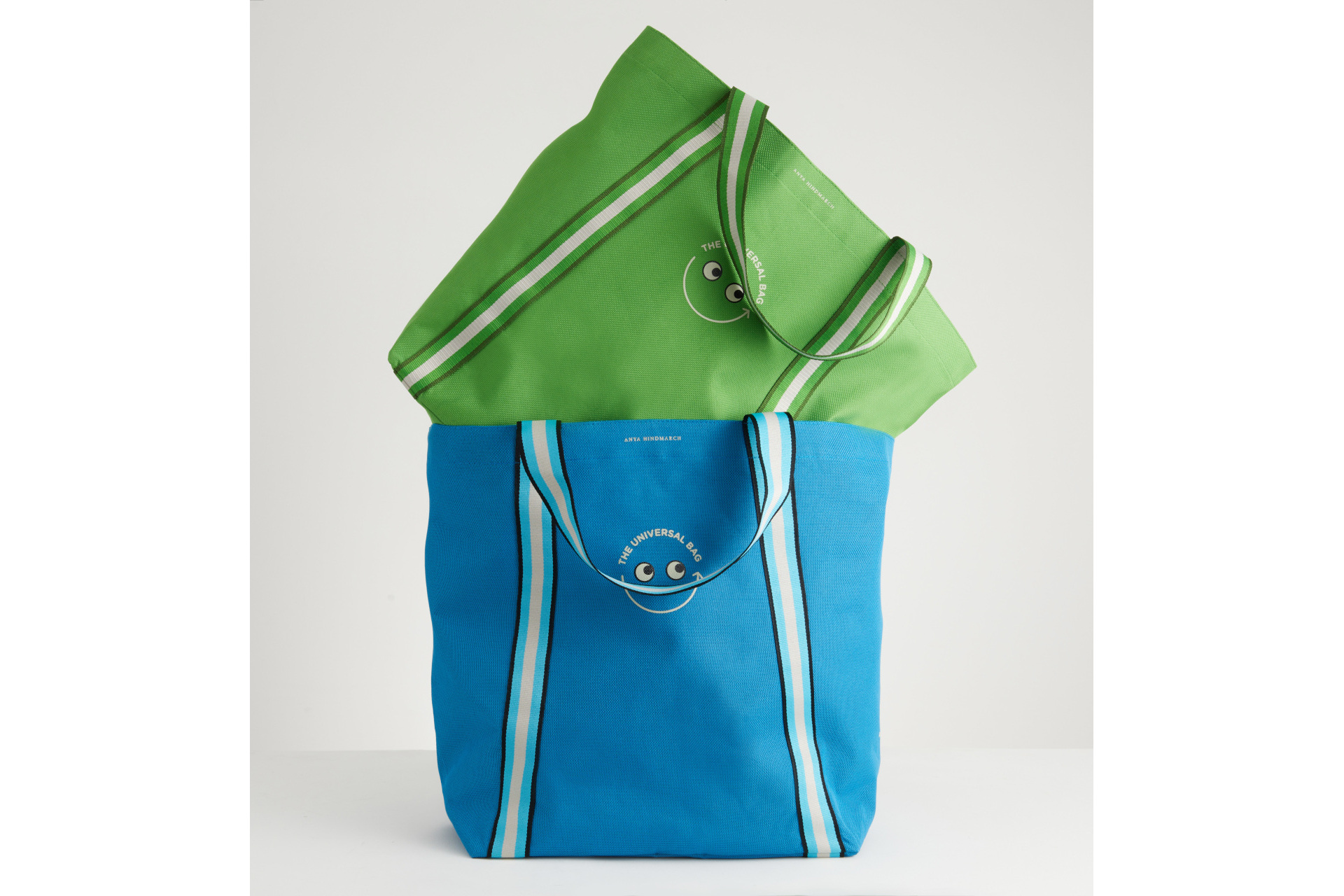 For Asda, a green Universal Bag will be available in 300 stores nationwide. Speaking on the collaboration, Sam Dickson, Acting Chief Customer Officer at ASDA, commented: 'We're thrilled to partner with Anya Hindmarch on the Universal Bag project and support such an important issue. The opportunity to create our own exclusive version meant we were able to give our customers a great quality, sustainable product, in our trademark 'Asda green'! I'm sure shoppers will be very excited at the prospect of picking up an Anya Hindmarch bag in store during their weekly shop and we can't wait to see the response.'
And when it comes to Co-op, the bag will be available in a light shade of blue in 315 stores across the UK. 'Co-op champions a better way of doing business and sustainability is front and centre of the decisions we make,' added Kenyatte Nelson, Chief Membership & Customer Officer at Co-op. 'In 2021, we made the bold and right move to ban plastic 'bags for life' from sale in our convenience stores offering our shoppers compostable bags and durable, re-usable alternatives. Our collaboration with Anya Hindmarch and the Universal Bag project is another way in which we can engage and incentivise our members and customers to encourage them to shop more sustainably.'
When & Where Can You Get The Universal Bag?
You can grab your own Universal Bag in Asda and Co-op stores from the end of February and March respectively. The bags will retail for £10 each.
Will There Be More Bags?
Anya Hindmarch has indicated that there will be more global partnerships announces later this year, so non-UK natives should keep their eyes peeled for future news on the Universal Bag.
Images courtesy of Anya Hindmarch