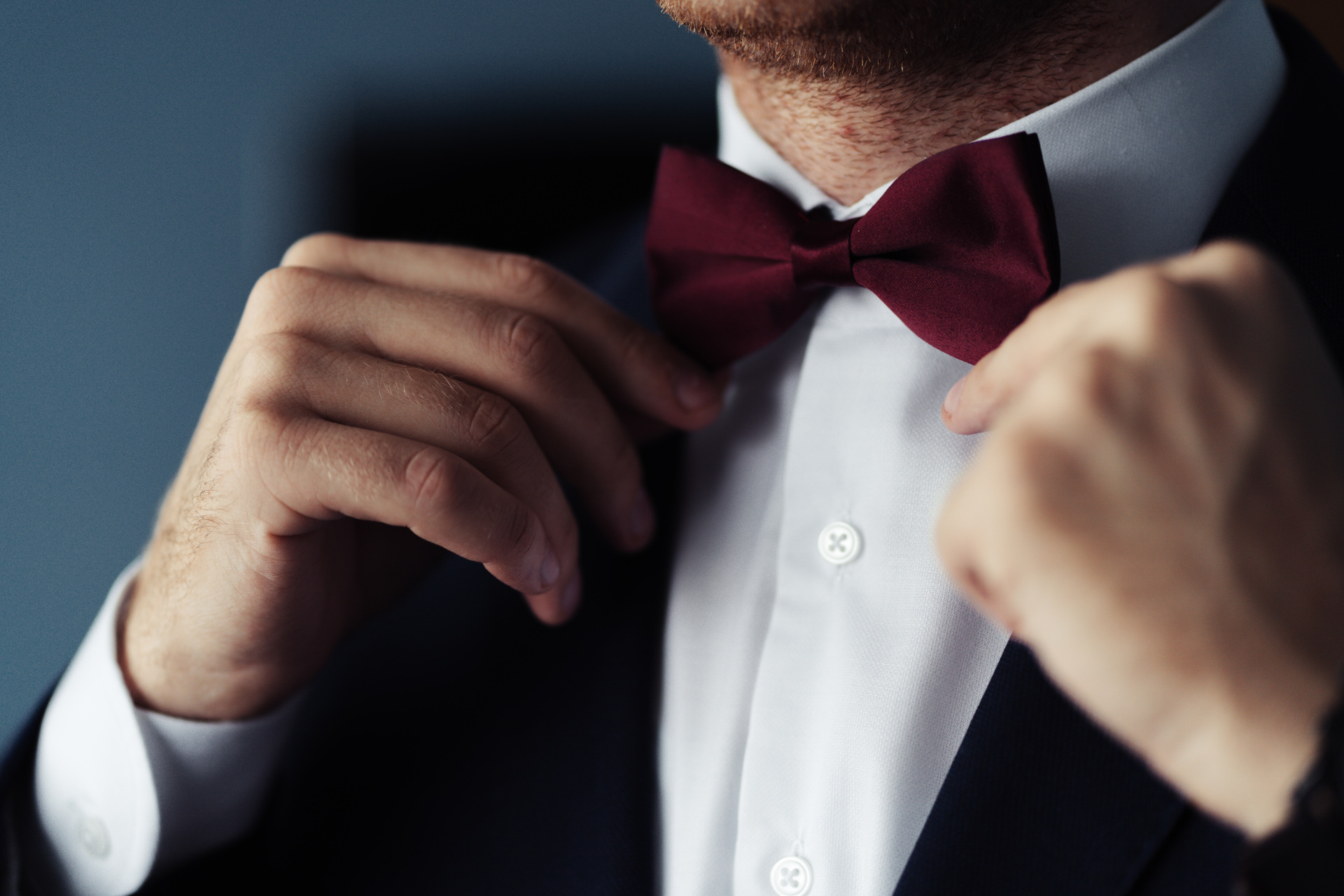 The Men's Guide: How To Dress For A Black Tie Dress Code
---
A guide to men's black tie
Now that going out-out is back on the table, it's time to peel off our joggers and hop into something a little more fancy. Got a big event coming up and not sure what to wear? Our guide to a black tie dress code for men should come in handy.
See Our Full Guide To Black Tie Dressing (For Men & Women) Here
What Is A Black Tie Dress Code?
A black tie dress code is a guideline for dressing for formal events, like weddings, galas, racing events, balls and dinner parties. It's one of the most formal dress codes – second only to white tie – and requires guests to dress in sophisticated clothing.
Depending on the event and location, specific requirements for a black tie event may vary. But generally speaking, women are asked to wear a formal, floor-length gown or a dressy cocktail dress, paired with heels, jewellery and a clutch, while men are expected to wear a black tuxedo or dinner jacket, black dress pants, a white dress shirt, a black bow tie and black dress shoes (in some cases they will also be required to wear a cummerbund or vest).
Tips On Black Tie Dressing For Men
1. Invest In A Well-Tailored Tuxedo
A tuxedo, when done right, can last you hundreds of special events. Essential to the black tie dress code for men, a well-fitted tuxedo should consist of a jacket that fits snugly around the shoulders and trousers that are the correct width (there should be about one finger of room at the waistband) and length (your trouser should just touch the top of your shoe all around for 'slight break'). It's worth investing in a properly tailored tux, or at least having your suit of choice altered to properly fit.
2. Choose A Classic Black Bow Tie
You should always wear a tie at formal events. The most common (and accepted for black tie) is the classic bow tie. Unless stated otherwise on your invite, you should opt for a black bow tie and avoid anything super colourful or patterned. Make sure to properly tie your bow tie – use this guide to learn how – and centre it on your collar.
3. Wear A White Dress Shirt
While most of it may be hidden under your jacket, it's still important to wear a crisp, clean white dress shirt with your tux. It should be made of high-quality fabric and have a stiff collar that can support your bow tie. Before pulling it on, make sure to properly iron out your shirt. Tuck it neatly into your trousers to complete the look.
4. Opt For Black Patent Leather Dress Shoes
Now for the shoes. The traditional choice – and one that you can't go wrong with – is black patent leather dress shoes. They are shiny, elegant, and complement the formal look of the tuxedo. Before the event, check over your shoes (get anything that needs repairing done by a cobbler) and polish them so they look clean and shiny.
5. Simpler Is Better When It Comes To Accessories
Finish off your black tie outfit with understated accessories (you won't need any bulky chains or ornate necklaces here). Most men prefer to use cufflinks to add a touch of personality, but remember to avoid novelty designs or anything too flashy so that you don't take away from the rest of your look. When in doubt, opt for something simple and elegant.
Featured image: Getty Images