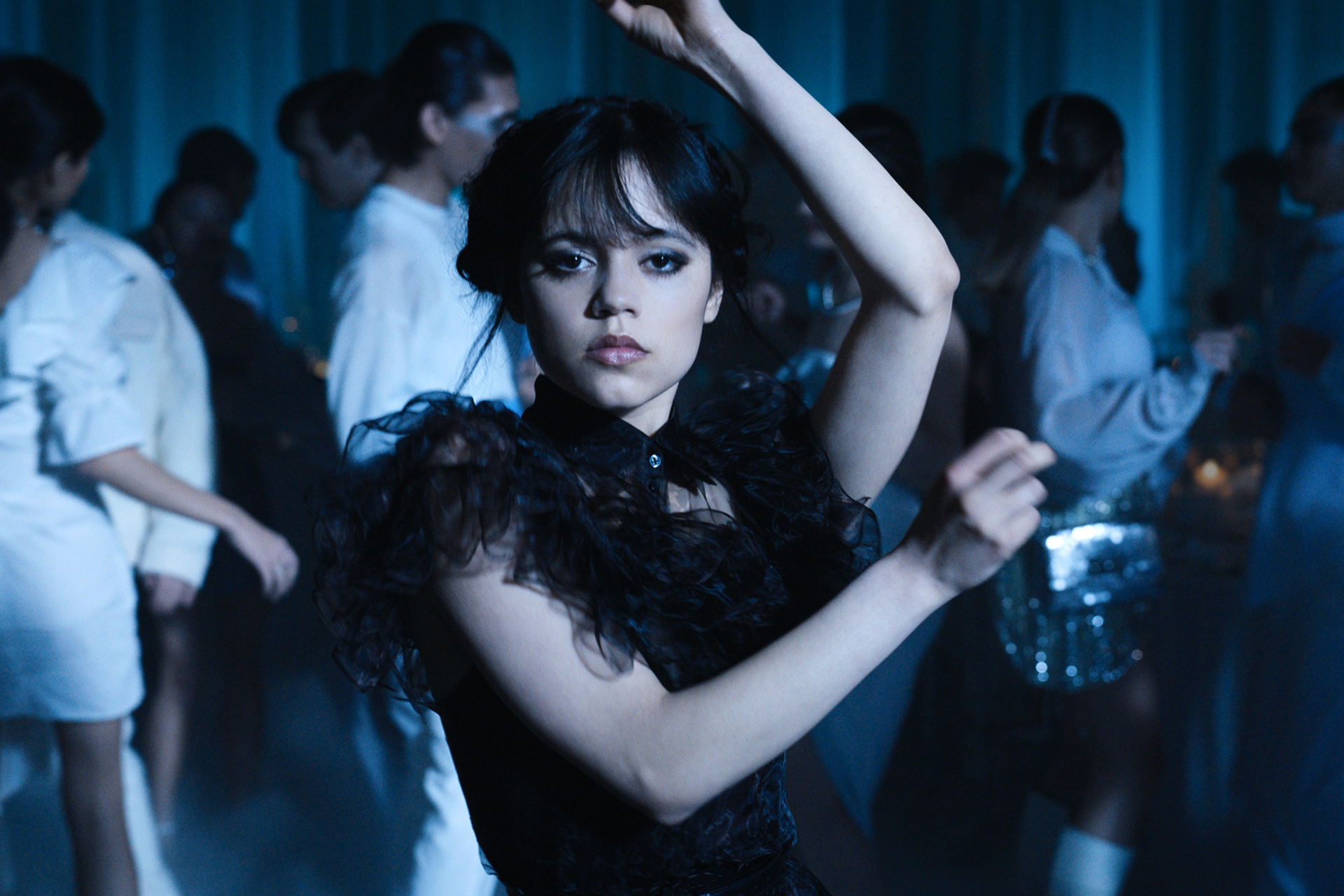 Gothcore: How to Channel Your Inner Wednesday Addams
---
Black never goes out of style
If you've watched the new Wednesday series on Netflix and found yourself obsessing over Jenna Ortega's character wardrobe, you're not the only one. Read on to find out how to channel your inner Wednesday Addams à la internet buzzword Gothcore, and just how the team crafted her look for the show.
The Country & Town House Responsible Buyers' Guide
Who is Wednesday Addams?
Now, for those who have no idea what's going on here: streaming giant Netflix released its hotly anticipated gothic comedy Wednesday in late November 2022. The series has since sparked a huge wave of support online, with fans praising its titular character Wednesday Addams (played by You's Jenna Ortega).
As many of us will know, Wednesday Addams is a member of the wider Addams family, 'a satirical inversion of the ideal postwar American middle-class nuclear family' created by cartoonist Charles Addams in the 1930s. The family are known in popular media for delighting in the macabre and frightening, while finding popular norms quite ghastly in comparison.
Wednesday, the eldest child and only daughter of the family, has been depicted in comics, TV and movies – usually as a rather terrifying and emotionless young child with a propensity for (generally harmless) violence.
On-screen, Wednesday has been portrayed by the likes of Lisa Loring, Christina Ricci, Chloë Grace Moretz and now Jenna Ortega.
Who designed the wardrobe for Wednesday?
For the Netflix revival, styling of our favourite gothic teen was led by costume designer Colleen Atwood, whose killer CV includes Chicago, Tim Burton's Alice in Wonderland and Fantastic Beasts and Where to Find Them. Atwood is known for consistently nailing the whimsical (and in Wednesday's case, spooky) characteristics that lend such a rich visual dimension to on-screen fiction.
As mentioned, this is not our first Wednesday Addams to come alive onscreen. But where previous renditions of the character tend to stick to the gothic school girl visual trope, Atwood's Wednesday is a much more modern (and grown up) update. Wednesday is no longer a little girl, but a teenager growing into a young adult – and the character's wardrobe reflects that. The modern Wednesday is dressed in Gothcore with hints of Dark Academia (it is set in a school, after all), two visual sub-trends that highlight moody aesthetics and dark colour palettes.
As you'd expect, black is the primary colour that Wednesday's wardrobe centres around – but for TV, there needed to be a few updates to make the colour stand out. Atwood gives Wednesday's wardrobe a bit more body using a broader monochrome palette in combination with reflective textures, making Jenna Ortega's character look more visually interesting on-screen.  As Atwood explained in an interview with Harper's Bazaar: 'Besides using black that was semi-reflective, I used black with white. There's almost no solid black that's used. If a character is in a black jacket, for instance, I pair it with a white shirt underneath so you can see the sleeve peek out at the cuff, so it's not just a blob of black on the screen.'
Speaking on the black tulle dress that has had TikTok in a chokehold since Wednesday came out (you know the one), Atwood highlights how 'it's this fabric that moves and does its job in such a great way, that you usually see on dance costumes. It has these sheer layers that have so much life, so it doesn't just hang there like a chiffon dress. It moves really beautifully.'
The dress itself was from Parisian Maison Alaïa (now unfortunately sold out). Atwood spotted the dress on a mannequin in London and quickly nabbed it for Wednesday. In fact, while many of Wednesday's outfits were custom-made by Atwood and her team, the designer did also source a number of pieces from vintage shops and high street stores.
What is Gothcore?
Gothcore, as the name suggests, is an aesthetic built around all things gothic – with a splash of rock, metal and punk thrown in for good measure. This isn't a new trend (just perhaps a new name), as we can see that the goth scene has been alive and thriving for decades prior to now – Jenna Ortega even said she choreographed her Wednesday dance after watching old videos of goths dancing in '80s clubs.
In fashion, Gothcore equates to a lot of black clothing (we expect nothing less). When it comes to Wednesday, the titular character retains elements of her traditional preppy wardrobe alongside the Gothcore visuals to make the character still recognisable for audiences, meaning that dispersed through the racks of black platform boots, corsets and chokers, you'll find smart shirts, Mary Janes, sweater vests and collared dresses.
Want to get the Wednesday look? Browse our edit below for some inspiration…
Gothcore: How to Channel Your Inner Wednesday Addams
Featured image: Wednesday. Jenna Ortega as Wednesday Addams in episode 1×04 of Wednesday. Cr. Courtesy of Netflix © 2022