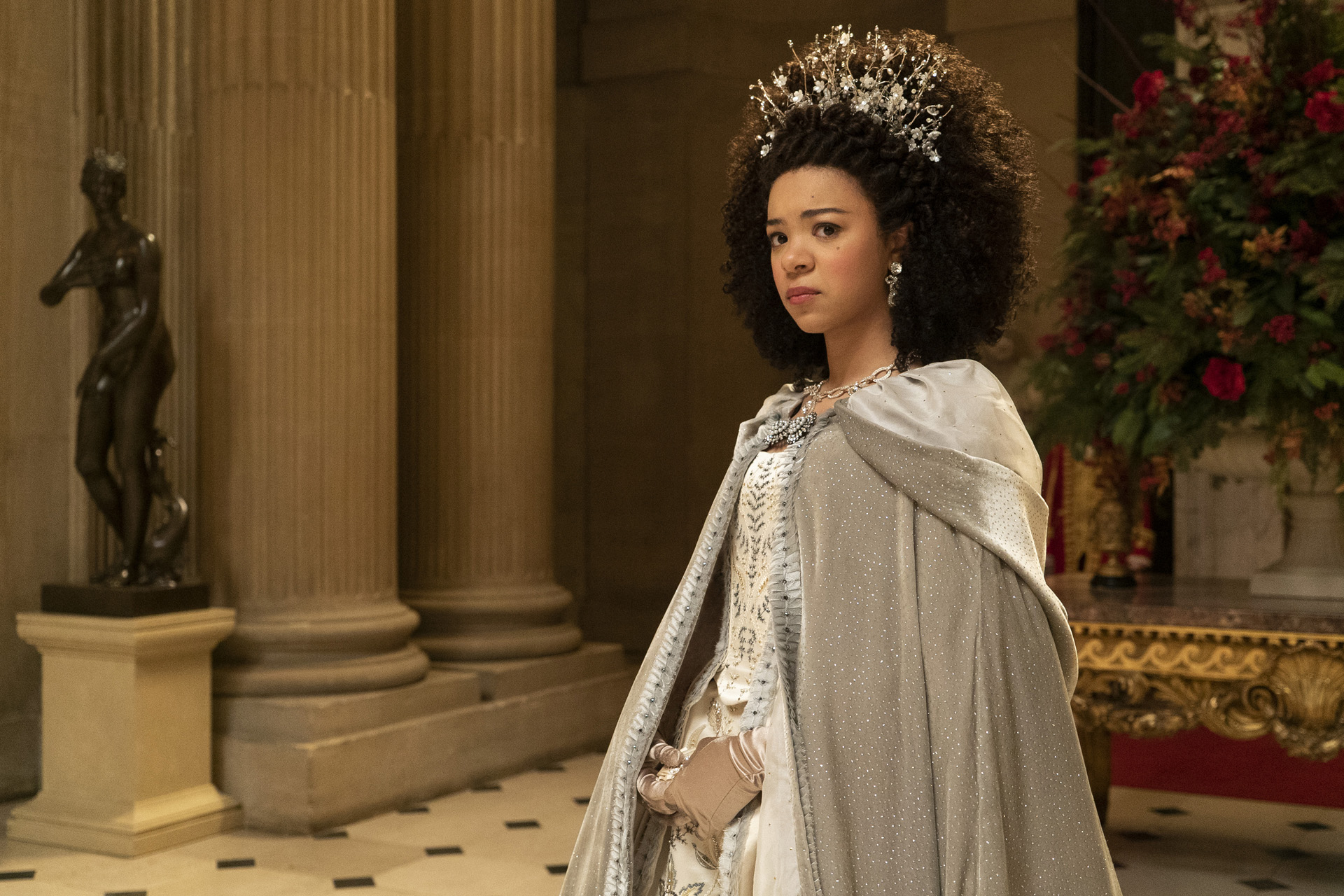 Costume Maker Liz Poole On Creating Regency Regalia For Queen Charlotte: A Bridgerton Story
Get to know one of the show's royal costume makers
What comes to mind first when you hear the words 'period drama'? Maybe it's the rich historical references, the ornately decorated countryside manors, the soft prose whispered between secret lovers – or maybe it's just good ol' Keira Knightley. Either way, these images no doubt come with beautiful ball gowns, embroidered coats, billowing shirts, dainty slippers and glittering jewels. Transporting audiences back in time with their stunning visuals, the power of costume is perhaps the biggest factor when it comes to crafting the believability of our favourite shows. Fresh out of the studio and eagerly waiting on the release of her latest project, Queen Charlotte: A Bridgerton Story, costume maker Liz Poole sits down with Country & Town House to talk regency dressing, career highlights and her beautiful homeware line, Velvet Linen.
Costume Maker Liz Poole On Creating Regency Regalia For Queen Charlotte: A Bridgerton Story
Hi Liz, thank you for joining us today! Could you please tell our readers a little bit about yourself and what you do?
Thank you so much for having me! I'm Liz, a Sussex-based costume maker specialising in stage and screen. Over the years I have worked for many high-profile companies including Glyndebourne, Royal Opera House and various shows on the West End.
What, or who, inspired you to get into costume making?
I studied a theatre and TV craft design course for five years at a Sussex art school. I knew quite early on I wanted to specialise in costume making, which involves interpreting a brief and then designing and making the costumes. After I finished my studies, I went on to spend the seven years making ballet and opera costumes in the workrooms at the Royal Opera House. I was incredibly lucky to work under the head cutter and maker at the time, and it is during these years that I learnt from her experience and put into practise the established rules and art of costume making.
While I was working at the Opera House, I was often asked to make wedding dresses for the dancers and singers. When my children came along, I stepped away from the world of costume making and focused completely on bespoke wedding dresses for about 13 years, as this gave me control over my work-life balance while the children were young.
When I was ready to return to the world of theatre and costume making, I worked (as many freelance costume makers do) from home. I have been lucky to be part of some incredibly exciting projects, and over that 10-year period my business has grown so that I now have a workspace in Ditchling, where we have a team of 10 to 13 makers.
During this time our projects have mainly come from theatre and opera, including making pieces for West End hits like Hamilton, Anything Goes and Aladdin, as well as from the Royal Opera House and Glyndebourne in Sussex (which is not too far from my studio). Over the past few years, we have begun to have more work from TV and film productions, which is very exciting! The team and I have made some beautiful pieces for Phantom Thread, The Dig and season one of Bridgerton.
You have an amazing portfolio when it comes to costume making. What have been some of your highlights to date?
Every new job is a highlight, and I'm still always grateful to be asked! One of the most memorable so far has been making the ensemble corsets and 'A Winter's Ball' outfits for the Hamilton female ensemble cast. It creates such a wonderful spectacle onstage and, when the full set of dancers come together, it's a very proud and satisfying feeling for me and my team.
We heard through the grapevine you've been busy working on costumes for Queen Charlotte: A Bridgerton Story. How did you end up working on the title?
As with all the projects we work on, it is either through design teams that we work with on a regular basis (we were lucky enough to work on Bridgerton's first season as well) or through recommendation. For both Bridgerton and Queen Charlotte, I was introduced to the design teams by other makers. The teams from both titles were very professional and creative. For us, Queen Charlotte was the bigger project of the two; we were working on costumes in our workroom for 10 months.
Can you talk us through how you bring these garments to life? 
I start by discussing the design with the designer: their thoughts on the character, the technical and the creative ideas. Depending on the style of costume, I will decide whether I want to start cutting the pattern flat on paper, or draping on the stand. Once the pattern is made, as a team we will either make a prototype in calico or make it straight into the actual fabric. We will often have one fitting halfway through the make and a final check fit at the end – and then it's up to the actors to make the costumes sing!
What have been some of your favourite costumes to create from Queen Charlotte?
For Queen Charlotte, we made costumes for the Dowager Queen, Augusta (Michelle Fairley), young Lady Danbury (Arsema Thomas) and young Queen Charlotte (India Amarteifio), who we made a couple of banyans [17th and 18th century morning gowns] for. Some of the most exciting costumes to work on were the coronation robes worn by young King George (Corey Mylchreest) and young Queen Charlotte.
Some period dramas (including Bridgerton) are starting to remove corsets from costume designs. What's your take on the development?
I personally think this is such a shame. From a costume maker's point of view, the corsets help us to create an authentic period shape and help the actress hold herself correctly and get into character. They help productions achieve a more tangible authenticity, which is very important especially for period dramas.
Is there a character that you'd sell your soul to make a costume for?
I'm a sucker for a big dress and sequins! So, any leading lady going to a ball would be right up my street.
Are there any projects you'd never take on as a costume designer?
If a project needs a different skillset to those we have within the team, I will politely decline!
Outside of costume design, you have a gorgeous homeware line called Velvet Linen. What led you to start it up?
All of my costume making work has kept me very busy! I certainly wasn't looking to start a new business, but while we were renovating our Victorian railway cottage a few years ago the team helped me to add all the finishing touches by making all these cosy, homely textiles. At the same time, I fell in love with these beautiful furnishing fabrics from Liberty London – this is a love that developed while I was also helping Susie Cave, founder of the fashion label The Vampires Wife, as her creative cutter. Her love for Liberty prints meant that when I went to the department store to research the dress fabrics, I would also get to wander off into the furnishing fabrics! They give a wonderful warmth and colour therapy.
I trimmed and backed the cushions and quilts with this beautiful mid weight linen from there, which we still use now, as well as a natural linen that ties everything together. The feel was a mix and match of colours, patterns and fabrics which I like to say gave the cottage a big hug! I walked in from the garden one afternoon, looked around, and thought, 'wow this is so lovely, I really think other people would love these in their homes.' And so, in the summer of 2020 Velvet Linen began.
Can you tell us about some of the inspirations behind your designs for Velvet Linen?
The flowers and plants found in my garden are a huge inspiration and have been the starting point for many of my Velvet Linen designs. I've also been able to pick up advice and guidance from friends and colleagues in the arts, who have helped me experiment with new techniques like natural dying – which will be big for Velvet Linen this year – and digital printing – which has allowed me to turn photos of my garden into ranges of luxury table linen which can be cherished for years to come.
I'm always looking at ways of expanding the range and have worked with a local ceramicist who used flowers from my garden to press into clay and make tealight and candle holders. We also created our lovely Flower Bed Sock range made from knitted bamboo, these are such a great gift and ideal for the cooler months.
Nature never fails to amaze and inspire me, and I can't tell you how many times I've been in the garden and suddenly an idea has come to me about a new product or process that I absolutely must explore.
We also heard you've been developing your own fabrics…?
Yes! As we began to develop a collection, I quickly realised that along with designing the cushions and quilts I was also feeling very creative about the prints on the fabrics. I was lucky to be in touch with wonderfully creative artisans and technicians through my work, who were friends and colleagues. They were able to help me with the practical side of printing my own fabrics. The prints were all created from photos I had taken in the garden at Railway Cottage. It seemed the more I dipped my toe into this new fabric world, the more I was inspired and the opportunity to work with makers with other skills was very exciting.
You've also created a limited-edition cushion to commemorate King Charles III's upcoming coronation – what was the process behind the design?
I've always wanted to make sure that everything I design and make for the Velvet Linen collection is timeless and beautifully made, so that people can hold onto the pieces for years and even hand them down for generations to come. The Coronation of King Charles is a wonderful occasion to mark and our Coronation cushion – which is made up of some of Velvet Linen's most loved fabrics – comes with a label on the back to let people known which occasion it was created for.
Any projects in the pipeline for 2023 that you can tell us about (and maybe give a small inside scoop)?
I'm afraid what we're currently working on with Disney and Netflix come with strict NDAs, so I can't give you any details just yet… Except to say there are some very exciting and creative projects on the go!
Any parting words for our readers?
Try to get out into your garden this summer and really enjoy the time you spend there. If you don't have one, then why not visit some of the glorious gardens open to the public around the country? Connecting with nature is such a wonderful thing and you never know what it might inspire.
DISCOVER
You can see more of Liz's work and browse through her Velvet Linen collections at velvetlinen.co.uk
WATCH
Queen Charlotte: A Bridgerton Story streams on Netflix from 4 May 2023. Catch up on the first two seasons of Bridgerton at netflix.co.uk
Featured image: India Ria Amarteifio as Young Queen Charlotte in episode 101 of Queen Charlotte. Cr. Liam Daniel/Netflix © 2022