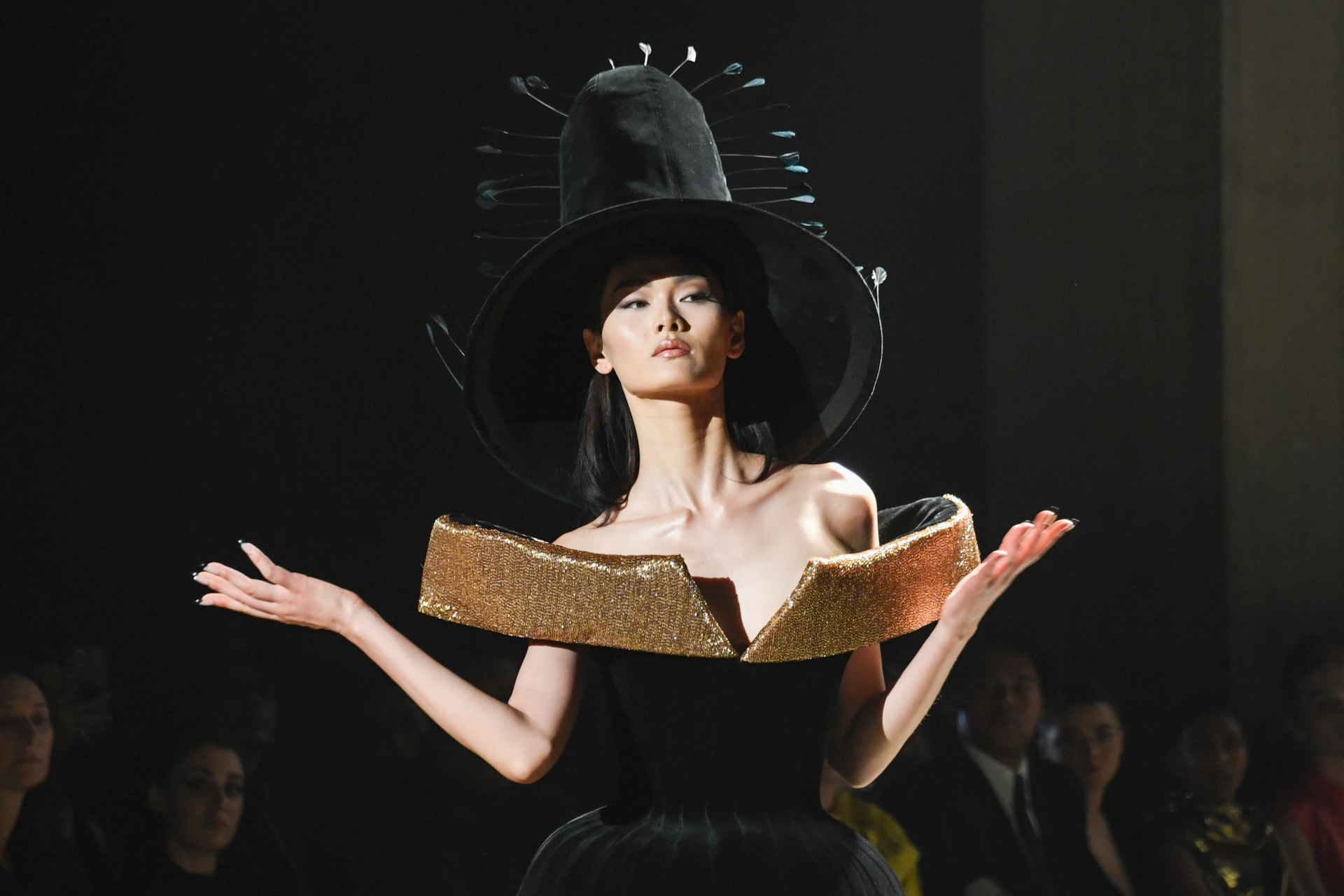 London Fashion Week Is Back! These Are The SS24 Highlights
Designers are flocking to the capital this weekend
If you've been walking the streets of London this weekend, chances are you've seen hordes of alarmingly well-dressed people making their way a fashion show or two. Since we can't all make it to the shows ourselves, there's plenty to catch up on this Fashion Week. Want to know what's hitting the runway this season? See what's going on with London's style set as we recap the highlights of London Fashion Week SS24.
London Fashion Week SS24 Highlights
Monday 18 September 2023
Emilia Wickstead
Vintage glamour was the talk of the town at Emilia Wickstead's SS25 show. Inspired by the sartorial liberation of women's dress in the 1930s, Wickstead took audiences to the South of France for a vacation like no other. Evoking the feeling of being at the beach, garments featured vibrant deck stripes (with colour palettes taken from French female artists of the time), floaty fabrics and reflective surface evoking the shimmer of the ocean. Fluidity was also explored through the incorporation of traditional menswear items, such as pleat front trousers and waistcoats, as well as oversized fits in suggestion of artists raiding the wardrobes of 'lovers turned muses'. Looks were completed with makeup by Chantecaille, with MUA Petros Petrohilos giving models a glowy, sun-kissed look as though they've just come away from a day at the beach.
Burberry
Daniel Lee's second show at the helm of Burberry took an outdoorsy theme, with an emphasis on utilitarian styles that would thrive during park walks and in chilly spring weather. Bringing the British countryside to the streets of London, the collection was awash with practical silhouettes, vivid floral prints and hardware motifs (from chains prints on fabrics to chunky 'B' buckles). Burberry's classic trench came to the fore with a seasonal retelling, featuring accentuated shoulders and triangular silhouette thanks to the emphasis on epaulettes and a cinched waist – and oversized editions meant many were worn down the runway as dresses in their own right.
Edeline Lee
Organised chaos took over Edeline Lee's SS24 presentation, with models purposefully strutting around an enclosed space as they looked at their phones. The artsy show was described as 'an installation of movement', with goal to capture the life of the modern woman: beautiful, collected and always on the go. Entitled 'Future Lady', the collection captures the (somewhat chaotic) energy of the modern woman with garments made for movement. Think fluid silhouettes that flutter in the breeze, a saturated colour palette intended to turn heads and metallics that glitter with every step.
Sunday 17 September 2023
ERDEM
ERDEM took a trip through time with its SS24 show, with a collection inspired by themes of inheritance, legacy and identity – as told through Deborah, the late dowager Duchess of Devonshire, and her relationship with Chatsworth House. Debo (as she was known by close friends) helped lift Chatsworth House up to its glory as one of the most famous historic homes in Britain, making sure her inherited home could continue to be enjoyed for future generations to come. Using antique textiles gifted from Chatsworth, ERDEM pieced fragments together to create a collection of dresses, coats, skirts and suits. The SS24 collection even includes a deconstructed gown made from Chatsworth curtains that had been hand-embroidered by Cecily Lasnet, Debo's great granddaughter.
Simone Rocha
Here's a collab we didn't see coming: Simone Rocha took to the runway this season with the help of Crocs, unveiling a collection inspired by the contrasts between femininity and utilitarianism. Giving the iconic footwear design the Rocha stamp of approval, models could be seen walking in Crocs decked out in pearls, little gem flowers and inbuilt Simone Rocha embellished socks. The wider collection, titled 'Dress Rehearsal', saw the designer take over a rehearsal space for the English National Ballet with a bridal-inspired offering. Modelled on 'the night before' the wedding, looks took the form of cake tier tulle dresses, bell-laden slippers and jackets and gowns stuffed with bouquets of fresh roses.
Susan Fang
Retro-futurism took centre stage at Susan Fang's SS24 show, with her collection 'Ai.R-life' looking at the intertwining of nature and and humanness with artificial intelligence. This materialised in contrasting material choices, with broidery anglaise alluding to traditional craftsmanship and fine crystals representing scattered electrical currents, as well as a new human-machine technique: air-weave smocking. A highlight of the collection was a dress handcrafted from 600 bead trees, made in collaboration with the Bloom Education Charity Foundation. The charity put Fang in touch with mothers from the Yi ethnic group, who helped to create beaded trees modelled after DNA and the Tree of Life in reflection of human creation.
Saturday 16 September 2023
Richard Quinn
Winding down Saturday night on a calmer note was Richard Quinn, who dedicated his SS24 to his late father, Patrick James Quinn. Centred on themes of self-reflection and contemplation, looks this season were threaded with intricate details – from intricate embroidery and glittering Swarovski crystals to maximalist floral prints and exaggerated silhouettes (think puff sleeves, padded shoulders and sharp, angular waistlines). As the design team notes, Richard Quinn's SS24 collection is 'an exploration of refined shape and volume, [it] invites a sense of contemplation; each garment finds its beauty in the detail.'
FROLOV
Ukrainian designer Ivan Frolov made his LFW solo show debut this weekend, with a presentation takeover at the Bulgari Hotel. The collection, titled 'MOLODA' (or 'young girls' in Ukrainian), uses the symbolism of unfurling, blossoming flowers with reference to being in a youthful prime – think corsages, roses, floral embroidery and sculptural silhouettes resembling blooming flowers. The designer also paid homage to his home country with his signature use of hearts, incorporated in the form of an ultrasound on black and white robe-dresses, as well as gold lace detailing with chestnuts (the symbolic tree of Kyiv). Read more about the show in our interview with Ivan here.
Molly Goddard
Things got turned inside out at Molly Goddard's SS24 show, with a collection celebrating the internal working of garments from stitches and zips to underskirts. The designer, who found inspiration at the National Theatre costume hire, began by focusing on undergarments – in particular crinolines, 1950s bras and Victorian christening gowns – and then continued to turn things inside out to expose the grosgrain strapping, internal zips, boning and binding beneath. Exposed in their entirety, these inner clothing mechanisms took centre stage, draped in frills, knits and faded upholtery.
Friday 15 September 2023
Bora Aksu
Reflecting on themes of nostalgia and growth, Bora Aksu looked to his Turkish heritage to inform his SS24 collection. Aksu, who took a research trip to Istanbul to get a fresh perspective on his home country, wanted to blend recollections of his childhood with his adult identity to create a patchwork vision of his life and career. Ottoman stylistic references were interwoven throughout the collection – from vintage painted florals reminiscent of Ottoman palaces to Iznik tile patterns and embroidered fezzes – and blended seamlessly with the designer's signature flair for romantic silhouettes and gauzy fabrics. Following in the footsteps of his mother, Aksu also used this collection to debut his venture into embroidery to create new shapes and patterns.
Mithridate
A change of pace could be found at SS24 Mithridate show, as audiences were welcomed into a pop-up zen garden – complete with soothing music, scented fans and (once models stepped onto the runway) tinkling bells. It was a fitting setting, considering that Creative Director Demon Zhang centred Mithridate's new collection around the theme of finding 'The Cure', or inner peace. Drawing inspiration from her heritage, Zhang explored the prescriptions of traditional Chinese medicine – in particular, the main 24 healing herbs, which she conceptualised into clothing designs. Blending oriental and western designs, the collection is made up of fitted ballgowns covered in flowers, bell-laden tailored coats and suits, denim co-ords and even a few cheongsam dresses kitted out oriental cutting designs.
Paul Costelloe
If anyone was serving looks this season, it was Paul Costelloe. The designer – who has undeniably perfected his swing when it comes to a good runway show – opened with a traditional sports luxe theme, with models decked out in blue stripes, tennis rackets and croquet mallet, before setting the stage for spring garden parties and summer holidays. Prints and patterns played a huge role in the designer's SS24 collection, with blush-tinted marble, navy roses and hand-drawn illustrations (aka, Paul Costelloe's in-house family narrative prints) depicting a countryside estate and sporting activities. Alongside the rackets and mallets, the notable arm candy for the season consisted of leather totes and raffia top knot bags in the show's neutral colour palette: pale blue, blush, sand and ecru.
Thursday 14 September 2023
Harris Reed
London-based designer Harris Reed kicked off LFW once again with 'Duet'. A play on contrasts, Reed worked with vintage corset patterns to manipulate the appearance of curves and angles to give seemingly masculine structures a more feminine curve – creating ultra-cinched waists, full hips and flared hems. The monochromatic palette this season echoed this theme, with the opposition of black and white meant to give the illusion of two-dimensional lines becoming three-dimensional beings. Led by supermodel Ashely Graham, the show was exaggeration of the elegant, exaggerated and sculptural. And always one to put on a performance, Reed made sure that audiences were serenaded with vocals from musician Cosima, who was accompanied by a pianist on a grand piano.
More LFW
For more London Fashion Week SS24 highlights (as well as this season's schedule), please visit londonfashionweek.co.uk
Featured image: Harris Reed SS24 (c) Jed Cullen for Dave Benett