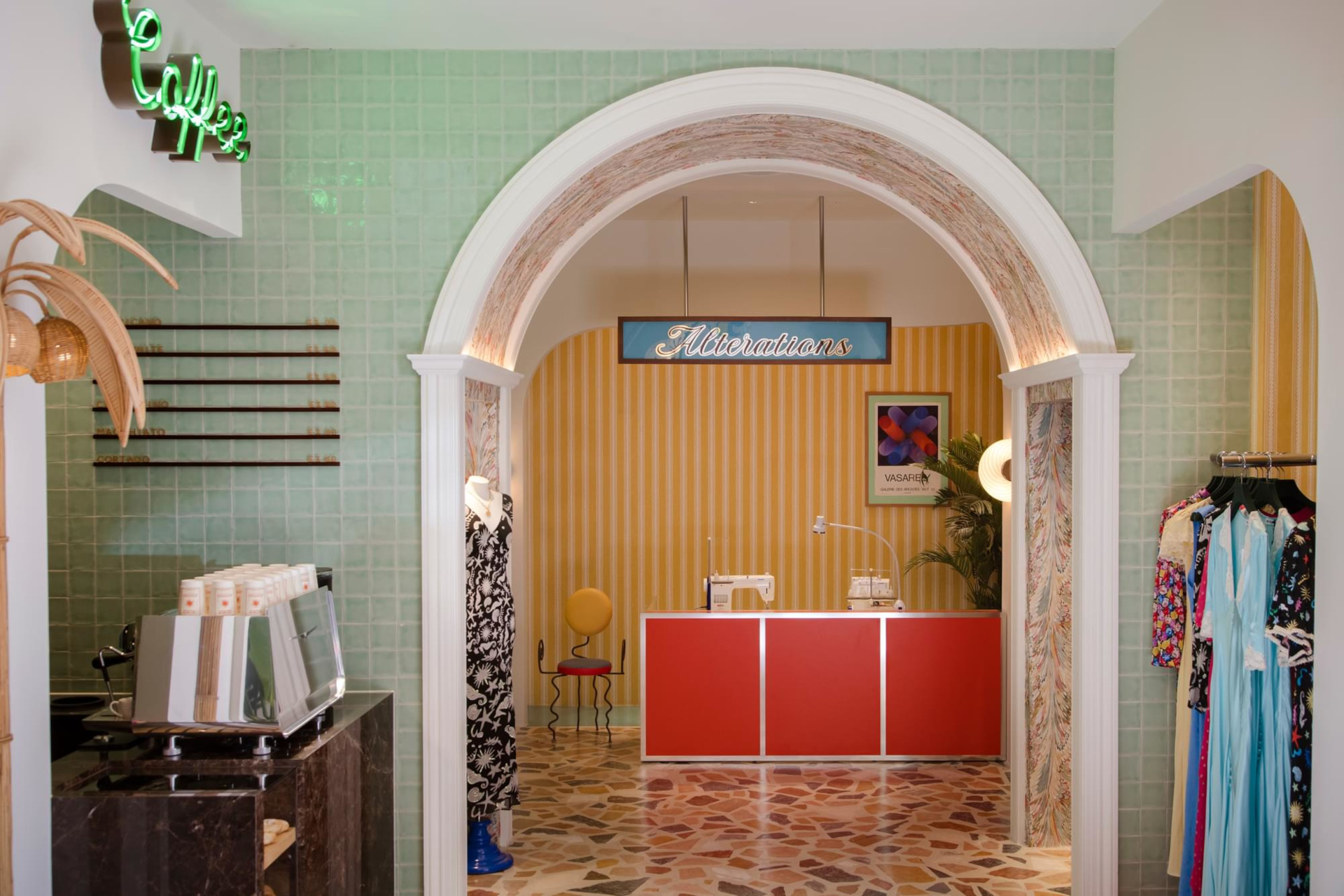 RIXO Opens The Doors To Its New Kings Road Flagship Store This Week
---
We ask co-founder Henrietta Rix what it was like creating the new space
British fashion brand RIXO shows no signs of stopping its London takeover any time soon. The label, known for its vintage-inspired designs, colourful prints and immersive Fashion Week presentations, marks yet another milestone with the arrival of its biggest store to-date. We chat to brand co-founder Henrietta Rix about the opening of RIXO's London flagship store – and what to expect on your first visit.
RIXO Opens The Doors To Its New Kings Road Flagship Store This Week
RIXO has more than earned its title as one of the most exciting fashion labels to come out of the UK capital. The brand, which now has eight years in the industry under its belt, has continued to make waves since it burst onto the scene in a whirlwind of bright colours, clashing patterns and vintage silhouettes. Now a regular at London Fashion Week, as well as a favourite amongst the likes of Sandra Bullock, Daisy Ridley and the Princess of Wales, RIXO is setting its sights on physical hubs for its community of loyal fans (otherwise known as the Humans of RIXO).
Following the successful launch of its Carnaby Street store in late 2022, RIXO announced it would be opening another in London very soon – and the day has finally come that we can now see inside. The new store, a flagship on Kings Road, is RIXO's biggest to date and comes with a whole host of special features you won't find at the brand's other outposts. Look inside the new store, and get all the BTS info from RIXO co-founder Henrietta Rix, below…
Henrietta Rix On The Opening Of RIXO's London Flagship Store
Before we get started, we wanted to say a big congratulations on the upcoming launch of your flagship store! How are you feeling about everything?
Thank you! We are so excited the doors are finally open. Orlagh and I have been talking about opening a flagship since the early days of RIXO and seeing it materialize really is a dream come true. RIXO has come so far since we started it in our living room eight years ago, and to be opening this week is such a pinch-me moment for us all.
What can the Humans of RIXO expect from the new store?
Our new store will hold all RIXO collections under one roof, in addition to launching some new initiatives like rental, pre-loved, vintage and live in-store alterations. There's a gorgeous bridal boutique which can be booked for private appointments with our bridal specialist, and is also open for walk-ins. We're so happy our brides-to-be can now come in and try on our collections! We've launched our fourth bridal collection in-line with the opening too, and it's really beautiful.
The RIXO flagship is so much more than a shopping destination, with a coffee kiosk and a cocktail bar – we wanted to create somewhere where our #humansofRIXO can connect and meet up with one another. The space is so true to RIXO's DNA; it's really personalised to Oragh and I. In terms of the interiors I think the space will be everything they expect from RIXO and more – lots of colour, vintage furniture and special touches!
Many of the features and services in-store present more sustainable options for shoppers, such as rental, pre-loved, vintage and alterations. Why give these a spotlight? 
Sustainability is really important to us at RIXO and the flagship launches new initiatives we really wanted to try – mainly rental, pre-loved and alterations. These are all significant moments for the brand. We'll be offering select RIXO occasion wear and bridal pieces for rental, as we understand with those extra special pieces, our customers might not want to wear that item more than once, and we wanted to help them consume less and shop more wisely. This is something that will be possible from both our flagship and online, and we're really excited to see the reaction from our customers.
Pre-loved is also a big moment; it helps us become more circular as a company, plus I love the thought of our community passing down and sharing their RIXO pieces with one another. Customers will be able to trade in their old RIXO for a gift voucher, and shop second-hand pieces at a discounted price – it's great because more people can wear RIXO, and it's amazing to give pieces of clothes a second life. With the pieces being a lower price point, it's a nice option for a new customer to shop RIXO and get a feel for the brand.
We'll also be offering alterations in store, meaning our customers can ensure their RIXO piece fits them perfectly, and ultimately get more out of their wardrobe. Our brilliant garment technologist Liudmylia will be in the store and can either do same-day tweaks or alter in a few days, depending on what needs to be done.
Orlagh and I have also handpicked a gorgeous true vintage edit. We did this in our first pop-up in Covent Garden and knew we wanted to reintroduce this again as we're both so passionate about vintage shopping.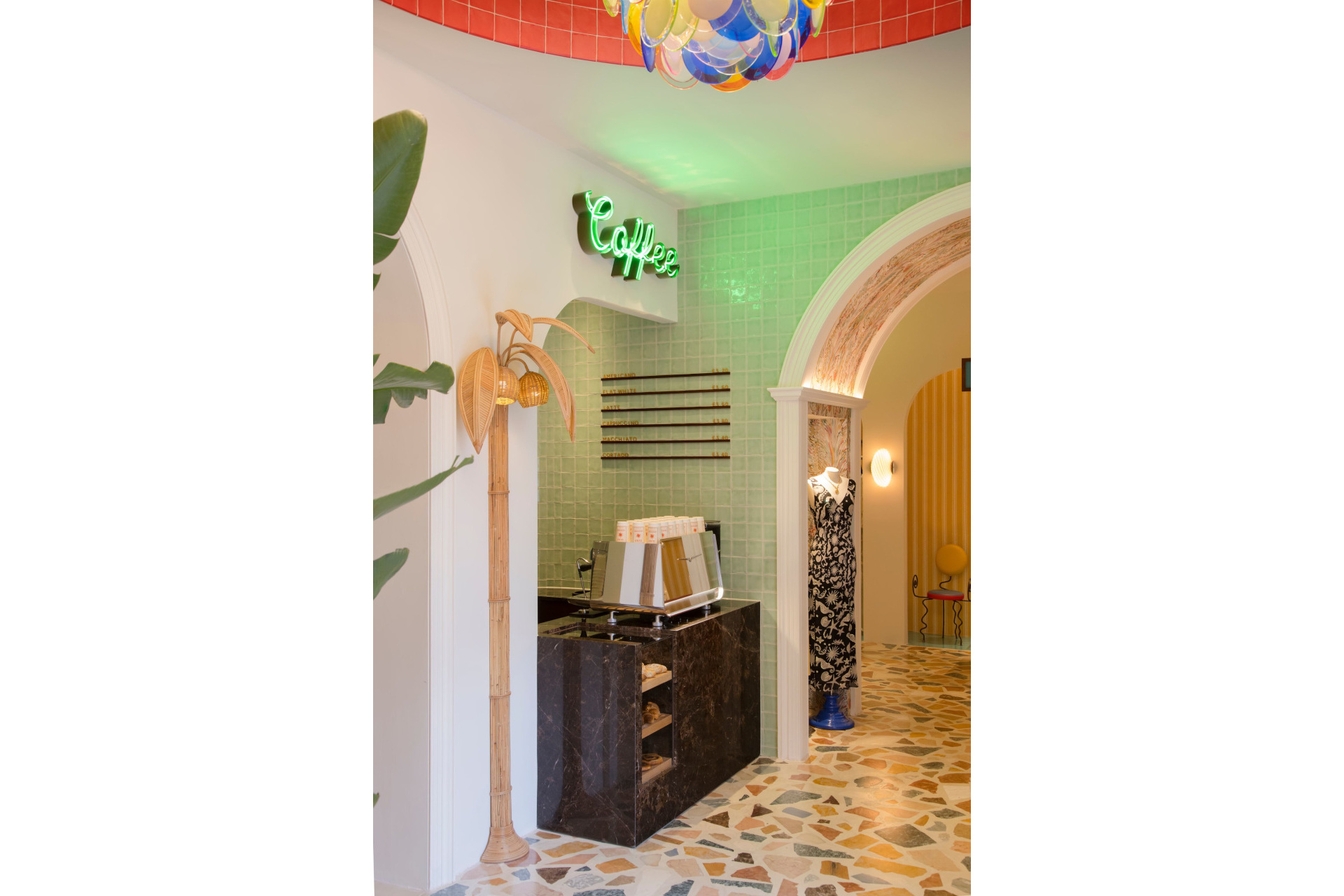 We're also very excited to hear there'll be a bridal boutique! What can prospective brides expect from the experience?
Our bridal boutique will hold all our bridal collections – I can't believe we're already on our fourth since we first introduced bridal in 2021. We'll also have our bridesmaids collections there so brides-to-be can come in with their bridal parties too. We have a brilliant bridal specialist who's on hand to help. The boutique itself is stunning; we partnered with De Gournay on a custom wallpaper, the fitting room has Dedar curtains and we picked the vintage décor ourselves. Prospective brides can either book private appointments or simply walk-in.
And then there's the coffee kiosk and cocktail bar – sounds very jazzy!
Definitely. It was important for Orlagh and I to create a space that was more than just somewhere where our customers can shop, and we wanted to provide the full RIXO experience. We partnered with Kudu Collective for the cocktail bar and have done lots of pastry tastings in the RIXO head office to perfect our sweet treat offering.
Let's talk design notes: we heard the new store was designed in partnership with Cupla Studio, which is owned by Orlagh's twin sister Gemma. Can you tell us how the collaboration came about?
It was a no-brainer to work with Gemma and her design company Cupla on this project. We all lived together when Orlagh and I started RIXO back in our university house and have been brainstorming with Gemma on what we'd want our flagship store to look like ever since. Gemma totally understands our vision and she's created such a beautiful store with her team, we couldn't be happier.
Was there a theme in mind when you were working on the store design? How would you describe the vibe now?
We just wanted a space that really encapsulated everything RIXO is about and felt really true to the brand. As soon as we walked in, we knew it had to be ours simply because there was so much natural light, which is so rare with retail spaces in London. The vibe is individual, and a lot of fun… each room is a bit different, but everything has the RIXO aesthetic.
We also heard that you hand-picked vintage pieces for the décor?
Yes! Orlagh and I are both huge vintage fans (I actually met Orlagh for the first time when complimenting her vintage bag) and we knew we wanted to bring a true vintage edit to the flagship for our customers to shop. It's been so fun sourcing all the pieces and I think our #humansofRIXO will really love the selection; it ranges from simple silk camisoles to incredible Pucci dresses.
Having vintage and repurposed décor was similarly really important to us, especially when filling such a huge space, and we went on various sourcing trips to Italy and France to find the perfect pieces.
Can you tell us a bit about the interior design for the bridal suite?
The space is truly beautiful, it's so calm and feminine – Orlagh and I are both huge De Gournay fans, so having a bespoke layout from there is such a highlight for us, and it feels really special. We wanted the space to feel luxurious whilst also a contrast to the rest of the store; trying on wedding dresses is a big moment and we knew it needed to be perfect.
And what about the fitting rooms?
The fitting rooms are one of my favourite parts of the whole store; there's so much colour and natural light. Above each of the eight fitting rooms there's a hand-painted mural of something or someone that's been really significant to the RIXO journey and means a lot to us – it's such a personal touch. It's important for us to show our customers the RIXO story, and this was a lovely way to do it. The curtains are bespoke, from Colours of Arley, with two new colours created especially for us – 'Fizzy' and 'Jam'. Colours of Arley uses recycled bottles to create the cloth fabric and that sustainable element is great.
Do you have a favourite room, nook or design detail in the store you can't wait to show off?
There's so much it's hard to pick just one, but I really love the Palladian floor. It's been created using old scraps of stone, so it feels really special to have given it a new life, especially into something so beautiful. We wanted the till area to feel like an old hotel lobby and used gorgeous dark wood – it's such an effective contrast to the other parts of the store. Our cocktail area has these amazing Murano glass lights too which we're all obsessed with.
Any parting words for our readers?
We'd love to welcome you all to our new flagship store, so definitely pop down.
VISIT
You can swing by RIXO's new flagship store from April 2023. rixolondon.com
Where? 114-116 Kings Road, Chelsea, London, SW3 4TX
When? Mon to Wed: 10am to 6.30pm | Thurs: 10am to 9pm | Fri to Sat: 10am to 8pm | Sun: 12pm to 6pm
Images courtesy of RIXO