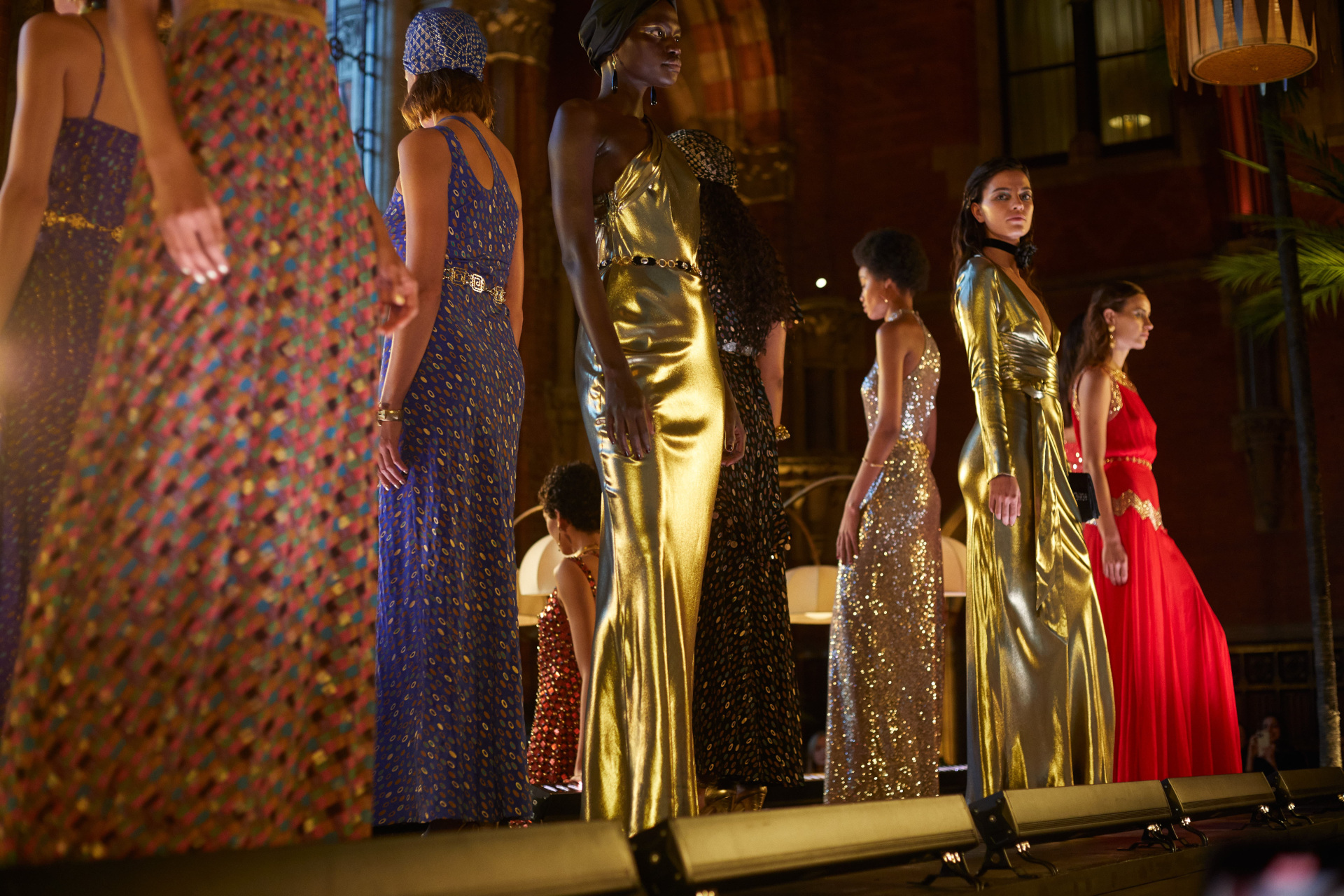 'This really is RIXO back to its roots': RIXO At London Fashion Week AW23
---
All good things must come to an end – and London Fashion Week is no exception. One of the labels leading the wind-down this season is RIXO, which went out with a bang courtesy of its ancient Egypt-inspired AW23 collection. Read on to hear all about the highlights from the show, and get the insider scoop about the collection from RIXO's co-founders.
London Fashion Week Spotlight: RIXO AW23
RIXO is forecasting glamour and opulence for AW23. The British brand, known for its vintage-inspired designs, took over the Booking Office 1869 to present its latest collection for London Fashion Week. This ended up being the perfect setting for the show: a Victorian-style winter garden decked out with huge golden chandeliers and a low-lit bar (serving glasses of fizz to guests), with models dressed in eveningwear parading above the heads of guests.
It's also fitting that the interior takes its visitors back through time to the Victorian era. This period acted as a starting point for Britain's longstanding obsession with ancient Egypt and its history, visual culture and craftsmanship. It makes sense, therefore, that RIXO's Egypt-inspired AW23 collection, 'The Goddess of The Nile', takes centre stage in its rooms.
The collection was inspired by the techniques, symbols and colours found in ancient Egypt, and keeps a focus on embellishment and hand-embroidery that fuses Art Deco and Egyptian patterns with 80s glam silhouettes. 'The Goddess of The Nile' sees RIXO step further into occasion-wear, with gowns, mini dresses and accessories all made to celebrate party season.
Highlights from the season include hand-painted prints reimagining the traditional Egyptian hieroglyphs by co-founder Orlagh McCloskey, a rework of the traditional assuit technique to create new reflective textile patterns and slinky dresses inspired by RIXO muse Kate Moss.
This was a collection of many firsts for RIXO. Not only did the brand cut its presentation time from two hours to one, it also moved away from its usual presentation format to showcase a catwalk-presentation hybrid. After walking the runway, models were stood on a spotlit, tiered platform in the middle of the room – ready to be admired by the audience shifting around them.
Look Inside The RIXO AW23 Show
RIXO Founders Henrietta Rix & Orlagh McCloskey On Their LFW AW23 Show
Ahead of their London Fashion Week presentation, we caught up with RIXO co-founders Henrietta Rix and Orlagh McCloskey to talk inspirations, prints and techniques for 'The Goddess of The Nile' – as well as what to expect from the brand this year…
Please can you introduce your new collection to our readers?
Orlagh: We're thrilled to introduce our AW23 collection: 'Goddess of The Nile'. We loved designing the pieces, and seeing it come to life with our London Fashion Week presentation has been special for us both. This really is RIXO back to its roots, true-occasion styles for our customers to wear for special moments.
What were the inspirations behind the collection?
Orlagh: We were inspired by the techniques, symbols and colours found in ancient Egyptian times and used this inspiration to build out the key prints in the collection. RIXO is a vintage-inspired brand, and as always, vintage inspiration runs throughout – whether it's something found at Portobello Market or seen in the Design Museum. We took some key visual elements from ancient Egypt and combined it with our brand DNA, creating pieces that are true to us.
You seem to have played with texture a little bit more with this collection – especially when it comes to reflective surfaces. We're a big fan of your beaded pieces, especially Leo and Perri. What drew you to these styles and techniques?
Orlagh: We did lots of fabric development in-house; this collection features more intricate development and techniques than any previous. There's a traditional Egyptian technique called 'assuit' that we reimagined for the collection using burnt out velvets and hand-painted geometric patterns, it was such a learning curve to experiment and work out a way to recreate this for modern day use.
As we're always happy to see with your collections, print and pattern also take pride of place in 'Goddess of the Nile'. Can you please tell us a bit about those featured this season?
Orlagh: Some key prints in this collection are 'Ombre Bloom', 'Klimpt Stamp' and 'Topaz Dream'. Topaz Dream is a classic RIXO print, really sticking true to our brand DNA of creating something fun and conversational. It's our take on traditional Egyptian Hieroglyphics – I hand-painted the little motifs that make up the print. Klimpt Stamp is inspired by an antique jewellery box I found whilst exploring Portobello Market, and Ombre Bloom is a beautiful hand-drawn floral artwork using oil pastels and paints.
Any items from the collection you can't wait to wear come autumn?
Henrietta: Meera in Ombre Bloom.
Orlagh: Samira in Cleo Patchwork Red.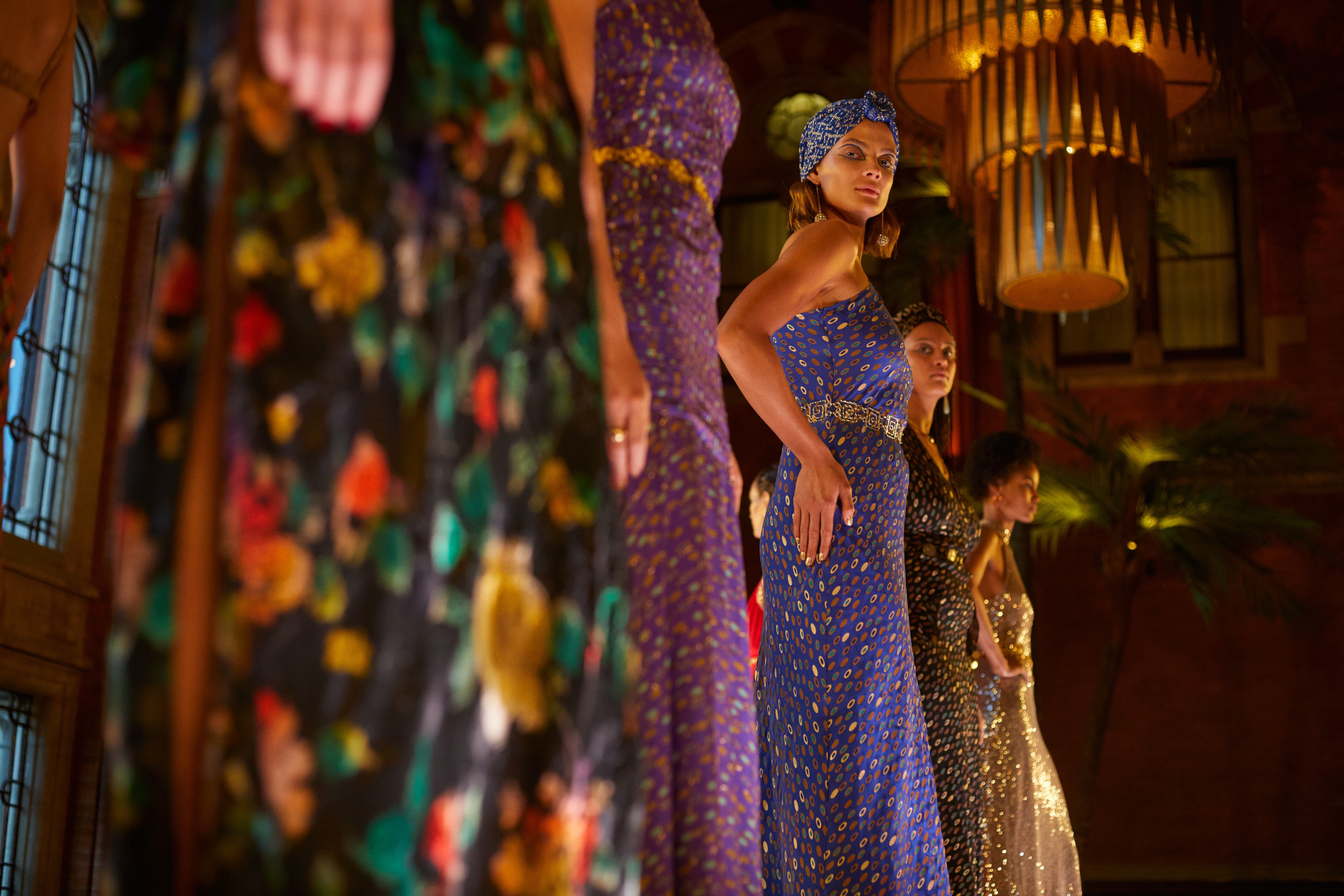 What was it like setting up in Booking Office 1869 for your LFW presentation? Why did you pick this venue?
Henrietta: We picked the venue because as it was such a good match for the collection: the rich history, dark wood and palm trees were the perfect fit! The ceiling had had such an impact on entrance and it was an easy location for our guests to get to.
What do you love the most about London Fashion Week?
Henrietta: There's such an excitement and buzz over London Fashion Week that we love. It's always so great to have everyone who we admire and who supports us in one room, from international press to global buyers.
And what excites you about the autumn/winter season?
Orlagh: AW23 debuts 'True Occasion', which runs in-line with our usual RTW collection. We've really focused on what our customer loves about RIXO and developed it into the best it can be. We've put substantial time and effort into developing our dress blocks, working on our fits, and researching and developing our fabrics and embellishments. I'm excited for this to be in our stores and online.
Henrietta: AW23 is an extension of our RTW range, with a big focus on black tie, red-carpet and big energy parties. This is exciting as it represents all the fun moments that come with this time of year.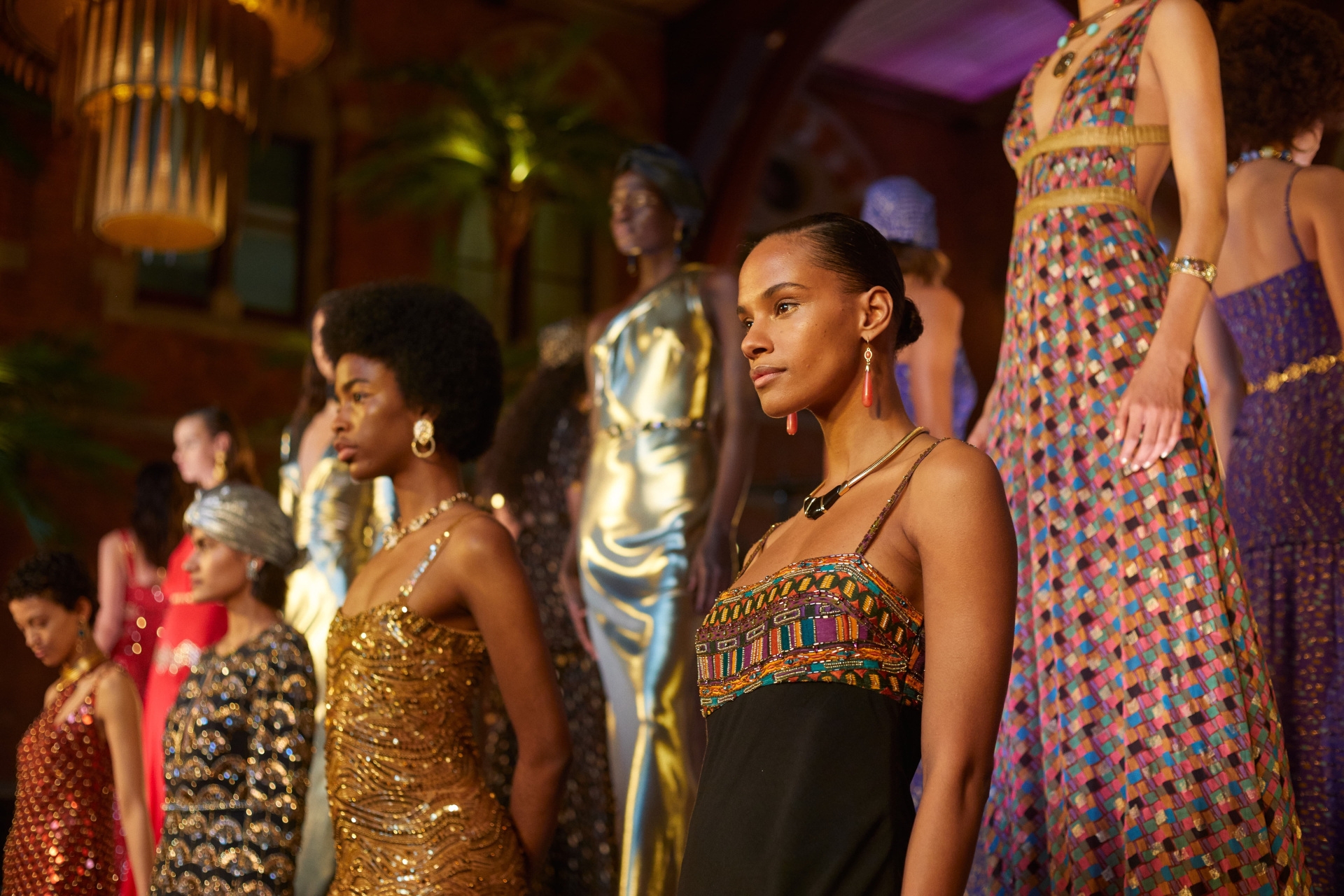 Are there any trends coming up for AW23 that you're excited for the #humansofRIXO to try?
Henrietta: We're not a trend led brand and design our pieces to surpass trends, but we have predicted opulence and glamour for AW23. I can imagine everyone going all out and enjoying themselves. I'm excited for our #humansofRIXO to feel amazing whilst wearing the collection and feeling confident and empowered.
We've heard RIXO has moved away from weekly drops on its website in favour of smaller, monthly ones – why the change?
Henrietta: We wanted to encourage our customer to buy less and wear more, launching our collections in one go allows them to see exactly what is available this month and choose their purchases more wisely, rather than buying something new every week. It's important for us to set an example against over-consumption, with the emphasis that RIXO pieces are special purchases.
So, RIXO's travels have taken us to some exciting places – Hollywood, Goa and now Egypt. Where's next for you both?
Henrietta: Europe in the summer so either Italy or Ibiza. I've a little one year old so a short flight is always most convenient!
Orlagh: I'm going skiing again for the first time in years – I'm excited but a little nervous.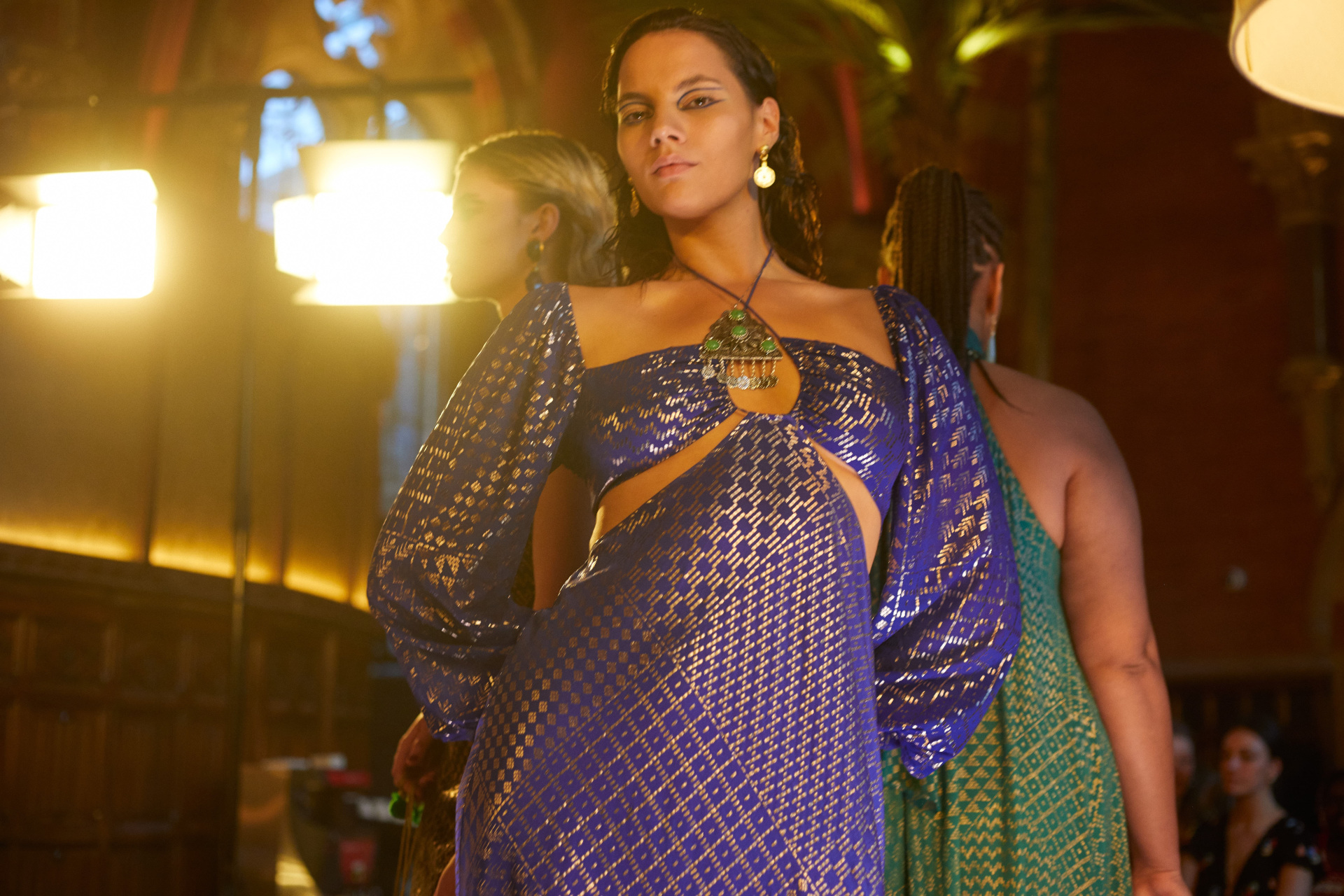 Any other exciting projects in the pipeline you can tell us about?
Henrietta: Our flagship store opens on the King's Road this April, which will be the true House of RIXO and will feature all our collections (RTW, bridal, accessories) in addition to a coffee station and cocktail bar. We'll also have a beautiful showroom where we'll host press and wholesale appointments. We can't wait to open the doors!
Any parting words for our readers?
Orlagh: This collection is all about bringing the focus back to what RIXO does best – amazing feel-good pieces at great value. We create special pieces for big moments for our customers, whether that's weddings, job interviews, important meetings or first dates and have brought the focus back on this, creating a collection filled with RIXO true-occasion staples.
MORE LFW
You can catch up on the AW23 London Fashion Week shows at londonfashionweek.co.uk
Images: RIXO LFW AW23