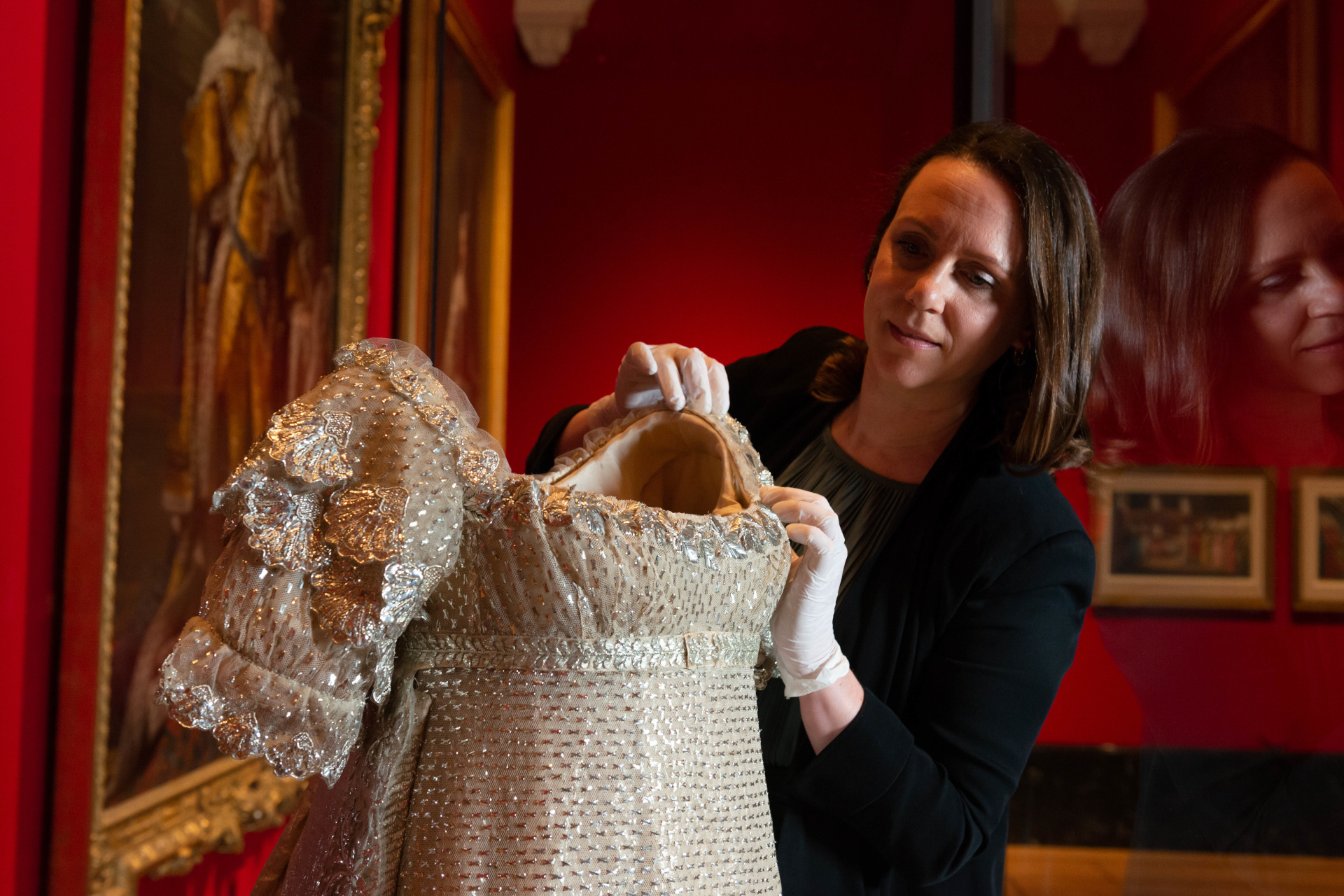 Buckingham Palace's New Exhibition Should Be On The Radar Of Every Bridgerton Fan
Style & Society: Dressing The Georgians opens its doors to visitors today
The Georgians are known for many things, from courtly spectacle and political change to the birth of the Industrial Revolution. But one thing really set the era apart in history: the fashion. If there was one thing Georgian society did well, it was dress up. But rather than just look pretty, many of these garments tell a much bigger story. 'Dress is so much more than just what we see on the surface,' says curator Anna Reynolds. 'It's fascinating what we can learn about a period when looking at it through a fashion history lens. Visitors might be surprised to learn how much the Georgian period has in common with the fashion landscape we know today, from influencers and fashion magazines to ideas about the value of clothes and how they can be recycled and repurposed.' You can find out all about this and more at The Queen's Gallery's latest exhibition, Style & Society: Dressing the Georgians. Here's seven things not to miss on your next visit.
7 Things Not To Miss At Style & Society: Dressing The Georgians
1. The Earliest Surviving British Royal Wedding Dress
Style & Society: Dressing The Georgians comes just in time for wedding season, so it shouldn't be a surprise that one of the grandest items on display is the bridal gown worn by Princess Charlotte on her wedding to Prince Leopold in 1816. The silk embroidered wedding dress is the only royal bridal gown to survive from the Georgian period, although over time it has been altered and repurposed for new wearers. The tiny silver threads in the gown make it all more lovely to see in person, as it glitters under the light as you move around it.
2. The Widest Dress You Have Ever Seen
Ever wondered what the ladies wore in the court of Queen Charlotte? This dress from the 1760s should give you an idea. The dress, which is on loan from the Fashion Museum Bath, highlights the extravagant fashions worn at court during King George III and Queen's Charlotte's reign. You can walk around the (rather large) display case to get an idea of just how big the hoop skirt is, and a quick peek around the back will also reveal a gorgeously embroidered train in a matching fabric.
3. Big Wigs
Speaking of Queen Charlotte, sitting at the heart of the exhibition is a portrait of the monarch created by famed artist Thomas Gainsborough. Portraiture is used throughout the exhibition as a window into the fashions of the era. Not only does this one highlight the grandeur (and volume) of courtly gowns, it also shows how fashion was not limited to dress; the boom in wigs, haircare and grooming tools also ensured that a person's barnet reached the same heights (quite literally) as their clothing. Queen Charlotte in particular was known for adopting various hair trends, from tall, heart-shaped styles to exaggerated ovals and adornments.
4. Romantic Fashion (As Told By Lord Byron)
But that doesn't mean the trends of the time were limited to the upper classes. One of the most exciting things about Style & Society: Dressing The Georgians is its emphasis of the streets of Georgian Britain itself. While court style were lovely, they quickly became outdated for everyday dress – new fashions instead came from pleasure gardens, coffee houses and theatres. Soldiers, sailors and working-class serving women set new trends, with working-class garments like aprons and trousers taking centre stage. Romantic poet Lord Byron was notably one of the first (alongside George IV) to ditch long-famed breeches for loose trousers, as shown in George Sanders's painting in the exhibition.
5. Georgian 'Ripped Jeans'
And where there's trends, there's someone making fun of them. Style & Society also delves into the ways satire interacted with exaggerated fashions of the period, with prints from caricaturists like William Hogarth and Thomas Rowlandson displayed next to regal portraits, clothing and wigs. Rowlandson's never-before-displayed New Invented Elastic Breeches shows how artists poked fun at some trends, depicting a rather large man being squeezed into tiny leather breeches by two tailors. It's giving Ross Geller in leather pants, to be honest.
6. Coronation Portraits Of George III And Queen Charlotte
Many of us are eagerly awaiting the return of the Bridgerton universe, with the next instalment acting as a prequel to the series with a backstory on Queen Charlotte. In Queen Charlotte: A Bridgerton Story, we expect to see the future king and queen exchange vows and celebrate their coronation – all in fabulous clothing, of course. Buckingham Palace's new exhibition give you a sneak peek at the outfits the Shondaland team would have looked to for inspiration, as detailed in Allan Ramsay's coronation portraits of the royal couple. Depicted in ornate ceremonial dress – including furs, lace, silks, gold (and even a diamond-clad stomacher panel worn by Queen Charlotte, estimated to be worth around £10 million today) – the portraits highlight the powerful grandeur of the Georgian monarchy.
7. Sustainable Fashion
It's not something we'd really associate with the glamour of Georgian Britain, but Style & Society showcases how people tended to stick to a 'buy less, buy well' mindset when it came to clothing. All the items on display have been made by hand, and display a history of alteration, repurposing and recycling. From a striped waistcoat altered with panels on the back to allow more room (while staying hidden under a coat) to Queen Charlotte's book of psalms covered in silk fabric from one of her dresses to the thriving second-hand, hand-me-down market illustrated in prints and portraits.
The exhibition shows that appreciation for the textile itself often far outweighed the design of a garment, and so it lived many lives with multiple people and as multiple items. Leave it to the Georgians to forecast the vintage fashion boom.
BOOK
The Style & Society: Dressing The Georgians exhibition will run from 21 April to 8 October 2023 in The Queen's Gallery, Buckingham Palace. rct.uk
Featured image: Wedding dress worn by Princess Charlotte of Wales, 1816 (c) The Queen's Gallery, Buckingham Palace