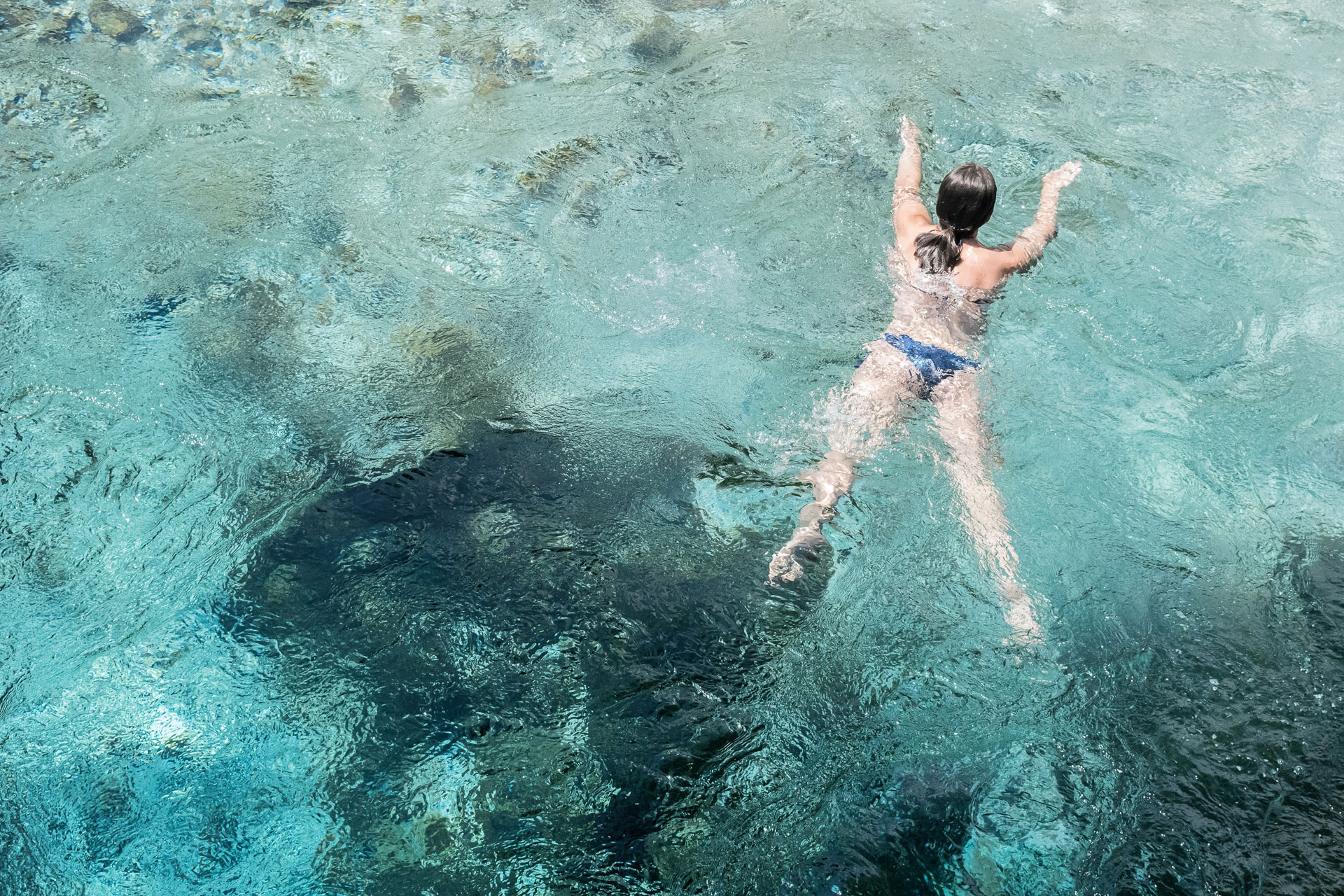 A Guide To Cold-Water Swimming
---
Keen to dip your toe into the cold-water swimming trend? Here's everything you need to know.
Diving headfirst into icy water may sound like a nightmare to some – but for others, it's transformative. Cold-water swimming isn't new – in fact, its origins date back to Roman times, when people would gather in circular cold baths called frigidariums. Victorian doctors, meanwhile, would prescribe cold baths to patients suffering with bruises or hysteria.
Yet the practice has soared in popularity in recent years, with a big surge in the pandemic era as Brits surrendered to the UK's chilly waters in lieu of sunny trips abroad. It's also set to become safer, with Environment Minister Rebecca Pow recently announcing that rivers, lakes and the sea will be monitored year-round as a response to the surge in swimmers.
Extreme athlete Wim Hof is the movement's leader – but its followers are wide-ranging, with everyone from Joe Wicks to David Cameron hopping aboard the trend. Even the Beckhams are getting involved, having recently got the go-ahead to construct a wild lake at their Cotswolds home. Cold-water swimming evangelists claim it can help with everything from a broken heart to anxiety – but what does the science say?
The Benefits
Studies have shown both physical and mental benefits. On the physical side, the main draw is improved immune health: a joint report by the University of Portsmouth and Royal Sussex County Hospital, for instance, cited studies that found cold-water swimmers suffered fewer, shorter and less severe infections. A study from Finland, meanwhile, demonstrated that cold showering for between 15 and 60 seconds can help reduce your chances of getting a cold or flu.
Cold-water swimming is widely used in the athlete world, too, to reduce inflammation. Natural lifestyle coach Tony Riddle tells us: 'When I was doing the Three Peaks Challenge, cold immersion was my go-to therapy. I suffered a broken toe on day one and swollen Achilles; the ice bath became critical in helping my body heal and repair.'
On the mental side, fans report a positive adrenaline rush – a cold dip sends the body into fight or flight mode, which enables the release of stress hormones. 'Cold water is like a micro-hit of adversity that helps us access a macro state of inner calm, build resilience and mental fortitude,' says Riddle. A 2018 report in the British Medical Journal even suggested it may be an effective treatment for depression.
Despite all these positive effects, there are some health and safety risks associated with cold-water swimming, and it's important to be well prepared. Here are some top tips.
Cold-Water Swimming: Top Tips
First and foremost, make sure you're aware of the risks associated with cold-water swimming. It may not be suitable for people suffering with heart disease, asthma or high blood pressure – consult your doctor if you have any reservations.
Instead of plunging straight into the sea, begin by having a few cold showers to let your body acclimatise.
Invest in some kit – not just a wetsuit, but neoprene gloves and boots to protect your hands and feet. A swimming hat will also be beneficial.
Test the waters at a lido before heading straight to the sea. Go with a friend – ideally someone who has done it before – or consider joining a swimming group.
It's time to take the plunge. Don't dive or jump into the water, but ease in gradually. The Outdoor Swimming Society explains how to react to the shock: 'One of the first things you will learn to control as a winter swimmer is the 'gasp' reflex, where it feels as if the cold water has punched the air out of your lungs, and you cannot breathe. If this happens to you: exhale with a strong "fwaw". This may feel counterintuitive but if you puff the air out the next breath will come back in. Then concentrate on steadying your breathing rate and taking a few steady head up breaststrokes. Stay in the shallows until you can control your breath so that, if need be, you can stand up or walk back out.'
In terms of how to stay in, there's no one-size-fits-all approach. The Outdoor Swimming Society suggests: 'Start out with small dips, see how you are after you get out, extend your time in the water gradually and make the journey into cold your own personal experiment. At very low temperatures, a minute or two may well be long enough (if it's acceptable to your body at all).'
When you come out of the water, warm up gradually rather than jumping straight into a hot shower. Take your wet clothes off immediately, dry off and change, ensuring you have lots of warm layers. A warm drink can also be helpful.
READ MORE:
What is Human Rewilding? / Best Outdoor Swimming Spots in England