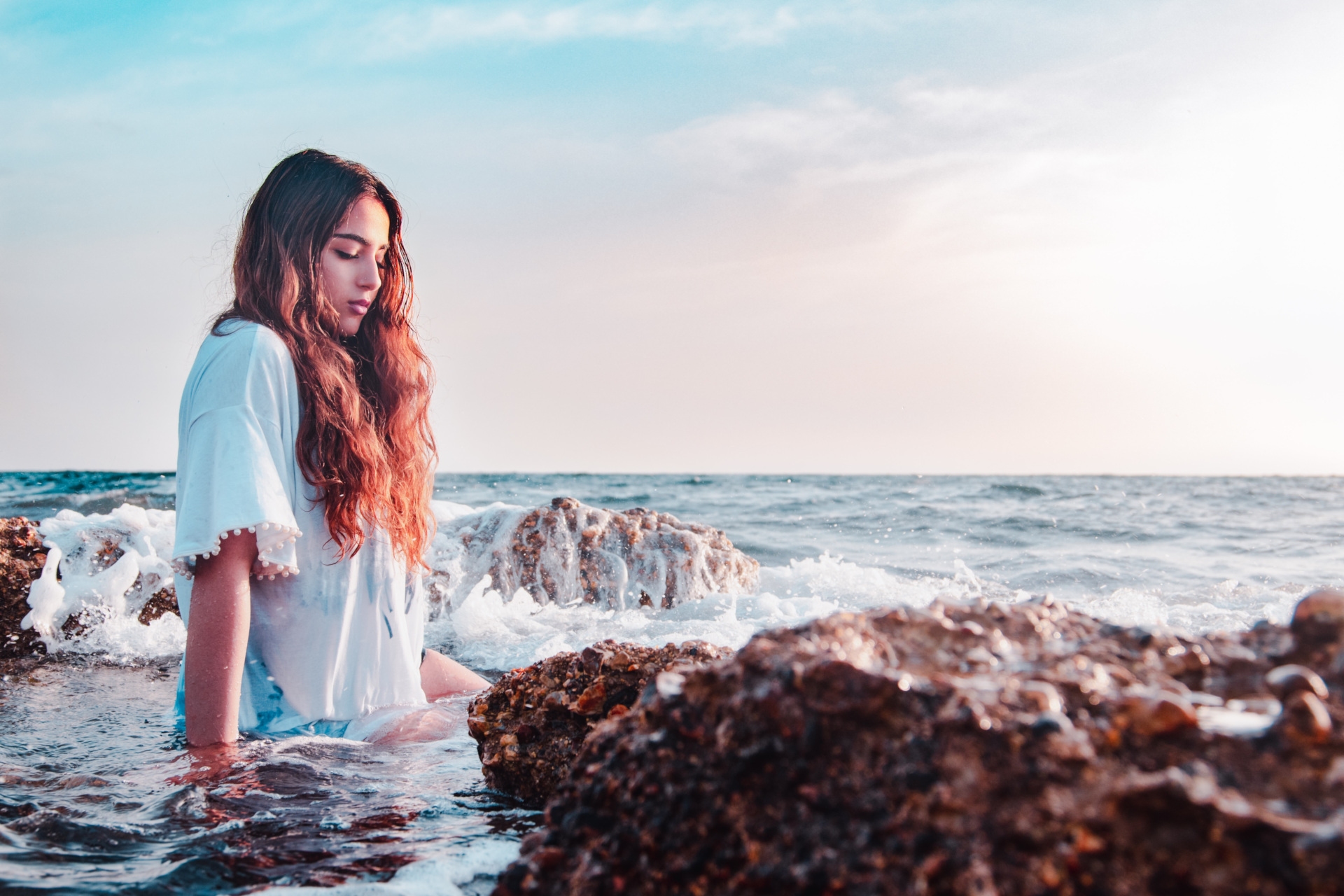 How To Get Mermaid Hair This Summer
---
Effortless, beachy waves (without the sand in your socks)
Summer is just around the corner, and we're ready to embrace the warmer weather with a seasonally-apt new do. The latest trend on our radar? Mermaid hair. We chat to Kelly May, senior stylist at London's Neville Hair & Beauty, to find out how we can recreate this summery hairstyle. 
How To Get Mermaid Hair This Summer
 What Is Mermaid Hair?
'Mermaid air, or mermaid waves, are essentially beautiful, undone beachy waves,' says Kelly. 'They've been having a moment for a while now, with influencers and celebrities showcasing the simplistic look at events and on red carpets.'
While the quiet hair trend of 2022 – as seen on the likes of Sadie Sink, Hoyeon Jung and J.Lo – it's set to make an even bigger splash this summer, as the hype for Disney's The Little Mermaid live-action remake grows ahead of its cinematic release later this month. Real life mermaid Halle Bailey offers an alternative to the typical beachy waves with vibrant red locks, showcasing how the trend has evolved and become more inclusive for the new season.
What's The Process In The Salon For Achieving The Look?
For classic mermaid waves, Kelly tells us how the look is created by professionals in the salon: 'To achieve this look in salon we use a selection of tongs – normally a deep barrel waver, depending on your hair length. We would wash and smooth your hair and go over it section by section with the tongs and waver, securing the waves with a heat protector and hair spray. To finish the look we would apply a texturising spray and run through the strands with hands or a wide tooth comb.'
How Do We Ask For Mermaid Hair In The Salon?
Kelly advises you just ask for mermaid waves, since the style itself is now popular enough to make it globally recognisable. 'Always bring a picture reference if you're unsure what to ask for.'
How Long Does It Last?
'Mermaid waves can last a few days,' says Kelly. 'I would recommend adding texturising spray to the roots the second day as a touch up and to increase the style's longevity.'
Once the stylists in the salon have shown you how it's done, you can also have a go at replicating the technique at home…
How Can We Recreate The Look At Home?
If you want to try your hand at mermaid waves at home, there are a few steps you can follow.
For long hair, Kelly advises starting with your natural hair: 'Even better if it has been washed and dried, since air-drying is great for bringing out natural waves.
'To style, use a styling tool like a jumbo waver; take small sections of the hair at a time, spray with heat protector and clamp the tool near the root (you can decide how high up you want the wave to start). Make sure to apply hairspray before combing your waves out, and don't use a rush as this can create frizz. Combing your waves out will help make them look softer and less tight, and you can always add some texturiser spray at your roots from some added oomph.'
Have shorter hair? Not to worry. 'Jumbo wavers are great for styling longer hair and extensions, but won't work as well on shorter medium-length hair,' says Kelly. 'For those with shorter hairstyles, wash your hair the night before and apply a sea salt spray. You can then blast your hair until its half-dry and tie it into two French plaits to leave overnight. Undo your plaits in the morning and style out using a wide tooth comb and texture spray.'
What About Mermaid Hair Colours?
If beachy waves aren't enough to satisfy you ocean fixation, you can go a step further by changing up your hair colour. Whether you fancy trying a shade of Ariel-approved red, a pretty shell pink or various shades of blue and green to emulate sea waters, there's plenty of opportunity to play around with the trend so that it becomes unique to you.
Mermaid Hair Ideas For Summer 2023
1.
2.
3.
4.
5.
6.
Featured image: Ramy Kabalan, Unsplash