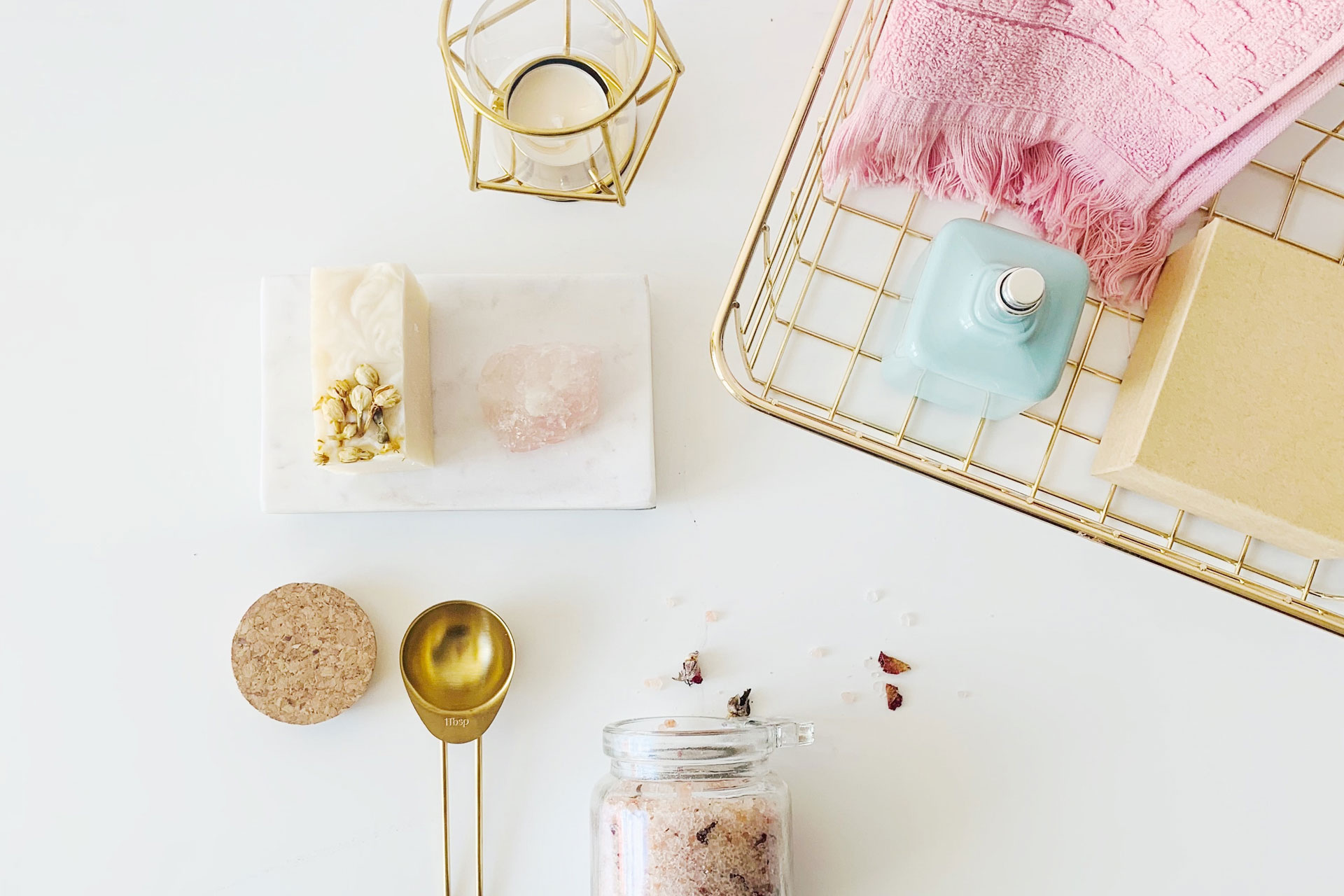 How To Replicate the Spa Experience At Home
---
We're all in desperate need of pampering, but there's nowhere to go, so we asked a handful of experts to give us their top recommendations to bring a bit of spa experience into the home.
Create a Spa At Home: Tips From the Experts
Katharine Mackenzie Paterson's Equipment-Free Facial Massage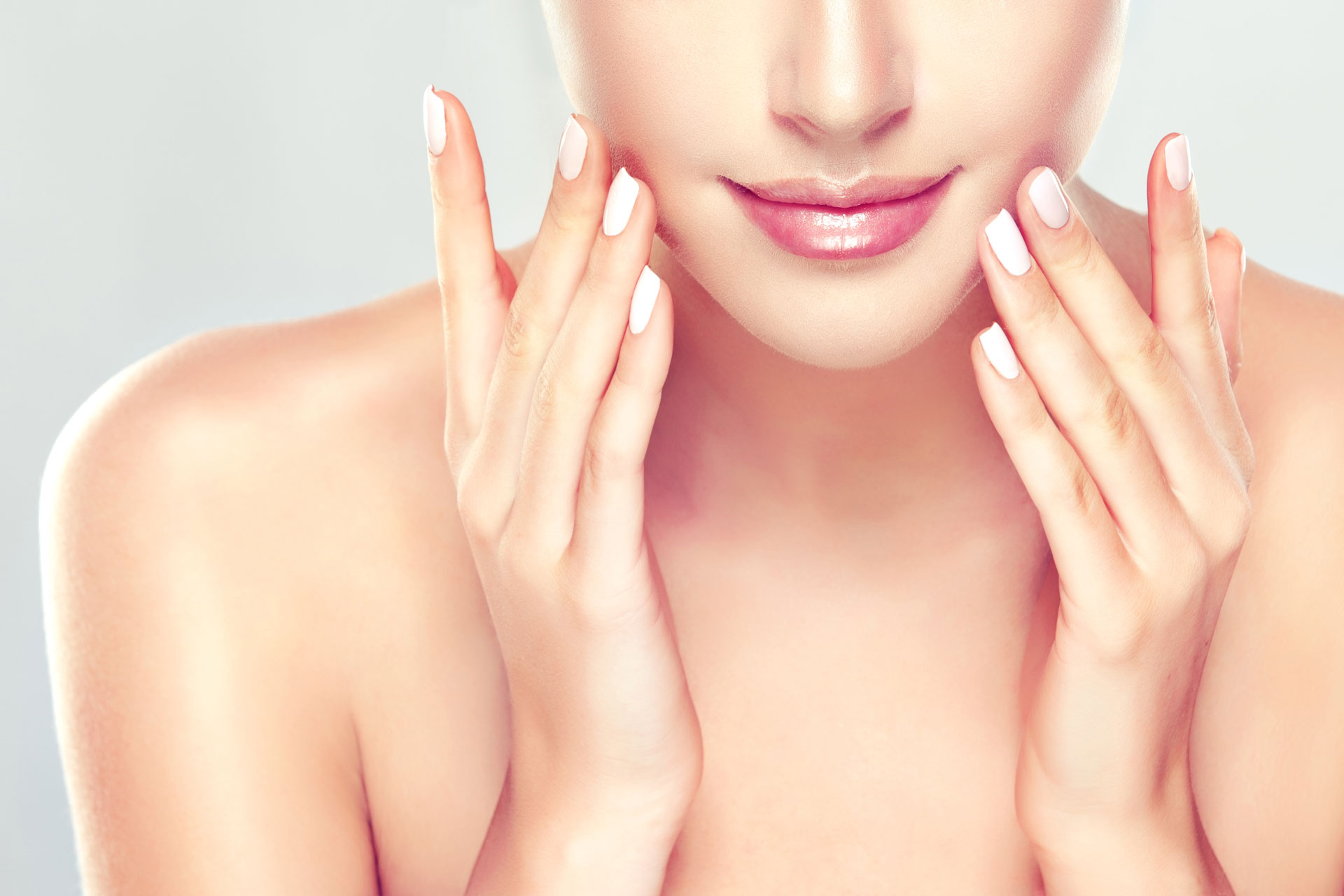 There are so many benefits to massage, such as helping with a puffy face, easing jaw tension and promoting collagen and elastin production in the skin, vital for keeping skin lines and plump.
Here's how I do it:
Start by placing a creamy face mask or a few drops of facial oil such as Vintners Daughter (£175) into the palm of your hands and warm up. Place your hands over your face and take three deep breaths. Really focus on breathing deep into your stomach, and exhaling slowing from your mouth. Place your hands in a 'prayer position' in the middle of your face and sweep outwards towards your ears. This is great for draining. Repeat three times.
Then take one of your hands and bring it to your opposite shoulder and spend as much time kneading and working out any tension in the shoulder and bottom off the neck. Swap to other shoulder.
Making your hands into a 'pincer shape' drain along your jawline starting at your chin and working your way out to the ear. Repeat three times.
Using your fourth fingers, gently circle around your eyes in an anti-clockwise direction. Repeat about six times.
Using your thumbs, find the slight hollow at the start of your eyebrows and gently press and release for a few seconds. Then pinch across your eyebrows, working from the centre of your face outward. Repeat three times. Great for headaches and for tired eyes that have had too much screen time.
Katharine Mackenzie Paterson, founder of KMP Skin, which offers bespoke face and body treatments in the heart of Mayfair, London
Sensifirm: The At-Home Anti-Cellulite Treatment
Many anti-cellulite treatments require multiple treatments, so if you're looking for an at-home alternative, this could be for you. Sensifirm contours areas on the body such as the buttocks, thighs, waist, abdomen, hips and arms. It uses radio frequency, utilising Lipotherm RF technology to reduce the appearance of cellulite. Electrodes of the device massage your skin while the radio waves reach deep layers to create a thermal effect to activate collagen production and decrease fat cell volume.
Sensifirm, £319, sensica.com
The Medical Grade Facial Device A-list Facialist Nichola Joss Swears By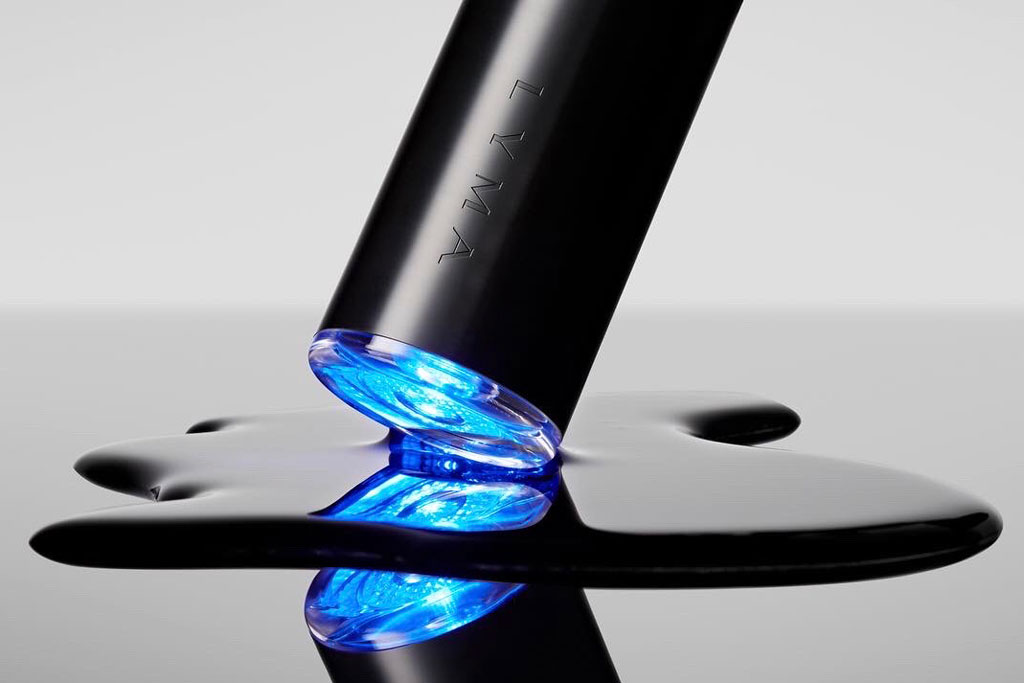 The Lyma laser is my go-to at home 'medical grade' beauty device. It can be used not only on all skin tones and types but is great for everything from rosacea, eczema, scarring, acne, bruising, pigmentation, deep wrinkles and skin tightening as well as boosting collagen. As it is a cold laser it is safe to use at home, there is no down time, no redness and no pain – giving you better than in salon laser results. I love the fact it can be used on the lightest to darkest of skin tones. It's an amazing device for boosting the overall appearance and radiance of the skin to addressing scars pigmentation and sagging. I have been using it for over 18 months now and would not be without it.
How to use it: Pop on the LYMA Priming serum all over the face including the eye area and neck, it's packed with Wellmune (1-3, 1-6 beta glucans) targeting the skin with 20 per cent more hydration than hyaluronic acids. Then I apply a high-quality oil (just to give the laser the slip) and I swipe it over my skin for 15 minutes in circular motions. Once finished I spritz the Active mist over the face. This mist is a remarkable, mineral rich formula which holds up to 100 per cent more oxygen than spring water flooding it with oxygen. Skin feels softer, more radiant and light bounces on the parts of the face again giving it a fresh appearance. Perfect for lock down skin needs.
Nichola Joss is the beauty therapist of choice for A-listers such as Scarlett Johansson, Hilary Swank, Gisele Bundchen and Gwyneth Paltrow
Dr Sue Ann Chan's Head Massage
Receiving a head massage from our hairdresser or masseuse is one of the most joyful, simple pleasures and is something that can easily be replicated at home. Not only does it address your scalp to promote thicker hair growth, but it's super relaxing too. Gentle massage will directly relieve any pressure and stress, as well as help to increase blood circulation and improve the health of our scalp and hair.
Start by parting your hair in several sections to ensure that each part of the scalp is treated. Apply a scalp mask onto your fingertips, I recommend MONPURE London's Nourish and Stimulate Scalp Mask which gives a tingly sensation when it is applied. It is packed with holistic, effective ingredients like aloe vera and vitamin-rich camellia tea oil, to soothe, hydrate and relieve scalp discomfort. Glide your fingertips in circular motions around the nape, the points on the back of the ears, the temples, the forehead and the crown of the head. Being aware of any tension and holding gentle pressure there will help you to relax more deeply. This gentle massage enables better sleep, a more alert mind when done during the day and a deep sense of wellbeing.
Dr Sue Ann Chan is resident dermatologist at Monpure
Adare Manor spa manager, Nicole Collins' DIY Pedicure
First of all, gather your equipment as below:
Large basin /bowl
Nail clippers
Nail file
Cuticle pusher or lollipop stick
Products needed:
Epsom salts
Essential oil
Body scrub
Cuticle oil or coconut oil
Body lotion
Cotton pads soaked in nail polish remover or acetone
You can do this yourself, or it's even better if someone does it for you. First off, add a cupful of Epsom salts to a foot spa or large basin/bowl along with warm water and a few drops of essential oil. I like to use tea tree oil for its antiseptic and cleansing properties.
Next soak the cotton pads in the acetone and place on top of the entire nail bed. Leave for a few minutes, then simply wipe off any old nail polish. Soak feet in the warm water for 5-8 minutes, then use the body scrub to remove any dead skin, focussing on the heels, balls of your feet, in between the toes and the cuticles. Work right up to the ankles.
Cut nails straight across. Then soften and shape the edges using the nail file. Gently push back the cuticles using the cuticle pusher or lollipop stick.  Leave the hang nails, cuticle cutting and extreme hard skin removal to the professionals when they reopen. This is just maintenance.
Dry feet and apply cuticle oil or coconut oil to the cuticles and around the nails. Finish with a generous  application of body lotion or coconut oil for a more intense mask all over the feet.  Now is a good time to give your nails a break from polish so place a pair of cotton socks over the foot lotion and allow the products to work overnight.
Ila Founder Denise Leicester's All Over Spa Experience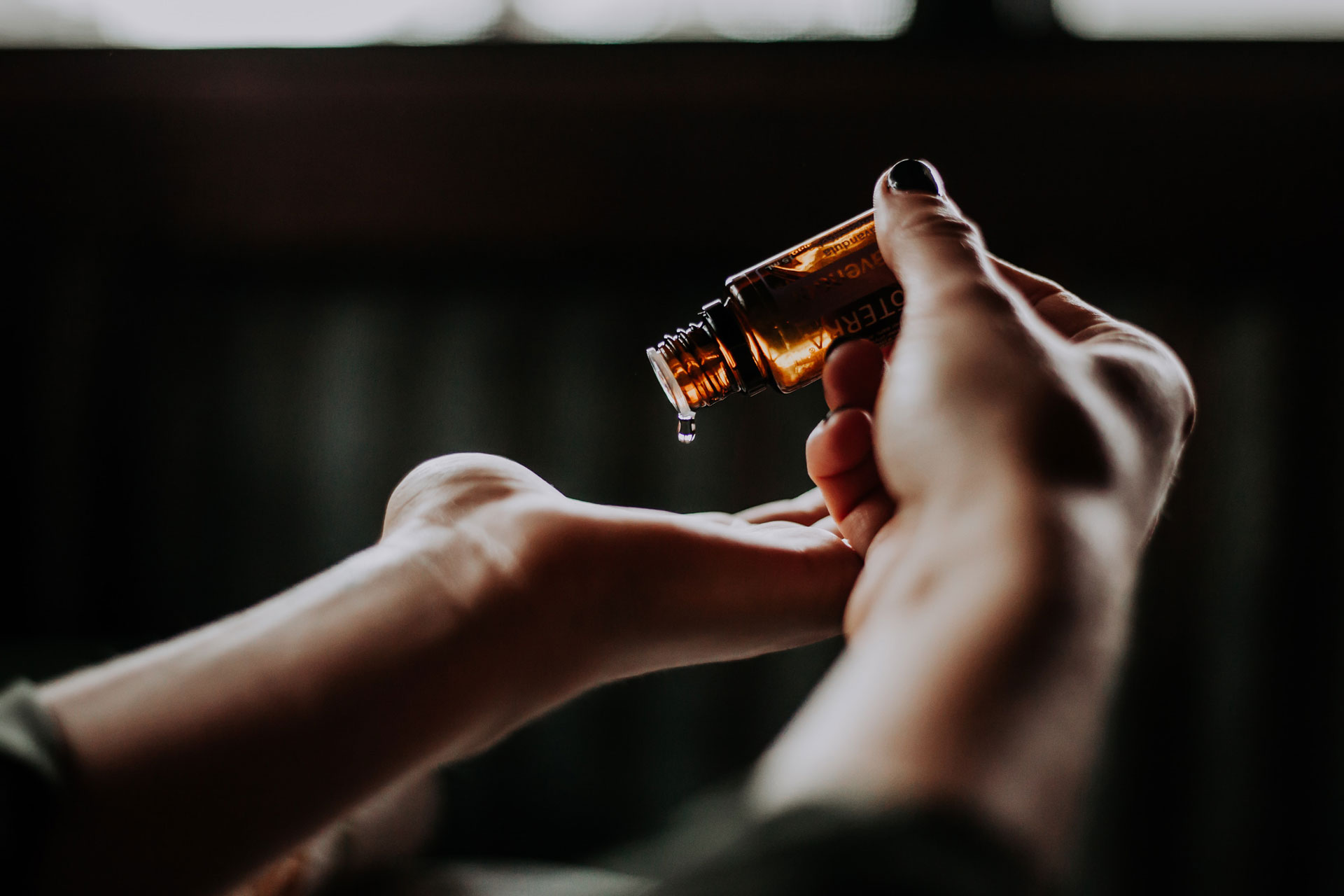 Begin with applying your favourite oil to hair and scalp. Take time to massage the scalp as this has profound stress relieving effects and work the oil through to the ends. Wrap your hair in a warm towel. Deeply cleanse the face with a clay-based mask to draw out impurities and clarify the complexion. After removing the mask apply a rich oil to face and neck and massage in with slow, circular movements.  Apply some gentle pressure across the forehead, eyebrows, cheekbones and jawline to relieve tension and stimulate circulation for a brighter look. Trace some Gua Sha tools or smooth-textured crystals over the face to refresh and energise. Take a Chakra Shower (visualising each chakra being cleansed and energised by the flow of water), taking care to wash all traces of oil from the hair. Set the scene by spritzing the steamy cubicle with your favourite essential oil blend  before stepping in and breathing deeply. Use an energising body scrub from shoulders to toes to invigorate. Once dry, apply toner and serum to the face and neck with gentle tapping movements to hydrate and smooth. Complete your at-home facial with eye serum and face cream for protection and healthy glow. Apply your favourite body oil followed by body cream for an intensive treat working from the toes upwards.
Denise Leicester is an aromatherapist, qualified nurse, yoga teacher, sound healer and holistic bodyworker and founded ila spa brand, and is a visiting wellness expert at Androinis Exclusive, Santorini
Spa Director Of Old Edwards Inn & Spa Kyra Allisone Russell's Breath Practice
Each day, by paying attention to our breath, we have the opportunity to catch anxiety before it takes hold. One way to do this is through the practice of placing the hand over the heart and exhaling with sound to vibrate the chest and lungs, this will also resonate through the sinuses. Humans are born to communicate and the vibration created through speech is imperative to our health. While we work from home and continue to communicate, listen and absorb information as it comes our way, it's important to keep the mind and body centred as it frees our mental space of fear and frustration. This is a practice that can be done at home or anywhere, not just in the current situation, but for a lifetime.
Old Edwards Inn & Spa is a Relais & Chateaux destination hotel in North Carolina, USA
Nataliya Robinson's natural facial
Whilst we are in lockdown it's great time to start to learn about your skin and how to use natural ingredients to create home facials.
If you are looking for a micro-dermabrasion effect similar to what you can experience in a clinic, then sprinkle sodium bicarbonate powder into your moisturising cream and use it as a face, neck and décolletage scrub. Apply firm pressure on the T-Zone and areas with blackheads. Massage for less than a minute and then rinse off. The sodium bicarbonate mixed with your moisturising cream will make your skin smooth and brighten the blackheads on your skin. As an alternative If you don't want to prepare your own face scrub then you can buy the Beauty Buffer by Quantum Botanika. This is silk cloth that is naturally rich in peptides. You use it to scrub and polish the skin in flossing motion.
After you have exfoliated the dry dead skin on your face prepare your own probiotic face mask using Greek style live yoghurt. This should be applied to your skin (face, neck, décolletage, hands or whole body if you like). First apply one layer followed by a few more layers as it dries (for example, every second minute), then after 15 minutes, rinse off.
The benefit of using Greek style yoghurt is that it's packed with live bacteria that is highly beneficial for the skin's microbiome, which can really help if you suffer from rosacea, dermatitis, psoriasis or acne. Another brilliant benefit of this very affordable product is that yoghurt contains lactic acid which is good for skin hydration, brightening effect and enzymatic skin exfoliation.
Finally, it's time to bring some blood circulation to the upper levels of the skin to make it glow. To achieve this we can use our hands and apply firm pressure to the facial muscles (this technique can be observed on the Quantum Botanika Instagram page), or alternatively you can use the Face & Scalp Rollers by Quantum Botanika which provide a Dermaroller (micro needling) effect in your own home without the need for needles.
Facialist Nataliya Robinson creates Quantum Botanika
Spa Director of Chewton Glen, Kerry Hudson's Ten Days of Wellness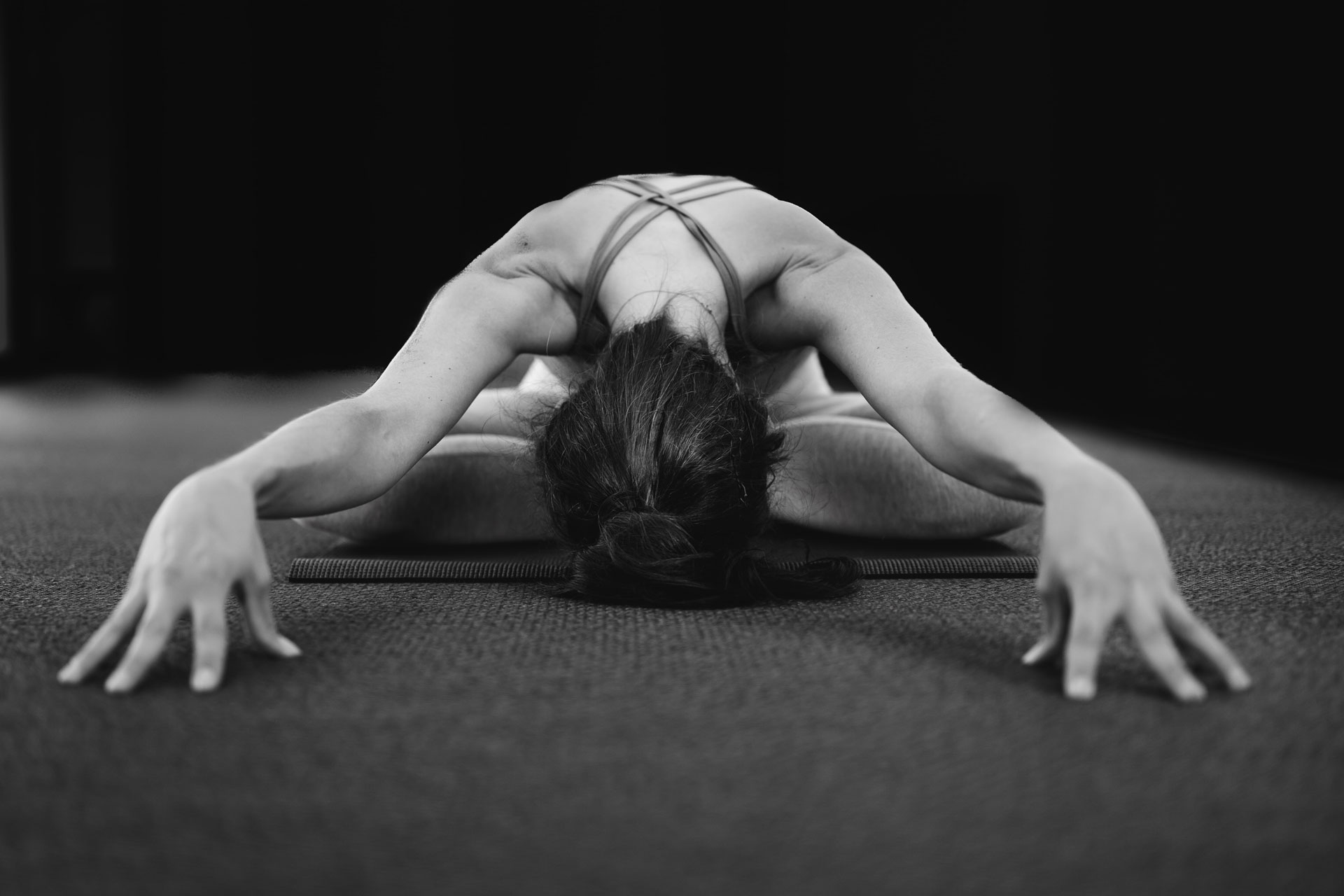 Now into our third lockdown, we realise that many people may be struggling more than ever to stay positive and look after their wellbeing. It's important to practise techniques to calm the mind, body and soul; especially at a time when the feeling of uncertainty is so high.
Day 1 – Switch Off
Have a digital detox from your phone. Switch it off or leave it at home. Go for a walk and take in what you see, smell, hear and perhaps touch. Nature is amazing and it has such a calming influence on us when you actually take a moment to observe.
Day 2 – Swap Hands
Stay with me on this one… Brush your teeth this morning with the other hand. This will encourage your mind to focus on what may see alien initially, but keeping the brain working in all the right ways will do wonders.
Day 3 – Tidy house, tidy mind
Put on a podcast or a radio station with minimal talking and focus your attention on the room in the house you often try to avoid, which in most houses is the loft, spare room or study. Clear unwanted items, re-order storage… this will help you implement the 'tidy house, tidy mind' mantra into your life.
Day 4 – Laughter Medicine
Today you must do something that makes you laugh. Laughter decreases our stress hormones and we could do with plenty of laughter right now!
Day 5 – Remove Social Media
When it first came around, social media really was sociable. Now it's a can be a very dangerous, negative space indeed. Be more aware of how you use your accounts. If you're mindlessly scrolling down your feed you're doing it all wrong. Hide the apps on the last page of your phone. This means when you open your phone again, your initial attention will not go to those icons.
Day 6 – Send some love
We don't write letters anymore. I remember a time when I used to look forward to seeing the postman. Why not send a gratitude card to a good friend or family member to make them smile?
Day 7 – Tempting Tastes
Treat yourself today to your favourite chocolate bar or savoury snack. Resist temptation to chew too quickly, it's time to savour the taste. Eat it slowly and appreciate it for longer…
Day 8 – Listen
Sit down and play your favourite piece of music. Don't have any distractions around you and this will then enable you to immerse yourself in the track. How does this song make you feel? What does this song remind you of? Go back to that happy memory and feel thankful when the song ends that you have this precious memory forever…
Day 9 – Be more cat!
There are lessons we can learn from our pets. Stretch like a cat, think like a dog. Today I want you to take time to stretch your entire body. Feel the release of pressure from your muscles, inhale and exhale your breathe. Be grateful for your body today.
Day 10 – 3 is the magic number
Before you go to bed tonight write down three things you appreciate from your day. Was it the birdsong in your garden? The fresh spring breeze? The delicious dinner you cooked? The phone call from a friend? This helps us to reflect on the simple pleasures, without dwelling into a negative aspect of our past, or thinking too far into the future about bigger hopes and dreams. It's the here and now.
Chewton Glen is a member of Iconic Luxury Hotels in the New Forest, Hampshire
READ MORE: