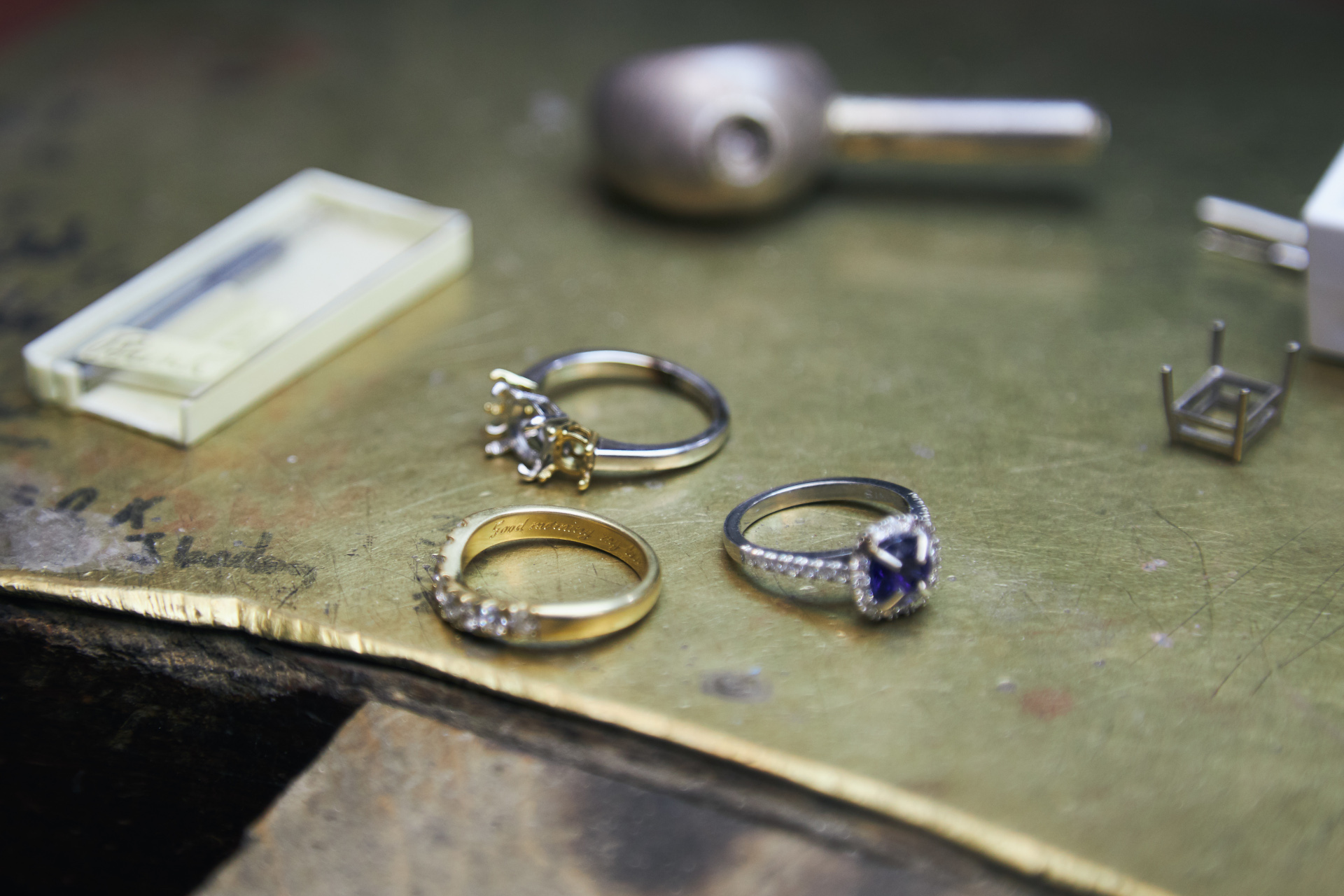 The Best Jewellery Remodelling Services in London
---
Time to dust off your jewellery box
In the back of your jewellery box there will be one or two items you admittedly don't wear anymore – but before you throw them out, consider having them remodelled. Whether it's a pair of tired-looking earrings, a broken necklace or a family heirloom too delicate to debut, there's always a chance it can be revived to its former glory. Want to know where to start? From LYLIE to Theo Fennell, these are the best jewellery remodelling services in London.
The Best Jewellery Remodelling Services in London
Specialising in sourcing diamonds and semi-precious gemstones from across the globe, Emma Clarkson Webb is renowned for creating gorgeous handcrafted jewellery. But few know that the jeweller is also a whizz with jewellery remodelling, working with diamonds, gemstones and 18 carat gold to revive family heirlooms and antiques. Speaking on its remodelling service, the brand commented: 'It's a fantastic route to go down to breathe new life into inherited or unworn jewellery, not only is it a sustainable choice but can be very sentimental and romantic too.' For enquiries, please email [email protected] or call +44 (0) 7775 854 353
Celebrated British jewellery designer Theo Fennell crafts its jewellery with the intention it should last for generations to come. This interest in legacy has created a slick remodelling service, where the team at Theo Fennell work closely with clients to discuss options and designs. 'We have always enjoyed doing remodelling as it means that the spirit and the sentiment can be kept,' says Theo. 'I also think that people are becoming bored of mass-produced but expensive branded jewellery and are looking to stamp their personality and legacy on what they wear.' For enquiries, please [email protected] or call 020 7591 5003. You can also arrange a video call here.
Scrapes, Scandals and Storytelling with Theo Fennell
Founded by Eliza Walter in 2017, LYLIE is one of the only jewellers in the UK that sources its materials from urban mining. With strong sustainable practices in place – the brand currently uses recycled e-waste and jewellery as well as lab-grown stones, recycled diamonds and cultured pearls – it's not much of a surprise that LYLIE also has a thriving jewellery remodelling hub. As outlined by the brand itself, 'Treating something already in circulation with respect by reusing it is perhaps the most sustainable choice of all. Not only is the carbon footprint of the piece of jewellery significantly reduced, it also reduces the demand for new jewellery – hopefully over time leading to a reduction of unnecessary mining. Every decision we make needs to be considered with the environment in mind, and jewellery is often one that gets overlooked. Although small in size, every piece of jewellery has the potential to leave large footprints (both ethically and environmentally). At LYLIE we are passionate about changing this which is why we would love to help you remodel your jewels.' You can find out more about LYLIE's remodelling services in our guide to jewellery remodelling. For enquiries, please contact LYLIE here.
London born and based, Rachel Boston is noted for decking out the likes of Rihanna, Miley Cyrus, Emma Watson and Janelle Monae in her designs, and for showing her imperfect diamond collections to Queen Elizabeth II. When it comes to jewellery remodelling, the brand works creatively with clients to ensure that designs incorporate personal wishes while remaining fresh. As Rachel highlights, 'Remodelling an old piece of jewellery is a great option to keep both environmental footprint and costs relatively low, and to have a really beautiful, unique piece of jewellery made for you. The sentimental value of the piece is also not to be ignored – gwatciving a new life to something that meant a lot to you or a loved one is also a significant and important part of what dictates the process.' For enquiries, please email [email protected] or book an appointment here.