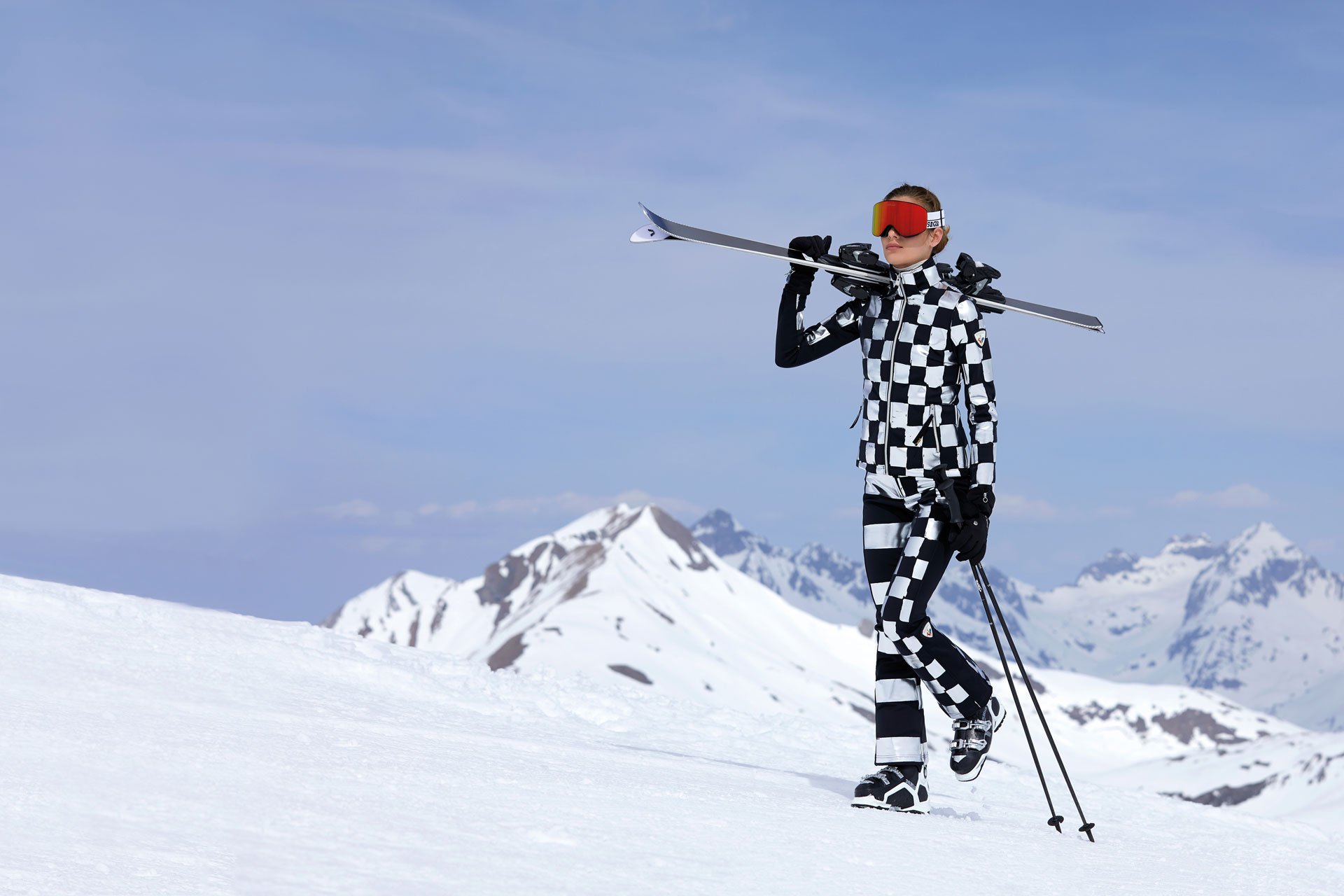 Luxury Skiwear to Rent
---
Don't shell out on salopettes
Bored of the Bridget Jones one-piece? Now you can ski in Chanel.
Luxury Skiwear to Rent
The rental revolution is well underway, and in 2022, it's all about renting skiwear. And why wouldn't it be? Just like cocktail dresses, heels, and black tie showstoppers, skiwear is something you're only going to be wearing once or twice. So the larger-than-life salopettes need no longer haunt you, indulge in lux skiwear by the likes of Patagonia, Chanel, and Moon Boots at a fraction of the cost.
It's no doubt that renting, as a whole, is snowballing. UK rental app By Rotation saw a 600 per cent increase in rentals since November 2021, and it's not slowing down any time soon: according to Global Data, the rental industry will be worth £2.3bn by 2029.
But where do we start when it comes to skiwear?
EcoSki is the very first of rentals that's specifically for skiwear. And on top of the renting model, the brand is committed to curating climate-conscious gear. EcoSki includes kit that's PFC free, that's made of recycled materials, free of toxic dyes, and responsibly sourced.
Skiwear as part of the fashion circular economy was a no brainer for mum-of-three and founder of EcoSki, Rachel Westbrook. After returning from the slopes with three sets of outgrown skiwear, Westbrook (out of frustration) launched the enterprise. Since setting up shop in January 2021, the skiwear rental retailer EcoSki is reporting a sell-out start this winter, with Westbrook saying 'we were at full capacity on some items over Christmas and New Year'. Impressive for just its first year of launch.
Skiwear, out of all clothing, can actually be one of the worst pollutants. Ski clothing can sometimes uses synthetics, as well as PFCs (perfluorinated compounds), which help make the gear waterproof, but it's not great for the planet. In fact, some PFCs have been outlawed in the US and UK because of their toxic harm to the environment, but some still remain legal.
So how does it work? The kit is available for rental periods of four, eight, 12 or 16 days, starting at £4 per day. It arrives at a customer's door the day before their ski trip and can be packaged up, without being washed, the day after the customer returns. After each rental, items are cleaned and reproofed or repaired if necessary and then sterilised via an innovative, eco-friendly Ozone chamber before being dispatched to the next customer. ecoski.com
View this post on Instagram
Talking About a Rental Revolution
By Rotation is the fashion rental app that's eulogised by fashion editors and influencers alike. Hosting it brands du jour (yes, The Vampire's Wife, Réalisation Par – the cult classics), the start-up has curated a range of covetable designer ski gear. Think Moon Boots, Fendi Knits, a Chanel headband, or even an Isabel Marant cosy knit for après. Simply download the app, create an account, browse the listings, and chat with lenders to secure the skiwear. Once you've accepted with the lender, you'll receive the garments via Royal Mail, or you can choose a pick-up at an in-person location. byrotation.com
View this post on Instagram
My Wardrobe HQ hosts skiwear with a designer-led angle but there's also plenty of good quality essentials for the slopes (think underlayers, gloves). There are also some great options for skiwear for kids (with especially adorable animal onesies). The rental period starts for at least four days, then up to 14 days. mywardrobehq.com
The Best Luxury Resale and Rental Services
View this post on Instagram
Promising to cater for both apres ski, and for outerwear practicalities, Hurr Collective is our go-to for knock out statement Instagrammable garms. The iconic Chanel salopettes, Versace goggles, and Ganni knits, among plenty, promises head-turning results on the slopes. hurrcollective.com
Main Image: Country & Town House 2019