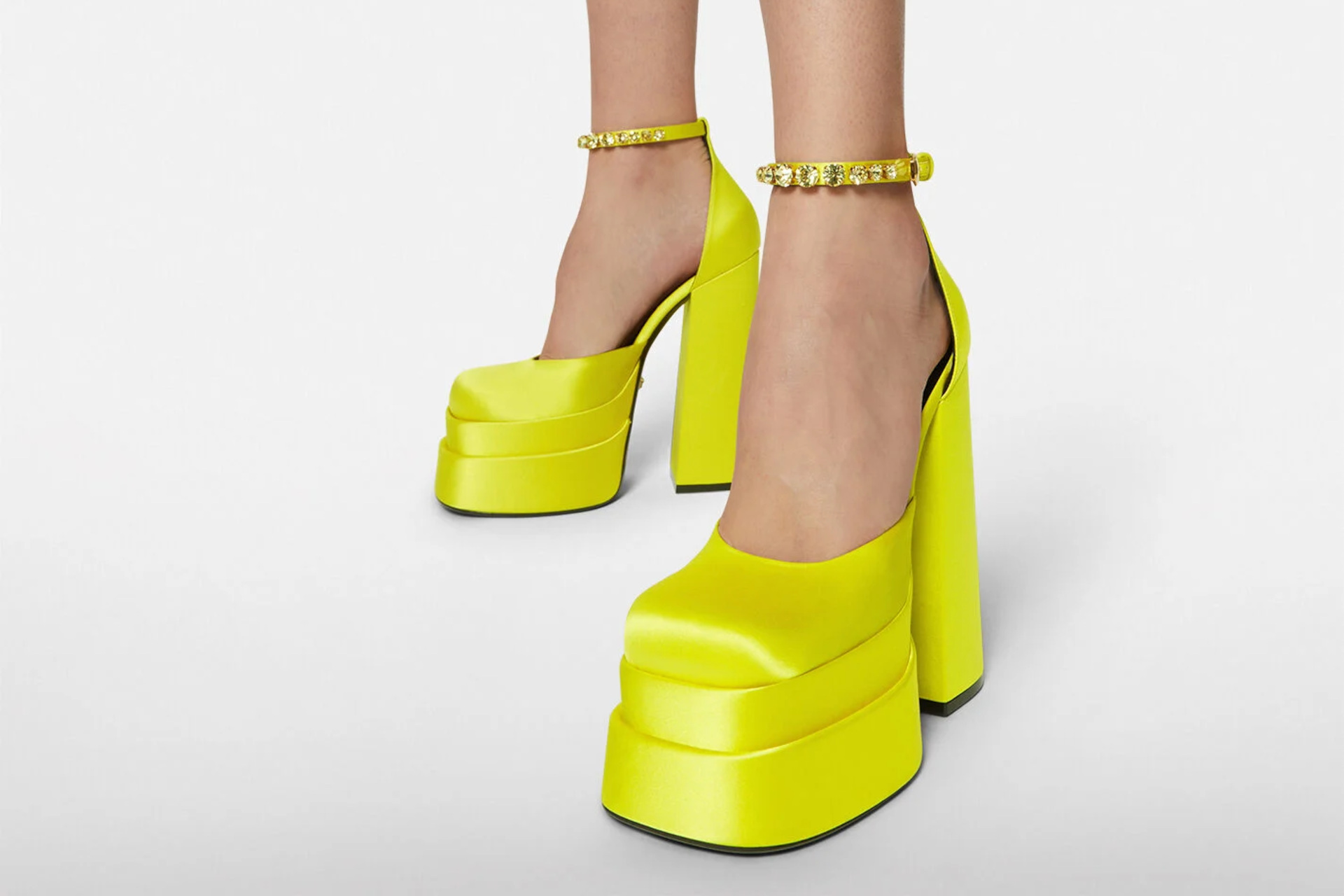 Sky-High Appeal: Platform Heels That Will Elevate Any Outfit
The chunkier, the better
It's said that trends are recycled and revived every 20 years or so in the fashion industry, but there's one in particular that (literally) towers over the rest: platform heels. Whether you associate the footwear staple with the genderless glam rock fad favoured by David Bowie, the girl-power strut of the Spice Girls or the Gen Z-approved styles of today, it's hard to ignore the fact that platforms are indeed thriving. Elevate your wardrobe with a pair of platform heels from our edit, featuring picks from Versace, Prada and Jimmy Choo.
Sky-High Appeal: Platforms are Trending
Our love of comfort extends beyond the months we spent wearing loungewear during lockdown, taking root at home and later flourishing across the catwalk. The platform heel has seen a surge in popularity in recent months – likely due to its killer aesthetic and cushioned sole – with designers like Versace leading the way. The brand has set a modern tone for the over-the-top platform heel, debuting a line of  Medusa Aevitas satin platform pumps in several shades during its AW21 showcase.
The obsession has only grown since then, with just about everyone jumping onboard the trend. From Florence Pugh and Ariana Grande to BLACKPINK and Dua Lipa, stars from all over the world want to get their hands on a few extra inches.
View this post on Instagram
Browse our edit of the best platform heels below, but remember to shop mindfully. While we're all for exploring what's new at our favourite boutiques, we must remember to be conscious of the planet. With many trends the product of style recycling, it's easy to instead try digging around the back of your wardrobe for your next obsession. Alternatively, try sourcing from rental and resale sites or vintage stores to help keep things circular.
10 Pairs of Platform Heels That Will Elevate Any Outfit