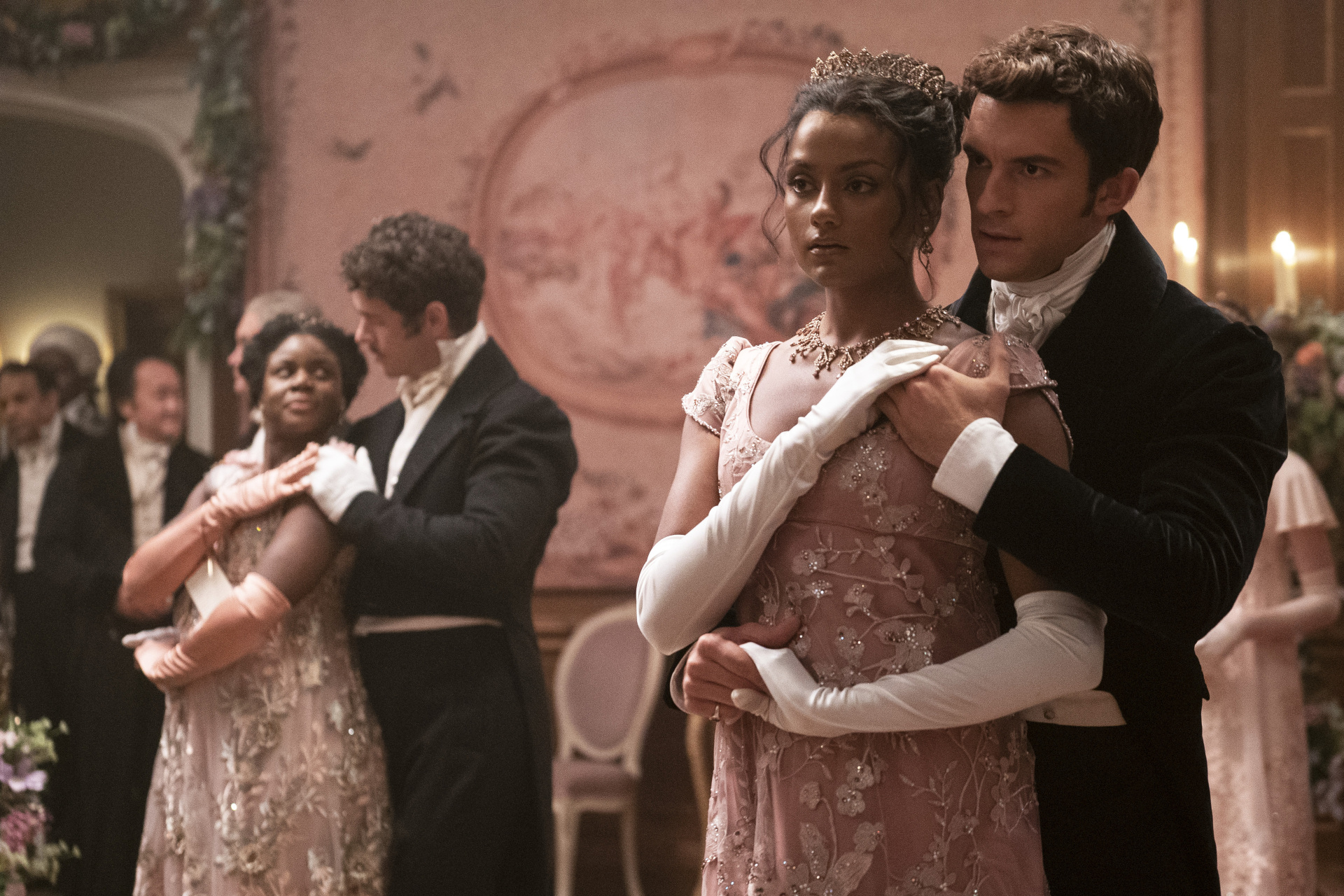 Regencycore: How To Look Like a Lady of the Ton
---
Feel like the belle of the ball at any social occasion
Pastel interiors, costume jewellery, corsets and time-transcending romances – it seems we owe a lot to Netflix's Bridgerton when it comes to a number of popular trends. Collectively speaking, many of the things we see dubbed as rather Bridgerton-esque fall under the wide-reaching Regencycore umbrella. Want in? Browse through our Regencycore style edit below.
Bridgerton Season Three: First Look
Regencycore: How To Look Like a Lady of the Ton
What is Regencycore, you ask? Why, dear reader, it is simply the act of taking the very best of the regency era – in fashion's case, empire line gowns, pearl accessories, corsets and gloves – and inserting it into modern life. It's not quite as novel as we may think, though. The trend has been waiting in the wings for decades, with designers like Vivienne Westwood and Alexander McQueen setting the scene with runway shows packed with regency aesthetics. But what makes it stand out today?
Cornelia James, royal glove makers and costume suppliers for the likes of Bridgerton, The Crown and Downton Abbey, is one of the frontrunners leading the Regencycore trend. The brand's Design Director, Genevieve James, spoke on the rising popularity of romantic styles: 'Long evening gloves have been our fastest growing sector in the last couple of years and this has coincided with these big, epic serials, in which the costumes are almost as much of a talking point as the characters… Romantic escapism, dressing up, the indulgence of fantasy – it's like a Barbara Cartland novel updated and designed so as to only fall open at the good bits. Historical accuracy abandoned in favour of relatable spectacle – heaving bosoms, booted breeches, Mr. Darcy without the need for bonnets. What's not to like?'
When asked which pair of Cornelia James gloves would transport their wearer to the Regency era, Genevieve highlighted Lucrezia. 'This is a long, over the elbow glove in tulle, which does exactly what a glove should do – capture the mood of the moment, whatever that mood might be. Long tulle gloves – so versatile; pulled right up – prim and proper, ruched down the arm a little – decadence made flesh. There are three little buttons on the inside of the wrist that were designed so that ladies who dined could remove their hands from the glove whilst keeping the sleeve of the glove on the arm. It's known as a mousquetaire opening and there is something absolutely Bridgerton about three little buttons at the wrist. Gloves are all about adding accent, emphasis and punctuation to make a fashion statement meaningful.'
The key to attaining that Regency flair is all in the detail, it seems. Think delicate lace, bejewelled hairpins, ornate jewellery, flowing gowns and – as Genevieve mentions – 'Tulle gloves, short and long, in soft fruit colours. Very dreamy, very Bridgerton.'
Want to immerse yourself in the whimsical Regencycore trend? With these style essentials, you could even make Madame Delacroix proud…
The Country & Town House Responsible Buyers' Guide
Regencycore Style Pieces To Shop Now
Featured image: Bridgerton. (L to R) Simone Ashley as Kate Sharma, Jonathan Bailey as Anthony Bridgerton in episode 204 of Bridgerton. Cr. Liam Daniel/Netflix © 2022