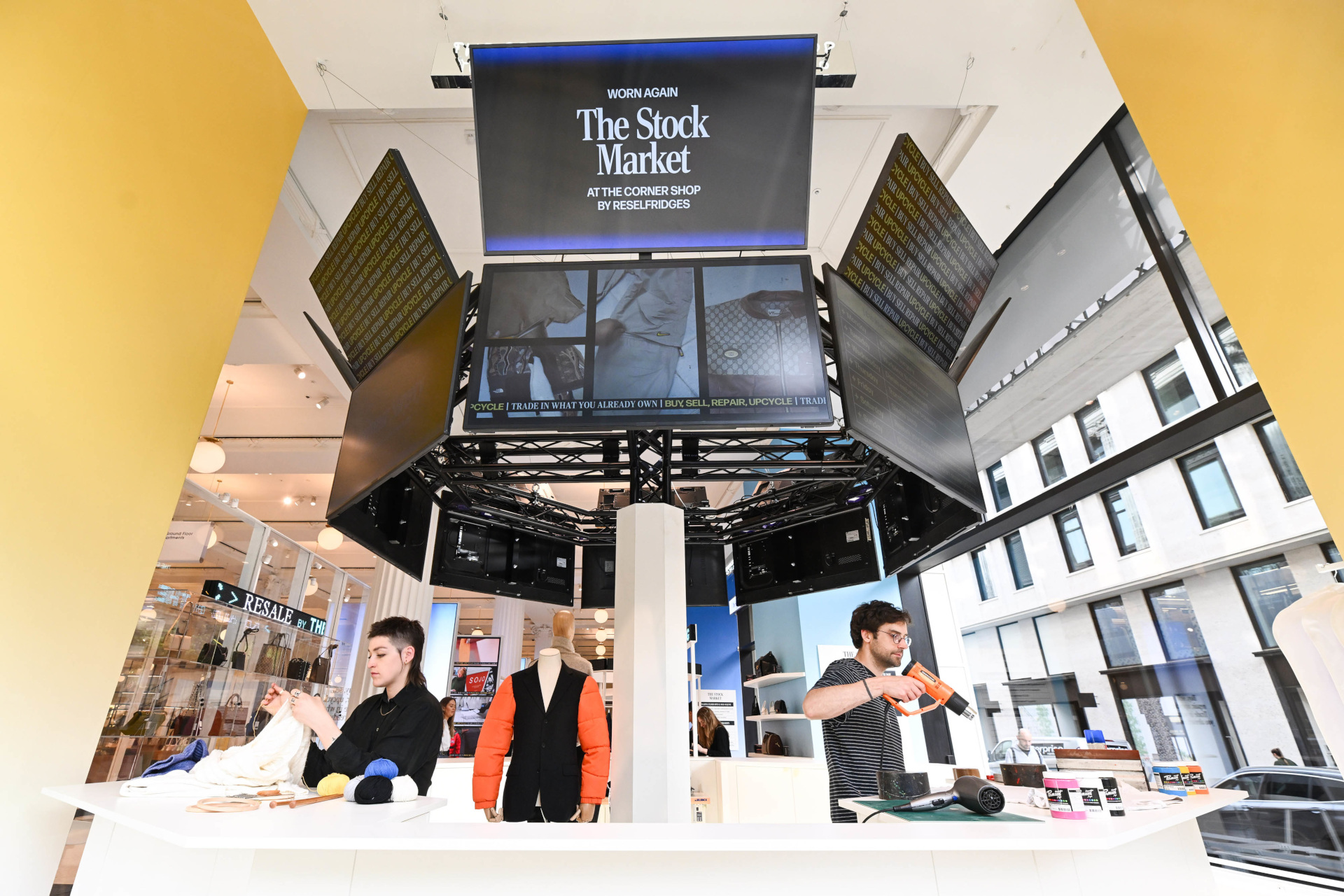 A Sustainable 'Stock Market' Launches At Selfridges This Month
---
The Stock Market is open for business
Looking for things to do this month? Rather than trawl the high street or go on a shopping spree, stick this new pop-up on your radar. This summer, luxury department store Selfridges is opening up a new concept space in its Corner Shop, where visitors will be able to repair, upcycle, authenticate and exchange their clothing and accessories. Welcome: The Stock Market.
More Fashion & Beauty Pop-Ups To Visit In London
A Sustainable 'Stock Market' Launches At Selfridges
What Is The Stock Market At Selfridges?
The latest instalment of the department store's Worn Again project, a season of secondhand and circular shopping experiences at Selfridges powered by Reselfridges, The Stock Market is a new concept space taking up residence in the Selfridges Corner Shop. Inspired by the London Stock Exchange, the space will be transformed into a 'trading floor' where Reselfridges 'stockbrokers' will be able to connect visitors to the repair and upcycling services they require.
How Does It Work?
Clothing
The Stock Market will have a team of Upcyclers in Residence, who will offer a range of bookable services each day.
One of the platforms taking part in the pop-up is SOJO, the UK's first app for alterations and repairs. A select number of SOJO tailors will be taking up residence in The Stock Market, where they will offer same day and drop off repairs and alterations. Those bringing in their clothing items will have a 20 minute consultation with one of SOJO's expert tailors, who will then shorten, lengthen, patch up, replace and repair any issues with the chosen garment. The best part? Services start from just £5.
'I'm delighted that we are bringing a part of the SOJO studio to a store as iconic as Selfridges,' said SOJO founder and CEO, Josephine Philips. 'We want to make tailoring and repairs seamless and effortless for all and I couldn't be happier that we are making our department store debut with them.
'We're excited to contribute to Selfridges' aim for 45 percent of transactions to come from circular products and services by 2030, a goal that reflects our vision for paving a way towards a sustainable fashion future.'
Luxury Bags
Selfridges has teamed up with accessories resale platform The Handbag Clinic to offer a range of services, including repairs, restoration, authentication, valuation and resale. You can also bring in your secondhand luxury bags in exchange for Selfridges store credit (or buy a new secondhand bag from the curated assortment on display).
Trainers
Sneakerheads, rejoice! Head over to the Sneakers ER booth at The Stock Market to freshen up your favourite pair of designer trainers, with services ranging from expert cleaning to lace replacement. The team can also value your shoes and, if you no longer want them, you can sell your kicks in exchange for Selfridges store credit.
Resale & Upcycling
Now, this one's for the vintage-lovers. London-based vintage and reworked clothing retailer Vintage Threads has hopped on the team to offer its authentication services, promising to value any item of clothing. The retailer will also have a curated selection of vintage pieces to shop from on the day, as well as upcycling and dyeing services so you can freshen up any tatty pieces of clothing in your wardrobe.
BOOK & VISIT
You can book any service via the online portal here. The Stock Market at the Corner Shop will be open from 15 May to 10 June 2023. selfridges.com
Featured image: Matt Crossick/PA Wire.