Adare Manor: Is This Fairytale Resort Ireland's Best Hotel?
You'll never want to leave this Irish grand dame
Since reopening in November 2017 following a huge renovation, castle resort Adare Manor in County Limerick, Ireland, has garnered worldwide acclaim, scooping up a string of awards and establishing its reputation as a bucket list destination. So what makes it so special? C&TH's Ellie Smith checked in to experience the magic first-hand.
Read the C&TH Responsible Tourism Guide
Review: Adare Manor, County Limerick, Ireland
Renowned for its warm hospitality and glorious green landscapes, Ireland has no shortage of five-star country hotels. But if you're after somewhere that will really take your breath away, a trip to Adare Manor in County Limerick feels like stepping into an Irish fairytale. A neo-gothic manor house set within a sprawling 842-acre estate (for context, that's just one acre short of New York's Central Park), the hotel is picture-perfect. With its castle-like grey stone exterior and manicured gardens dotted with red topiary (little car-like grass cutters wheel around to keep everything pristine), not to mention the high-ceilinged, chandelier-bedecked interiors, it's near-impossible to get a bad photo here. But the appeal of this hotel stretches far beyond surface level.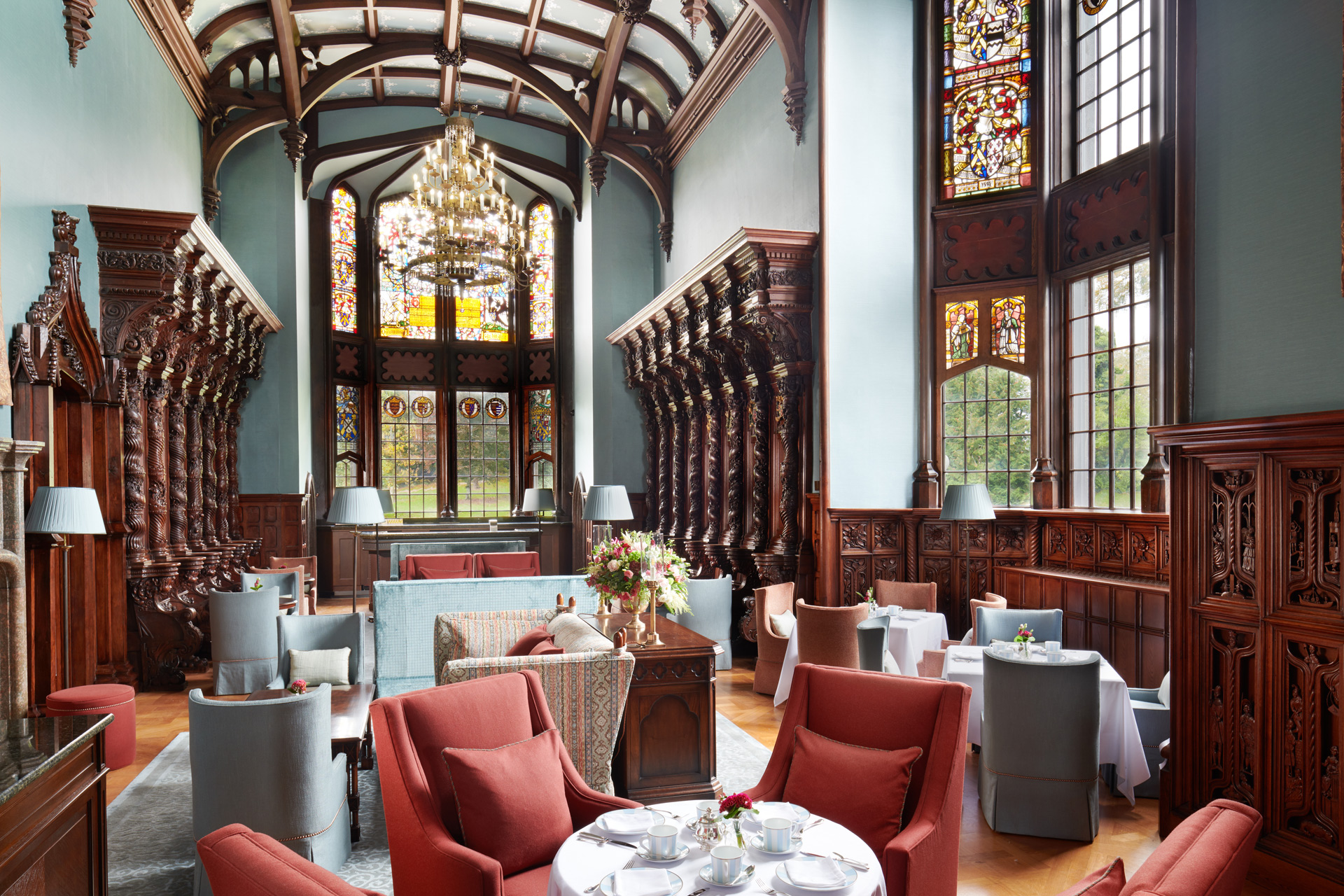 First up, a bit of background. Adare Manor is steeped in history: the building was originally built as a stately home back in the mid-1800s, and for many years it was the residence of the 2nd Earl of Dunraven and his wife, Lady Caroline Wyndham. It was turned into a hotel in the '80s by American couple Tom and Judy Kane before being bought by Limerick-born businessman JP McManus in 2015, who transformed the property into the luxury resort it is today. 
The revamp involved adding an extra wing with 42 more bedrooms plus a ballroom, spa and, crucially, an 18-hole golf course designed by Tom Fazio. McManus' dream was to one day host the Ryder Cup there, a dream which is set to come true in 2027, when the hotel will host the 44th edition of the prestigious sporting event.
Fun fact, Adare is also one of the world's rare calendar houses, which means it has 365 windows, 52 chimneys, four towers, seven internal stone pillars, and 12 marble feature fireplaces. Now, enough history – let's go inside.
STAY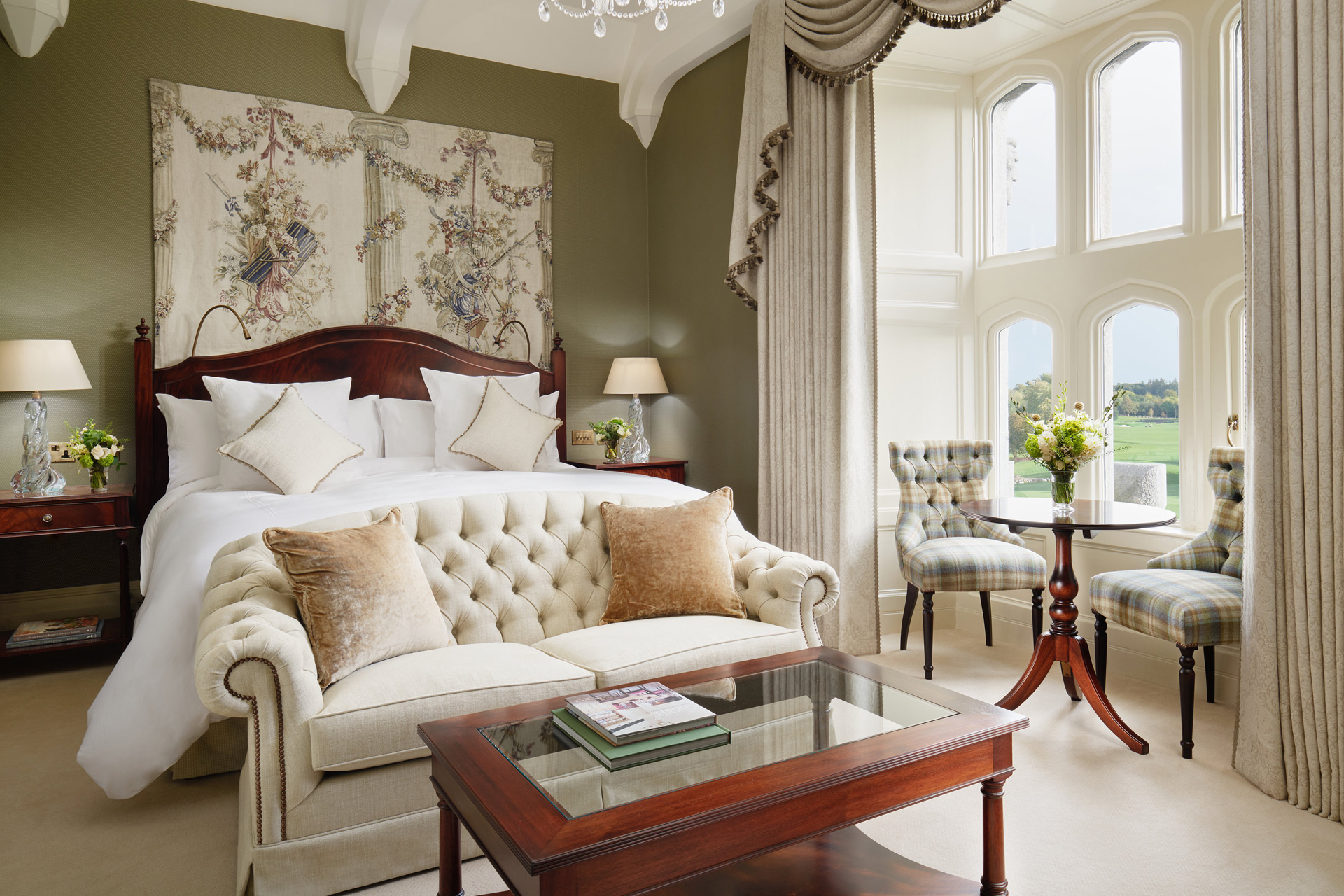 From the moment you arrive, it's clear the service here is faultless. There are over 600 staff working across the resort, and it shows: you'll never be far from a cheerful face ready to help with whatever you need. Everyone we encountered was genuinely warm and friendly, and on-the-ball without being overbearing.
With its dark wood panelling, plush velvet sofas, gold leaf ceiling and roaring fireplace, the main lobby sets the tone for the rest of the hotel: grand and ornate, but homely at the same time. Maverick designer Kim Partridge was brought in to create Adare's modern look, taking care to avoid that cookie cutter hotel feel by adding fun touches throughout, picking up quirky ornaments and furniture from car boot sales. The interiors strike the perfect balance between traditional and contemporary, upholding the building's history without it feeling stuffy or overly formal – no mean feat. With its exquisite stained glass windows and historic wood carvings, The Gallery is particularly impressive – at 40 metres, it's one of the longest rooms in Ireland, and is a majestic spot to enjoy breakfast or afternoon tea.
The 103 bedrooms follow suit, split between the Manor House and the new wing (opt for the former if you're after somewhere with more character). Whether you're in a Classic room overlooking the pretty River Maigue, a more spacious Deluxe, or one of the uber-decadent Signature Suites (which come with their own butler), your room will feel special. Throughout, cloud-like king-sized beds are the norm, and marble-clad en-suite bathrooms are decked out with Acqua di Parma products.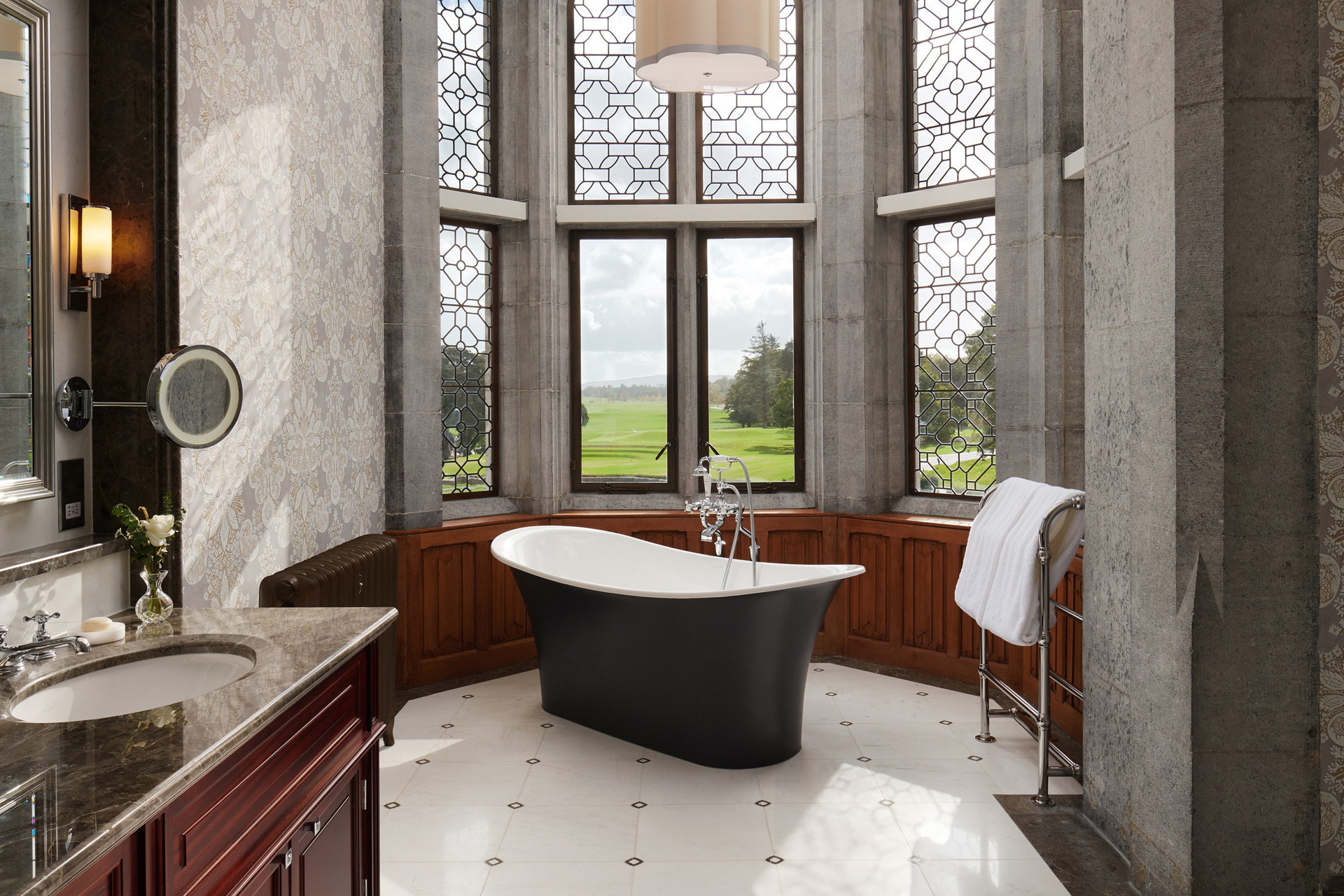 I was lucky enough to stay in the Earl of Dunraven stateroom, a truly spectacular space where you will feel like royalty. Characteristically, it's a charming blend of old and new, with modern luxuries interspersed amid the mahogany Georgian decor. Bedside iPads control everything from room temperature to opening the dramatic golden drapes, an antique mirror doubles up as a minibar stocked with goodies, and, at the click of a button, a TV emerges from a chest of drawers at the bottom of the giant four-poster bed. The jewel in the crown? A roll top bath nestled in its own enclave, perched beside windows overlooking the golf course.
DO
You could easily spend a whole weekend lounging around in these rooms – but there's plenty to do and see elsewhere on the resort. A healthy dose of R&R is mandatory: there are not one but two spa areas, one in the main house, another in the Padel Club. The former is an oasis of calm offering facial and body treatments in collaboration with 111SKIN (the first in Ireland to do so) – the signature Rose Quartz facial is a heavenly 90-minute experience which will leave you visibly glowing and deeply relaxed.
The Padel Club, meanwhile, launched in 2021, tapping into the ever-growing interest surrounding padel tennis, the fastest growing sport in the world. Book a lesson with the lovely Gerry before heading for a swim in the 7m pool – an idyllic space with floor-to-ceiling windows, creating an outdoor/indoor feel. Here you'll also find an airy and well-equipped gym which overlooks greenery instead of being squashed into a basement like is so often the case, plus a yoga studio.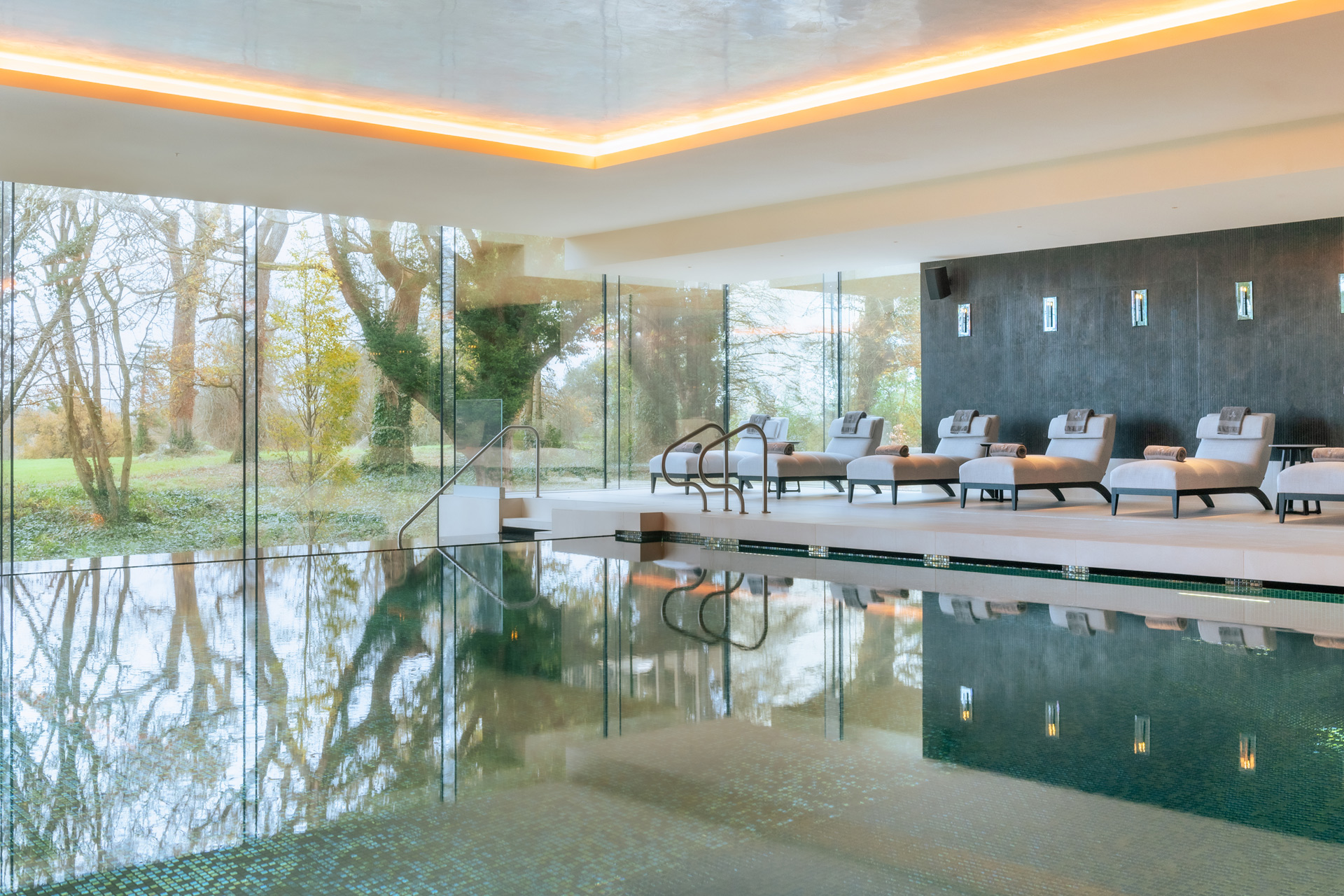 Aside from wellness, a wide array of activities are available to book, many of which are family-friendly. Pick from a range of countryside pursuits including archery, clay pigeon shooting, fishing or falconry – the latter of which we tried. This is a unique experience where you can get up close and personal with Adare Manor's 23-strong collection of birds, meeting resident owl Tiny (who knew owls could be so cute?) and allowing a Harris Hawk to fly to your (gloved) arm.
You can also catch a movie in the on-site cinema, and shop at the boutique, which sells everything from the hotel's signature candles to jumpers and jewellery. Next spring, one of the estate's cottages is being transformed into a chocolatier. And, of course, there's golf: the course is one of the most acclaimed in Europe, having hosted everyone from Rory McIlroy to Mark Wahlberg. Preparations are already well underway for the 2027 Ryder Cup, which will bring Adare Manor into the spotlight like never before.
It's worth veering out of the resort's gates, too, for a trip to the charming village of Adare, which is filled with picture postcard thatched cottages, craft shops and traditional Irish pubs.
EAT
Food is a big deal at Adare Manor, with a variety of options for eating and drinking. Dress up for dinner in Michelin-starred restaurant The Oak Room, a fine dining experience which showcases the best of Irish produce, from Dooncastle oysters from the Connemara coast to vegetables from farms in Ballyneety. Chef Mike Tweedie and his team whizz up a gastronomic tasting menu – we enjoyed creative, artfully presented dishes like a beetroot salad with crumbed horseradish, which arrived in a cloud of cool smoke; parmesan ravioli infused with truffle with a parma ham consomme; and sika deer with preserved fruit and artichoke. You can add wine pairing, or choose your own from the extensive menu, guided by knowledgeable sommeliers. Bring your appetite: there are 11 courses if you opt for the full shebang (including a Beluga caviar interlude and a cheese trolley), but the beauty of hotel dining means afterwards you can simply glide upstairs and flop into bed.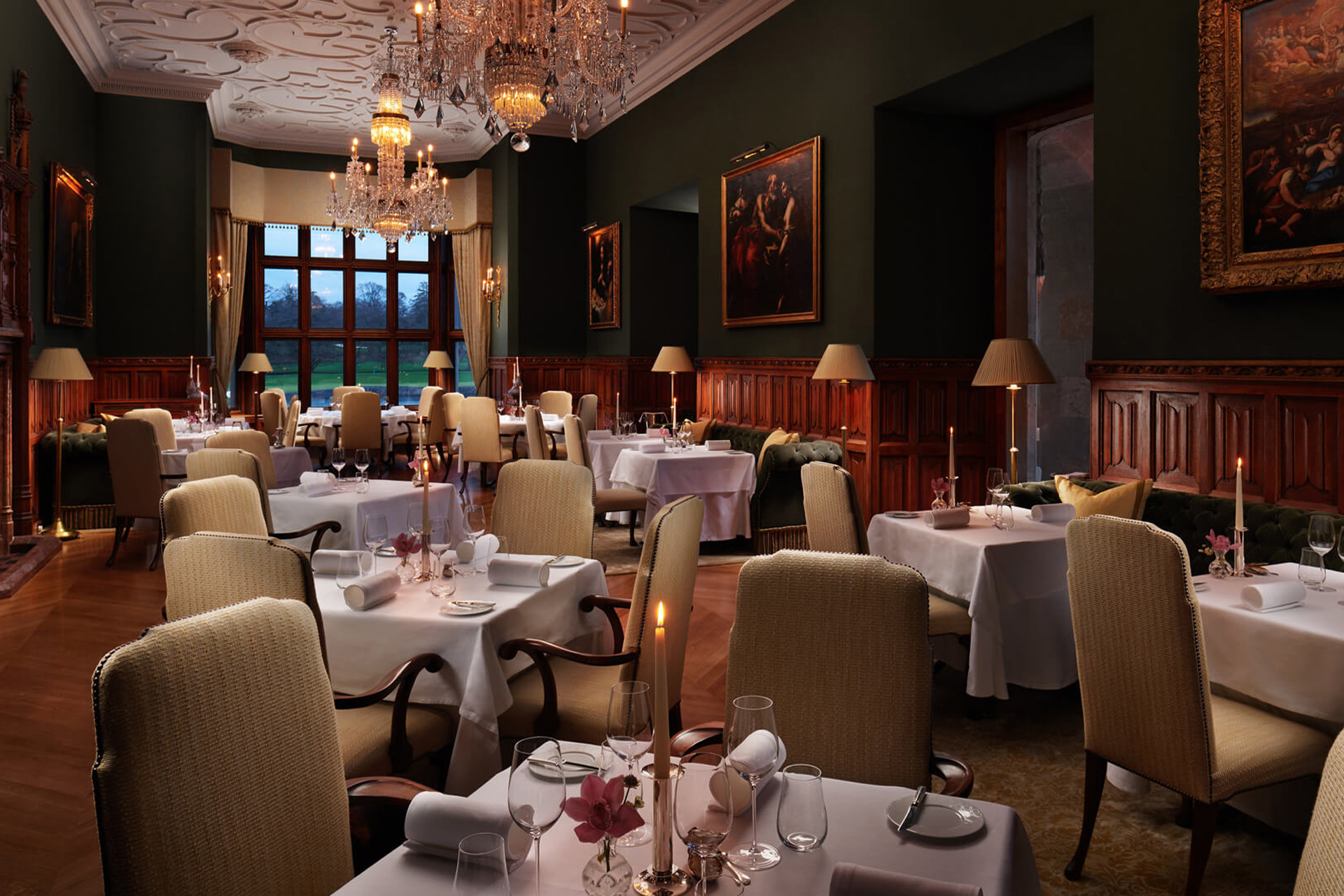 For more relaxed dining, head to The Carriage House. Have lunch in the beautiful restaurant, where glass panelling bathes the room in natural light – the menu includes an assortment of salads, pizzas and grills. Come evening time, nab one of the red banquettes and tuck into a hearty steak and chips before heading back to the main house for a nightcap in the Tack Room, a subterranean bar filled with cosy corners and a fireplace. Whisky drinkers will be well catered for here: Adare Manor boasts one of Ireland's most exclusive collections with over 100 rare bottles (careful you don't accidentally order a shot of the £250-a-pop Middleton). Elsewhere, the pretty Drawing Room offers an eclectic menu of signature cocktails, such as the refreshing Peach Spritz, made with Adare Manor's own gin blended with peach, raspberry and plum. 
Don't leave without trying the afternoon tea: a traditional spread served on blue and white china, and brought out in courses rather than all at once, which feels much more manageable. Think duck sliders and lagoustine buns ahead of freshly baked scones served with clotted cream, strawberry jam and lemon curd, followed by an array of almost too-pretty-to-eat mini desserts like a pecan éclair with choux pastry, and blueberry cake with vanilla cream. Pick from a wide array of teas, including Adare's own signature blend, and a glass of fizz for good measure.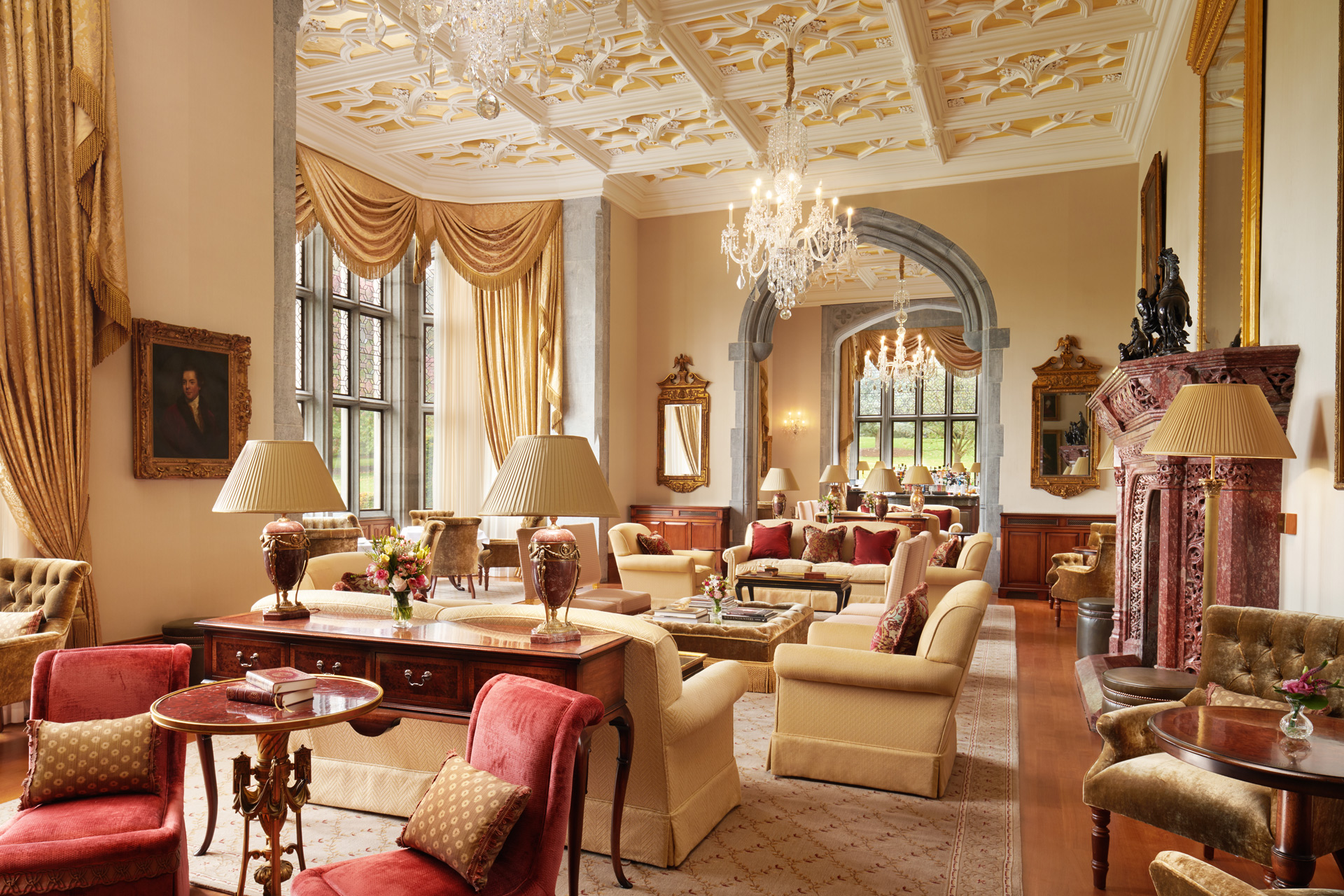 THE FINAL WORD
Whether it's for a romantic couples' trip, a family reunion or to mark a special occasion, everyone should add a stay at Adare Manor to their bucket list. The combination of stunning architecture, unparalleled facilities and classic Irish charm will ensure a thoroughly spoiling stay that you'll remember for years to come. Castle hotels can be tricky to get right, but this one passes with flying colours, and will make every guest feel like a prince or princess. 
BOOK IT
£595 per night for a Classic Room. Rates include tax and complimentary breakfast. adaremanor.com