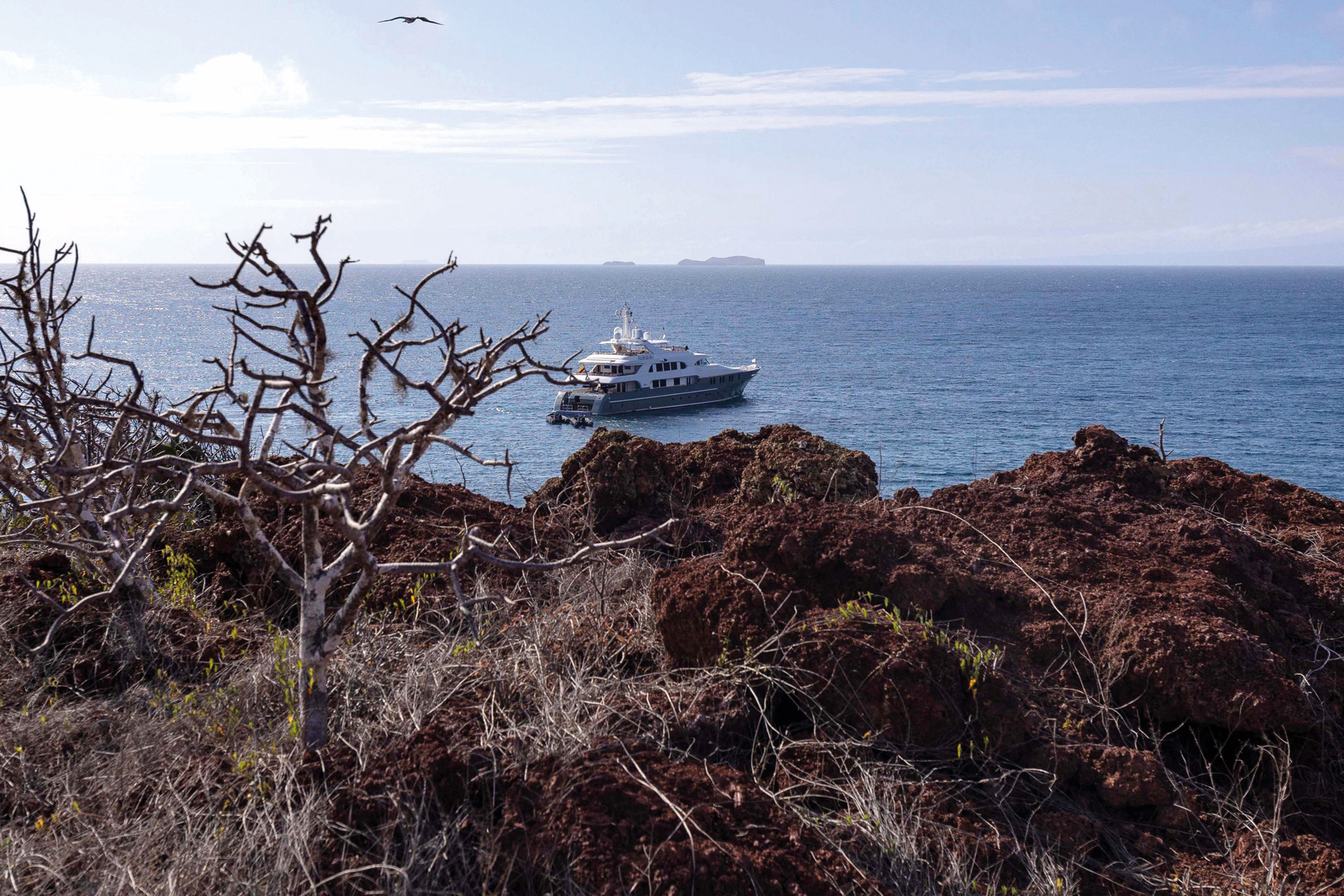 These Enchanted Islands: A Journey Around the Galápagos with Aqua Expeditions
---
'I couldn't think of a better way to experience the Galápagos Islands'
Lauren Ho discovers the Galápagos Islands in ultimate luxury on board Aqua Mare…
Read the C&TH Responsible Tourism Guide
These Enchanted Islands: A Journey Around the Galápagos Islands
There are two things worth noting about the Galápagos Islands. One, if you're coming from Europe, it's not an easy destination to get to. Two, it can get crowded, especially from about mid-June to the beginning of September when tourist-filled ships and day boats descend on the islands.
While there isn't much that can be done to ease the journey there and back, the answer to avoiding the crowds is Aqua Mare. The fifth vessel to join the Aqua Expeditions fleet, Aqua Mare is the first true superyacht in the Galápagos Islands. A sort of homecoming for the company's CEO and founder, Francesco Galli Zugaro, whose professional career in luxury travel began in Ecuador, the yacht accommodates just 16 guests and 16 staff, and, like all of the ships in the Aqua fleet, is intimate and personal, with a depth of tailor made experiences.
I'd boarded the previous evening in Puerto Ayora, a small town on the southern shores of Santa Cruz and the most populated urban centre of the islands. From here, we are making our way along the western string of the archipelago on a seven-day itinerary that will loop around the seahorse-shaped Isabela with stops at Floreana, Fernandina, Santiago and the red-sand beaches of Rabida. Earlier that day, we'd taken a drive through the dry, scrubby landscape of Santa Cruz to the lush highlands, where we spent some time ambling amongst giant Galápagos tortoises in their natural habitat on a family-run farm called Rancho el Manzanillo. Probably the islands' most famous residents, these creatures are, in fact, mostly viewed in captivity thanks to a serious decline in their once 250,000-strong population – a consequence of a hunting spree by pirates, whalers and traders between the 17th and 19th centuries – with only about 15,000 remaining in the wild today.
Comprising around 18 major islands, about 950 kilometres off the coast of Ecuador, the Galápagos' most famous visitor was Charles Darwin, who spent 19 days studying the islands' flora and fauna in 1835. Since then, thanks to the unique volcanic landscape with its distinct lava formations, alongside the magical collection of endemic species like the marine and land iguanas, the flightless cormorant and the Galápagos tortoise, the islands became Ecuador's first national park in 1959, and in 1979 it was named a UNESCO World Heritage Site.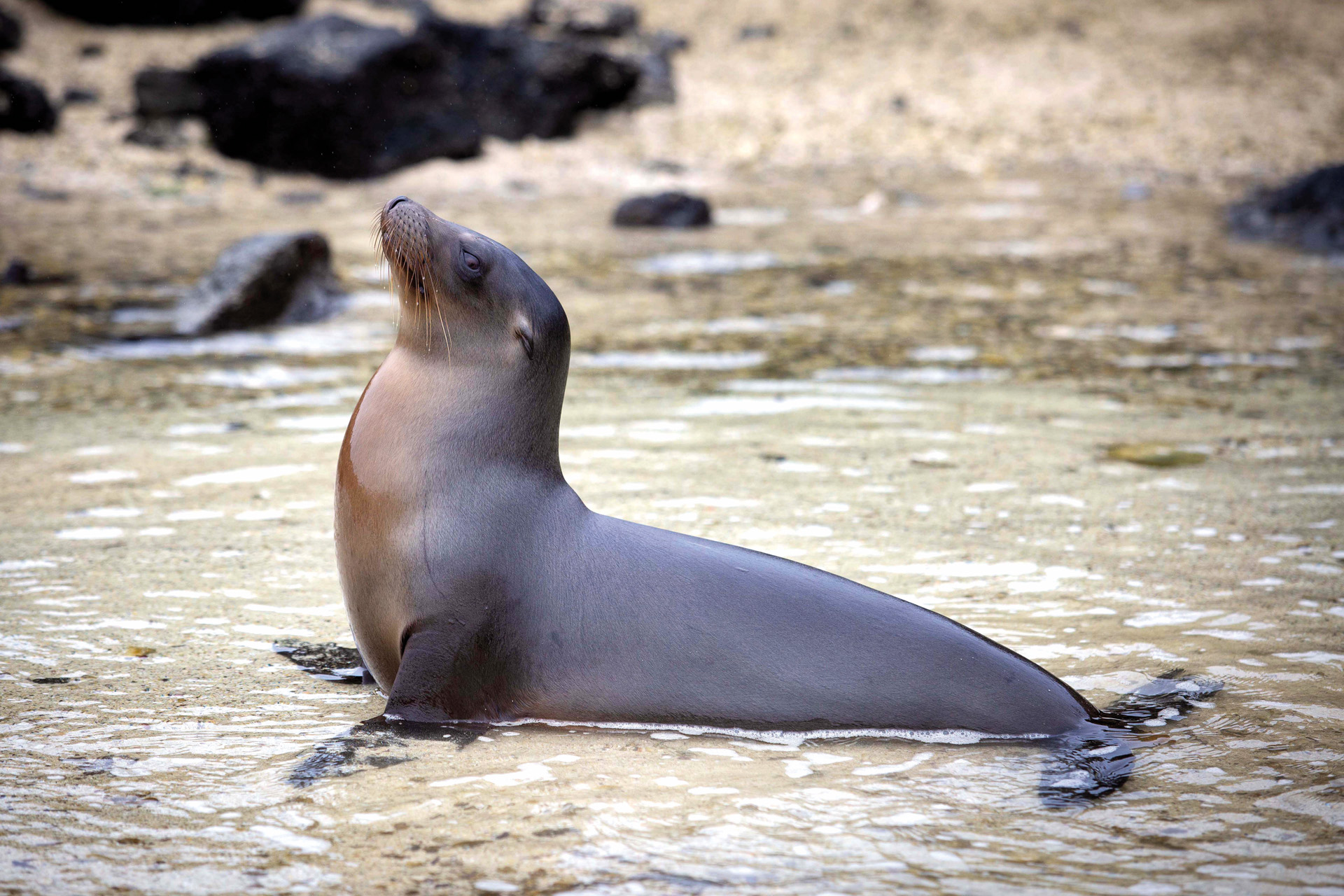 So, as we made our way towards Puerto Ayora and Aqua Mare, our guide Yvonne explained the vegetation we were driving past while giving us a rough idea of what to expect for the next seven days. 'Aqua Mare is definitely the nicest boat in the Galápagos,' she noted. Having sailed with Aqua Expeditions previously, I have experienced first-hand the brand's bar-setting design, mouth-watering food and, most importantly, the personal service and rich experiences on offer. Having waited in anticipation for the launch of Aqua Mare, expectations, then, were high.
At first glance, like her sister ships, Aqua Mare is a beauty to look at. Previously privately owned, her sleek exteriors set the tone for lavish interiors that have now been overhauled and streamlined by the Aqua team to feature the yacht's original Italian walnut veneer wall panels, plush Jim Thompson fabrics and luxuriously thick carpets underfoot in creamy tones. In the living room, a carefully curated book collection, which focuses on the wildlife and history of the Galápagos, is organised and displayed in gradient shades of blue, and bespoke tableware from Bali-based ceramic brand Gaya features details like beautiful endemic plant species along with the numbers 1835, which is the year Charles Darwin visited.
Unfolding over four decks, there are just seven cabins, each with ensuite bathrooms. There are indoor and outdoor dining areas, a series of shaded and open sundecks, a six-person hot tub, a barbecue area which is also used as an early morning workout zone, and a lower-level beach club perfect for kids to hang out in. Holding centre stage on deck three is a plush, book-filled lounge and bar that is anchored by a large, comfy U-shaped sofa, perfect for having a nap or for socialising and watching movies.
This all comes together as an intimate base for a schedule of daily morning and afternoon excursions. For the early risers, coffee and tea is available in the lounge alongside a glorious fiery sunrise, before breakfast is served either in the main outdoor deck or the upper deck. Over pastries, fresh fruit and eggs, our guides brief us on the day's activity, which is tailored to the destination and ranges from gentle ambles along desolate seaweed-carpeted sandy beaches scattered with sea turtle trails, to relaxing zodiac cruises through dense mangrove forests teeming with birdlife. Water activities include daily snorkelling sessions and kayaking or paddleboarding amid swooping pelicans and frolicking sea lions.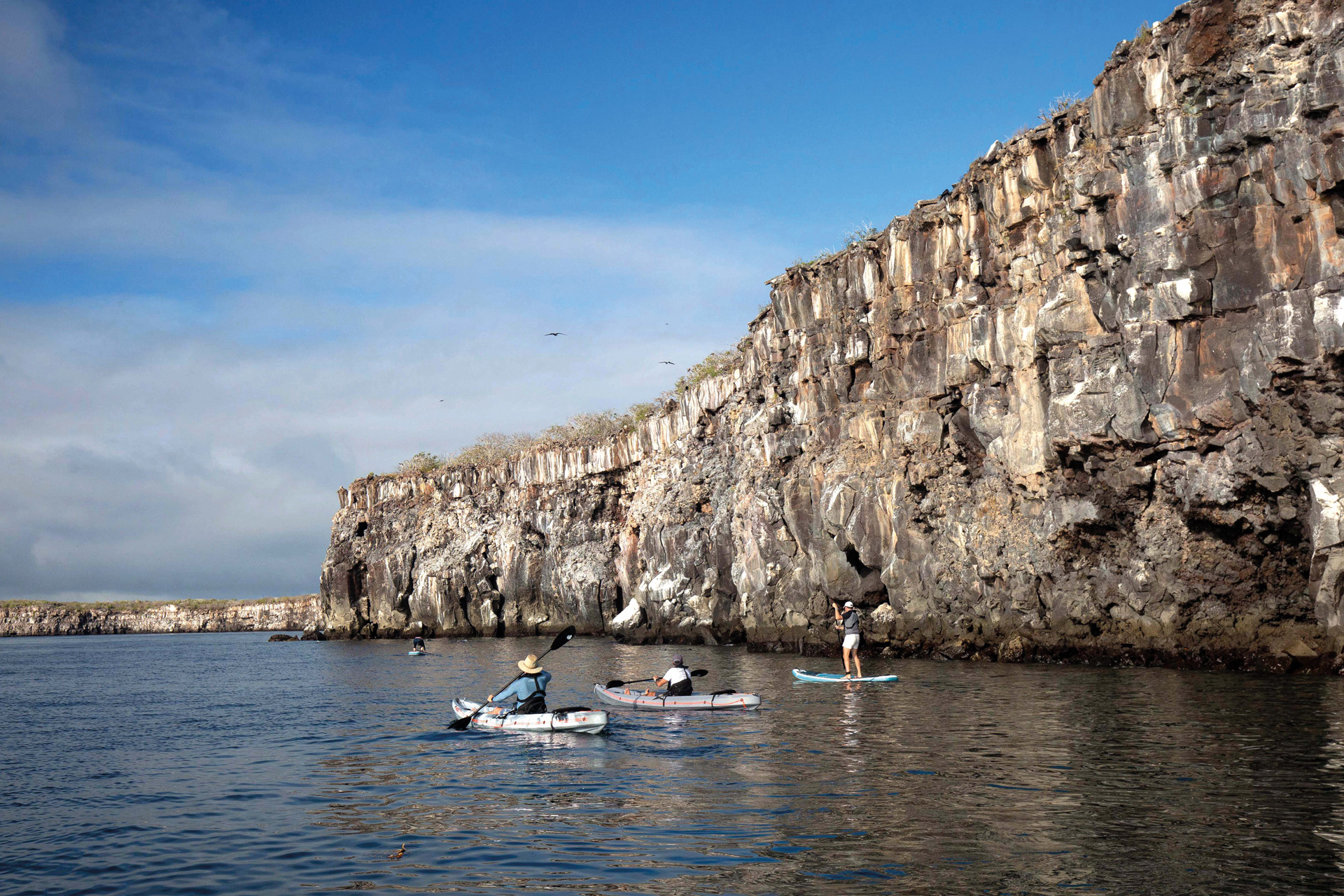 One morning, the sky a dome of thick cumulus clouds, we motored towards Fernandina, the youngest and most volcanically active island, which sits at the hotspot that created the Galápagos archipelago. And, almost like a live David Attenborough show, the island's lava landscape – punctuated with yellow lava cacti – is a lively burst of endemic wildlife including a mess of thousands upon thousands of sunbathing black marine iguanas. As we meander along Punta Espinoza, on the northeastern tip of the island, Galápagos hawks lazily circling overhead, we see slithering racer snakes chasing after baby iguanas and lava lizards, mewling baby sea lions, flightless cormorants drying their wings, bizarre blue-footed boobies and bright red Sally Lightfoot crabs – both of which make a wonderful contrast to the gently rippling grey lava landscape.
Back on board, following a late morning snorkelling session, the afternoons are spent soaking in the hot tub, watching a film, or snoozing off lunch on one of the sun loungers as frigate birds soar overhead, taking advantage of the yacht's upward air currents. In the evenings, over a cocktail, the guides debrief us on the day's events and run through the next day's itinerary. Following that, supper – like all meals – is served family style, either at groups of tables in the indoor dining room downstairs, upstairs on the outdoor deck around one large table or by the barbecue. The food features mostly Japanese-Peruvian inspired dishes, like tuna crudo, barbecued plantains and fresh shrimp ceviche, or Galapagueña lobster lettuce wraps with acevichada dressing.
On our last afternoon, a gentle kayak amid floating turtles is followed by an easy stroll along the Mars-like red-sand beach of Isla Rabida. Here, sidestepping a scattering of snoozing sea lions, we pass nesting pelicans and head inland towards a brackish pool filled with the brightest pink flamingos feeding on shrimp. And, as the sun began to dip below the horizon, we hopped back on the zodiacs towards Aqua Mare, elegantly waiting to welcome us with open arms one last time. 'I couldn't think of a better way to experience the Galápagos Islands,' remarked one of the other guests. Indeed.
BOOK
From £6,908 pp for seven nights including all meals, local transfer to/from recommended flights, all excursions, Galápagos Park entrance fee and INGALA transit card, laundry service and internet. A seven-night charter for up to 16 passengers starts from £143,305, including a private masseuse for five hours per day. aquaexpeditions.com