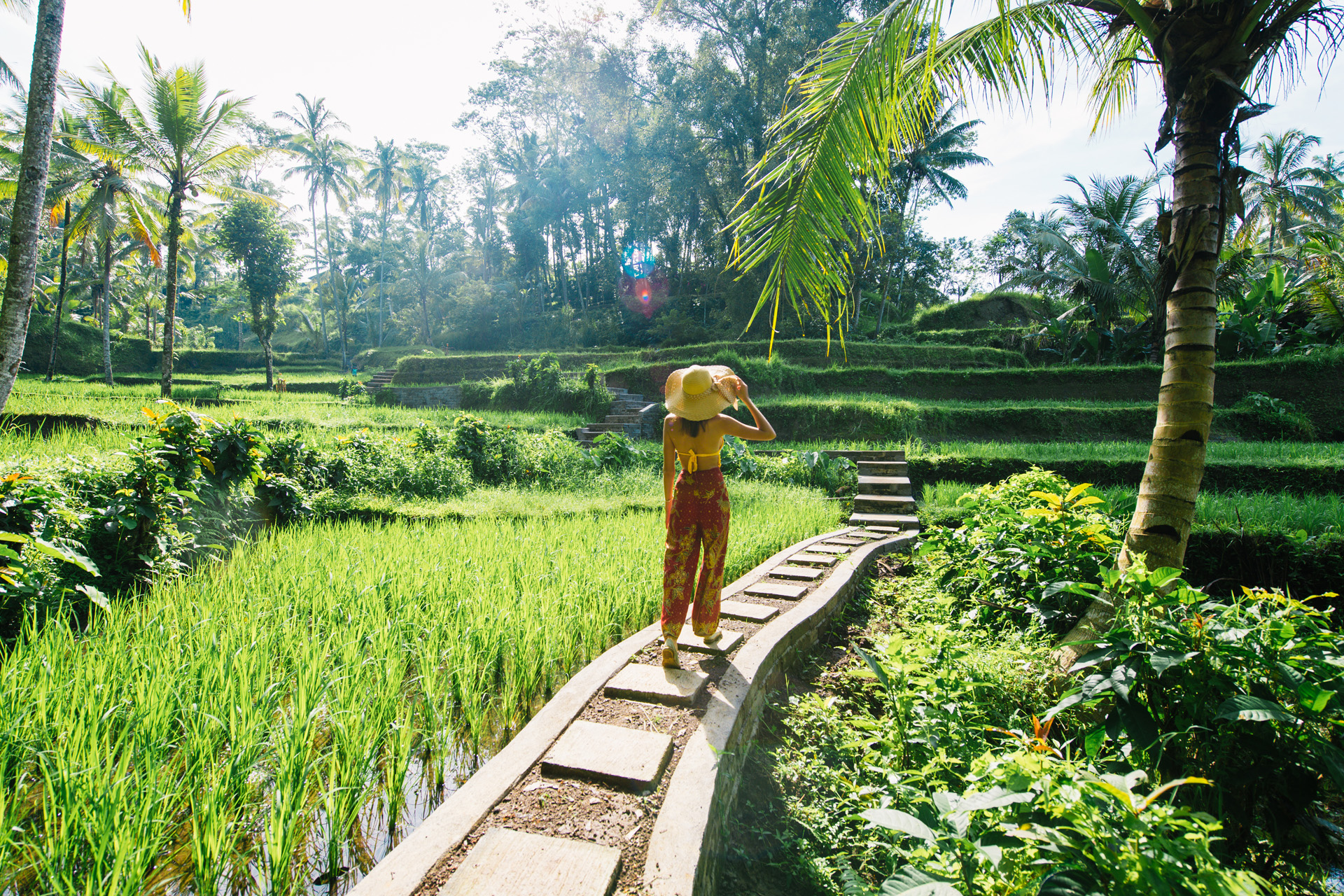 The Best Restaurants In Bali
'It's the place I go to recharge my heart batteries'
Bali is a magical travel destination offering so much more than just a holiday, says Bettina Campolucci Bordi, C&TH's plant-based food columnist who also runs wellness retreats across the world. Here, Bettina shares her top tips for exploring the culinary side of Indonesia's popular island, and rounds up the best restaurants in Bali.
Read the C&TH Responsible Tourism Guide
The Best Restaurants In Bali
Bali is my happy place. I have been coming here over the last seven years to run wellness retreats, and to soak up all the magic this island has to offer. To many, Bali can seem like a bit of a tourist trap, filled with party goers and beach clubs. I remember coming for the first time and being blown away by the food offering: a mixture of very talented local chefs have opened funky, delicious establishments, alongside foreign chefs escaping the western world and embracing Balinese ingredients to create tasty food. 
There is an array of places to stay, varying from cosy homestays to the big name hotels, and some amazing concepts that can only be found here. I have always felt incredibly at home in Bali, and have, over the years, formed friendships I look forward to catching up with every year. It's the place I go to recharge my heart batteries – where I can be barefoot for a month, visit local markets and producers who grow incredible ingredients, and be inspired by the immense talent within the food industry that have chosen to make Bali their forever home.
Bali has a special energy that draws you in, and a faith steeped in gratitude and kindness that is noticeable from the moment you land. In this piece, I will take you on what is my ideal break (what I do in between retreats), combining a landing, a busy middle and an inspiring end, all filled with delicious food along the way.
STAY: The Oberoi Beach Resort Bali
We started off by spending three nights in Seminyak on the west coast of Bali, an easy 40 minute car journey from the airport. The Oberoi Beach Resort Bali was one of the first resorts built here in the '70s; it oozes old school charm, mature gardens and beautifully arranged buildings and villas with light coloured stones. We woke to the sound of the waves crashing onto the beach, and, upon arrival, you're hit by the warmth and humidity that only means one thing: the first days of your holidays have begun. 
One of the highlights of our stay at Oberoi was the renewal of our vows, after being together for 16 years and married for 14. The Oberoi offers vow renewal ceremonies. We and our daughter dressed in lightweight Balinese ceremonial outfits, and a local priest arrived with blessings and offerings ready for our renewal. It was an emotional and beautiful experience that we will carry with us for a long time. 
Arriving at the Oberoi filled me with a great nostalgia for the holidays I used to spend with my family growing up in East Africa – not something I expected I would be able to share with my 10 year old daughter. The fantastic staff make you feel instantly welcome, most of whom have worked here for over twenty years.
Breakfast is served at the Frangipani cafe, facing directly towards the beach, with entertainment in the form of people watching: beach goers walking their dogs, early morning surfers. There's a huge choice of dishes, varying from classic continental to southeast Asian fare along with local Balinese breakfast options, such as Nasi Goreng or Bubu Gayam (Indonesian savoury rice porridge). We stayed put for most of the day, relaxing, swimming and getting over our jet lag. For most of our meals, however, we dined on recommendations of the new wave of dining that has arrived in Bali: young talent creating delicious food using local produce. Here are some of my favourites.
Where To Eat In Seminyak, Bali
MOSTO
Mosto is one of Bali's first natural wine bars, serving a great selection of imported wines and even their own label. The food is seasonal, and the local fare is done very well. The menu is small but there is something for everyone – think sharing plates with delicious homemade sourdough and focaccia with dips, charcuterie, and fresh salads. We sat at the bar, with the music creating a buzzy atmosphere with a nice crowd. 
FED by Made
FED by Made is a popular restaurant in Seminyak, known for its modern twist on classic Indonesian cuisine, founded and run by the new hip generation. The restaurant incorporates locally sourced ingredients and traditional flavours, with an emphasis on fresh seafood and meat dishes. The atmosphere is casual and relaxed, with an open-air dining area that's perfect for enjoying Bali's tropical climate. FED by Made is a must-visit destination for foodies looking to explore the vibrant culinary scene of Bali.
View this post on Instagram
HOME by Chef Wayan
HOME by Chef Wayan is a cosy and welcoming restaurant in Seminyak offering a unique and authentic dining experience. The restaurant is owned and operated by Chef Wayan, who draws inspiration from traditional Balinese cuisine and incorporates his own creative twists. The menu features a range of dishes made with locally sourced and organic ingredients, with options for vegetarian and gluten-free diets. The restaurant's decor is simple and rustic, with wooden furnishings and traditional Balinese art, creating a warm and homely atmosphere. This was one of my favourite meals of the trip.
Yuki
Yuki is the place to be for Japanese food in Bali. The menu features a range of dishes made with fresh and high-quality ingredients, including traditional sushi, sashimi, and tempura. The decor is simple and understated, creating a serene and peaceful atmosphere.
View this post on Instagram
TANAMAN at Desa 
Tanaman and chef Dom are a power duo in the plant-based food scene, known for their innovative and sustainable approach to cooking. They have garnered a loyal following through their unique pop-up events and collaborations with other like-minded businesses. Tanaman, which means 'plants' in Indonesian, is a reflection of their passion for incorporating diverse flavours and techniques from around the world. Dom is a trained chef who brings a refined touch to his creations. Through Tanaman, he shows that plant-based food can be exciting and delicious, without compromising on ethics and sustainability. Our tasting dinner reflected Dom's childhood memories, using Indonesian ingredients cooked to perfection.
Baked Bali
Baked Bali by Raya Semat is a cosy and welcoming bakery specialising in freshly baked bread and pastries. The menu features a range of breakfast items, including croissants, danishes, and sourdough toast, along with a selection of coffee and tea. The atmosphere is rustic and charming, creating a homely environment.
STAY: Bisma Eight Villas
After a few days of relaxation in Seminyak, we headed to the cultural hub of Ubud, staying at Bisma Eight Villas, a boutique hotel tucked away in lush greenery, offering a tranquil escape from the bustling town centre. The design is modern with a touch of traditional Balinese elements, and the staff are incredibly welcoming and attentive. 
Each morning, we enjoyed a leisurely breakfast at the hotel's Copper Kitchen & Bar, which features an open kitchen concept, so you can see the chefs in action. The breakfast menu is filled with fresh and flavourful dishes, from classic egg dishes to more adventurous local specialties such as Javanese fried rice. We loved sipping on our coffee while taking in the serene view of the jungle.
During the day, we explored Ubud's town centre, visiting local markets and shops selling handmade crafts and textiles. We also took a yoga class at the hotel's rooftop yoga studio, which overlooks the treetops and provides the perfect atmosphere for a peaceful practice. In the afternoons, we returned to Bisma Eight Villas to relax by the infinity pool and indulge in the hotel's famous afternoon tea, which included an array of sweet and savoury treats.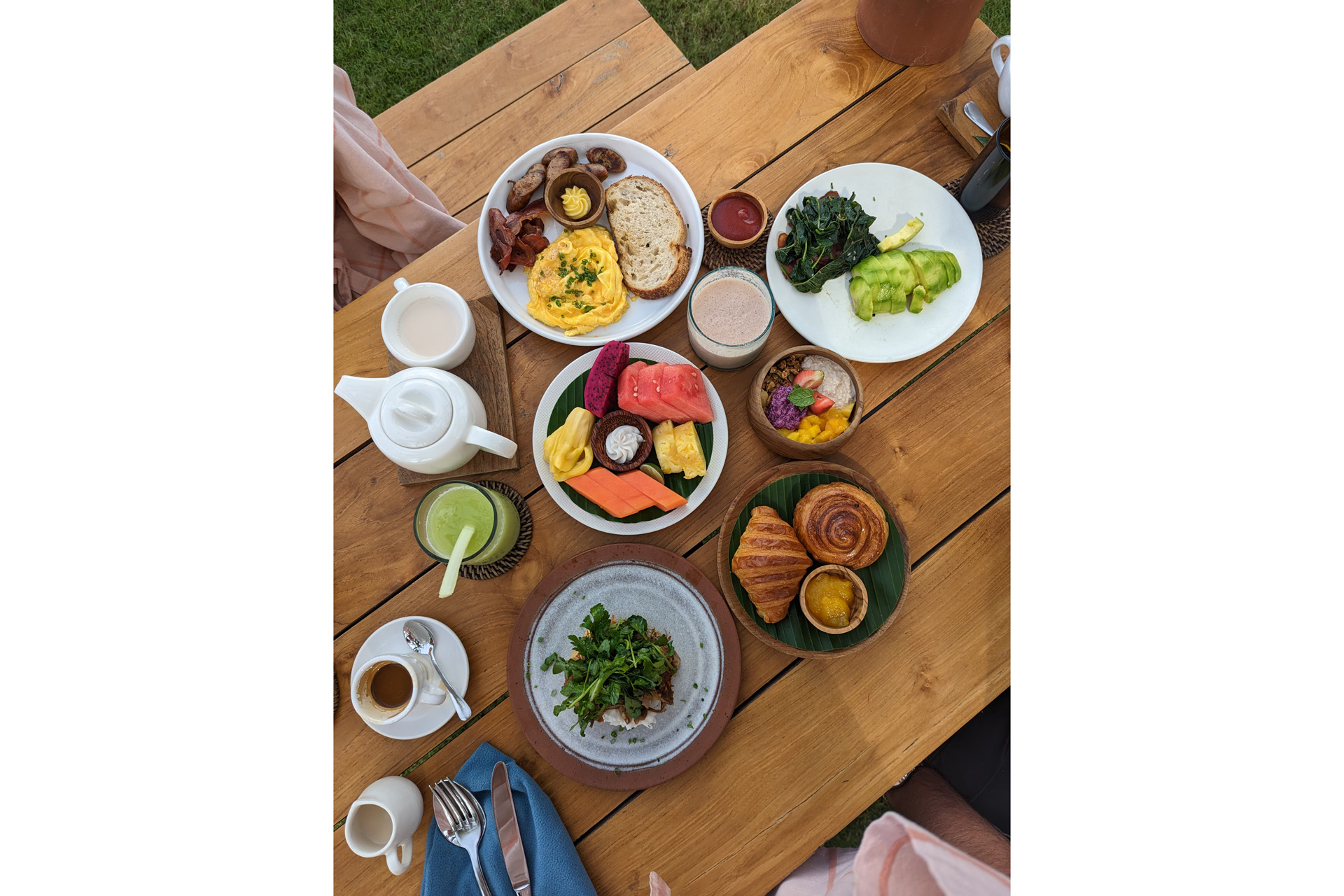 We went out to eat in some of our favourite places in Ubud. Below is a selection of some of my top tips and must visits.
Where To Eat In Ubud, Bali
Room 4 Dessert
Room 4 Dessert by Will Goldfarb is a renowned dessert bar in Bali. Known for its inventive and experimental approach to dessert, pastry chef Will incorporates unexpected flavours and textures, aiming to create a multi-sensory experience for diners and using techniques such as molecular gastronomy to push the boundaries of traditional pastry. The restaurant has been featured in numerous publications and has earned critical acclaim for its unique and daring desserts and Will, who is a friend of mine, is an amazingly creative human. They have also recently opened up a Powder room which is right next door to R4D and serves the best Bomeblonis (Italy's version of filled donuts).
Hujan Locale
Hujan Locale is a popular, must-visit restaurant in Ubud, featuring a fusion of traditional and modern Indonesian cuisine across creative dishes, with an emphasis on fresh, locally sourced ingredients. The atmosphere is rustic and cosy with attentive staff, wooden furnishings and a lush tropical garden. My favourite dishes include the filled betel leaf and the papaya salad. 
Sayan House
Sayan House is a high-end restaurant blending Japanese and Latin American cuisine, located in the hills of Sayan, Ubud. The atmosphere is elegant and sophisticated, with stunning views of the surrounding rice paddies and the Ayung River. The restaurant is known for its creative cocktails, live music performances, and exceptional dining experience focusing on fresh and sustainable ingredients.
View this post on Instagram
Locavore
Locavore is a renowned Indonesian fine dining restaurant in Ubud offering a unique and memorable culinary experience. A refined and elegant atmosphere is accompanied by luxurious decor and a menu brimming with locally-sourced ingredients. Try the sister restaurant, Nusantara, for more traditional Indonesian in stunning surroundings, too. 
Seniman Coffee
Seniman Coffee is a popular coffee shop in Ubud with a range of delicious snacks and light meals, and high-quality, speciality drinks. The atmosphere is modern and trendy, with a stylish decor that creates a chic and enjoyable environment. I always buy several pouches of coffee to take home with me.
Things To Do In Ubud
Gaya Ceramics
Gaya Ceramics has gained international recognition for its innovative designs and high-quality craftsmanship. The studio's ceramics have been featured in numerous publications, and its clients include Michelin-starred restaurants, luxury hotels, and private collectors around the world. In addition to its pottery classes and workshops, Gaya Ceramics also offers a residency program for professional artists and designers who want to collaborate with the studio's artisans and create their own unique ceramic pieces. Committed to sustainable and environmentally conscious practices, Gaya uses natural and locally sourced materials whenever possible and implements eco-friendly production processes to reduce its environmental impact.
The Fire Ceremony
The Fire Ceremony at Five Elements in Ubud is a spiritual and cultural experience that takes place every Monday evening. Led by a Balinese priest who performs ancient prayers and rituals to honour the five elements of nature – earth, water, fire, air, and ether – the centrepiece of the ceremony is a sacred fire lit using coconut husks and dried wood, symbolising purification and transformation. Guests are invited to participate in the ceremony, which culminates in a meditative walk around the fire to receive blessings and protection from negative energies.
STAY: Desa Potato Head, Petitenget
After three nights in Ubud, we made our way to the vibrant and trendy neighbourhood of Petitenget to experience the unique and innovative Desa Potato Head. This creative complex is not only a hotel but a cultural hub with art installations, music performances, and a variety of dining options. The architecture is modern and eco-friendly, with structures made with sustainable bamboo and thatched roofs. 
We stayed in one of the luxurious suites, which featured sleek and minimalist design, with natural woods and earthy tones. Breakfast at Potato Head's café, Ijen, was a highlight of our stay, with a variety of tasty and healthy options such as avocado toast and smoothie bowls. The rest of our days were spent exploring the art exhibitions, lounging by the pool, and indulging in the unique and delicious cuisine offered by the multiple restaurants within the complex.
One of the unique features of Desa Potato Head is its commitment to sustainability and waste reduction. We were taken around by lovely Fish who showed us how the complex operates on a zero-waste philosophy, with a focus on reducing, reusing and recycling materials to minimise its environmental impact. One example is the use of bamboo, a renewable and fast-growing material, in the construction of many of the buildings and structures. Additionally, the restaurants in the complex use locally sourced, organic, and seasonal ingredients to reduce carbon emissions associated with transportation. Food waste is also minimised through careful planning and the use of composting and food donation programs. Desa Potato Head's commitment to sustainability is an important aspect of its identity and sets an example for others in the hospitality industry to follow. Aside from sustainability, one of my favourite things to do is to find local chefs doing amazing things. One of these chefs is Chef Wayan (see above) who happened to work at Potato Head previously for a decade.
View this post on Instagram
The Final Word
Bali truly is a magical place offering so much more than just a holiday destination. It's a place where creativity and inspiration flourish, where talented chefs come to explore and push culinary boundaries, and where you can truly immerse yourself in the beauty of the natural world. Bali will always hold a special place in my heart, not just because of the unforgettable memories and experiences it has given me, but because of the people who call it home. The locals, the expats, the travellers: all come together to create a unique and vibrant community that celebrates life, love, and the pursuit of happiness. Bali is my happy place, and I can't wait to return again and again, to recharge my heart batteries and be inspired by all the beauty this island has to offer.
BOOK IT
One-stop flights from the UK to Bali are available from Manchester, Birmingham, Edinburgh, Newcastle and London Heathrow and Gatwick airports.