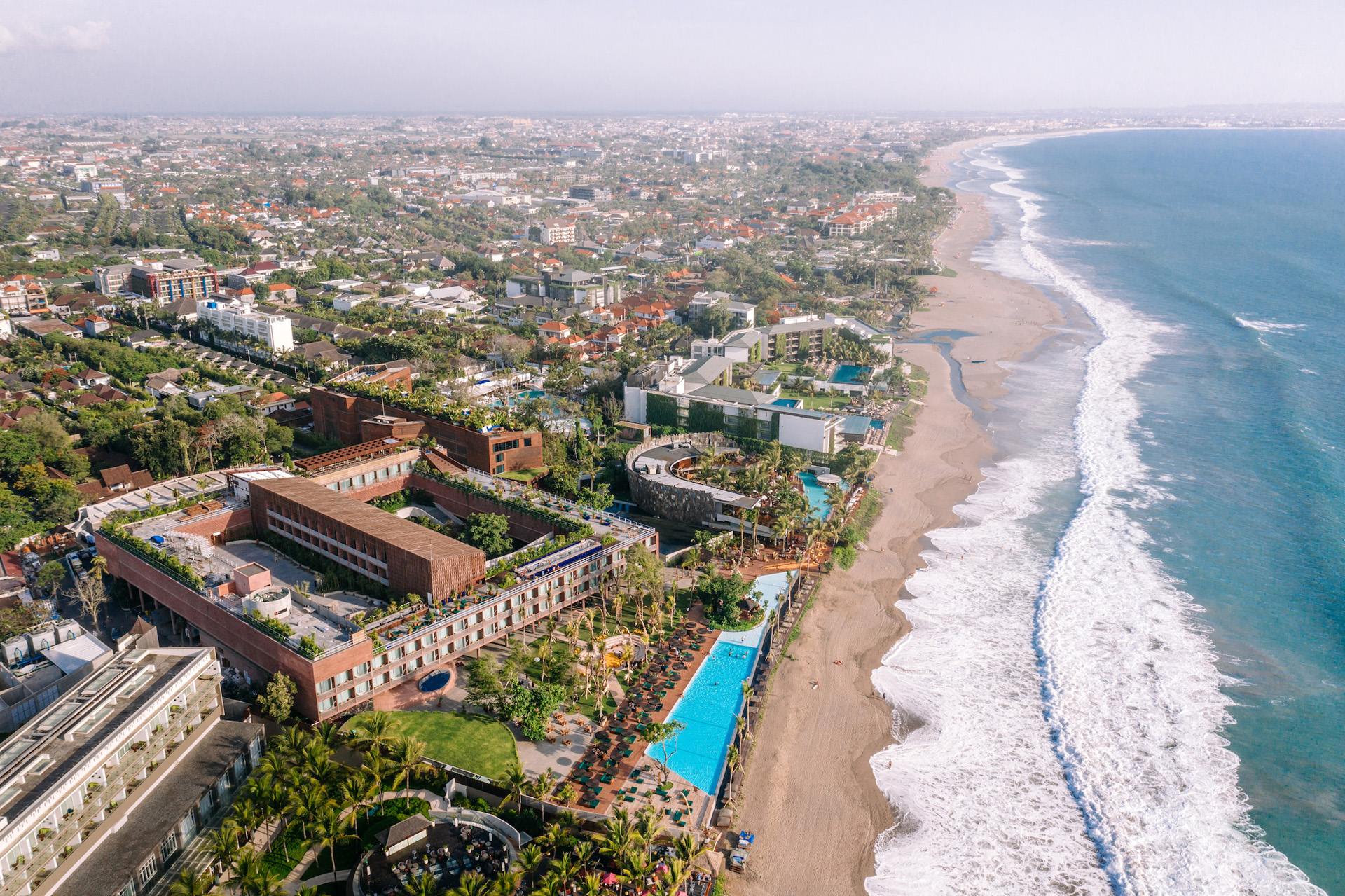 Good Times, Do Good: Potato Head, Bali – Review
---
Check-in to the 5-star beachfront resort that champions a sustainable lifestyle
Calling all meditators, hedonists, foodies, innovators, sun (and moon) worshippers, and the culturally curious: Potato Head is for you. Promoting a 'good times, do good' lifestyle, this luxury Seminyak beachfront resort takes a visionary approach to hospitality, championing sustainability, design, and social responsibility. It's the future of hospitality – and Potato Head is right at the forefront, writes Felicity Carter
Eco-Travel Trends and Sustainable Destinations
Hotel Review: Potato Head, Bali
Think Potato Head, think beach club — and not just any beach club. Potato Head is the epicentre of fun and creativity. And yes, it is incredibly fun, with vibing music, seductive lighting, and buzz by the bucket load. It's this mix that draws people in from near and far; and, if you want to party, it's simply the place to be. However, there's so much more to Potato Head (though it's too cool to shout out about it).
INSIDE POTATO HEAD, BALI
First up, there's the striking, Brutalist-inspired architecture, complete with a reassuring, easy flow that encourages exploration. You can't help but draw parallels with the Barbican – perhaps a tropical Barbican, if you will. In true Bali and Potato Head style, there's open, inviting spaces, too, allowing for moments of calm on arrival through a sweeping bamboo archway, continuing to the poolside, and through to the serene guest rooms. Satisfying architectural angles are set against lush green nature, and art installations – it's an enviable aesthetic.

At Potato Head's heart, though, is the people, the place and, yes, the bigger picture: the planet. At the height of the pandemic, the hospitality industry faced harsh realities. As with most hotels, Potato Head closed. Where it differs, however, is that it retained its staff and, organically, the Sweet Potato Farm came about: an employee-led initiative where staff grow their own food on pH land – not only allowing them to feed their families, but giving purpose, assisting with mental health and morale, and instilling a family feel. Having grown over lockdown, the Sweet Potato Farm now also supplies the local community – with staff delivering to the door – including hospitals and orphanages that are most in need.
Synonymous with Potato Head is sustainability and the environment. R&R times two here: reuse and recycle is the motto, and it is followed to an absolute tee. Everything that can be recycled is recycled, and you'll notice that this reused waste is everywhere around in a new artistic form, from the actual structure of the building to the flooring and practical amenities (cue the ultra-cool trays, coasters, and soap dispensers found in the rooms). Potato Head have even got the likes of furniture designer Max Lamb on board to design chairs with recycled plastic, playing to the design-led and creative nature of the hotel.
All of these bi-products have been such a hit with guests that they're now available to buy. And, to cope with demand, the hotel purchases plastic waste from surrounding hotels. In tandem, Potato Head also shares its practical methods and logistical learnings of recycling and reusing with local hotels – because, after all, sharing is caring, and when it comes to the health of the planet, we're all in it together.
STAY
When it comes to accommodation, there's two main options: Potato Head's Suites and Studios. The Suites – defined as your home away from home – are a place to thoroughly relax. Within the building, there's the choice of five types of suite accommodation – all luxurious, but each with their own personalities to suit yours.
For family trips, be sure to check out the Katamama Suite: two bedrooms, an open plan living and dining room area, as well as a private sea-facing rooftop garden complete with a jacuzzi. Or, try the Family Suite, which dons a master bedroom and a second bedroom with twin beds and a spacious living area. Other options include the Rooftop Suite with ceiling windows and enviable views of the Indian Ocean, the Pool Suite with a private decked pool, or the Island Suite with pool-views.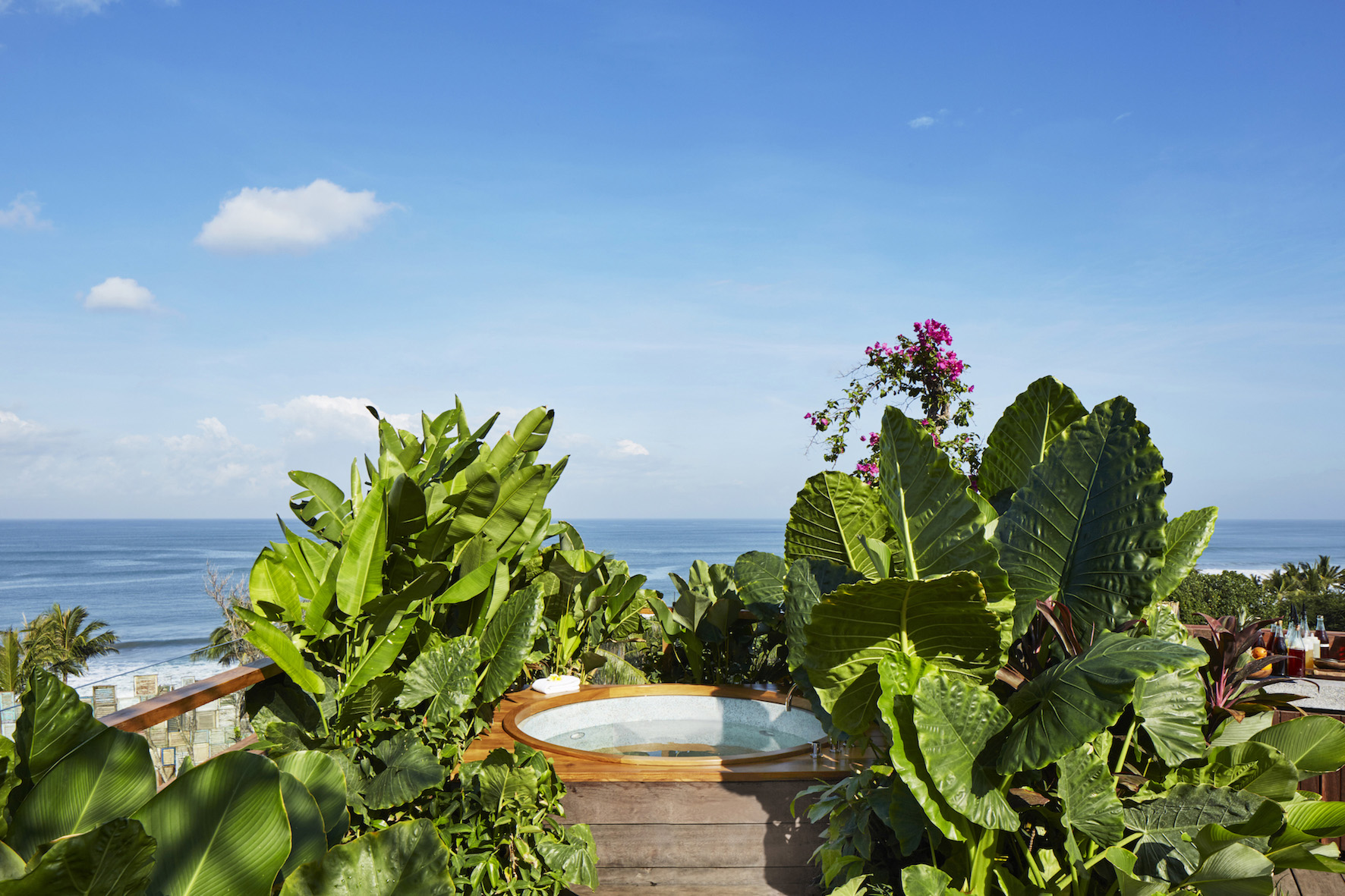 For those who want to be in amongst the action, the Potato Head Studios are for you. An oceanfront hive of activity, 168 guest rooms are located within the cultural heart of the village. Here, there is a choice of five studio types: the Oceanfront Studio with an ocean-facing view, perfect for taking in the famous sunrises and sunsets; the lofty 75 sqm Resident Studio with double-height ceilings; the intimate Desa Studio that overlooks all the action; the ultra-peaceful Bamboo Studio that looks out onto the bamboo courtyard; or, lastly, the bijou Sunrise Studio, which comes complete with all Potato Head amenities.
DO
You can be as active as you like at Potato Head. Whether you want to simply kick back and relax at the Beach Club, or get involved in a workshop or a wellness experience, there is something for everyone. 
A real highlight is the Sanctuary, which offers a range of experiences. The aim here is to reconnect with yourself – your 'flow state' – to increase relaxation, concentration and consciousness. Expect everything from an immersive light, sound and vibration experience to breathwork and ice baths, sound healing, and somatic release and awakenings six days a week. 
International Wellness Retreats 2022
For those who want to sweat, there's a 24/7 gym, athletic training, a run club, and workouts for adults and kids. As for learning, there's an array of workshops, including Sweet Potato Lab Candle Making – which uses recycled glass bottles and oil – and Akademi Cocktail Workshops.
Music is a key pillar of the hotel's offering, showcasing emerging and known talent from near and far. Not only are there killer DJs (Potato Head is playing host to Boiler Room this month), but there's the amphitheatre for modern, experimental and cultural performances, too. There's also digital streaming space, HEADSTREAM, which sits at the entrance of the hotel under a 90 metre bamboo archway built by revered artist Nano Uhero, surrounded by recycled plastic. A real sight (and sound) to behold.
EAT
There's plenty of feasting to be done at Potato Head, with various restaurants located around the hotel, from the ocean-front Beach Club (with classic, hit dishes like lobster rolls and sharing platters), to Kaum, which offers a contemporary take on indigenous recipes.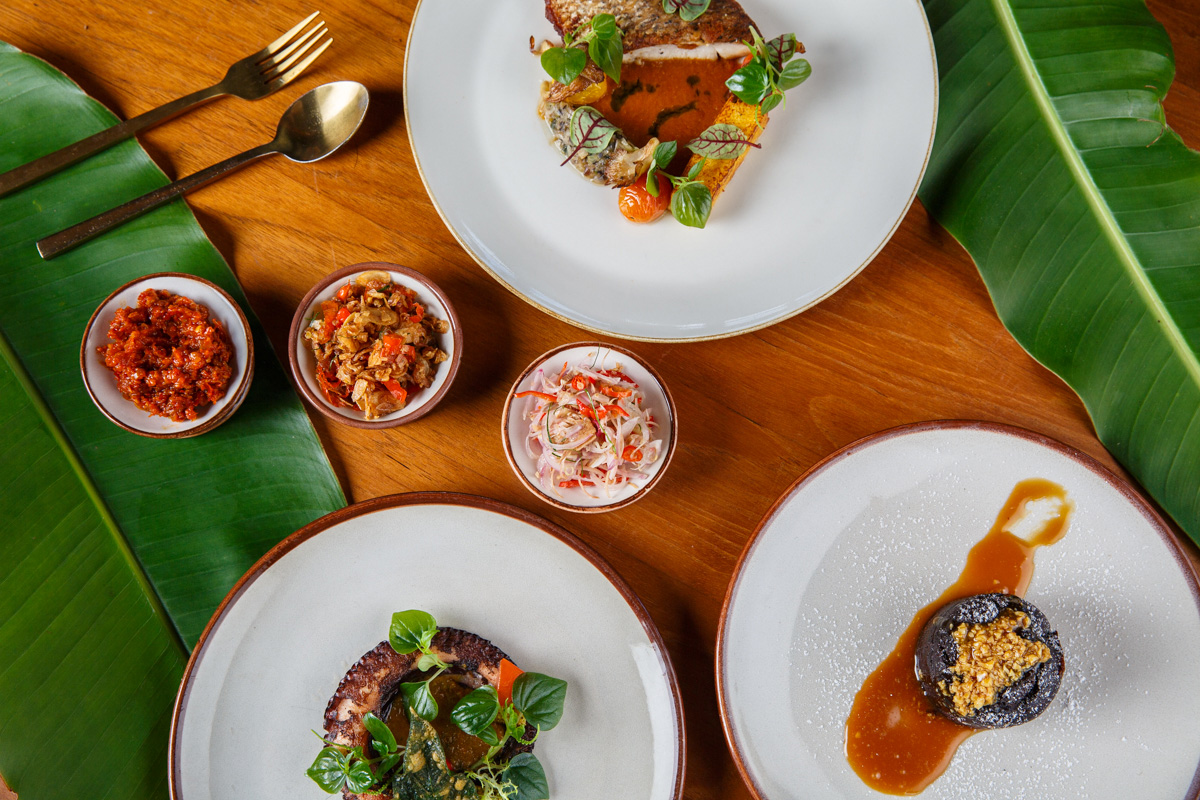 Ijen is known and loved for its fresh seafood, while the plant-based Tanaman restaurant has a cool décor, vibey neon lights, a nine-course tasting menu with a drinks pairing option. It's more laid back at the luxe open-air rooftop bar, Sunset Park, with incredible views, drinks and food, and tunes that activate as the sun goes down. 
Whichever the eatery, though, the theme of sustainability is prevalent. The hotel makes use of organic, locally and responsibly sourced ingredients from local farmers and fishermen. The result? Experiential food that is as nourishing for the body as it is for the community.
FINAL WORD
Potato Head's 'good times, do good' motto is more than a motto: it's a sustainable and responsible approach that is weaved into the entire place — physically (its structure, design objects, locally-sourced food offering, and practical operations) and as a way of life, seamlessly integrating and promoting this lifestyle to all those who visit. Whether you stop by for a hot DJ set or to stay with family, Potato Head serves up positivity and good times for all involved.
BOOK IT
Studios from £150.50 per night including taxes and breakfast; Suites from £238.95 per night including taxes and breakfast. [email protected] / seminyak.potatohead.co 
Featured image courtesy of Kevin Mak
MORE HOTEL REVIEWS
Palm Heights, Cayman Islands / Crillon Le Brave, Provence / Lou Pinet, Saint Tropez