Quiet Luxury on the Turkish Riviera: Bodrum Loft – Review
Design-led villas, hidden among the Turkish landscape
Along the southern coast of Turkey, or the 'Turkish Riviera' is Bodrum: a boujee holiday hotspot. A place where many affluent Turkish families retreat to, Georgie Bentley-Buckle visited Bodrum Loft, one of the region's more understated hotels to see how nature and design unite.
Read the C&TH Guide to Responsible Tourism
Hotel Review: Bodrum Loft, Turkey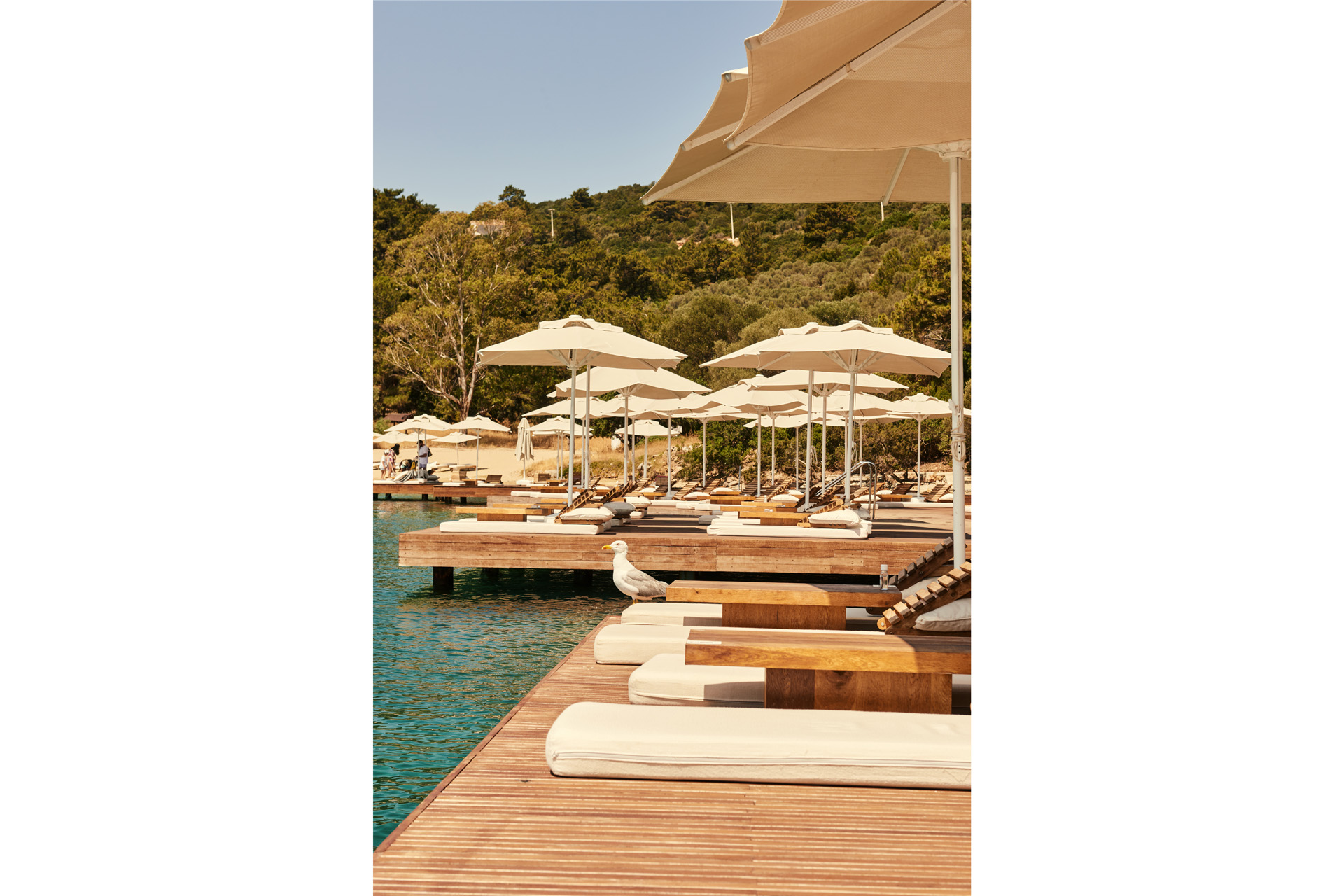 Built subtly amid the lush pine trees of Demirbükü Bay is Bodrum Loft, a five-star property that epitomises 'quiet luxury' in Turkey's most extravagant region. Inspired by the home of legendary Greek poet Homer, who fostered ideals of heroism and glory, this glorious property fuses a distinct architectural concept that harmoniously coexists with nature.
Welcoming guests for its third season, Bodrum Loft is inspired by the outdoor lifestyle the region has led for centuries. Aesthetically gorgeous, the confident, design-led hotel lets the colour palate of nature lead: from the cerulean sea, vibrant flora, and lush vegetation against a subdued design palate.
Constructed into the steep hillside across 36 spacious villas, the hushed hotel juxtaposes candy pink bougainvillea flowers across the minimalist buildings from Turkish architects Tabanlıoğlu Architects and Akfen Holdin. Woven among olive, sandalwood, cranberry and citrus trees with native evergreen shrubs and bushes, as you navigate around Aegean style village hotel, the vista evolves from high-up hilltop views across the horizon, down to translucent waters at sea level.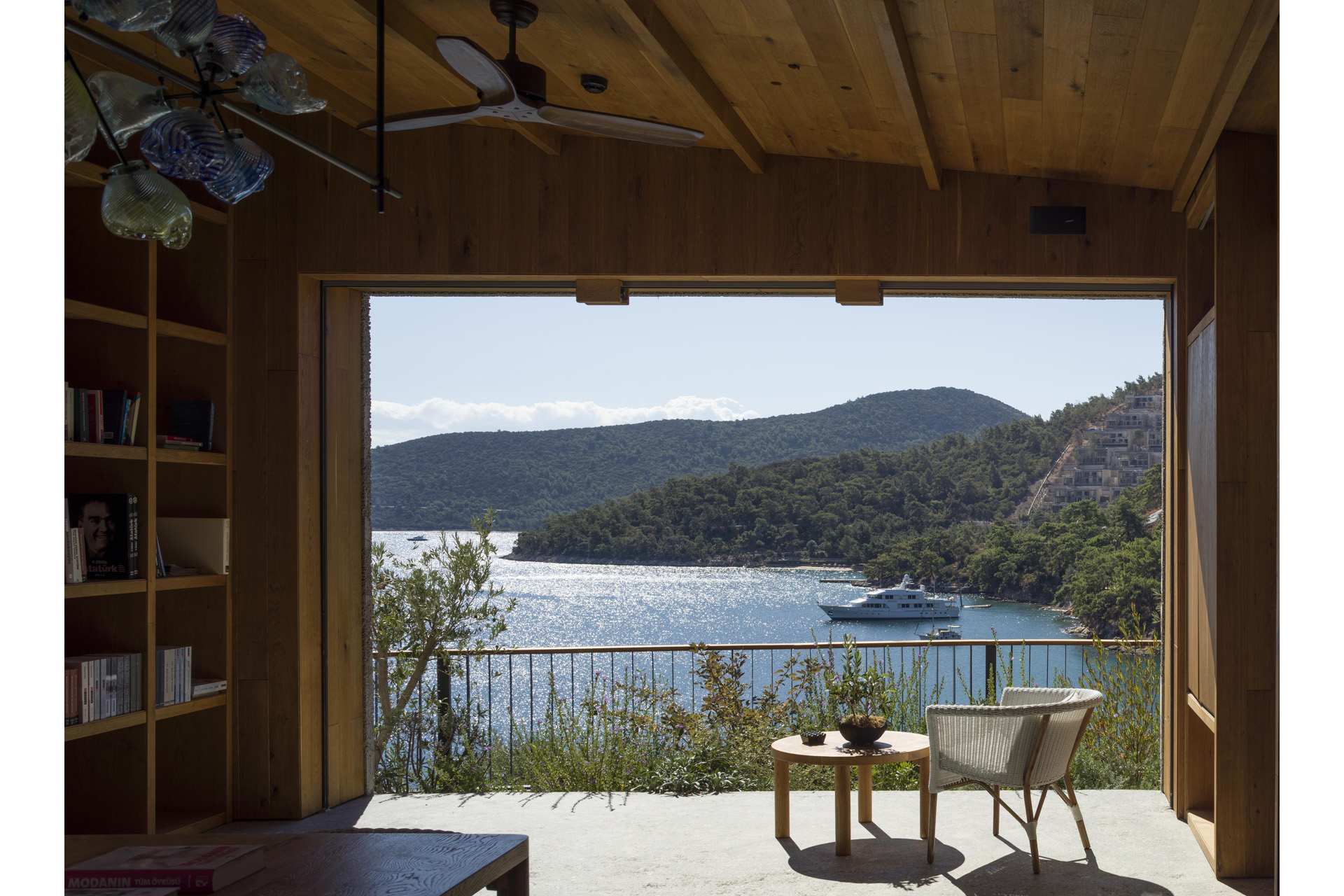 STAY
Spread out across this exclusive suite and villa hotel, rooms range in size from two- to four-bedrooms. Each champions the hotel's ever-so-cool, understated design concept throughout. Arriving by buggy, upon check-in, expect far more than simply a mini bar (I counted three fridges) or an uninspiring pillow menu, but a place you could call home.
Framing faraway ocean views, fully furnished suites and villas offer amenities and services that you would expect from a managed real estate complex. With sliding doors opening onto a spacious terrace and outdoor dining area, our villa also featured a fully functioning kitchen, complete with everything you'd need to host the ultimate dinner party. Beyond our bedroom, I loved the plush, well-lit walk-in wardrobe, plus the rain shower and utility room with a washing machine: a handy addition we made use of.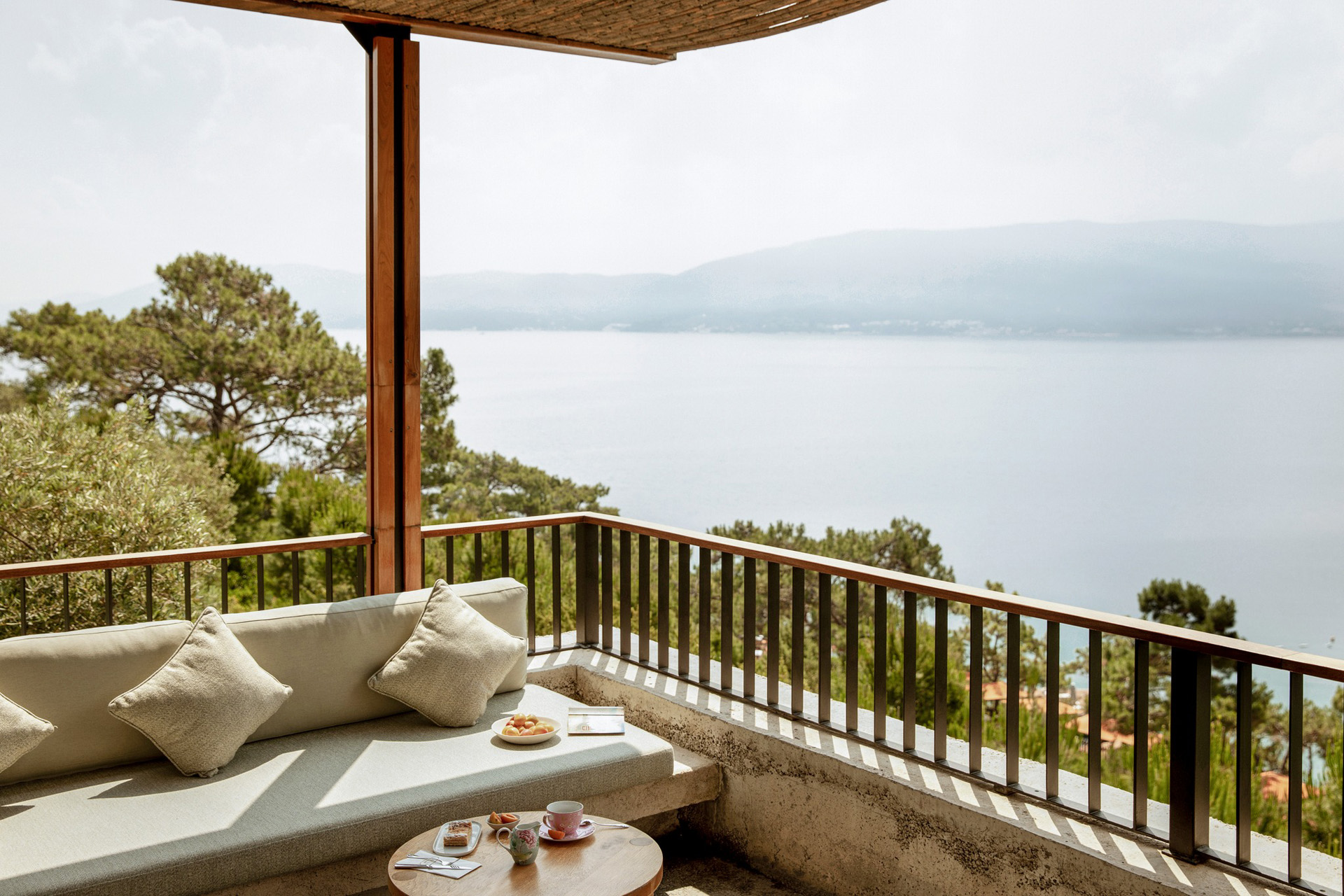 With the team just a WhatsApp message away, privacy is paramount at Bodrum Loft. Our sizeable villa was somewhere for you to really live, rather than simply stay. Celebrating the lives local people have lived for centuries, the days drift by and the minutes meander, allowing you to immerse yourself into the bays that beautifully blend into the undulating landscape.
DO
Everything to do at Bodrum Loft centres around slowing down to nature's pace. Recline beside the slick swimming pool hidden among the verdant foliage or, where most guests spend their days, on the floating decks: a sun lounger's haven that is a signature for luxury Turkey.
Floating serenely on the impossibly beautiful translucent water, filled with fish flickering in the sunshine, the team will serve you a daytime menu from fine-dining Italian restaurant Paper Moon on the hillside just above. We sipped on glasses of pale rosé, grazing on fruit platters and thin, freshly baked pizzas. Beside one of Bodrum Loft's elegant wooden decks is also their James Bond worthy chrome motorboat, which is on call to take guests on trips along the coastline.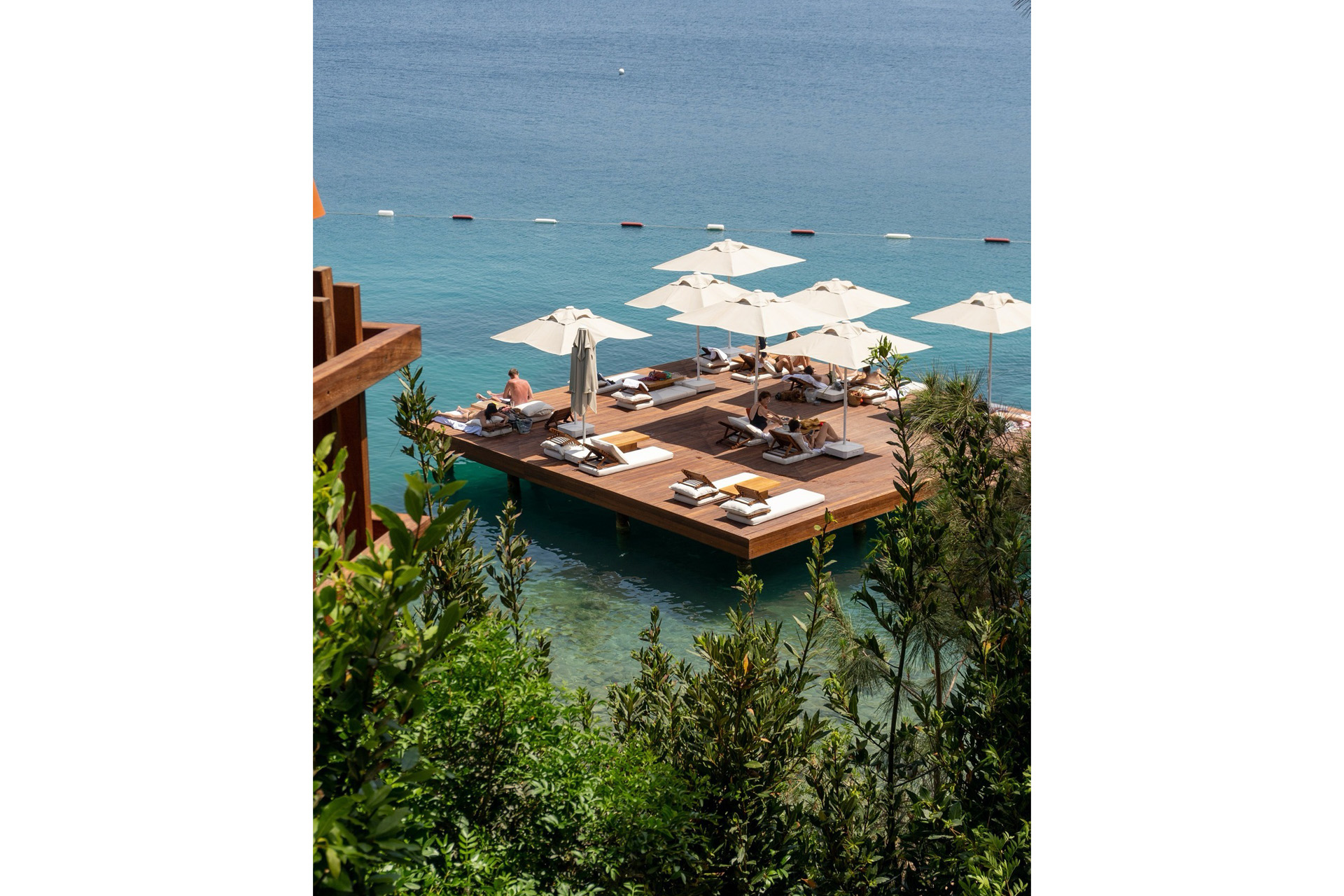 Meanwhile, step down into the gorgeous design of the spa (which is almost as satisfying as the treatments themselves). Facilities include a steam bath, sauna and indoor massage rooms, where I enjoyed a relaxing massage from my Balinese therapist. Always prioritising the views of Demirbükü Bay, you can also choose to book an open-air massage in one of the ocean-view cabanas. The spa menu offers a variety of treatments, including Anti-Stress and Reflexology massages.
Bodrum Loft's dazzling vista is also framed by its boutique gym. One open air fitness space hosts several cardio-based machines, allowing you to get your sweat on whilst distracting yourself by peering at the beautiful yachts beyond. Next door, an air-conditioned space has a variety of low impact equipment such as weights. This gym is so beautiful, it was a delight to make use of.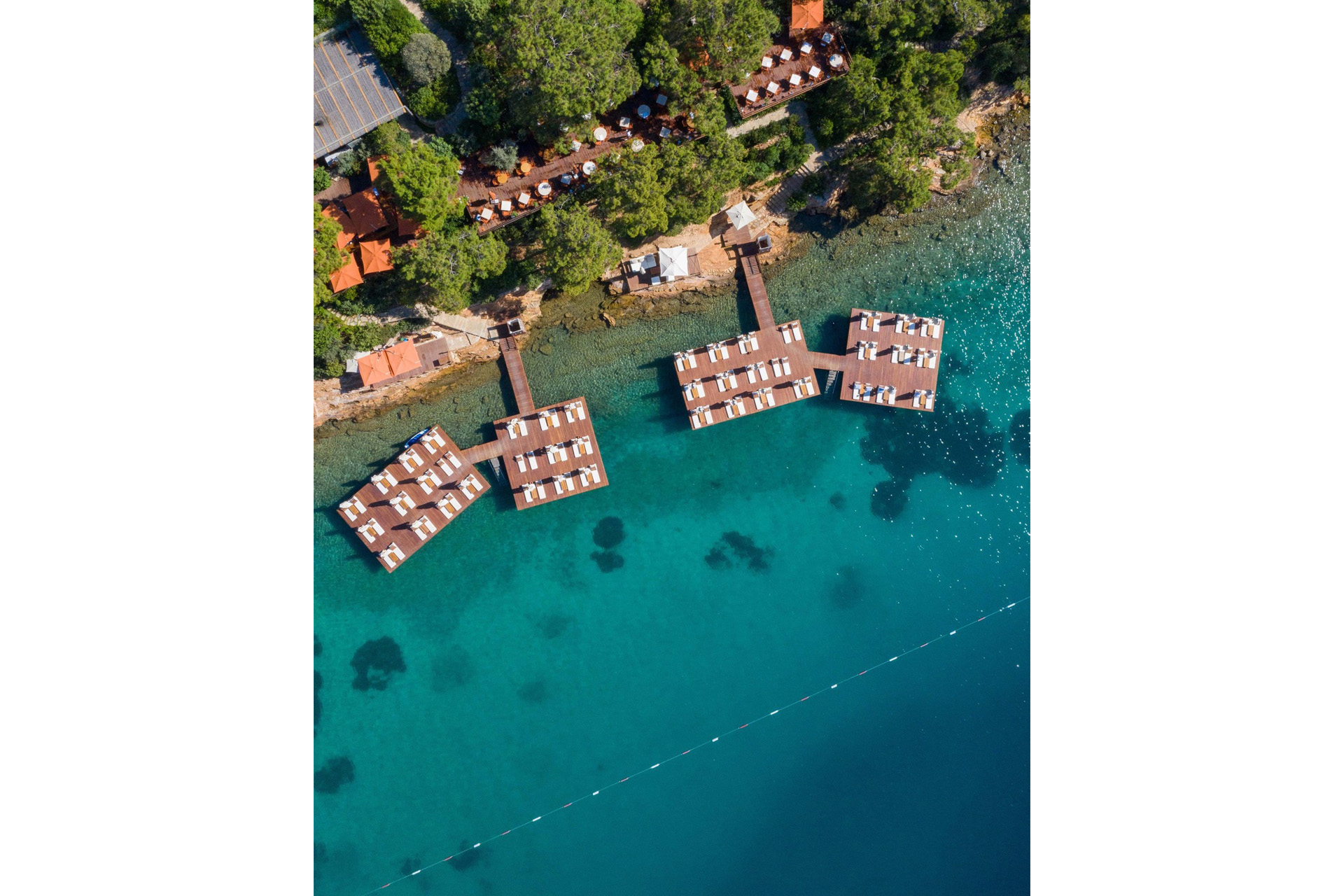 EAT
In celebration of its third season, Bodrum Loft enhanced its gourmet game this year. Delivering international menus to satisfy discerning guests, just above the ocean is the esteemed Paper Moon restaurant. Dishing up luxe Italian plates, we visited on our first evening for a candle lit dinner from Chef Giuseppe Pressani 'Pino'. This included suitably paper-thin sliced beef carpaccio, steak tartare and creamy burrata with sweet tomatoes.
Introducing Asian flavours is Bodrum Loft's new Sushi Restaurant, KIMU. With Japanese culinary influences that complement the overall concept of this minimalist, design-led property, KIMU is all about enjoying quality food in a peaceful garden setting. We visited in September, but by this time the restaurant had closed for the season (despite temperatures remaining around 30 degrees!).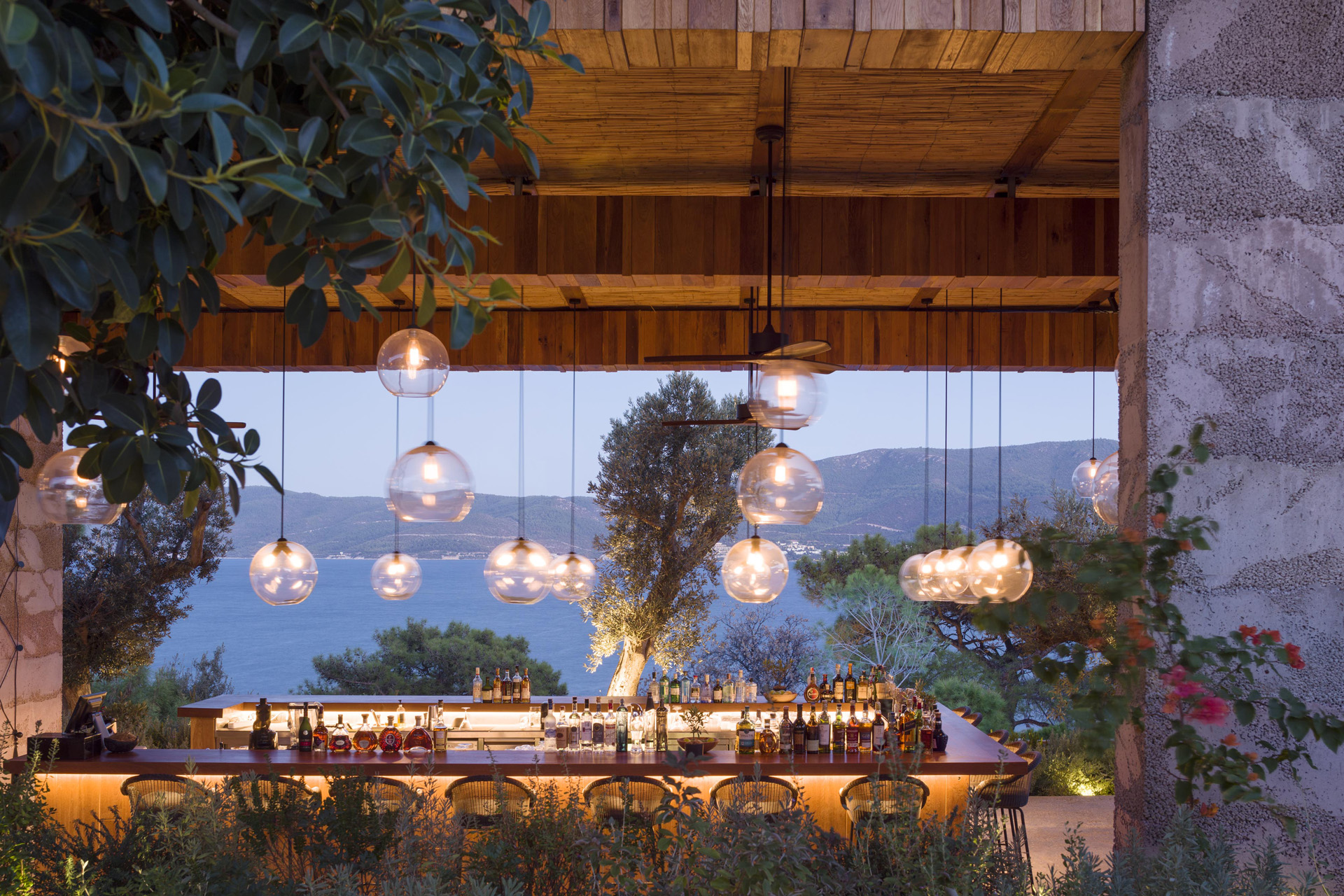 Meanwhile, next door is Loft Elia, Bodrum Loft's signature restaurant that is inspired by the peaceful shades of olive and pine trees. Here, we enjoyed classic Turkish favourites for breakfast, with recipes made from local produce. For me, this included 'Menemen', a blend of eggs, tomato and green peppers. You can also enjoy fresh pastries and sweet delicacies at Patisserie Loft by Vakko L'Atelier, with displays of colourful macaroons and other delights, which you can take home with you.
THE FINAL WORD
Bodrum Loft is a five-star property that epitomises the exclusive disposition the southern region of Turkey is known for. Balancing a cool persona while consciously celebrating the natural surroundings, here you will find a nonchalant hotel that champions the trend of quiet luxury, closely at one with nature.
BOOK IT
Villa rates start from €545 per night. For further information on Bodrum Loft, visit bodrumloft.com.tr