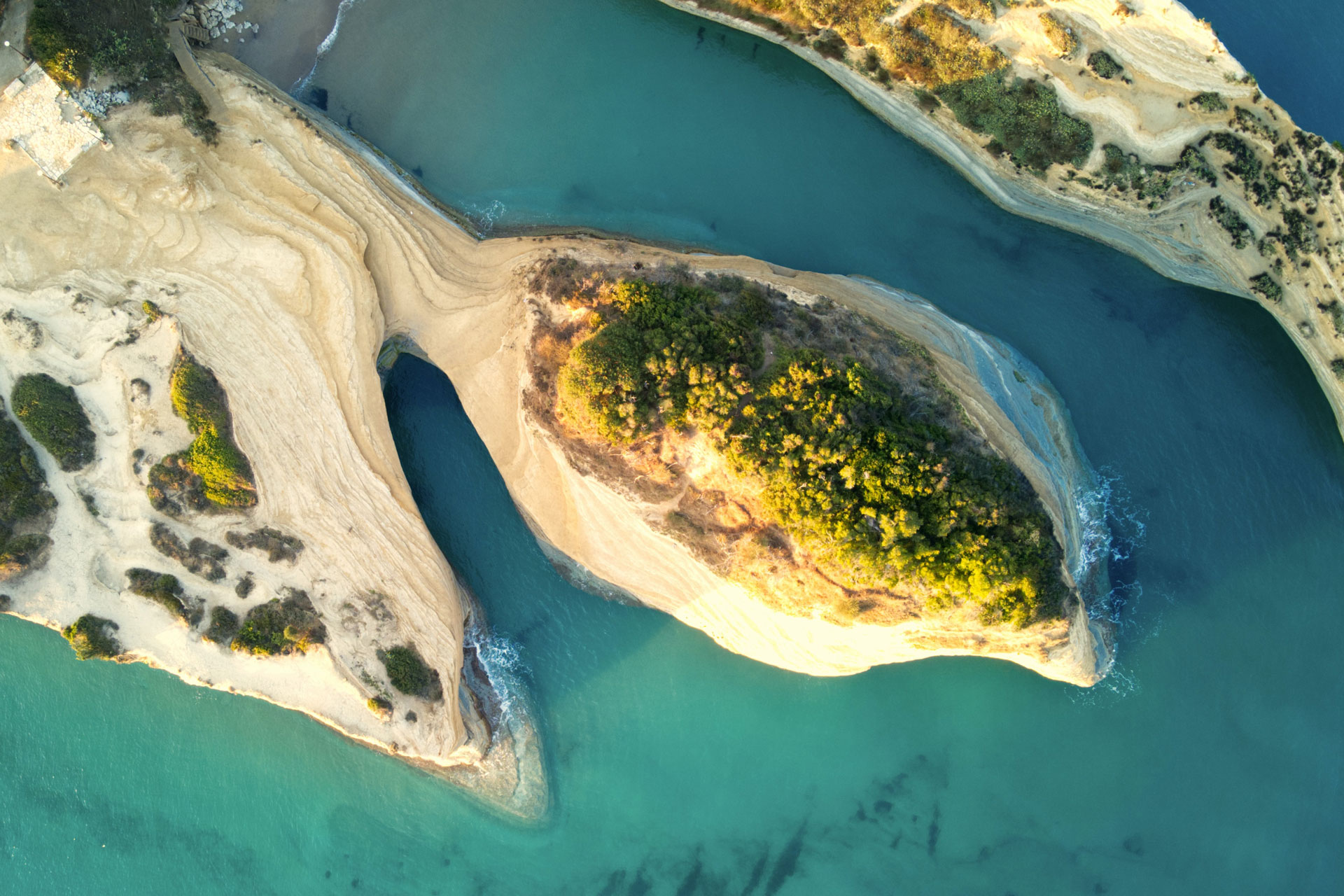 Where To Stay & What To Do In Corfu
This Greek island is well worth a visit
A mountainous island once home to the Venetians, Corfu offers a very different side to Greece that is worth discovering – from the aquamarine waters that lap around its perimeter to the polished Italian inspired piazzas of its Old Town and somewhat surprising local dishes. An alternative Greek destination on the country's western region – making it easily accessible from the UK – Corfu invites visitors to uncover its subtle quirks, making it a destination worth visiting. Georgie Bentley-Buckle checked out the island to tell us more.
The Weekender: Corfu Travel Guide 2020
Where to stay in Corfu
Villa 1870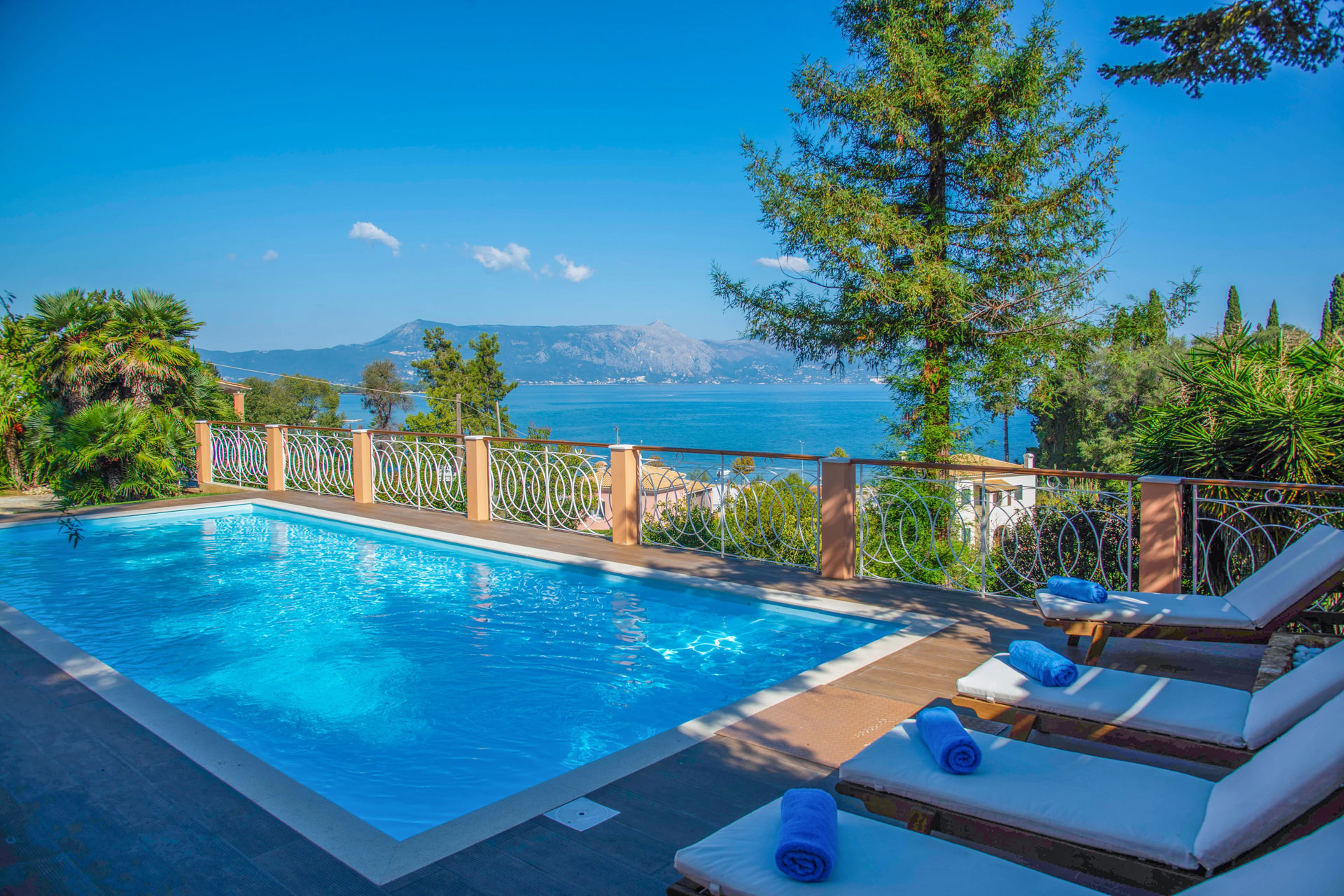 An insight into local family life is Villa 1870, a grand property perched halfway up a hill on the outskirts of Corfu Town. Opening back in 2019, the villa (a 19th-century mansion) which sleeps 16, has been restored from the ground up and is ideal for larger groups, from families to private gatherings. Its distinctive, baroque style is woven throughout the property across its five bedrooms, three bathrooms, large living areas and fully equipped kitchen (complemented with its own chef and separate professional kitchen at a VIP rate). With a vista overlooking the Ionian Sea from its private pool and garden, the bonus here is the insight from husband and wife team Dimitris and Nancy Kyriakis with the option for the villa's local Corfiot driver to navigate the best spots of the island.
With all the five-star highlights of a luxury hotel within complete privacy, Villa 1870 has its own cellar stacked with local wine, optional swimming and tennis lessons to keep everyone entertained, spa treatments and a concierge service to arrange deliveries and any extra services that may be desired. Built in 1870 (hence the name), the villa is the longest standing property on its hillside, and today it the vision of its owners who have brought it back to life. villa1870corfu.com
Where to eat
Corfu trails behind it a culturally rich heritage, and this is present in its local dishes. Under domination at some point or another largely by the Venetians, briefly the French and us Brits (in which we left our mark with ginger beer and English puddings), many of Corfu's regional dishes are distinctly different from the rest of Greece with many Italian names from the Venetian's. These include the local 'bourdouni' pork sausage and 'pastitsio dolce' (an indulgent Venetian style lasagne made with veal, chicken, pork and ham). Many local restaurants will serve these dishes and many more, each illustrating Corfu's fusion of cultures from near and far.
Vrachos, Palaiokastritsa Bay
Slung low on the shores of Palaiokastritsa Bay on the north-western side of Corfu is Vrachos. A beach tavern-style restaurant, Vrachos dishes up a mix of local Corfiot specialities with familiar Greek favourites. Bag yourself a table beside the teal water that laps beneath with a carafe of rosé and tuck into hot moussaka, generous Greek salads topped with slaps of feta, fresh pasta and seafood, such as lobster. Following a laissez-faire lunch, slide onto its neighbouring beach, take a dip and soak up some rays before navigating up into the mountains for dusk.
Dolce Café, Lakones
Weave your way up the hillside from Palaiokastritsa Bay and through the narrow mountain village of Lakones. A place so high up with its own micro-community, one of its finest viewpoints is at Dolce Café which offers the epitome of what a 'panoramic view' should offer, across miles of verdant forests and dramatic coastlines as far as the eye can see. Widely regarded as having one of the best views in Corfu, grab a gelato from their wide selection (which include some niche local flavours such as the island's trademark kumquat fruit) and head upstairs to enjoy an incredible sunset dropping below the horizon.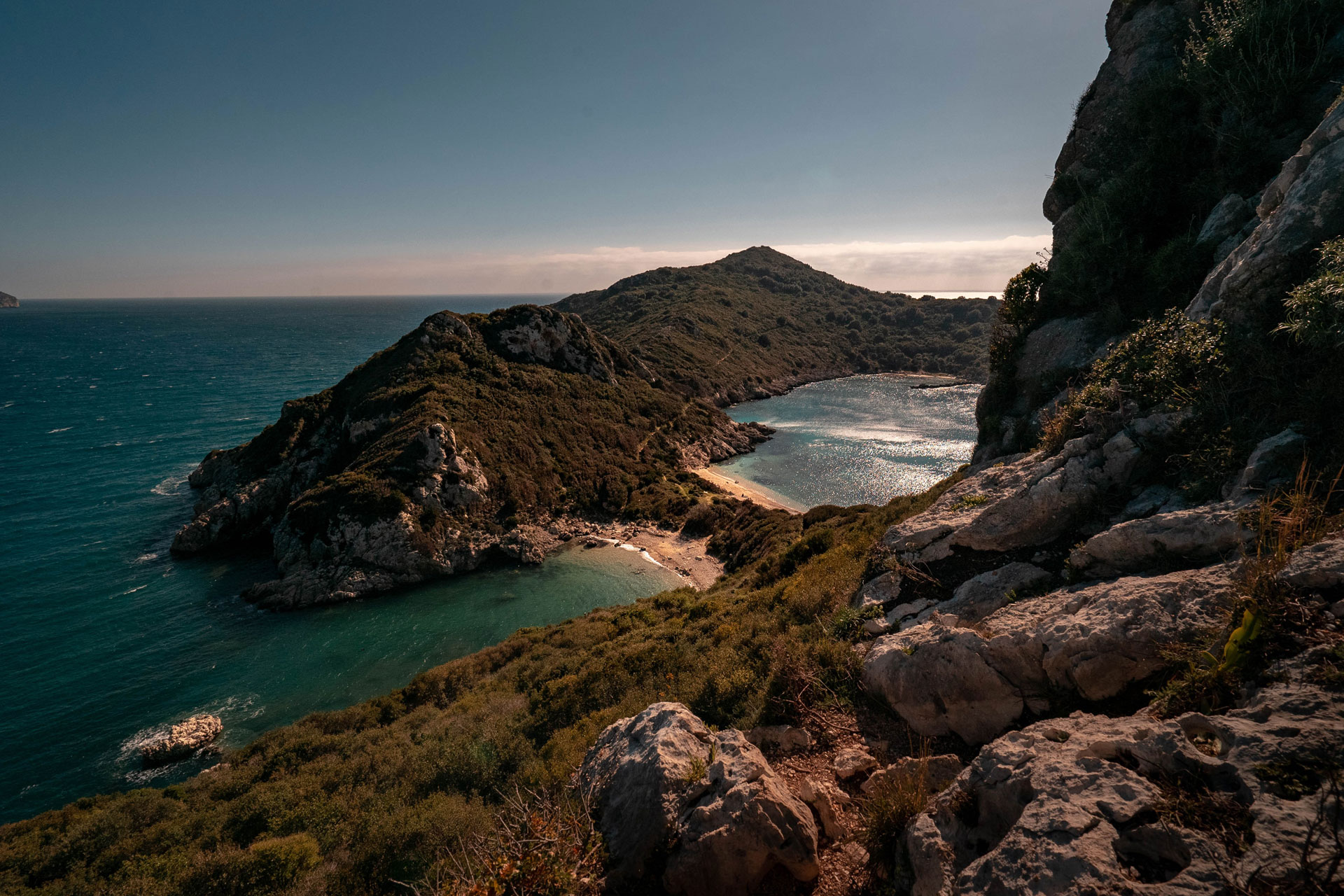 Family-Friendly Greek Getaways
What to see in Corfu
Makrades Mountain Village
You often miss what's above you, and that's true of Corfu. Up above the bays and beaches, it's worth investing in a driver or hiring a car to get a glimpse of local life up in the hills. 300 meters above sea level, the village of Makrades is the perfect example of this. An ancient 13th-century village frozen in time among olive groves and hidden behind a hilltop should you look up from the sea, (a clever location to protect them from past pirate attacks) the buildings of the village have been built with the surrounding rocks meaning the quaint village blends in with its surroundings. Hikers can make their way up or down a 4km donkey path that leads from the sandy beach in Agios.
Corfu Old Town
The epicentre of the island's culture is Corfu's Old Town – worth a wander to see leading examples of the island's Venetian backstory. An elegant town woven with a myriad of streets and shops with cafes spilling onto cream coloured stone pavements, each corner uncovers various palazzi lined squares, arched colonnades and piazzas serving as gathering points for relaxed locals. A retail therapy dream, Corfu Old Town does well at presenting its shoppers with very little tat; instead browse handwoven baskets and fine jewellery before stopping for an espresso and a slice of local Sicomada cake made with figs, cinnamon and ouzo.
The Esplanade and Liston
Should you visit the Old Town it's hard to miss The Esplanade and Liston, but it's worth pausing to take it in altogether. An example of architecture that the Venetians left behind, opposite the French planted rows of trees, giving this striking element of the Old Town a magical Parisian feel that mimics the French capital's Rue de Rivoli, parallel to the Seine.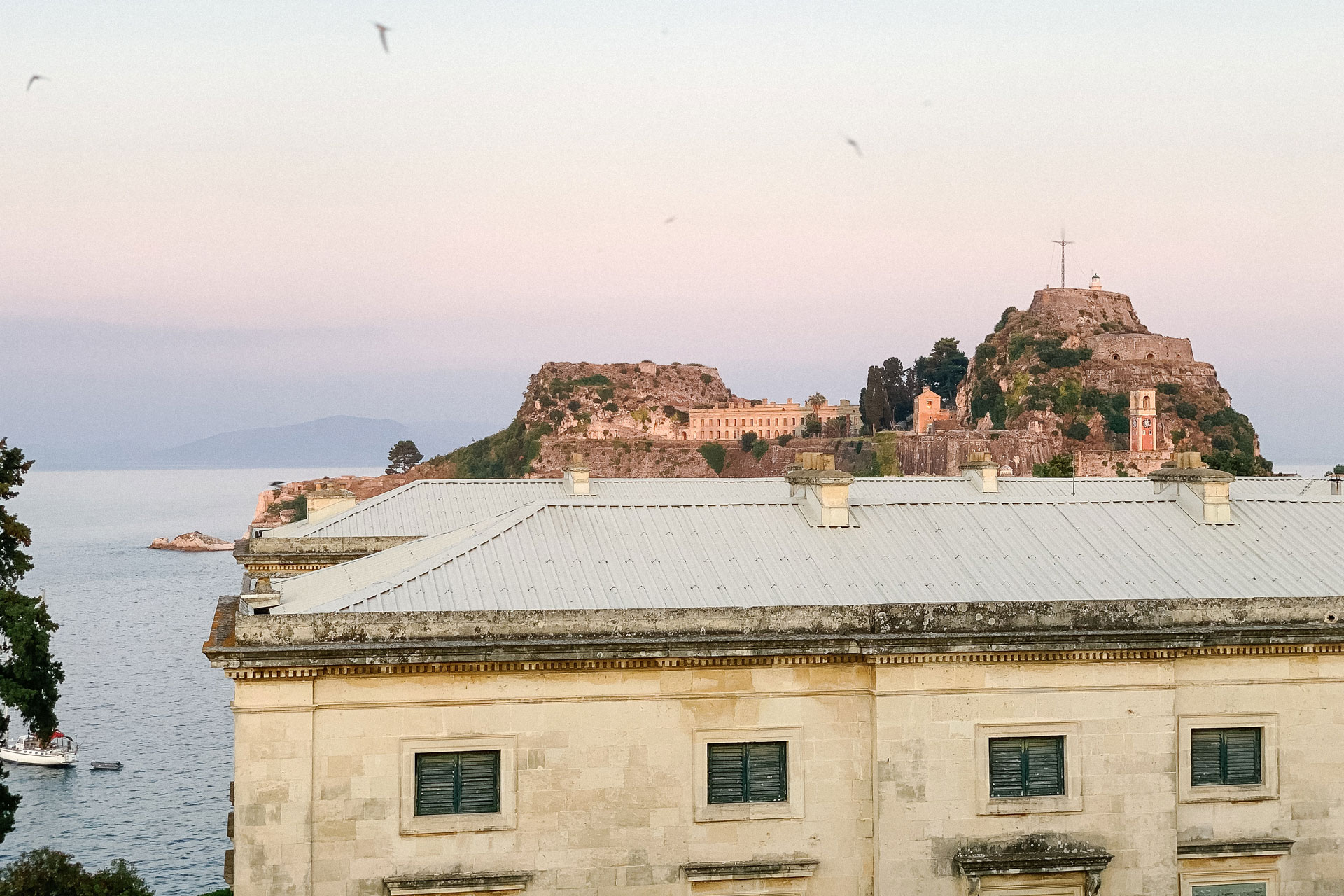 What to do in Corfu
Achilleion Palace in Gastouri
Both film and history buffs will want to visit Achilleion Palace in the village of Gastouri. A setting for the 1981 James Bond film 'For Your Eyes Only', this romantic, pearly white palace with roman style columns was built in 1890 exclusively for Elizabeth, the Empress of Austria who passionately fell in love with the island and used the property as her summer house. Stuffed full of ancient artefacts and grand paintings across several floors, it's worth heading up to the palace's landscaped palace garden at the back, home to many statues that overlook striking views you can imagine Bond himself surveying.
Cleopatra yacht charter
For a glamourous day out on the water is 'Cleopatra', a 40-foot yacht that can welcome aboard up to eight people. The ideal way to explore the coastline of Corfu, moor off, returning to the harbour of the picturesque Venetian façade of the Old Town and its fortress. Complete with a skipper at the helm to sail guests to sleepy seaside restaurants and quaint coves to lower anchor, whether a day trip or bedding down in one of the three cabins, Cleopatra offers an alternative perspective of the island where the mountain villages are barely visible from the Mediterranean Sea.
Old Fortress
One of the first things that will catch your eye when you approach the Old Town is its fortress. On the eastern side of town and beside the ocean, it's another piece of work left by the Venetians. Access via the Spianada Square (the second largest square in Europe) and under a marble arch and learn more about Corfu's mixed heritage with the option of a 20-minute walk up to its clock tower which was also believed to once be a temple.
What to buy
Surprisingly, the Chinese kumquat is the national fruit of Corfu. First brought to the island in 1846 by a British botanist, today this Asian fruit is protected and can be found in food and drink across the island, particularly kumquat liqueur. The island's dried herbs are also something to consider taking home. A local phrase that says the 'herbs make the meal', you can find a ready mix of herbs and spices that enable the opportunity to recreate dishes such as tzatziki, souvlaki and gyros back home. Meanwhile, singing true to the island's Italian influencers, the Old Town is lined with an array of creatively shaped bottles of bright limoncello liqueur.
BOOK
 Nightly rates start at Villa 1870 start from €800. Rate includes accommodation, daily housekeeping, a private chauffeur driven seven-seater car for up to eight hours per day, airport transfers, access to a seven-seater car for self-drive (fuel excluded), baby equipment, laundry facilities, in-house private chef (ingredients excluded), waiter, and private heated pool. For more information, visit villa1870corfu.com.
Villa 1870 are offering a 15% discount on the nightly rate for stays between 1st January-31st December 2021. Applicable to stays booked by 31st December 2020, flexible rebooking policy available.
To enquire into the Cleopatra yacht charter email [email protected] or call 0030 69 86 86 87 50.  
MORE WEEKENDERS: Tokyo / Berlin / Los Cabos / Cape Town / St Tropez / North Devon / Geneva