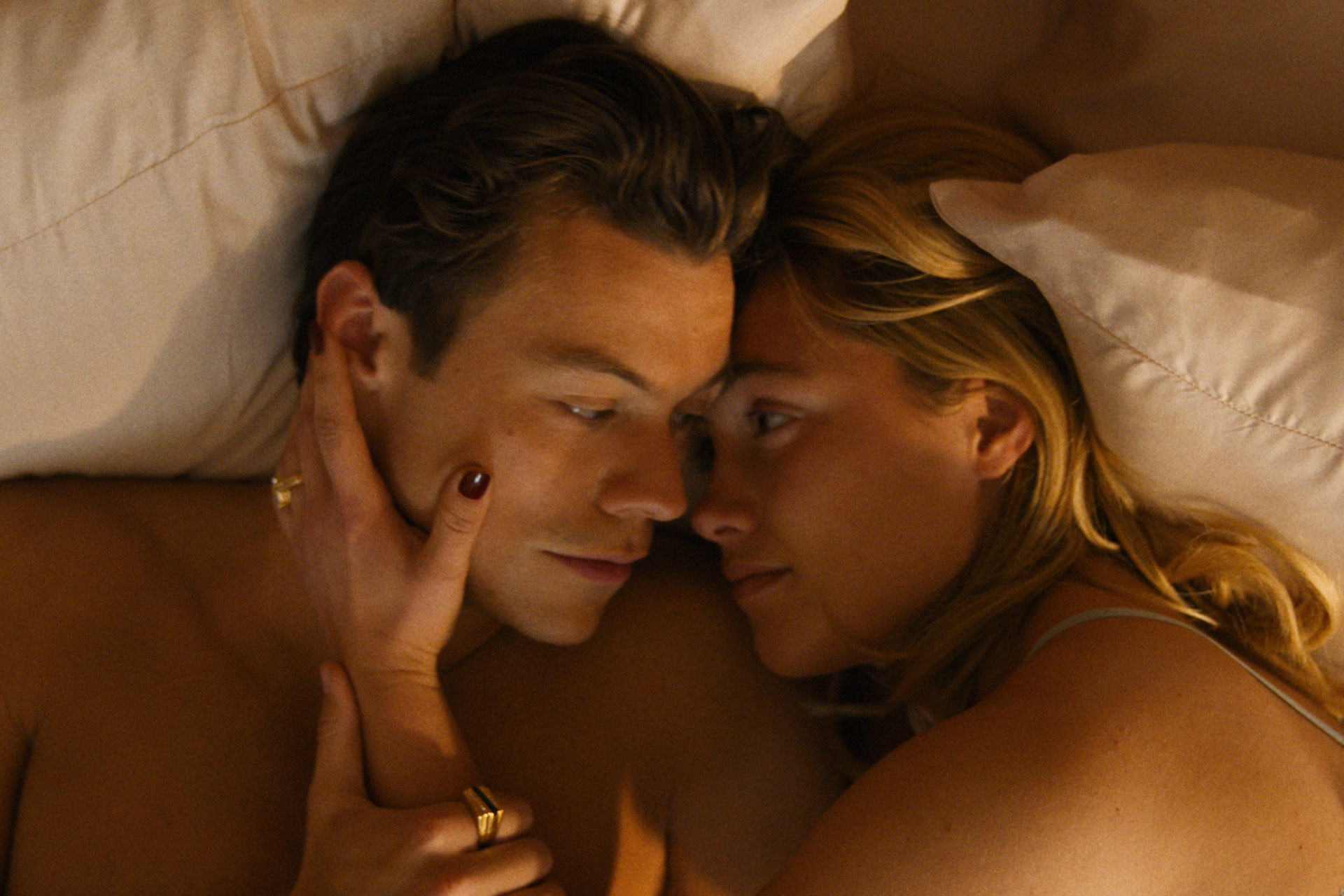 Where Was Don't Worry Darling Filmed & Can You Visit?
The psychological thriller is scarily beautiful
It's a year since Olivia Wilde's hotly anticipated Don't Worry Darling premiered at the Venice Film Festival in 2022 – to a mixed reception. Starring Florence Pugh, Harry Styles, Chris Pine, and Gemma Chan, the film garnered much interest in the lead up to its release due to fraught tensions during promotion and filming, including 'spitgate' at Venice, where Styles appeared to spit on Pine on the way to his cinema seat. But where did filming take place? The movie's setting is saturated and strangely beautiful and, after watching the whole thing, you might find yourself itching to visit the apparent utopia and its filming locations. Here's everything you need to know.
Read the C&TH Responsible Tourism Guide
Don't Worry Darling: Where Is It Filmed & Can You Visit?
Where Is Don't Worry Darling Set?
Set in a small 1950s town, Don't Worry Darling follows Alice (Pugh) and Jack Chambers (Styles), a happy, young couple who have just moved to the area – an idyllic, glamorous town called Victory. Victory is a company town created by and paid for by Jack's new employer, Frank (Pine). Victory is a fictional town in California, modelled on 1950s American suburbia, with a surreal, futuristic edge.
While Jack and his colleagues go to work on the 'Victory Project', their wives are left to enjoy the beauty and luxury of their community.
Where Was Don't Worry Darling Filmed?
Don't Worry Darling was mainly filmed in Greater Palm Springs, which serves as the fictional Victory town. According to Visit Palm Springs, 'Palm Springs has one of the largest concentrations of preserved mid-century modern architecture in the world. Talented young visionary architects came to Palm Springs and interpreted Modern architecture in a way that best suited the desert environment and leisure living.'
The surreal mixture of homely but luxurious desert suburbia that we see in Don't Worry Darling is not a set, but real Palm Springs buildings and houses, dotted among desert mountains and palm trees. This primary destination is well suited to the weirdness of the psychological thriller and its model Victory town built for an elite community – especially because the city has long been considered a playground for the wealthy and famous. Palm Springs is where Marilyn Monroe and John F. Kennedy are rumoured to have first met, where the newlywed Presleys stayed in 1967, and where stars flock every year during the nearby Coachella Festival.
Here's a look at some more specific filming locations in Don't Worry Darling.
Don't Worry Darling Filming Locations
Frank's House: The Kaufmann House
The Kaufmann House – featured across the film, but most notably in an early scene when two new residents are welcomed into the mysterious Victory Project – was used as a filming location for the home of Victory Project leader, Frank. Situated in the Little Tuscany district in the north-west of Palm Springs, built in 1946 and designed by Ricard Neutra for Edgar J. Kaufmann, The Kaufmann House is the epitome of mid-century architecture, using steel, glass and Utah stone. It is so iconic that, after being owned by the likes of Barry Manilow and socialite Nelda Linsk, the house was auctioned by Christie's as a work of art in 2008.
Photographer Slim Aarons helped to generate the property's iconic status with his 1970 photograph, Poolside Gossip. Wilde was so inspired by the house's indoor-outdoor, clean-lined architecture that she hung a photograph of it in her own home while working on the script for Don't Worry Darling. Wilde told Variety, 'To be there was huge. To direct the first shot there felt like this really auspicious beginning to this movie which was this love letter not only to film, but to architecture, to design, to this era.'
Can I Visit? The Kaufmann House has never welcomed visitors, so Don't Worry Darling offers a unique glimpse inside the property. However, you can take a peek by driving by 470 West Vista Chino. visitcalifornia.com
View this post on Instagram
Jack & Alice's House: Canyon View Estates
With '50s style bungalows, floor-to-ceiling windows, stone fronts and characteristic Palm Springs geometric stonework, Canyon View Estates is the part of Victory that Alice and Jack live in – a circular cul-de-sac with their neighbours' houses facing inwards on the perimeter. Built in the 1960s and designed by architects Dan Palmer and William Krisel, Canyon View Estates has a utopian neighbourhood feel, with a shared pool, spa and green space.
Can I Visit? Today, properties part of Canyon View Estates are fiercely protected by homeowner associations, meaning you're unlikely to stumble across one of these houses on AirBnB.
View this post on Instagram
Headquarters: The Volcano House
Perhaps the most futuristic looking of all Don't Worry Darling's filming locations, the Volcano House is situated atop a hill in Newberry Springs in the western Mojave Desert of Southern California. The spaceship-like, circular building has 360° panoramic views – an absurdist building in the midst of the surrounding Mojave Desert, adding to the movie's surrealism.
Inspired by the layout of a visitors centre at a nuclear power plant, the Volcano House was designed by Harold James Bissner Jr for draftsman Vard Wallace in the late 1960s. The 2,500 square foot property features two bedrooms, two bathrooms and a separate caretaker's house. Merging the old with the futuristic, the galactic property is also surrounded by a moat – five feet wide and two feet deep.
Can I Visit? Though the Volcano House was temporarily owned by Chapman University in Orange County, it is now back in private hands, and therefore not open to visitors. However, it can be seen from below 0r from the road (Silver Valley Road) for visitors to the nearby Newberry Springs looking to catch a glimpse.
Palm Springs City Hall
Even Palm Springs' public buildings have iconic architecture. In Downtown Palm Springs and built between 1952 and 1957 with bright blue and yellow paintwork, the City Hall (which features fleetingly in Don't Worry Darling) is symmetrical with the look of a petrol station and three towering palm trees growing through a circle in the roof at the entrance. Swiss architect Albert Frey created a spaceship style façade, using aluminium tubes to block the desert sun and create intricate shadow patterns.
Can I Visit? Yes – Palm Springs City Hall is a popular spot on Palm Springs' mid-century modern design tours, but visitors are also welcome to show up and walk around alone, too. visitcalifornia.com
Palm Springs Visitors Center
Originally a petrol station, the Palm Springs Visitors Centre also only appears fleetingly in Wilde's film, but the futuristic architecture makes it an iconic landmark in the city. With a swooping, wing-shaped roof that immediately captures the attention of visitors as they arrive in the city from the north, the building was designed by Albert Frey and constructed for Esso in 1965. In the 1990s, the building was converted into an art gallery, and subsequently taken over by the Palm Springs Bureau of Tourism. With Mount San Jacinto looming behind, it captures the strange feeling of Don't Worry Darling.
Can I Visit? Yes – and while you're there, you can pick up a little something special at the gift shop. visitpalmsprings.com
Troy Dry Lake
During filming, the Don't Worry Darling team were spotted at Troy Dry Lake. The clue's in the name: Troy Lake was once a body of water – one of four basins fed by Lake Manix, thought to have dried up 25,000–13,800 year ago. Today, Troy Lake is a strange plain on the edge of the Mojave Desert, close to the Volcano House. With a backdrop of rolling desert hills, the landscape illustrates the wild desert setting of Don't Worry Darling.
Can I Visit? Yes – Troy Dry Lake is situated just outside Newberry Springs.
La Quinta Resort & Club
Not exactly a filming location as such but where the cast and crew stayed during the filming of Don't Worry Darling, La Quinta Resort & Club is a fine example of luxe desert living. Built in the 1920s (earlier than the mid-century aesthetic centred in the movie), the Spanish-style casitas, suites and villas sit alongside a whopping 41 pools, championship golf courses, a spa and fitness centre, and three renowned restaurants. laquintaresort.com
When Is The Best Time To Visit Palm Springs?
Weather wise, Palm Springs is most welcoming from winter to spring, around December to April. In the summer months, the desert climate makes for extremely high, intolerable temperatures – many people still visit in the summer, but note that a lot of establishments shut their doors during the day's hottest periods.
The cooler high season is also when plenty of Palm Springs cultural events occur. The Modernism Week Fall Preview occurs in October (in 2022, from 13–16), featuring midcentury architectural tours, talks and events, before the main event in February (16–26 in 2023).
The Palm Springs International Film Festival usually occurs in January – in 2023, from 5–16 January – and music festivals Coachella and Stagecoach round off the season in April.
Featured Image: Harry Styles as Jack and Florence Pugh as Alice in New Line Cinema's 'Don't Worry Darling,' a Warner Bros. Pictures release. Courtesy of Warner Bros. Pictures.