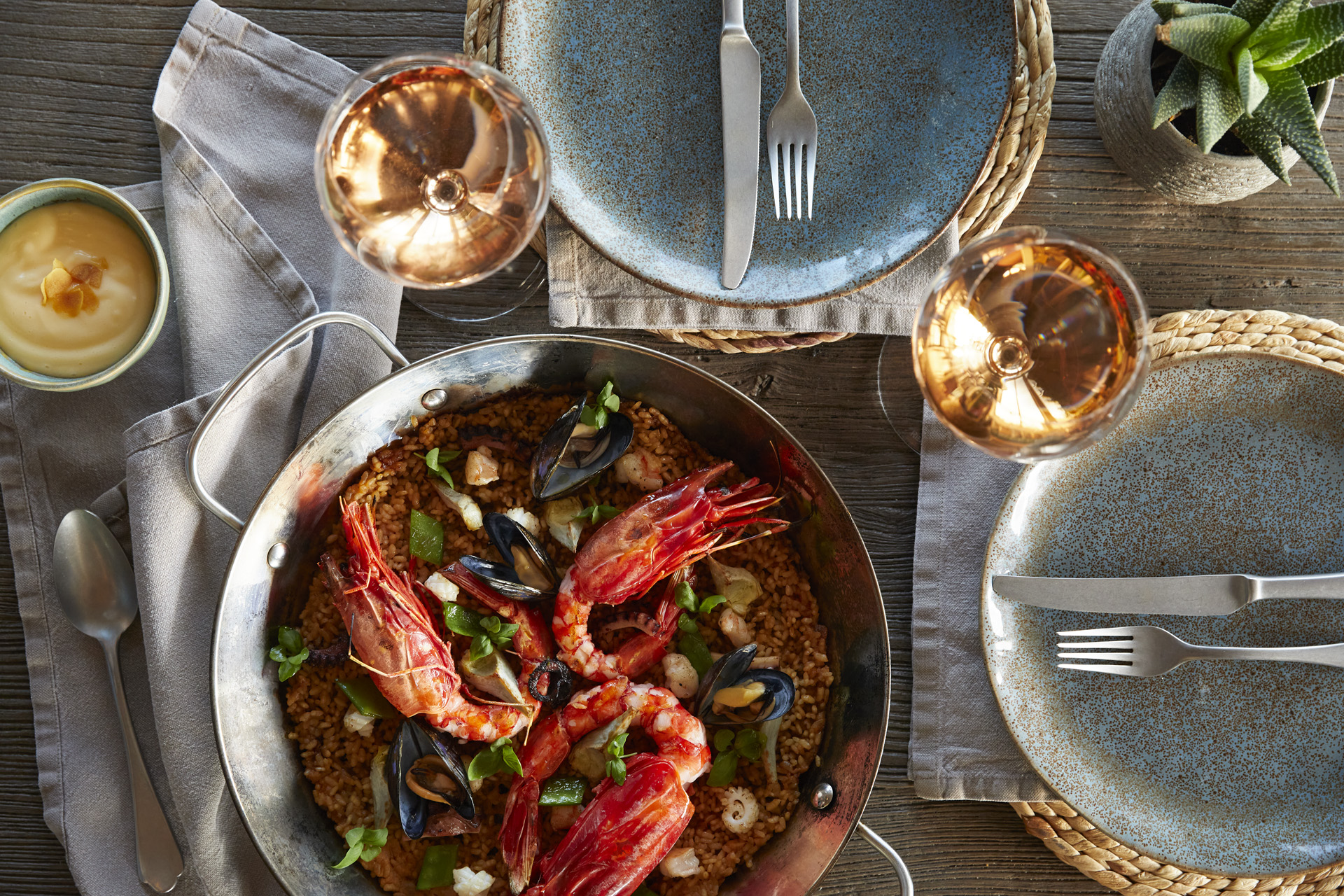 Hotels for Foodies: Delicious Destinations for Gourmet Globetrotters
Forget the views, it's all about the food
Consider yourself a foodie? When you visit a new destination and you're looking to dine on the finest, most exciting local cuisine, your hotel restaurant might, therefore, be at the bottom of your bucket list. But those days are gone – new hotels are increasingly focusing on their culinary offerings, and many existing hotels are revamping their restaurants and bars. It's a foodie-globetrotter dream. Looking for somewhere to start? Here is the C&TH selection of hotels for foodies.
The UK's Best Hotels for Foodies
The Best Hotels in the World for Foodies
Sani, Greece
Sani Resort
With over 40 restaurants and bars – spanning Greek, Japanese and Peruvian cuisine to the finest Michelin star dining – Sani Resort is a true feast for avid foodies. Better still, 60 percent of the resort's produce is sourced from within 100 miles, the resort's herbal gardens fuel many of the dishes, and there is a pilot scheme exploring a zero waste kitchen concept. The jewel in the crown is the annual Sani Gourmet culinary festival, where Michelin star chefs visit the resort, creating special, limited-time menus for guests and visitors. In 2023, this involves the likes of Akira Back, Hélène Darroze, Christian Le Squer, Stephanie Le Quellec and Javier Torres, visiting on specific dates between 7 July–12 August 2023. See the full line-up here.
With Peruvian Lima and Greek Elia the latest additions to the line-up, three restaurants' menus have been designed by Michelin starred chefs: Stephane Le Quellec (two Michelin Stars) for Water; David Ibarboure (one Michelin Star) for El Puerto; and Ettore Botrini (one Michelin Star) for Fresco. Families are well-accommodated, too, with special baby and kids menus available across the resort, designed by world renowned baby and kids food expert, Annabel Karmel. Plus, with the 'Dine Around' programme, guests can enjoy meals across the resort regardless of the hotel they stay at. sani-resort.com
Girona, Spain
Hostal de la Gavina
Perfectly positioned between Barcelona and the Costa Brava, Girona is a hidden gem among Spain's better known cities. The culinary capital of Catalonia, the region holds an impressive 19 Michelin stars – a must-visit for foodies on the hunt for aromatic local sausage, freshly caught seafood, and platters of seasonal tapas.
At Hostal de la Gavina, Michelin-starred Chef Romain Fornell is helping to put Girona firmly on the map, overseeing the hotel's three restaurants – including Candlelight, renowned for its exquisite haute cuisine, served either in the elegant dining room or on a pretty terrace, with a live pianist adding to the romantic ambiance. The hotel is ideal for foodies, also hosting a gastronomy festival every Autumn. lagavina.com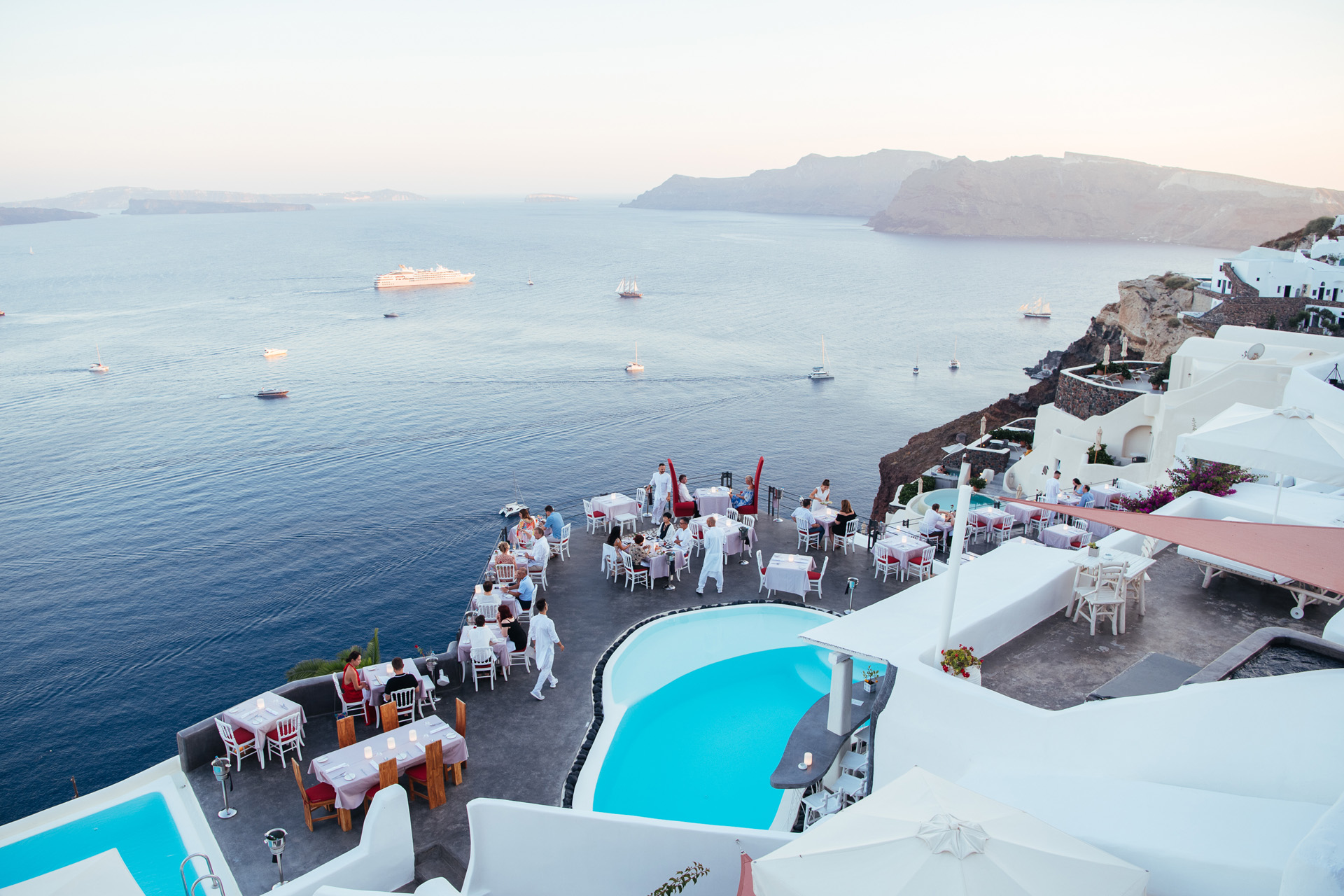 Santorini, Greece
Andronis
Santorini's annual event, the Andronis Gastronomy Festival, is a must-visit for foodies. Bringing chefs from all corners of the globe with a plethora of Michelin stars and other accolades, the festival elevates the summer season in Santorini. Each guest chef is tapped to prepare a special tasting menu, melding their style with the destination. andronis.com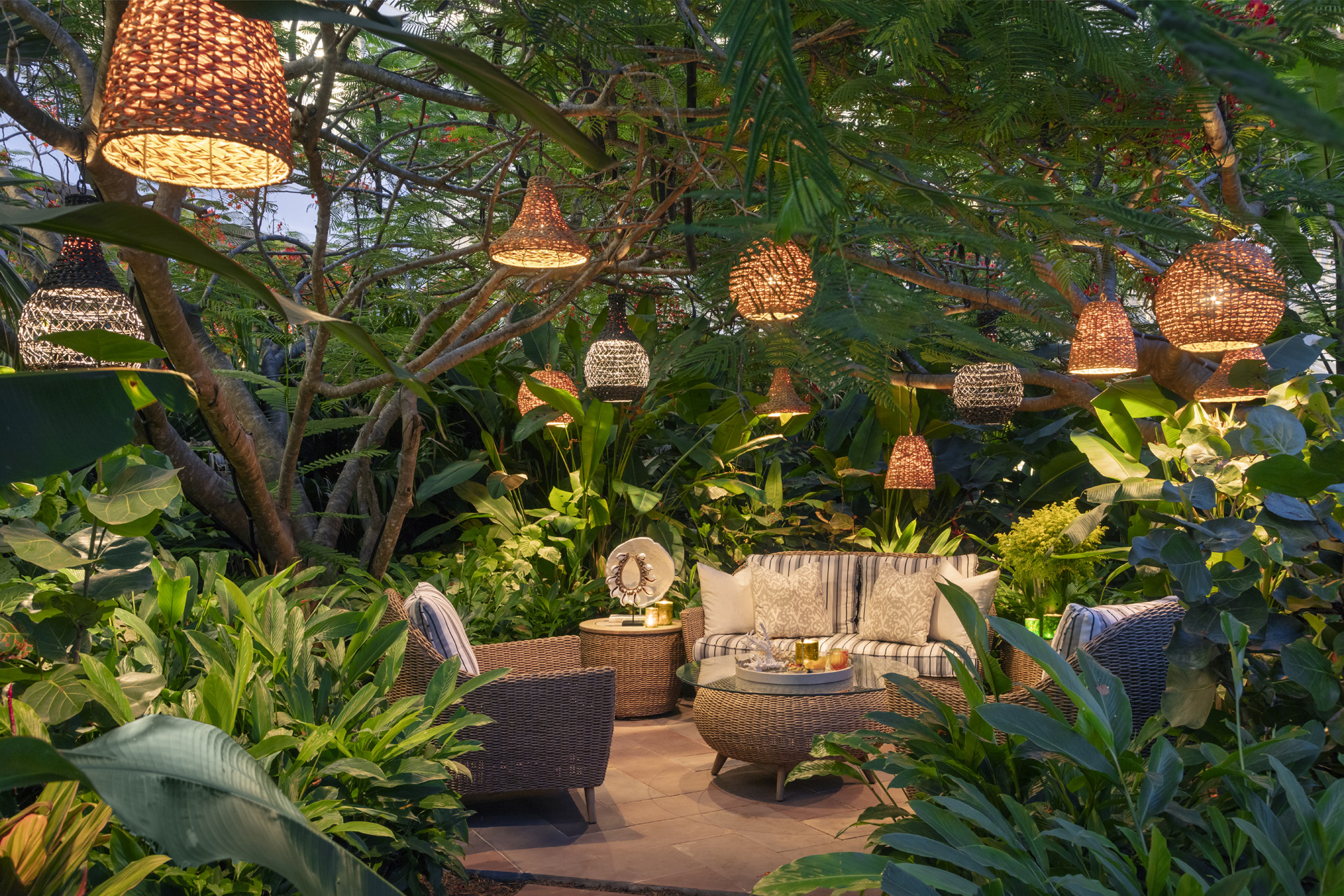 The Bahamas
Rosewood Baha Mar, Nassau
Gracing 3,000 feet of pristine white-sand coastline along Cable Beach, Rosewood Baha Mar is located in Nassau, the capital of The Bahamas, and offers impeccable attention to detail across 232 guestrooms, suites and beachfront villas. In October, the Baha Mar is transformed into a dream hotel for foodies, playing host to the Bahamas' Culinary & Arts Festival (26–29 October 2023), featuring interactive cooking, exhibitions from local artisans, and a grand dine-around, showcasing a taste of the very best of The Bahamas' celebrated restaurants, bars and cafes – all in a beautiful island location. rosewoodhotels.com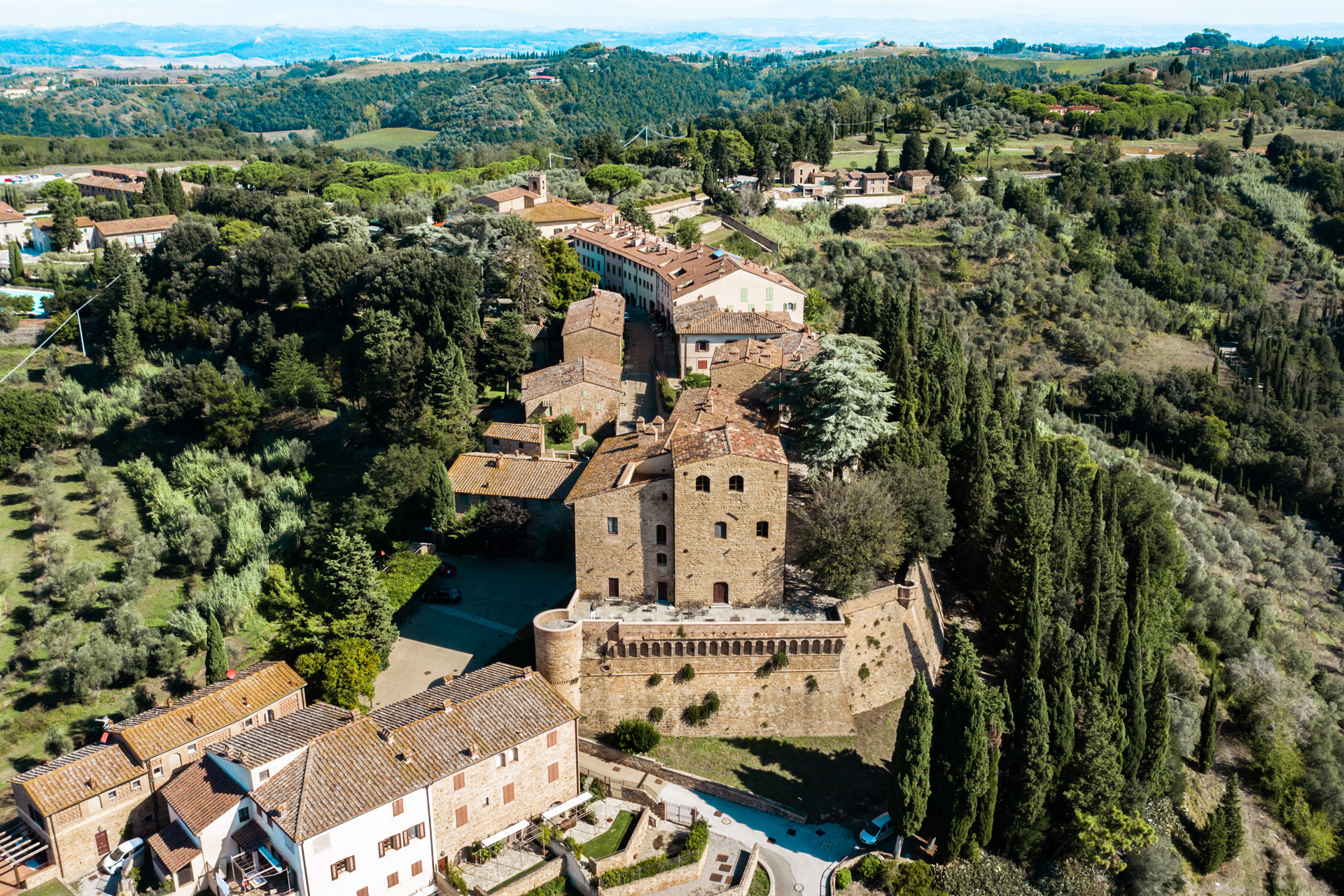 Tuscany, Italy
Castelfalfi
Set in the idyllic Italian countryside, Castelfalfi offers guests a series of environmentally-focused culinary experiences. Of the estate's 1,100 hectares, more than 25 are dedicated to vineyards and over 10,000 hectares host olive trees. All wine and oil produced is organic, and all fertilisers are strictly natural – no pesticides or chemicals here.
Sustainability conscious foodies are well catered for: guests can enjoy fresh produce, picked from the fertile farmland at the La Via del Sale restaurant, where a farm-to-fork menu showcases the resort's 'zero mile' food policy. Or, visit La Barricaia to taste and purchase more of the farm's products, including honey, craft beer, grappa, amaro and gin. Dunk fresh bread into locally produced olive oil, sip on some organic wine, and watch the sun set over the estate in absolute bliss. castelfalfi.com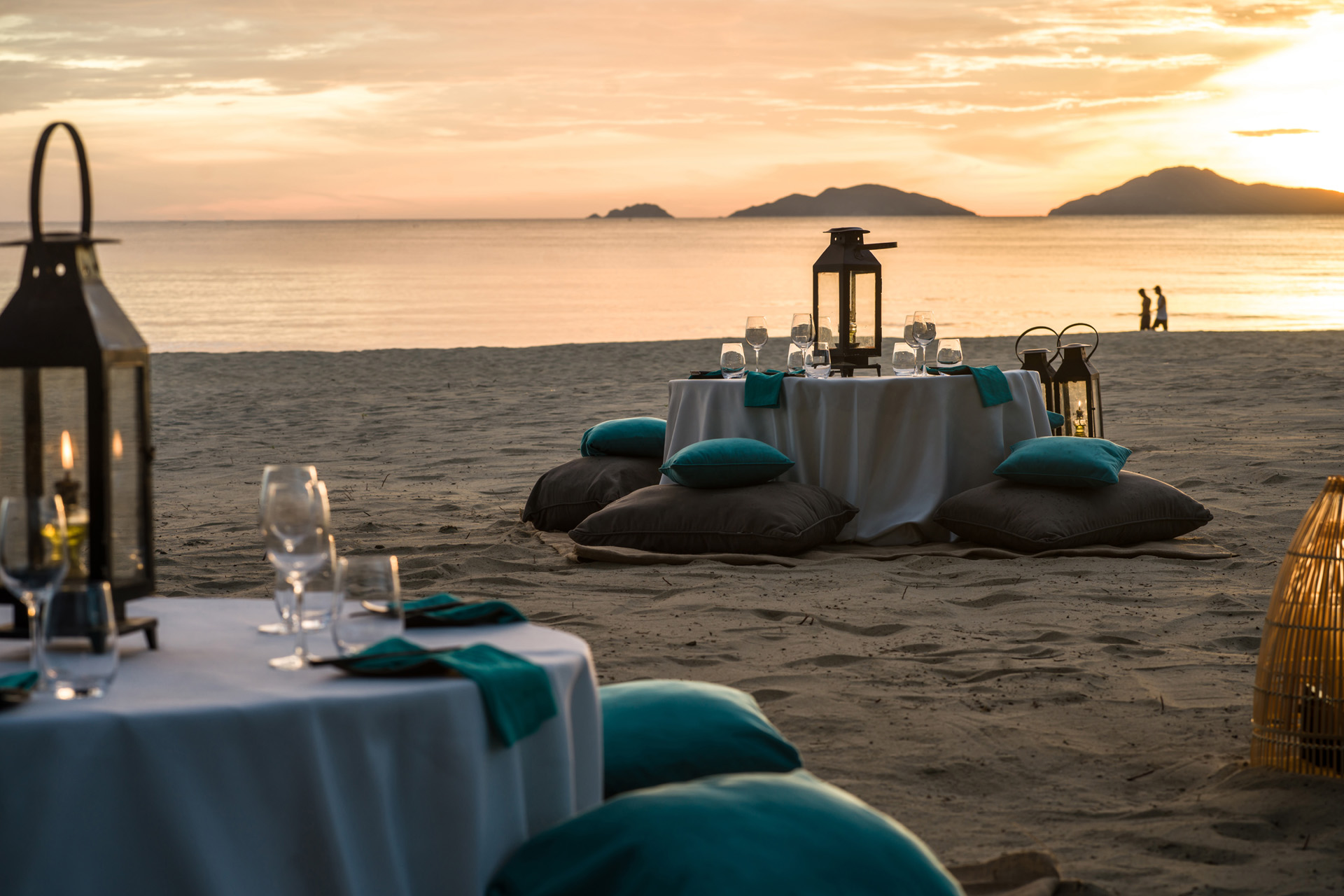 Vietnam
Four Seasons Resort Hoi An (The Nam Hai)
In Vietnam's heartland sits the Hoi An, with UNESCO World Heritage sites galore and the nation's favourite beach in close proximity. Their recently launched 'Glow with Food' dining experience offers a fully plant-based menu, using natural and colourful ingredients from the Resort's farm, and sustainably sourced resources from local suppliers. With mindful eating at the core of this resort's ethos, food is served in its purest form to evoke a sensual awareness of its history, instilling mindfulness practises into the daily lives of guests. fourseasons.com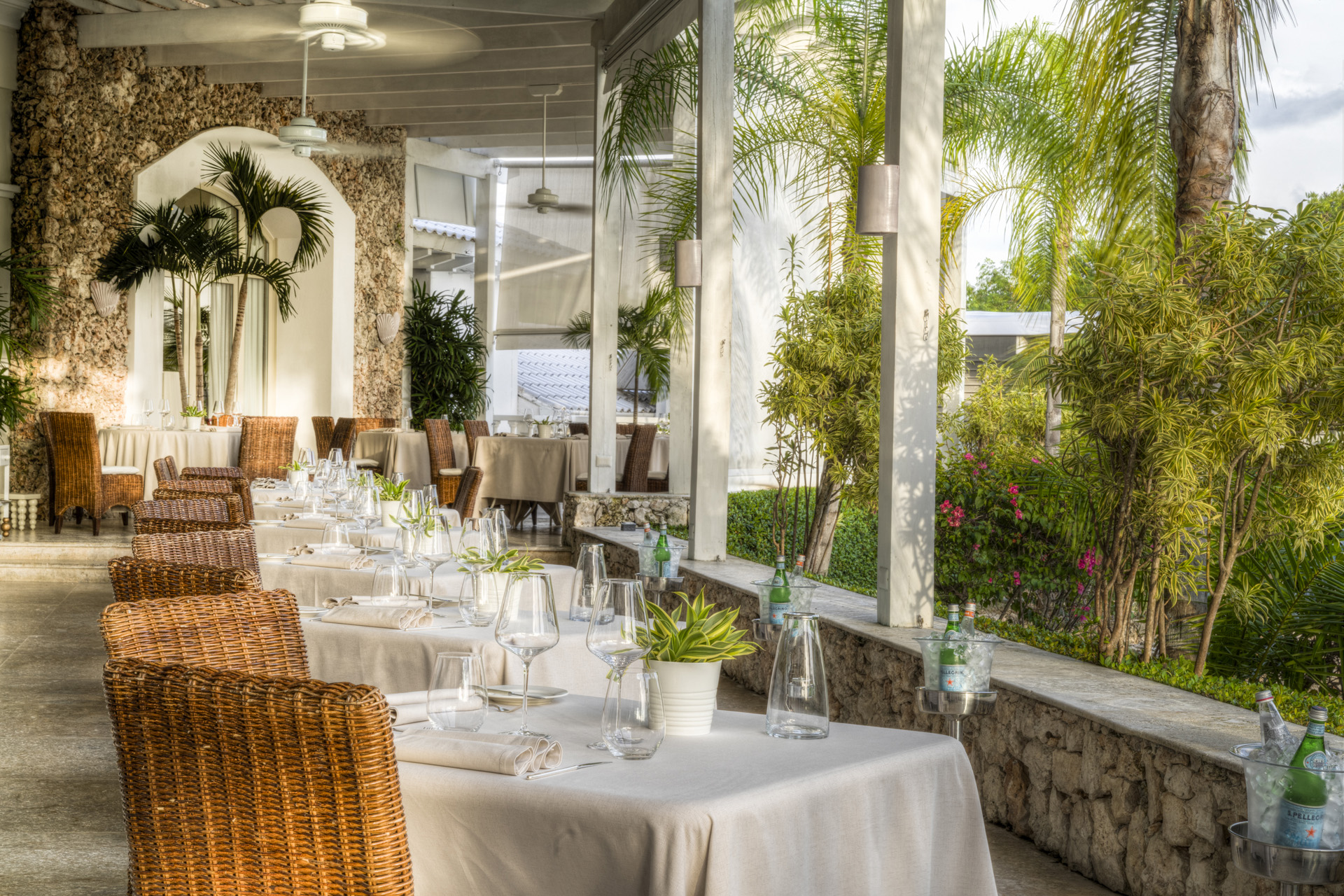 Dominican Republic 
Eden Roc Cap Cana
Proud member of Relais & Chateaux, cuisine is at the forefront of the Eden Roc Cap Cana experience. Each of its three restaurants has made a name on the island through inspiring menus and striking decor. Mediterraneo is the most elegant dining destination at the resort, where executive chef Adriano Venturini showcases Mediterranean cuisine with a local flair. Over at the Asian-influenced Blue Bar & Grill, there's a showstopping bar, extensive wine cellar and an open kitchen. 
For seafood lovers, La Palapa is a must-visit. The restaurant is built on a deck that extends right to the ocean, so guests can hear the waves crash while enjoying the sunset. Ingredients are sourced directly from the hotel's shores, with fresh fish caught daily and expertly served as sushi or ceviche, or prepared alongside homemade gnocchi and pasta. Eden Roc Cap Cana also hosts a visiting celebrity chef series, providing one of the most diverse gastronomic experiences in the Caribbean. edenroccapcana.com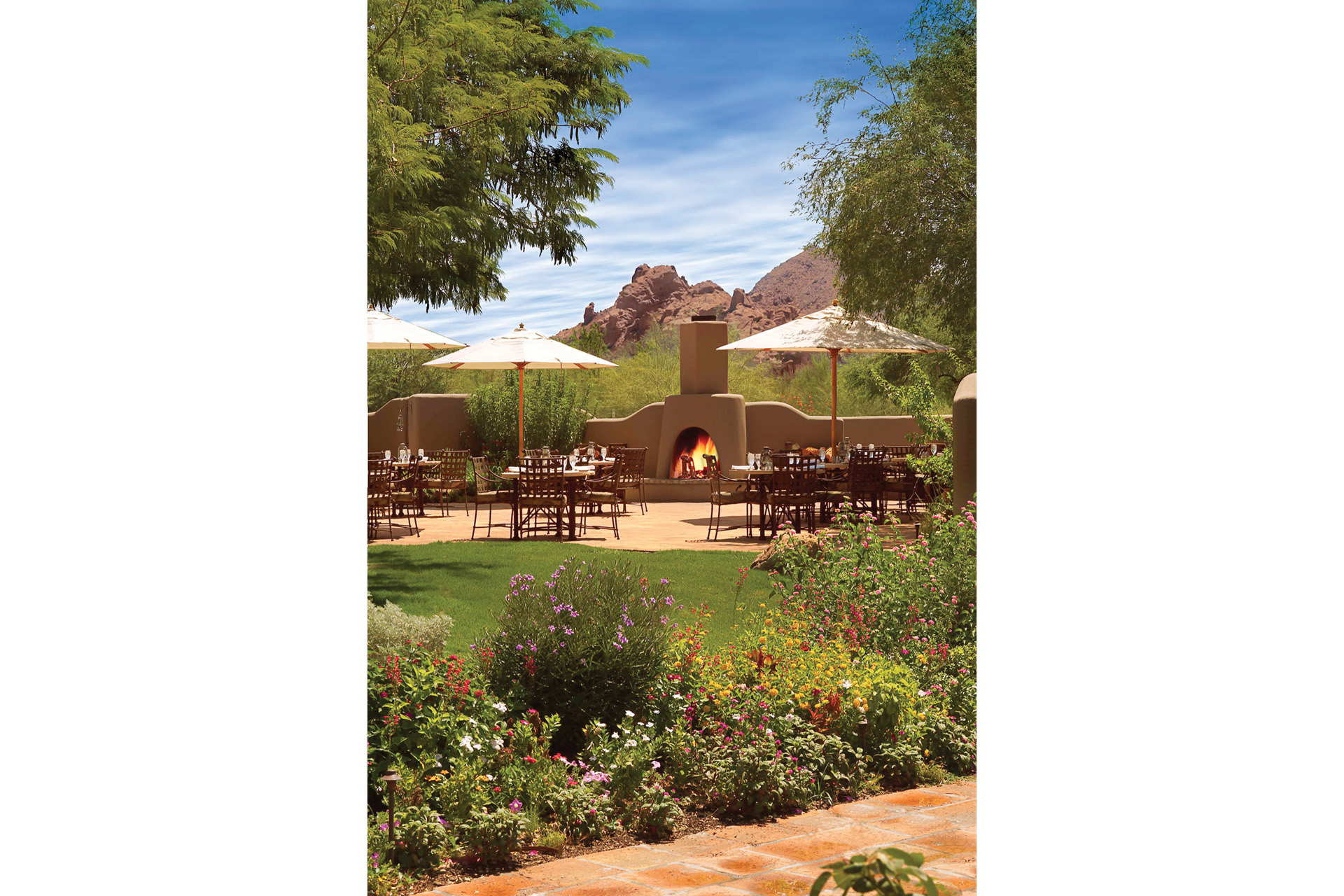 Arizona, USA
LON's Restaurant at The Hermosa Inn
Tucked away in Scotsdale, Arizona, with stunning views of Camelback Mountain, LON's at The Hermosa Inn seeks out the region's freshest ingredients, preparing them with age-old cooking traditions and combining flavours with cutting-edge trends. Guests can sample Arizonian fusion cuisine at its finest, including Himalayan Salt Seared Ahi Tuna, served with cilantro, pickled onion, and ceviche sauce. A new Chef's Tasting Menu is offered each week, with a sommelier on-hand to recommend wine pairings from the subterranean wine cellar and three wine vaults – housing nearly 700 labels, from American appellations to classic Old World vintages, between them. hermosainn.com
Istanbul, Turkey
Shangri-La Bosphorus
Experience the world's first Baklava Butler: dressed in traditional and stylish Turkish dress, the Baklava Butler presents the historic sweet dish that dates back to the Ottoman Empire. Rich in flavour and filled with Antep pistachio, Baklava is a treat for the palate, eyes and camera lens. 
The baklava served at Shangri-La Bosphorus is baked to order from a specialty shop in Gaziantep, known as the birthplace of baklava and Turkey's Pistachio Capital. While other types of baklava use rosewater and cinnamon to enhance the taste, bakers in Gaziantep do not use additional fillings in the traditional treat. Gaziantep baklava bakers use a simple blend of honey, phyllo pastry, butter and crushed pistachio to make Turkey's famous dessert.The Baklava Butler offers a one-of-a-kind experience for guests' travel memories and culinary bucket lists. shangri-la.com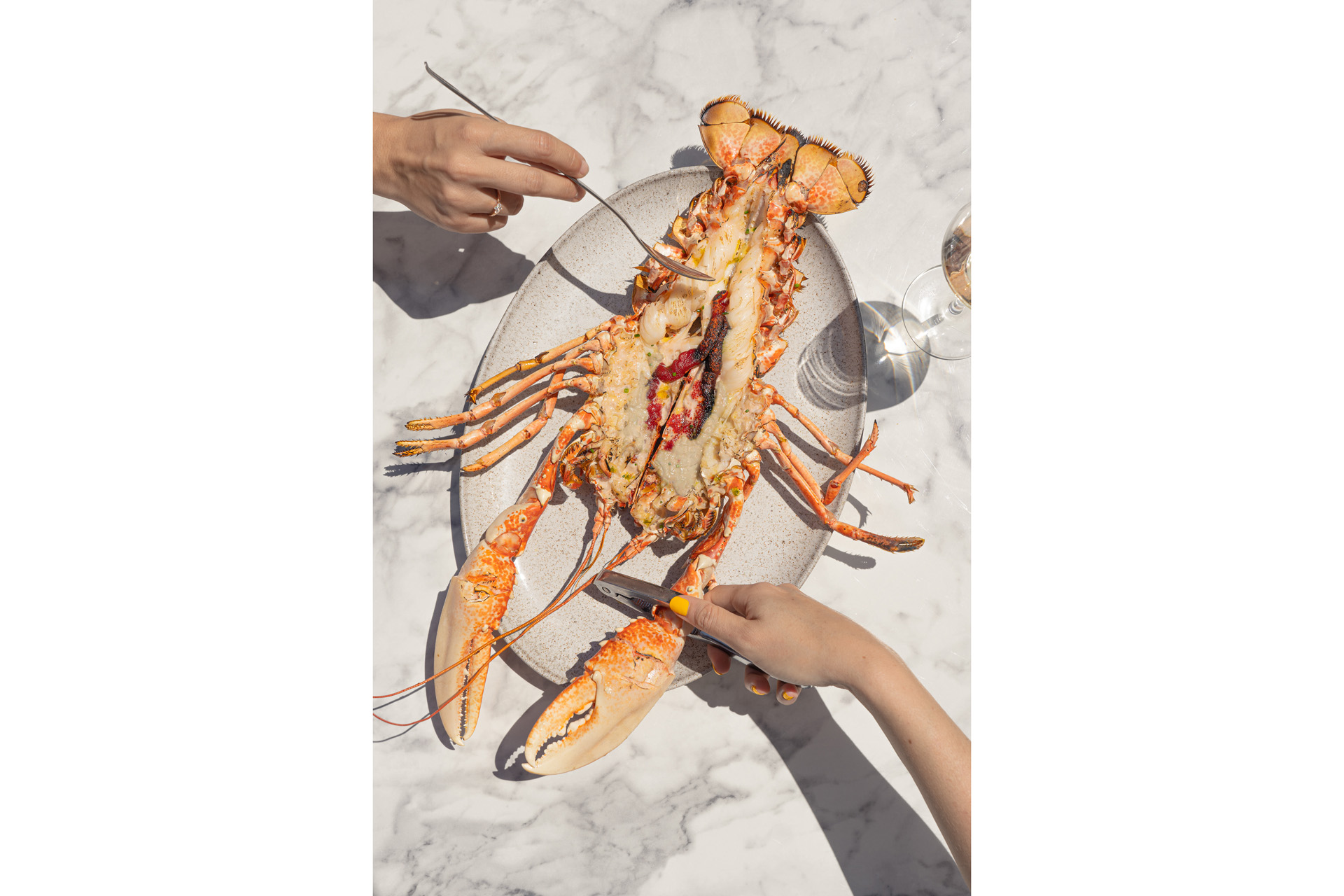 Cadiz, Spain
Gran Meliá Sancti Petri
Luxury Andalusia hotel, Gran Meliá Sancti Petri, was already renowned for its gastronomic offering, with its Michelin starred Alevante restaurant with Ángel León at the helm. Having reopened this summer, the beachfront resort has a brand new, 18 course tasting menu with a 0km-raw-materials concept, as well as brand new restaurant, ENTREVIENTOS. 
Combining marine and land flavours, León offers the best of local produce and experimental techniques to create unexpected dishes: sea urchin with payoyo cheese and chicharrón de chiclana; cuttlefish ravioli; and Moroccan lemon and Kakigori squid. As a pairing, León and his team serve local wines made from the Palomino Fino variety – a local grape with a light, dry finish, which blends perfectly with each seasonal dish. granmelia.com
Featured Image: Sani Resort, Greece.