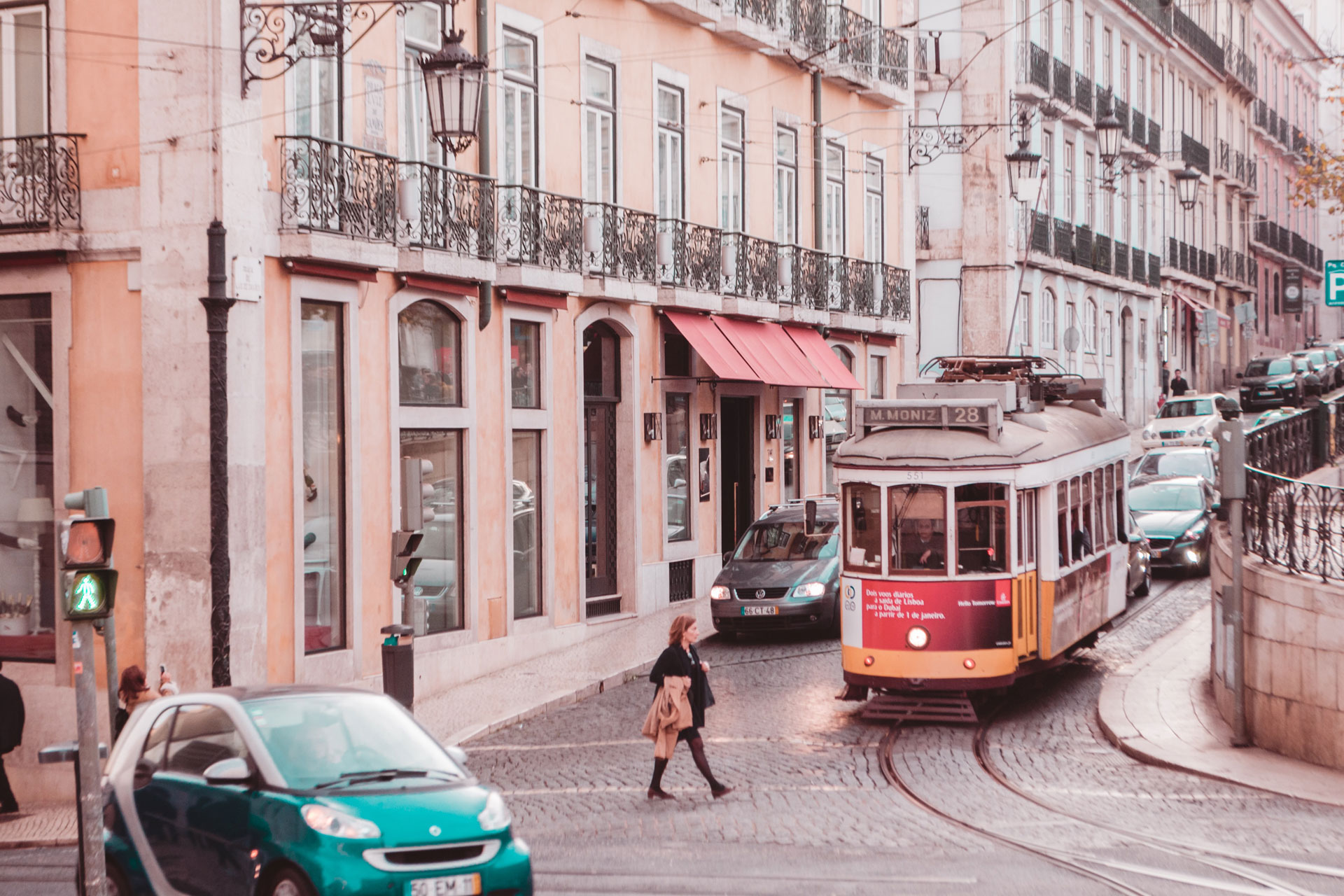 Weekender: What to Do in Lisbon
---
What to do in Lisbon, from surfing to sardines...
From Bond villain hotels to the inescapable stench of sardines, Anastasia Bernhardt & Rebecca Cox have scoured Lisbon from miradour to miradour. The city is older than Rome: Lisboans celebrated the opening of Vasco da Gama bridge (the longest in Europe) by feeding 15,000 people on the world's largest dining table, and while the seafront Alfama district would be an old fisherman's haunt in any other city, it was actually an aristocratic spa retreat in its day. Intrigued? Then bump Lisbon up to the top of your must-fly list…
Read the C&TH Responsible Tourism Guide
Lisbon Travel Guide
When Is The Best Time To Visit Lisbon?
Lisbon is one of those rare European cities with a year-round appeal. February is a great month to visit as there's a chance of warm sunny days in the mid-20s, and if you visit at the end of the month you can get involved in the pre-lent carnival that takes over the city with its festivities. If you're visiting in summer, make sure your hotel has a pool to cool off in, or you've at least scoped out the nearest rooftop pool accepting day guests. The One Palácio da Anunciada (see below) has a stunning elevated pool for its guests. Autumn brings relief from the summer heat with balmy days, quieter streets and cheaper room rates.
Where To Stay In Lisbon
View this post on Instagram
Verride Palácio de Santa Catarina – Lisbon
This elegant, painstakingly restored 18th-century palace is, without question, Lisbon's best hotel to pop up in years. Masterfully restored by Portuguese architect Teresa Nunes de Ponte, the hotel retains much of its period charm with stonkingly stunning, original 18th century stucco work left unchanged (but polished) in the uber pretty Royal Suites. Think outrageously beautiful blue and white tiles in the bathroom of the Queen's Chamber, and an uber moody mahogany wood set up in the neighbouring King's Room on the Royal Floor. 
The atmosphere is key here. Throughout much of the former stately aristocratic home, a huge emphasis has been placed on the city's characteristic light, with windows oozing almost hypnotic shadows all over the headline (and very Instagrammable) central spiralling staircase. Elsewhere, a beauteous soft mix of beige, greys and quintessentially Lisbon-centric blues rule the design palette, alongside a medley of rooms clad in soft, luxurious silks, breezy raw and rustic-looking linens and stunning floral mixes. 
Upstairs, the rooftop shines with unrivalled 360-degree views of Lisbon's skyline and the River Tagus beyond – sunrise and sunset is a real treat from here. There's also a small swimming pool ready to bask in on those hotter days, along with the rather lovely Suba restaurant, which plates up surprisingly pocket-friendly seasonal fare all year round. Service? Top-notch and meticulously personalised 24 hours a day. verridesc.pt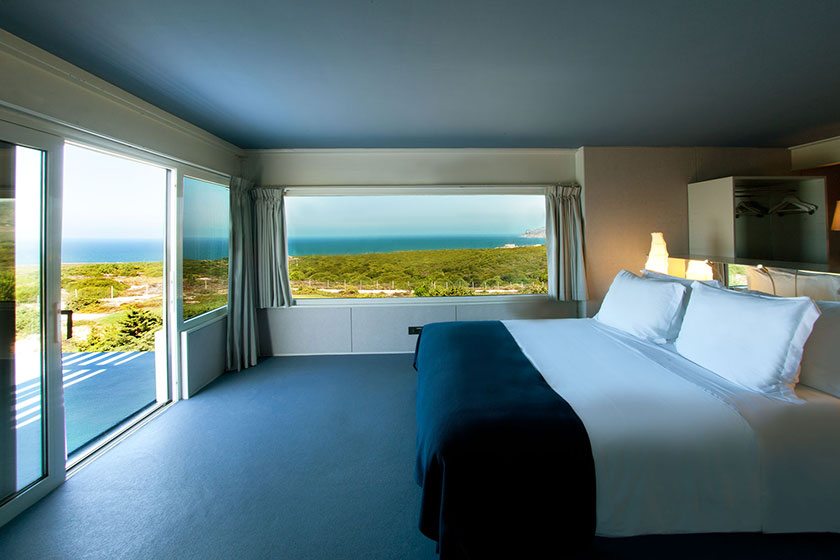 The Oitavos – Cascais
There's something in the city centre for all tastes and budgets, but how about distancing yourself from the all-night fiesta in leafy-green Cascais? Just a 30-minute ride into the city centre, here you can dip in and out of city life and get some beach time, too.
Golf resorts don't have much by way of street cred, and while The Oitavos has a seriously swish course designed by Arthur Hills, the hotel itself is less checked trousers, more lair of Bond villain – meant in the best possible way – with its floor-to-ceiling sheets of glass, angular, spacious rooms with clean lines and all the gadgetry you could wish for (including those funky, Japanese washlet loos). And that's without mentioning the panoramic friezes of the Atlantic, which can be lapped up in the nude if you choose, thanks to the blacked-out windows. theoitavos.com
AlmaLusa Baixa – Praça do Município, Lisbon
If you prefer to stay in town, check in the the AlmaLusa Baixa / Chiado, which is tucked in the corner of Praça do Município. With 28 perfectly-designed rooms, this chic and friendly hotel is located in a grand, former army building, and seamlessly blends traditional Portuguese features with contemporary style and craftmenship. Look out from your room onto the creamy façade of the City Hall as you watch the iconic passing trams trundle past. almalusahotels.com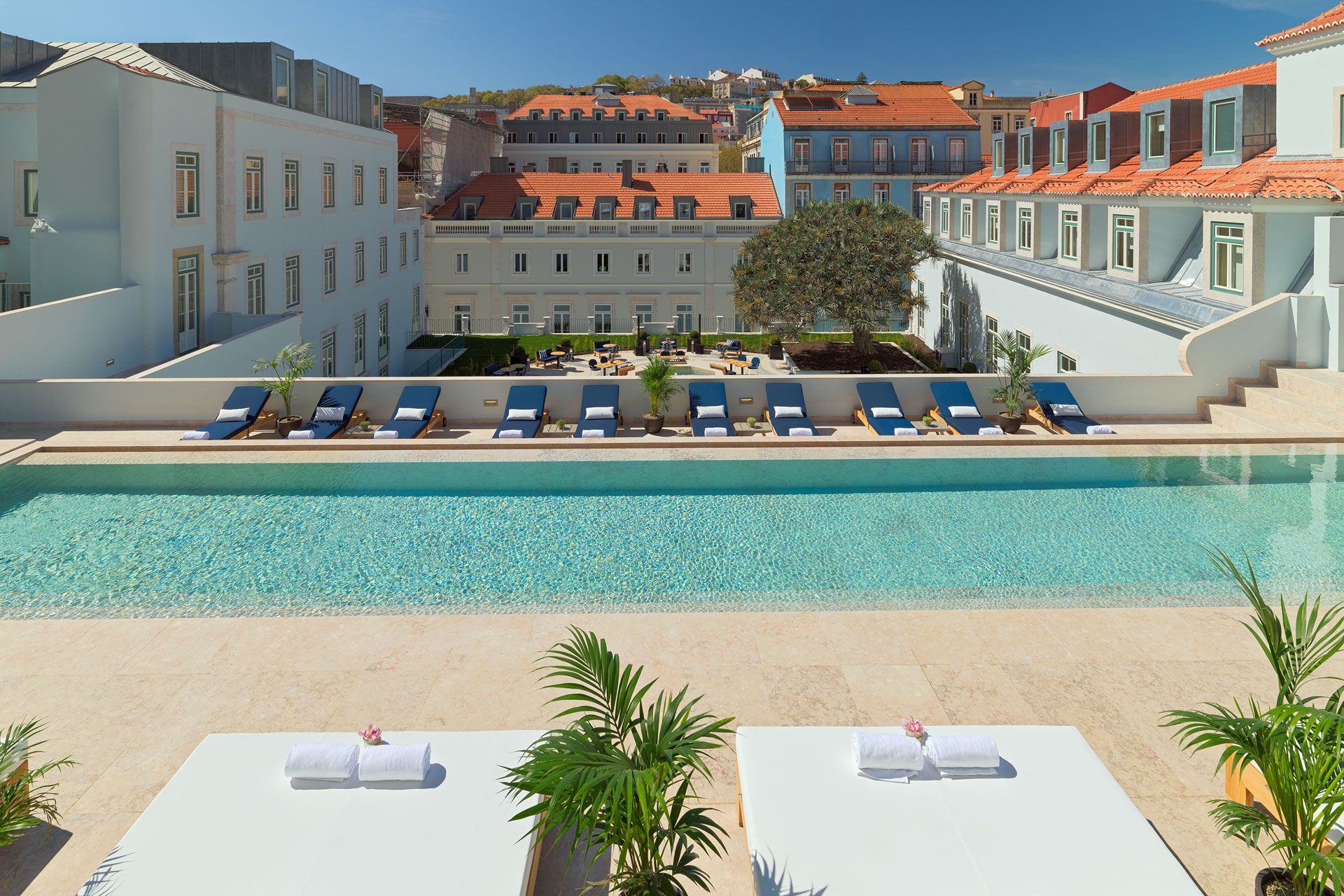 The One Palácio da Anunciada – Lisbon
Housed in a 16th-century original palace building with 83 rooms set in the spacious buildings and surrounding 2,500 square metres of pretty gardens, the One Palácio da Anunciada is the ultimate city break base in the heart of Lisbon. The interiors feature restored and enriched original features including marble floors and eye-catching gilded ceilings – with multiple comfortable and attractive shared spaces – while the bedrooms are light and bright, with bleached wood and hand-painted ceramic decorations. Spacious bathrooms are lined with rose-pink marble and house showers big enough for a party, and beds are made up with Egyptian cotton sheets and feather-soft. One of the main appeals of the hotel is its staff; from the moment you arrive, to the moment of (reluctant) departure, the service is superlative. preferredhotels.com
Mama Lisboa – Lisbon
The young, hip crowd will be flocking to Mama Shelter's outpost in Lisbon, located in prime position between the lively Príncipe Real neighbourhood and the monumental Marquis of Pombal Square. The rooms are small, dominated largely by an enormous, comfortable bed, with a simple bathroom set up and a wall dominated by a giant TV that streams all manor of free films, including XXX-rated entertainment should your romantic escape need a little kick-start. The roof-top bar is coming soon and sure to become a favourite drinking spot for locals. mamashelter.com
EAT
Piri-piri chicken, sardines and custard tarts – the holy trinity. But there's so much more to Portuguese cooking than these three (green wine, bacalhau and local cheese are also all essential), so don't leave without trying a pastel de nata from Chique de Belém (Rua da Junqueira, 524), which are fabrico próprio (made in house) and ideally located for fighting hanger pangs after a stroll in Belém gardens on the seafront. Forget what Nando's has taught you about piri-piri and get your hands grubby with their national dish. For an authentic experience, eat with your fingers while watching Sporting Lisbon on the tele at Bonjardim (Travessa de Santo Antão 11). Fish fans visit in June for the Lisbon Sardine Festival – you won't get the salty tang out of your nostrils for weeks. You'll also want to check out Miss Can, (Largo do Contador Mor 17, 1100-160) located in the winding streets near the castle. Enjoy a simple lunch of canned fish (the codfish with chickpeas is an excellent choice) with fresh bread and tomato salad and a beer before wandering back down into town via the local art galleries and ceramics shops. 
Want something more fancypants? It has got to be Joachim Koerper's Eleven. Expect candles, foams, chefy swirls; the full shebang. Or there's Portugal's answer to Heston Blumenthal – José Avillez – who has opened Mini Bar, an affordable tapas joint with small plates under €5. The intimate Condes de Ericeira Restaurant at The One Palácio da Anunciada is the perfect place for an elegant evening meal sampling the best local flavours from a rich fish soup to a cod and cornbread main. 
For the freshest pasta in town with unique flavours inspired by local favourites, check out newcomer Leonetta, just get there early because tables fill up fast. The limoncello and shrimp pasta deserves its own restaurant; it is rich and buttery without ever becoming sickly, while the service is second to none. Another benefit to arriving early is the happy hour tapas offering.
DO
Lisbon is a city best appreciated from on high. If you're the sort of person who thinks a city should be explored by wandering aimlessly, make it your mission to scale Lisbon's many miradours, with an espresso – or a shot of ginjinha (cherry liqueur) – at the top. Tick off Miradouro Das Portas Do Sol (best for photographers and views of Alfama, Lisbon's oldest district), Miradouro De São Pedro De Alcântara (the turret has been transformed into a magical garden oasis), Miradouro De Santa Catarina (best for sunset) and Miradouro Da Nossa Senhora de Monte (the highest and a popular smooch point). Skip Belém Tower, Jerónimos Monatsery and the Oceanarium – they are all tourist traps – get your culture fix at Mude Museum, a dramatically stark exhibition hall that will sate you design hunger. Pick up a Lisboa Card for free travel across public transport (including the trams), free or discounted entry to dozens of attractions and travel to Sintra and Cascais. From €20 a day. 
A day trip to Sintra is an absolute must; just leave the city (on the easy 45-minute train journey) early to avoid the crowds if you're travelling in high season. Once there you'll be able to choose from a host of unmissable attractions, including the colourful hilltop National Palace of Pena, perched atop stunning gardens filled with aromatic flora and charming fauna. As soon as you step outside the train station you'll be bombarded by offers from taxis, tour guides and tuktuk drivers. Politely decline and take to the hills on foot instead; all of the sites are accessible via stunning hiking trails, just make sure you pack water and snacks.
BUY
Holidays are not a time for shopping – we'd rather be sunbasking with a glass of port. That's where Mercado de Campo de Ourique comes into play. Think Borough Market in its heyday. Take home cured meat/cheese/anything that will survive hand luggage. If you've got room for something fragile, try the Lisbon Shop at Terreiro do Paço for playful sardine dishes. If you're most at home in Hackney, you'll love Bairro Alto. The same story over, it used to be the seedy part of town, now, it's filled with vintage shops and trendy bars. Take home ceramics, tinned fish and a bottle of ginjinha to drown your sorrows that your trip is over. 
Live like a local: Music is big business here. While the three-day beach spectacular NOS Alive is the most famous, it is full on. Opt instead for newcomer Lisb/On in the tranquil Jardim Sonoro. It's easy-going and a steal for three days, plus you don't camp – The Oitavos runs a regular, free shuttle service back to your bed.
Whatever you do: Get on a tram. They're busted up, covered in crass graffiti and it's a wonder that they manage to make it up the steep and narrow inclines the city is famous for… but we love them and they will save your legs.
BOOK
For more information on Lisbon visit visitlisboa.com.
Featured image: by Martha Dominguez de Gouveia 
READ MORE
A Foodie's Guide to Algarve, Portugal / Family Friendly Hotels in Europe