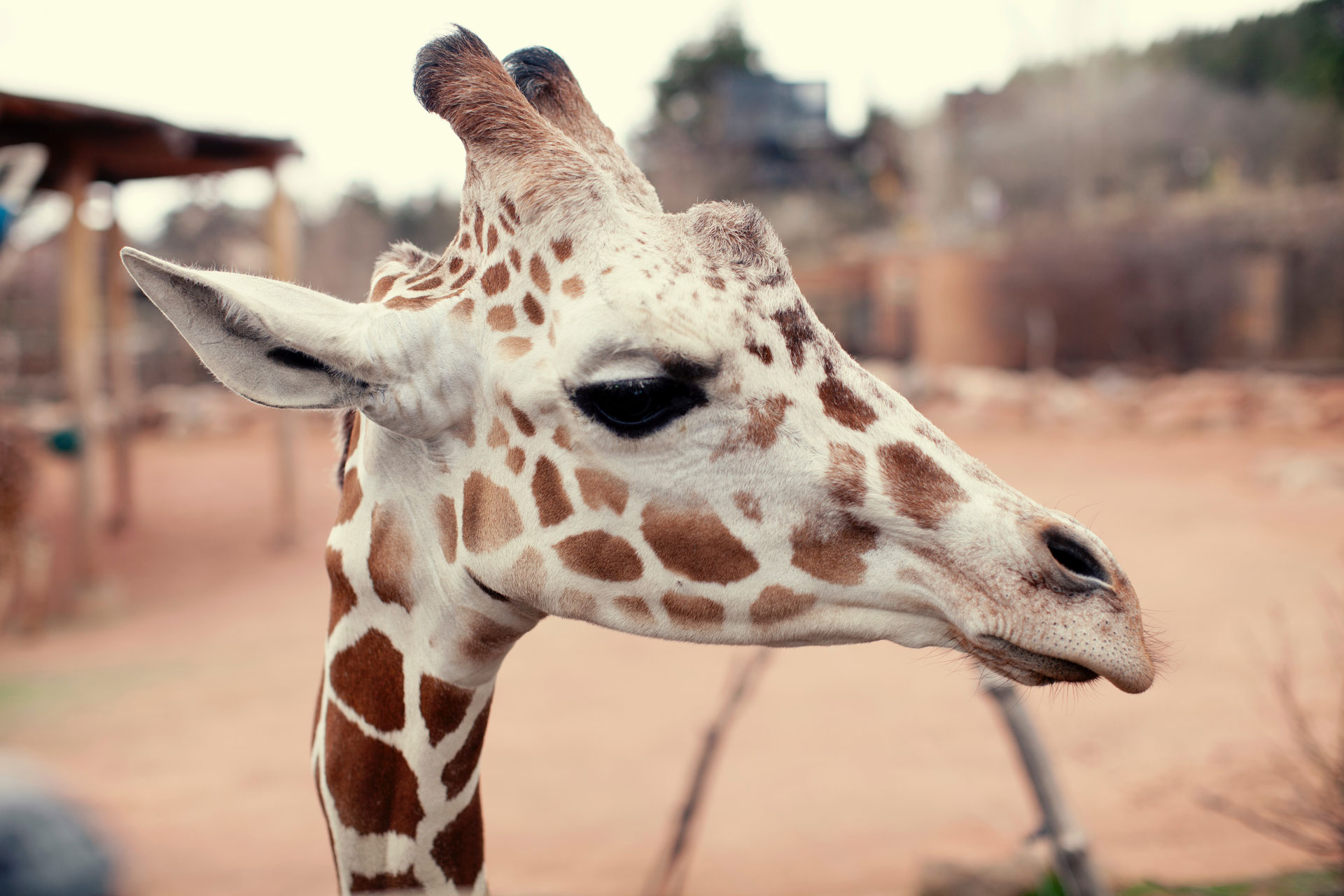 Sustainable Safaris: Eco-Friendly Lodges To Book Now
---
Green encounters you could only dream of
susTreading lightly has never been more important when it comes to tourism, particularly when you're visiting the world's most delicate eco-systems and racking up the air miles to get there. Going green now means going further than carbon-offsetting, with the best in class investing profits into their local community, utilising renewable energy, and putting conservation at the heart of everything they do. Start planning your dream safari – here are the best sustainable safaris and eco-friendly lodges to book now.
Read the C&TH Responsible Tourism Guide
Sustainable Safaris and Eco-Friendly Lodges
Hemingways Ol Seki Mara – Kenya
Lepogo Lodges Noka Camp – South Africa
Xigera Safari Lodge – Botswana
Meliá Serengeti Lodge – Tanzania
Zannier Hotels Omaanda – Namibia
Vumbura Plains – Botswana
La Sultana Oualidia – Morocco
Shambala Private Game Reserve – South Africa
Borana Lodge – Kenya
Wilderness Safaris DumaTau – Botswana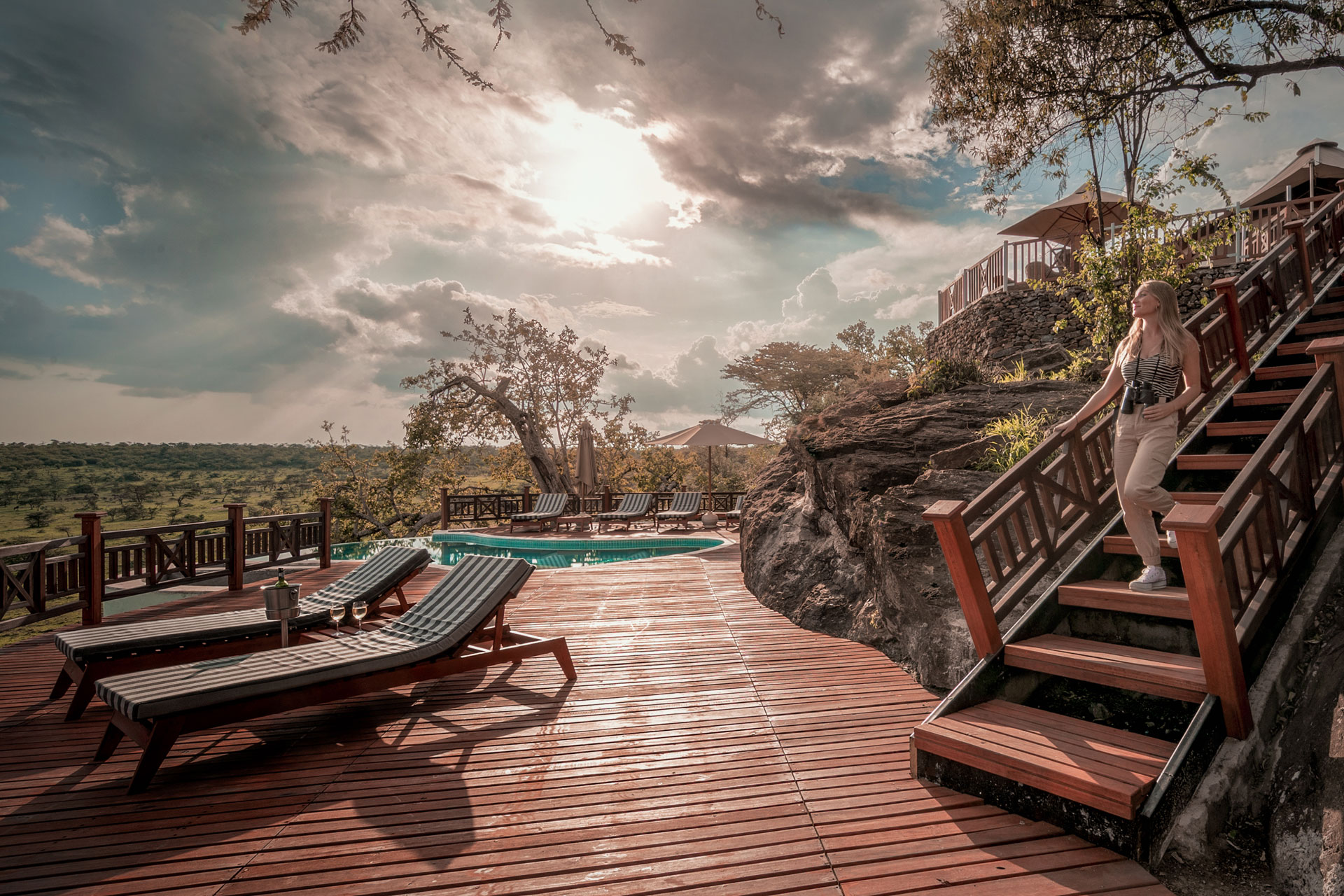 Hemingways Ol Seki Mara – Kenya
Ol Seki Hemingways Mara is a member of Mara Naboisho Conservancy, running with the aim of conserving the biological resources and the socio-cultural heritage of the area. Naboisho limits the number of tourists permitted to enter, to reduce the crowds of vehicles and leave the plains free for wildlife to thrive. Indeed, research indicates that Naboisho has one of the highest densities of lions in Africa. Camps are created with a semi-permanent structure designed to leave the smallest possible footprint on the land, and there is total reliance on solar power to provide 24 hour electricity and hot water. Community projects mean that 80 percent of staff originate from surrounding communities and the conservancy fee is channelled directly to local Maasai communities. There are also education, healthcare and access to water initiatives in place, as well as projects championing female empowerment.
BOOK: Phone +254 (0) 718 669 856 or email [email protected] to enquire. hemingways-collection.com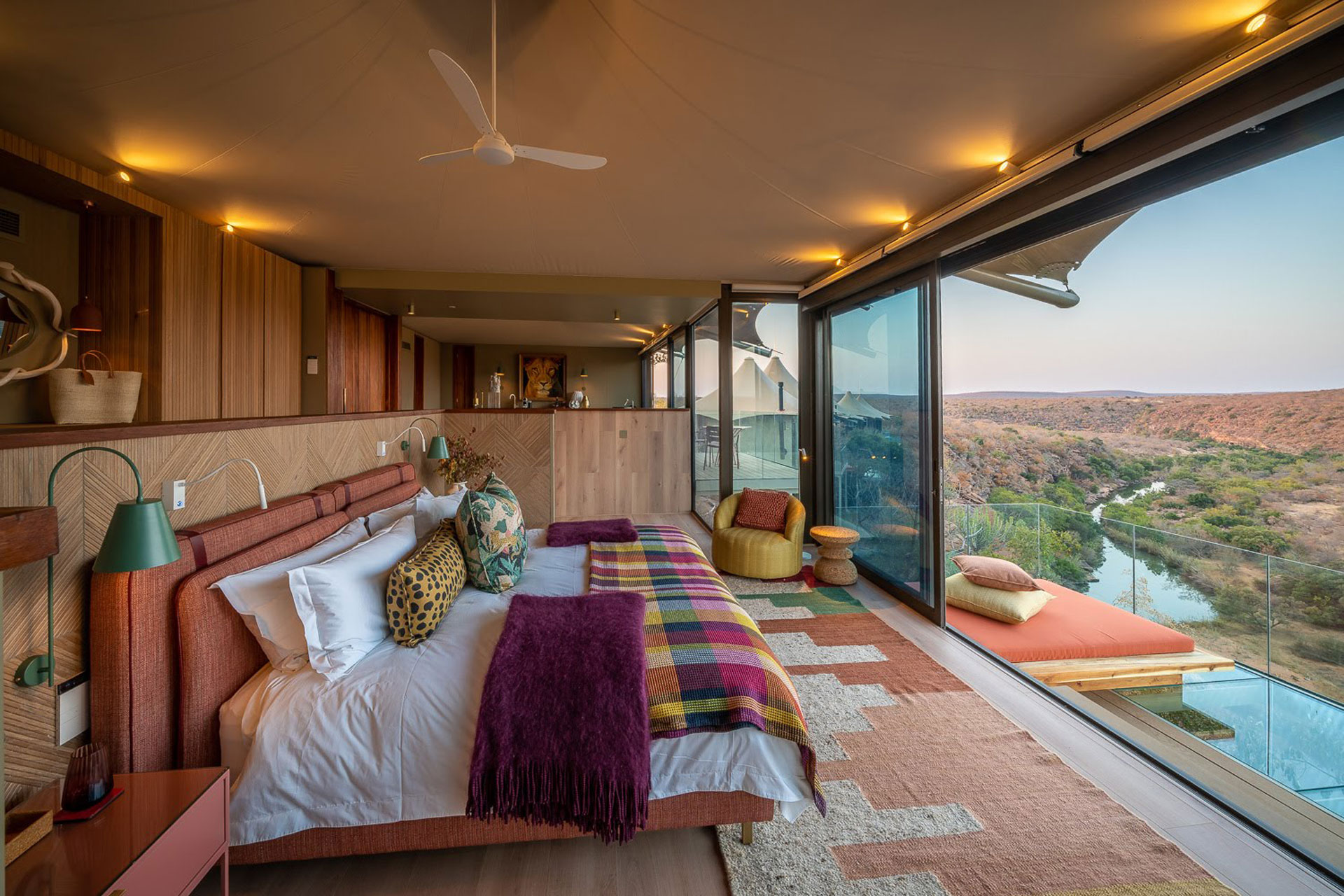 Lepogo Lodges Noka Camp – South Africa
Lepogo Lodges' Noka Camp is one of Africa's few entirely not-for-profit, sustainable safari lodges, and is now working with local and global charity organisations to offset their guests' carbon footprint, calculating the carbon emissions resulting from each guest's journey from the time they leave their home to the moment they return. This figure is converted to a monetary value to be donated to a community charity of the guest's choice.
BOOK: Email [email protected] to enquire. lepogolodges.com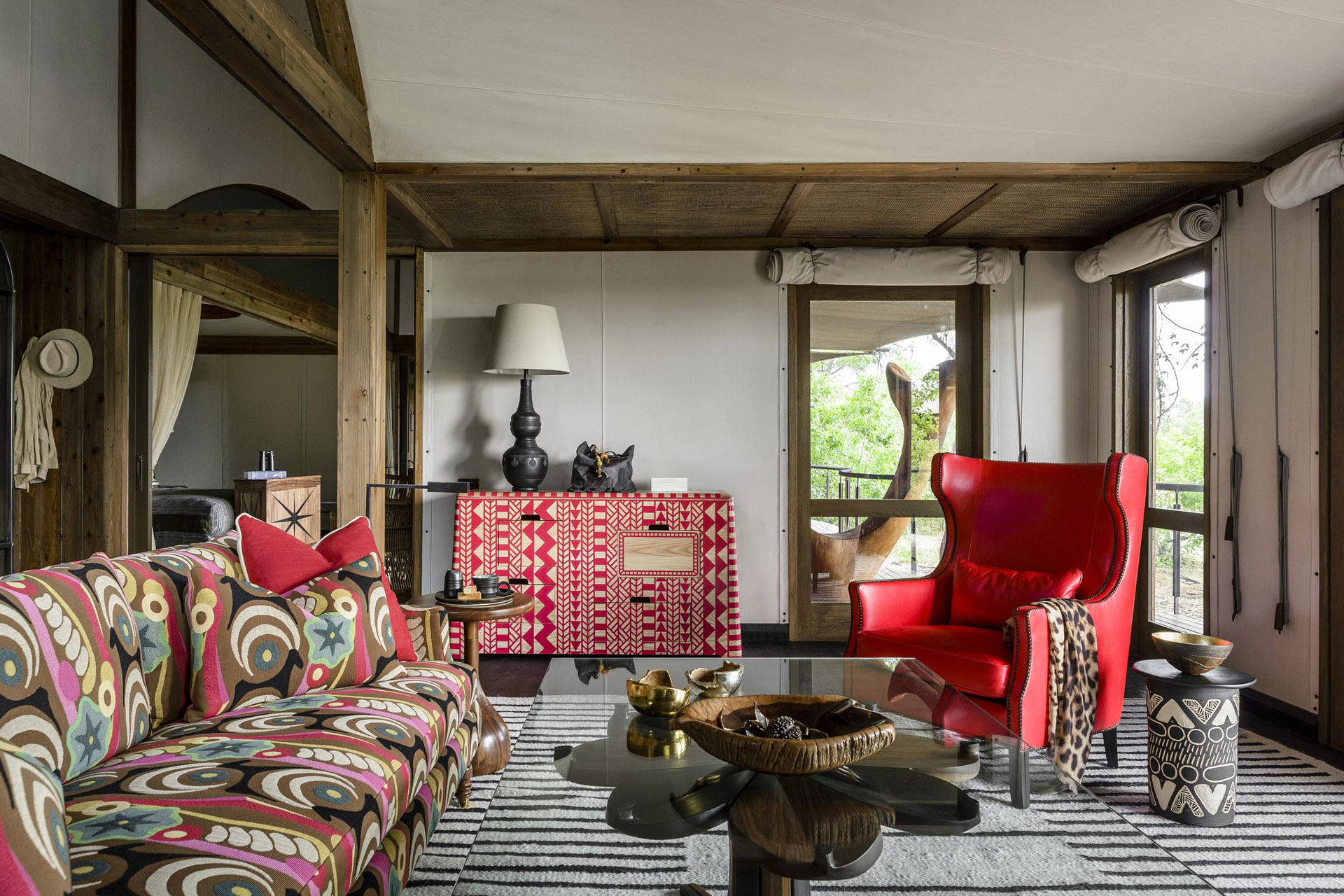 Xigera Safari Lodge – Botswana
Xigera Safari Lodge, a member of Beyond Green, sits at the heart of the Okavango Delta, a delicate ecosystem requiring constant protection to safeguard it for future generations. The lodge has a state-of-the-art energy centre which runs on the latest Tesla solar-hybrid system, supplying 95 percent of the required power. Using renewable energy will save an estimated 16,060 gallons of diesel, and also prevent the release of approximately 190 metric tonnes of carbon emissions per year. The lodge also plans to use solar energy to power the game-view vehicles and they already have charging points at the camp. The camp uses sustainably sourced and recycled furniture throughout the property and partners with several foundations and trusts committed to community, sustainability and conservation.
BOOK: Call + (0) 44 1666 880111 or email [email protected] to enquire. theluxurysafaricompany.com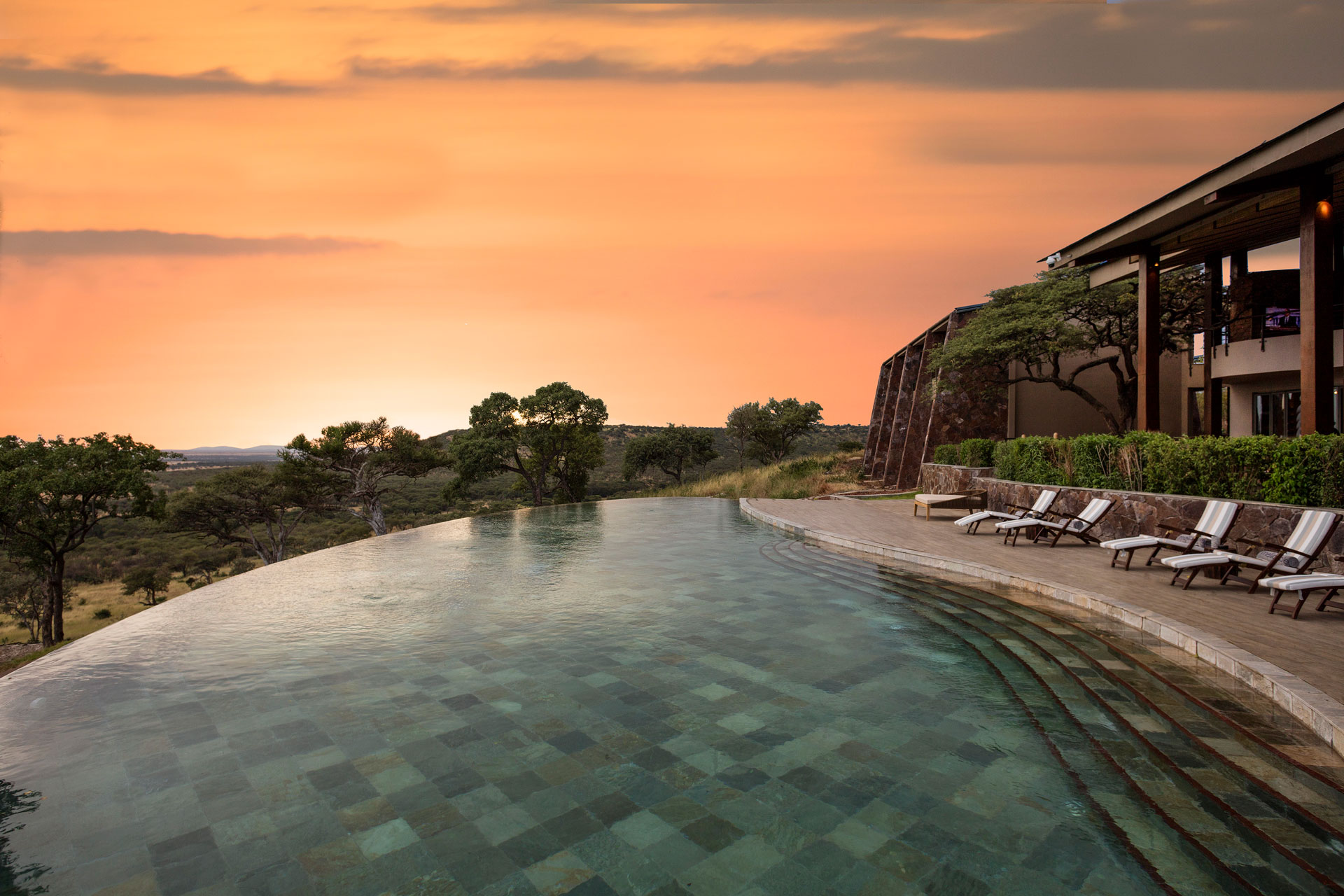 Meliá Serengeti Lodge – Tanzania
This camp offers stunning views of the savannah, with a location next to Lake Victoria and terraces facing the Nyamuma hills, creating incredible views over the Mbalageti River valley. The hotel uses energy-efficient systems and generates half of the energy it consumes, and has composting and water bottling equipment to reduce plastic waste. The hotel employs several members of the Masai community, who are able to provide valuable advice thanks to their unique understanding of the Serengeti.
BOOK: melia.com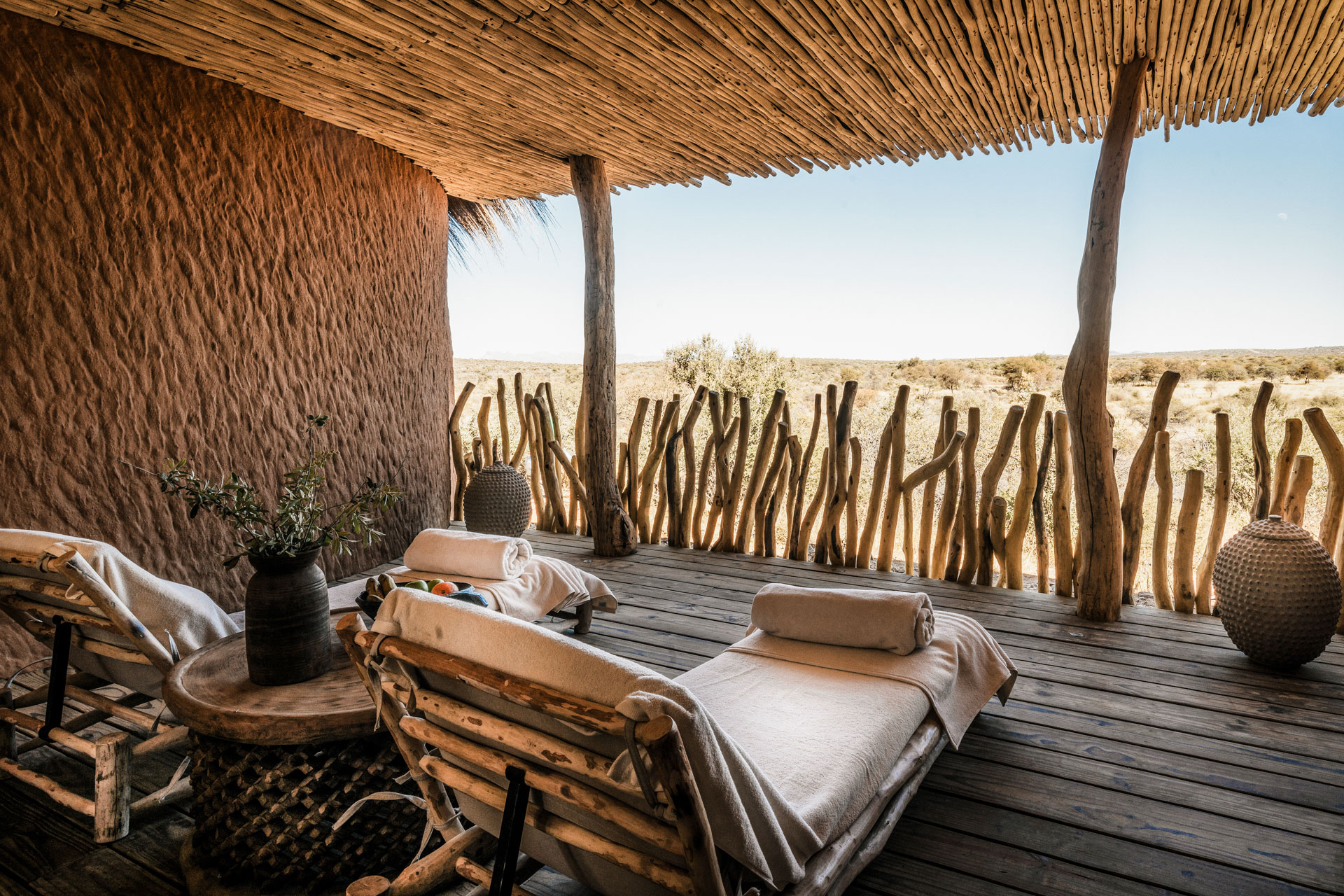 Zannier Hotels Omaanda – Namibia
Zannier Hotels Omaanda is a vast conservation project within a 7,500-hectare natural reserve, privately owned and managed by local NGO, the N/a'an ku sê Foundation. The reserve strives to preserve, rescue and reintroduce local endangered species such as elephants, lions and rhinos, and works to protect critically endangered black and white rhinos. Their unique Rhino Rangers volunteer programme for those staying at Zannier Hotels Omaanda offers travellers the opportunity to fully immerse themselves in the challenging world of anti-poaching in Namibia, studying navigation skills, tracking techniques, and identifying the sounds of nocturnal animal activity.
BOOK: From $5,910 NAD per night (approx. £344). zannierhotels.com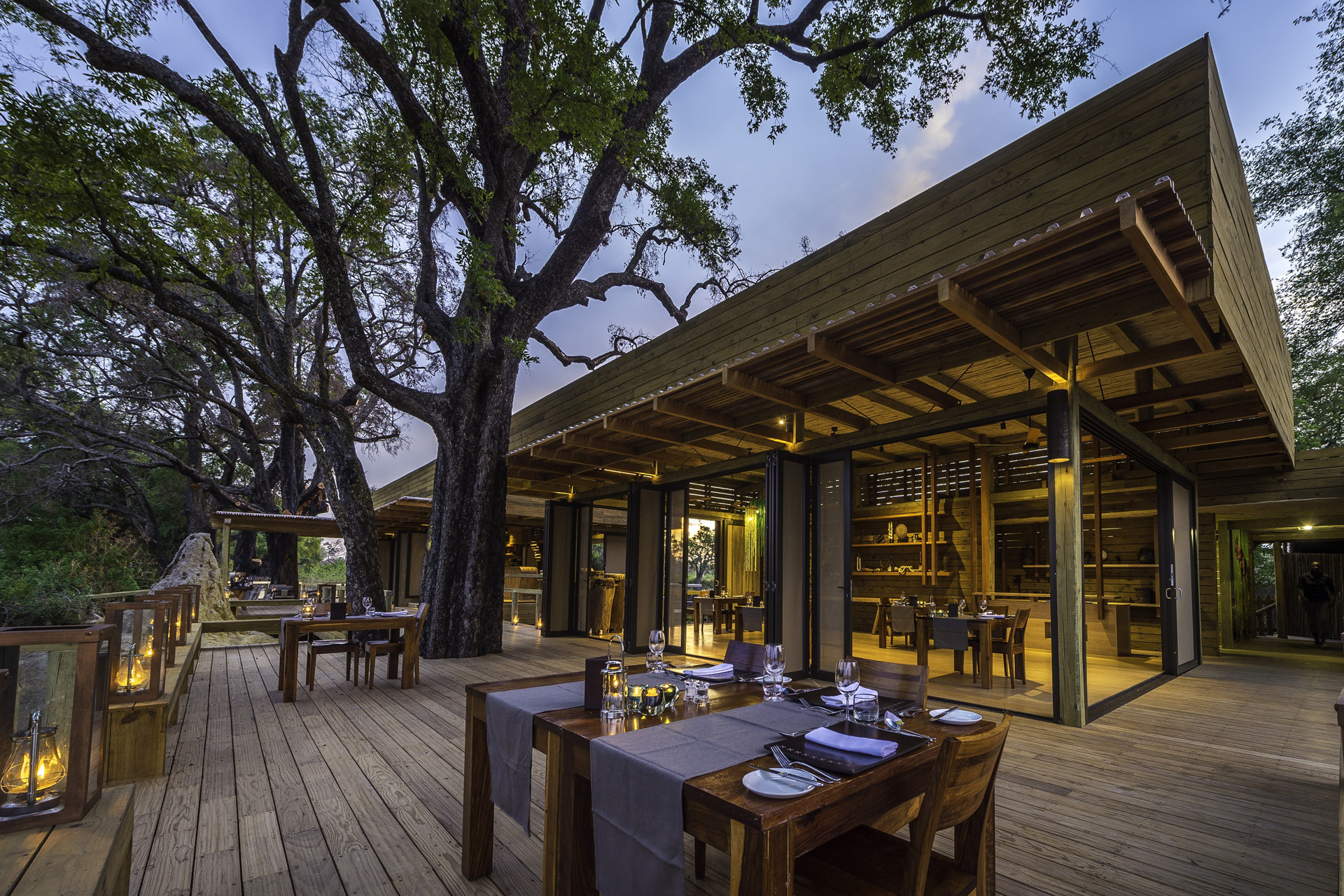 Vumbura Plains – Botswana
When it comes to this once-in-a-lifetime safari experience, it's tempting to lapse into hyperboles – but it's hard not to. Undeniably luxurious yet anchored firmly in a deeply felt concern for the ecology of the surrounding Okavango Delta, a UNESCO World Heritage Site and the largest inland delta on the planet, Vumbura Plains is otherworldly even for the most seasoned of safari goers. With newly renovated rooms and surroundings of flooded grasslands that tempt a range of land- and water-based animals to the surroundings, head here for unparalleled wildlife access with lovely local touches. Read our full review of Vumbura Plains here.
BOOK: Rates from $1,886 per person sharing. wilderness-safaris.com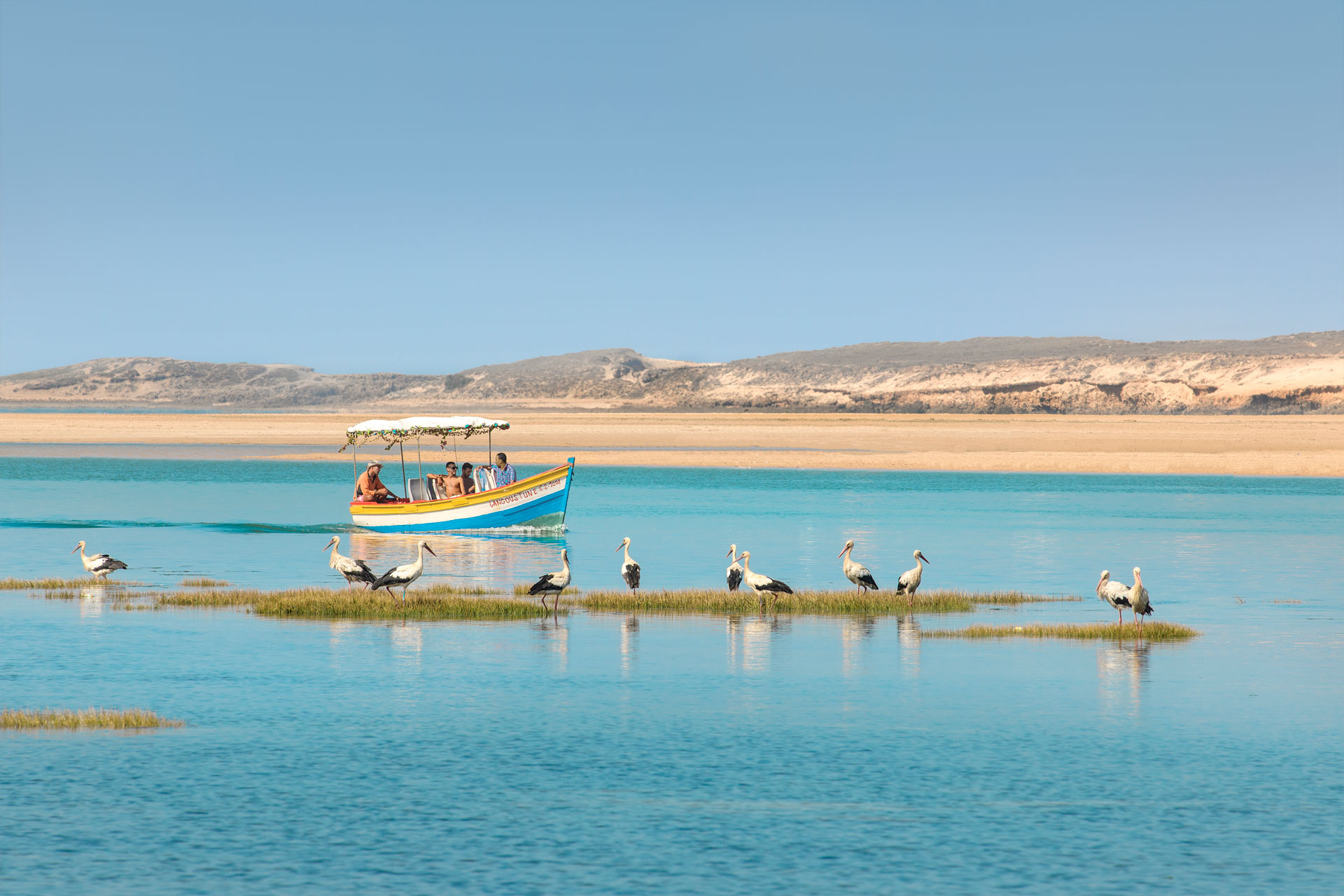 La Sultana Oualidia – Morocco
For something a little different, check out La Sultana Oualidia's Educational Bird Safari. Situated on Morocco's Atlantic coast, the fisherman's village of Oualidia is home to a 12km-long sea lagoon sheltered by a barrier of dunes, protected for its ecological importance as a stopover for migratory birds, including pink flamingos, grey herons, big cormorants, storks and spatulas. The hotel is home to an organic garden and is 100 percent sustainable in its use of water.
BOOK: From 4800 MAD per room per night (approx. £380). lasultanahotels.com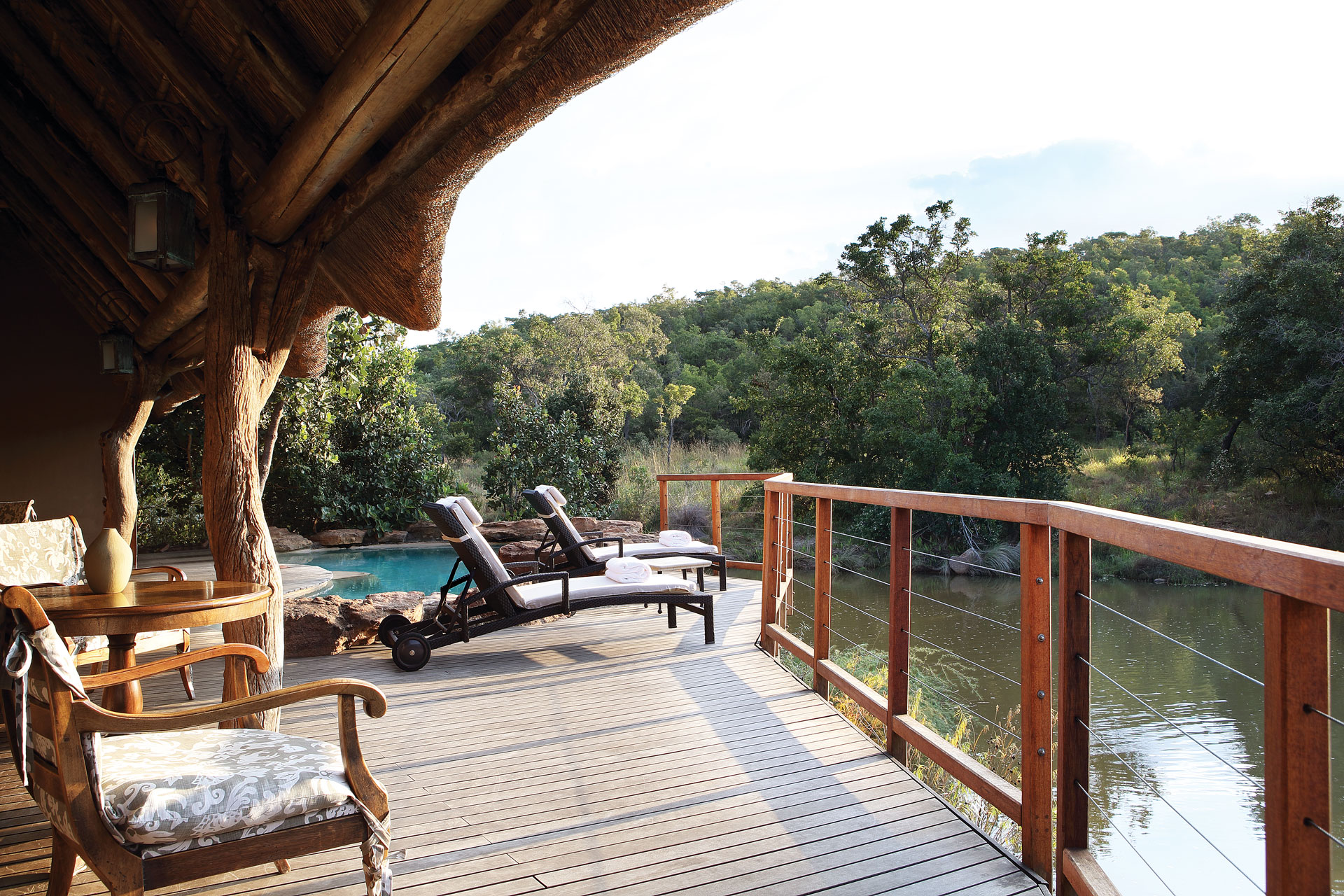 Shambala Private Game Reserve – South Africa
The main objective at Shambala Private Game Reserve is to maintain the most favourable natural conditions for the wildlife to thrive. The world's largest land animals – the African elephant – remain under severe threat from poaching, habitat loss and human-wildlife conflict, and the reserve's rehabilitation programmes are designed to help elephants used for elephant-back safaris return successfully to the wild. The camp also grows as much of its food as possible in its sustainable gardens on site.
BOOK: All inclusive rooms from R 15,000 per night (approx. £716). shambalaprivategamereserve.co.za
Borana Lodge – Kenya
Located at the heart of Borana Conservancy, Borana Lodge is the newest GER Accredited Member of The Long Run. This is one of the most rigorous sustainability audits in the industry, based on performance to support community, conservation, culture, and how commerce can be used as a force for good. This goes beyond solar power and plastic recycling and takes into account staff member's happiness, male to female ratio in the workplace, conservation initiatives, and how the lodge is supporting local cultures.
BOOK: Email [email protected] to enquire. borana.co.ke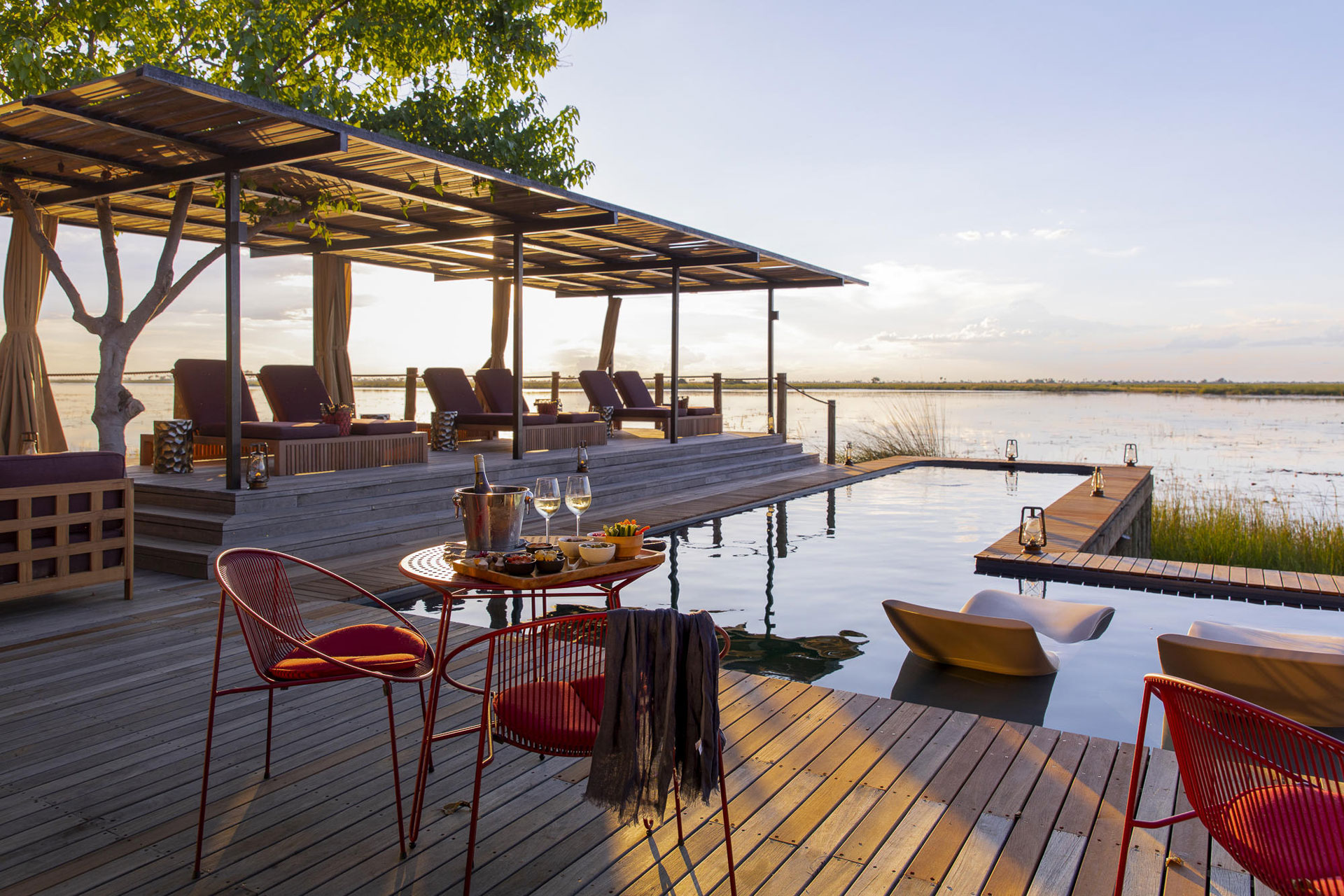 Wilderness Safaris DumaTau – Botswana
Wilderness Safaris DumaTau and Little DumaTau, a member of Beyond Green, opened in 2021 and aims to be an example of how a luxury safari camp can have a light ecological footprint, without compromising the guest experience. The camps also strive to make a positive contribution to local conservation initiatives, conserving the vital migration and dispersal routes that delineate the Linyanti, and make it a safe haven for a diverse range of species. Read our full review of DumaTau here.
BOOK: wilderness-safaris.com
Featured Image (c) Sutirta Budiman