8 Fun Friend Date Ideas In London
We asked the experts at gofrendly for their insight
Breaking news: the London dating scene is diabolical. Time to nurture your friendships with a friend date. We've teamed up with friendship experts and founders of gofrendly – a female friendship app that launched in the UK earlier this year – to share eight fun friend date ideas in London. Ulrika Lilja and Claudia Gård launched gofrendly in Stockholm, Sweden after going on their own friend date and, to date, gofrendly has facilitated 11 million direct messages, 4,000 coffee dates, 2,000 friend groups, and 70 trips away. Looking for something to do with a friend, old or new? Here are Ulrika and Claudia's favourite friend date spots in London.
8 Fun Friend Date Ideas In London
1. Little Door & Co
Little Door & Co. has created a series of bars in London including Clapham, Notting Hill, Soho and Fulham. Our favourite is the Little Blue Door in Fulham, but you can choose any of their spots for a location that suits you and your friend(s) best.
The unique establishment is a top spot for a friend date, as it has a warm and homely atmosphere that feels like walking into a friend's stylish and cosy flat. The Little Door & Co has designed its bars to replicate a house party setting, complete with different themed rooms, eclectic decor, and a friendly, laid-back vibe that allows you to sit back and have a great time with your friend. Each room has its own distinct charm and personality; from the vibrant living room to the dining area, each space gives a different experience. Take time to explore each room, find the one that best suits your friend date, or even hop around to enjoy a bit of everything.
View this post on Instagram
The food and drinks menu is another delight at the Little Door. They have creative concoctions on the cocktail menu, and the food is equally enticing. Whether you're in the mood for some comfort food or try something new, with its range of sharing platters to scrumptious desserts, the Little Door has got something for everyone. It has got you covered for your next friend date too!
VISIT: Venues in Clapham, Notting Hill, Soho and Fulham. thelittledoorandco.com
2. Columbia Road Flower Market
As plant lovers, there's nothing more pleasing than seeing the pop of colour that flowers bring, and a flower market is a charming place to be with its burst of colour and fragrances (which is also a good conversation starter when meeting up with a new friend).
Stalls at Columbia Road Flower Market sell flowers, plants, bulbs and shrubs, and the range is so diverse that even florists attend so that they can get the most beautiful blooms. We love taking a walk through the market, where you can get some good deals on flowers or plants. It's open every Sunday, 8am–3pm, but we recommend going in the last hour, between 2–3pm, which is when traders sell bunches of flowers at cheaper rates. The market can get pretty packed, too, so if you and your new friend want to dodge the crowds, you can head into one of the coffee shops nearby and grab a coffee or tea. Near the market, in the winding alleyways, there are shops selling artsy prints which are perfect for browsing with a friend after grabbing a posy of freshly cut flowers.
VISIT: Every Sunday at Columbia Road, London E2 7RG.
Discover More Blooming Good Flower Markets In London Here
3. Primrose Hill
Primrose Hill is one of the most iconic spots in London, and it's absolutely stunning. Even though it's smack bang in the middle of the city, it still has the tranquillity and quietness of somewhere in the countryside. Primrose Hill is a haven from the bustle of city life, and it's an excellent spot for a friend date as it's proven that nature has a relaxing effect on us, which makes getting to know a stranger a less daunting experience, and hanging out with established friends all the more enjoyable.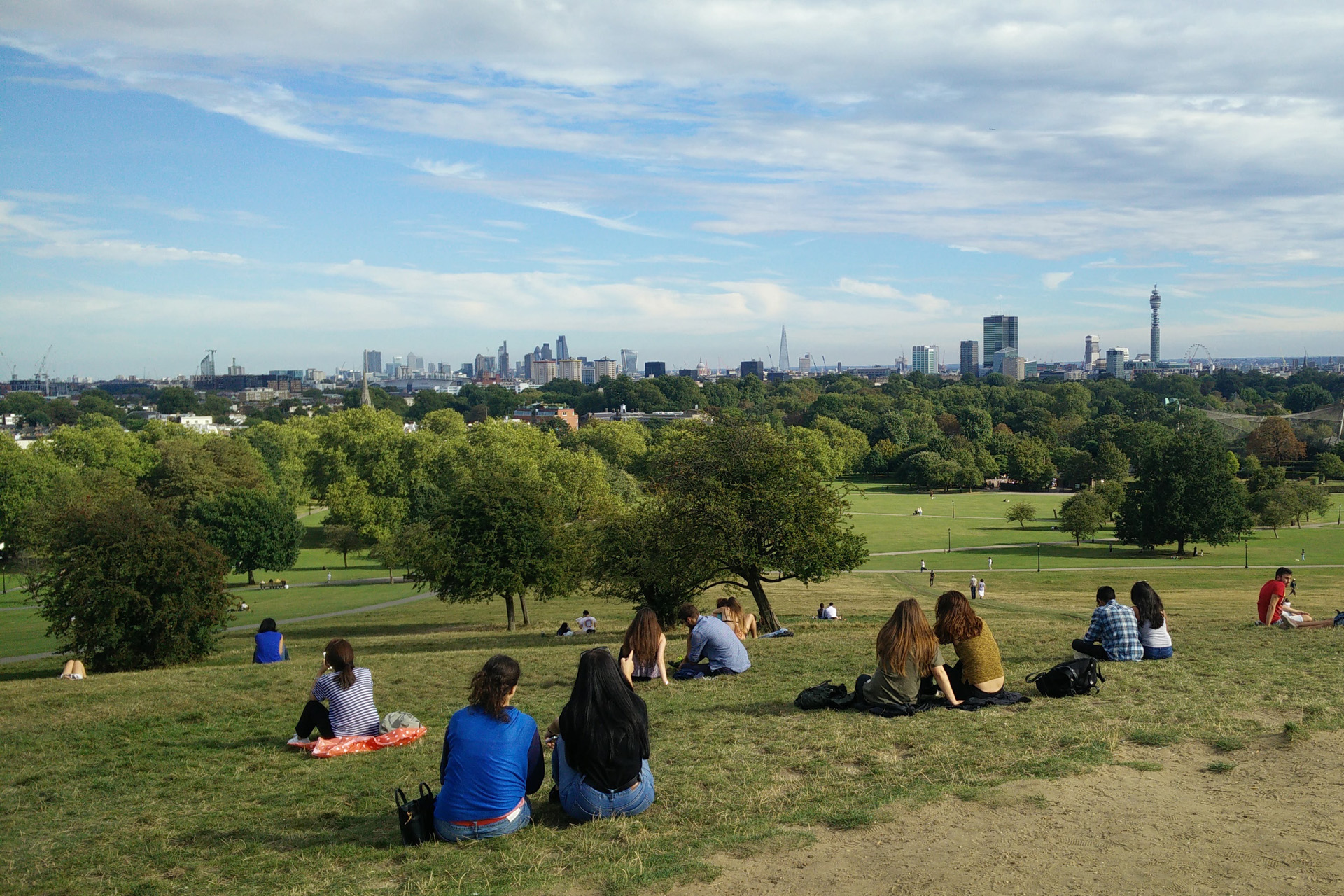 There are many activities to do here; we personally recommend going for a picnic, especially during the summertime when the sun doesn't set until late in the evening. We also recommend trying out painting. Pack up a canvas and some painting materials to bring with you to the park. The striking London skyline, as well as the greenery in your surroundings, are ample materials for creativity. Art is a restorative act which brings joy to us, so it's the perfect bonding activity between two strangers.
VISIT: Primrose Hill Road, London NW1 4NR.
4. Ballie Ballerson
Ballie Ballerson is a playful spot for getting to know someone in person for the first time. It's one of the most memorable spots in London, with its massive illuminated ball pit, reflective ceilings, and cool bar area. The exhilaration from bouncing around in the ball pit is bound to ease the nerves and make you feel more at ease around the other person if you don't know each other very well. Remember, they're just as nervous as you are! The venue is very photogenic, so make sure to get plenty of photos with your friend for good memories.
View this post on Instagram
If you're thirsty, Ballie also has delicious cocktails for a good barside chat. Our favourite is the Dibbie Dabberson, which is a whimsical drink made with Bombay Bramble and a Dip Dab lollipop. If you prefer non-alcoholic drinks, they have a mocktail menu with virgin versions of mojitos or pink gin and tonics.
VISIT: 97-113 Curtain Rd, London EC2A 3BS. Book at ballieballerson.com
5. V&A Museum
The V&A Museum is our favourite museum in London. It has over 150 galleries with a vast collection of artefacts and art from all over the world, including Greece, Italy, India and Japan. The displays at the museum are a great conversation starter, which makes bonding on a friend date a lot easier when you're running out of small talk.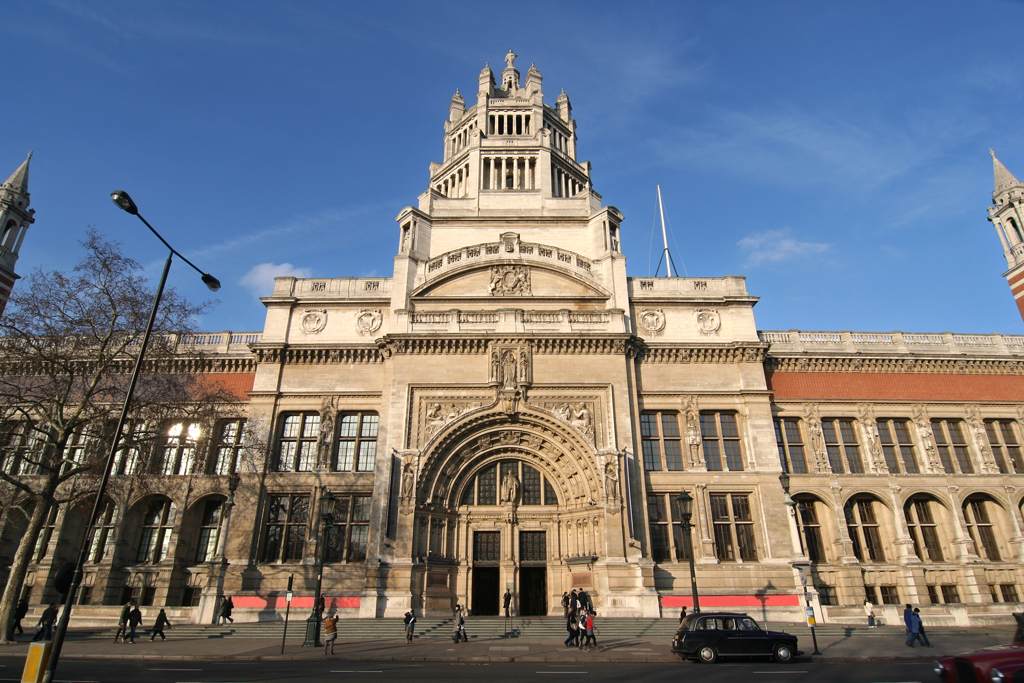 The area that we think everyone should check out is the history of fashion section, which shows how fashion has evolved over time, starting from the 17th century right up to the present day. Another place to take your new friend would be the Cast Courts, a section that showcases impressively carved casts and sculptures, some of which are gigantic. After exploring the collections, you can always head to the Garden Cafe, a quiet oasis with a beautiful view of the fountain in the centre of the outdoor area. The Main Cafe is stunning, too, with 19th-century classic interior decor, in case you and your friend prefer to be in the warm on a rainy day.
VISIT: Cromwell Road, London SW7 2RL. vam.ac.uk
Fancy Visiting An Exhibition? See What's On At The V&A Here
6. Screen On The Canal
Screen On The Canal is an ideal place for a friend date, and a great activity to do in the summer. First of all, the location itself is simply magical. It's right by the serene Regent's Canal, where you can relax and enjoy a movie under the open sky with your friend. The wide selection of movies they show on screen is fantastic, too. From timeless classics to the latest blockbusters, there's always something for everyone. Whether you're into romance, action, comedy, or anything in between, this is a great activity to do with friends.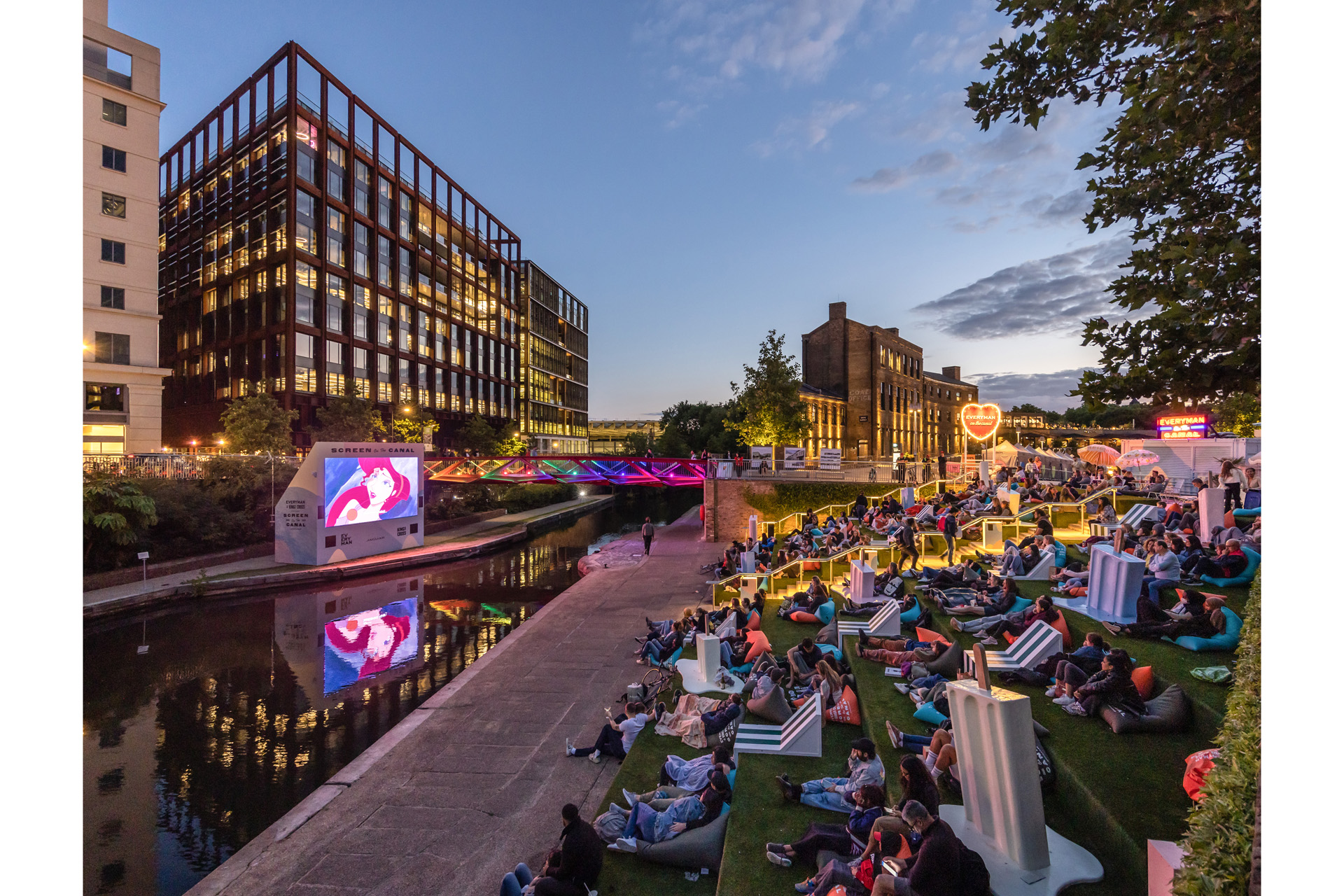 The setup is comfortable, too: there are cosy blankets and cushions, so you and your friend can snuggle up and feel right at home. It's a great way to feel relaxed and connected with each other as you both get lost in the story on the big screen. There's a fantastic selection of snacks and beverages available in stalls nearby, so you can treat yourselves to some delectable treats while you enjoy the movie.
VISIT: Every summer (22 June–6 August in 2023) at Granary Square, London N1C 4PW. everymancinema.com
Discover More Open Air Cinemas In London Here
7. London's BookBar
BookBar, located in Highbury, is an absolutely amazing spot for book lovers on a friend date. It's a charming and cosy bookshop combined with a café and bar. As soon as you step inside, you're put at ease by the warm ambiance and the delicious smell of freshly brewed coffee.
View this post on Instagram
There's a diverse selection of books, from classic literature to the latest bestsellers amid a calming setting for you and your friend to spend quality time together. You can leisurely browse through some books, exchange recommendations, and even pick out a novel or two to purchase as mementos of your friend date. There are comfortable seating areas to settle into and dive into your newly bought books, or get to know each other more. The relaxed and welcoming atmosphere encourages meaningful conversations, making it an excellent place to connect with your friend on a deeper level.
VISIT: 166 Blackstock Rd, London N5 1HA. bookbaruk.com
Find More Of London's Loveliest Independent Bookshops Here
8. Swingers – The Crazy Golf Club
We've had a blast at Swingers in the past, and it always promises an incredibly entertaining experience. Whether you're experienced golfers or just keen to try out something unique, your new friend will undoubtedly be thanking you for a fun-filled outing. Swingers Mini Golf is lively and upbeat, with a buzzing atmosphere that adds to the excitement. There are two intricately designed 9-hole courses, filled with quirky details and obstacles that add twists to the game. You'll encounter loops, jumps, and other surprises that will keep you both entertained and laughing throughout. It provides the perfect opportunity to get rid of those nerves, engage in some friendly competition, and create lasting memories together.
View this post on Instagram
Swingers also has stylish bars offering a variety of cocktails, craft beers and tasty snacks. Feel free to take a break between the games to enjoy a drink or two, and have a chat with your new potential best friend.
VISIT: Pick between the West End (15 John Prince's St, London W1G 0AB) and City (8 Brown's Buildings, London EC3A 8AL) venues. swingers.club
Discover More Places To Play Mini Golf In London Here
gofrendly is available to download from Google Play and the App Store. gofrendly.com