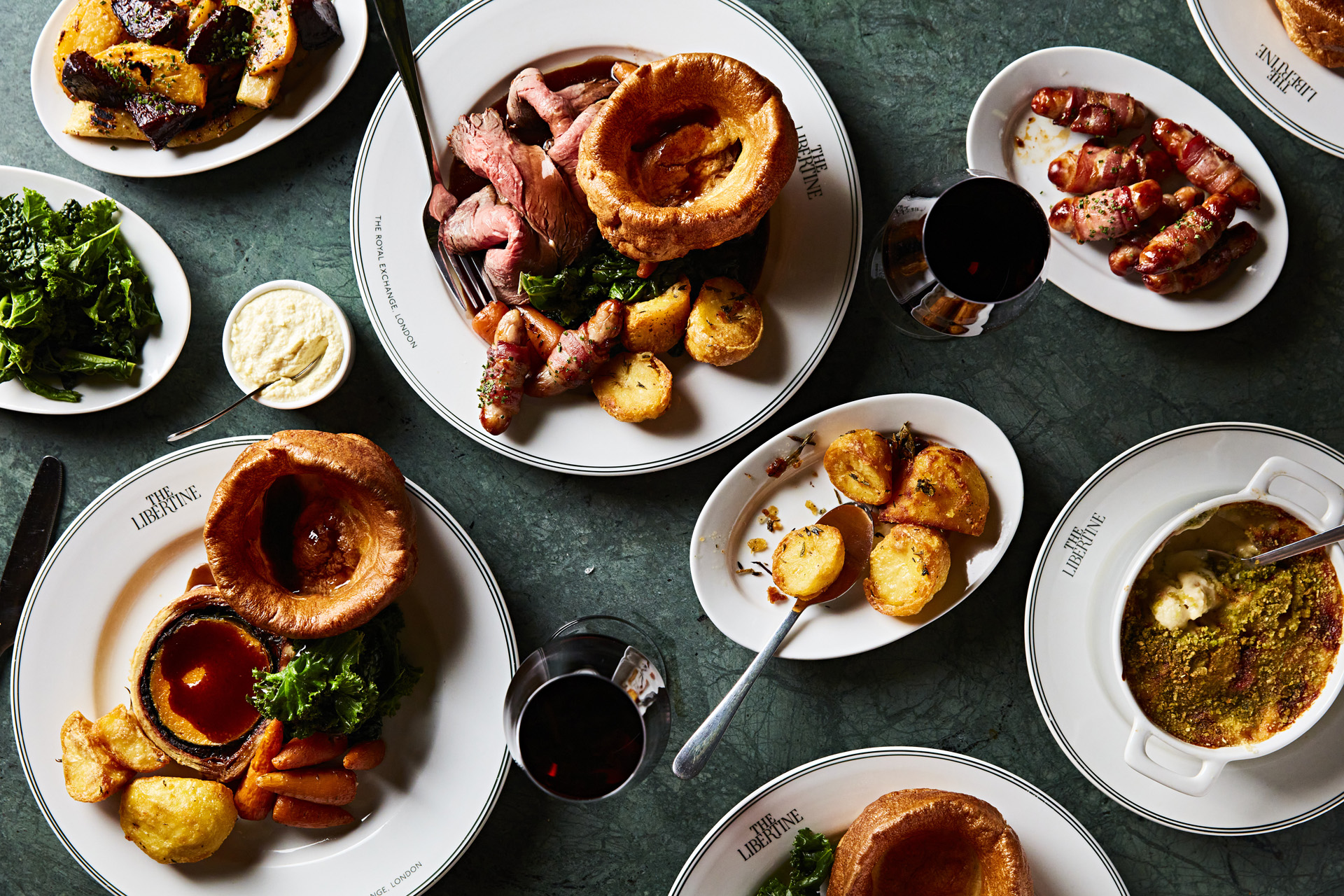 Best Roasts In Central London
Stellar Sunday lunches in the city centre
Despite the uncharacteristically warm weather as of late, autumn is here, which means Sundays are about to get a whole lot more exciting. Roasts are back, and we can't wait to spend this season sampling the city's best. Here, we bring you the crème de la crème of roasts in central London, from cosy pubs in Marylebone to glitzy Soho members' clubs.
Best Roasts In Central London
Sussex Bar & Restaurant, Soho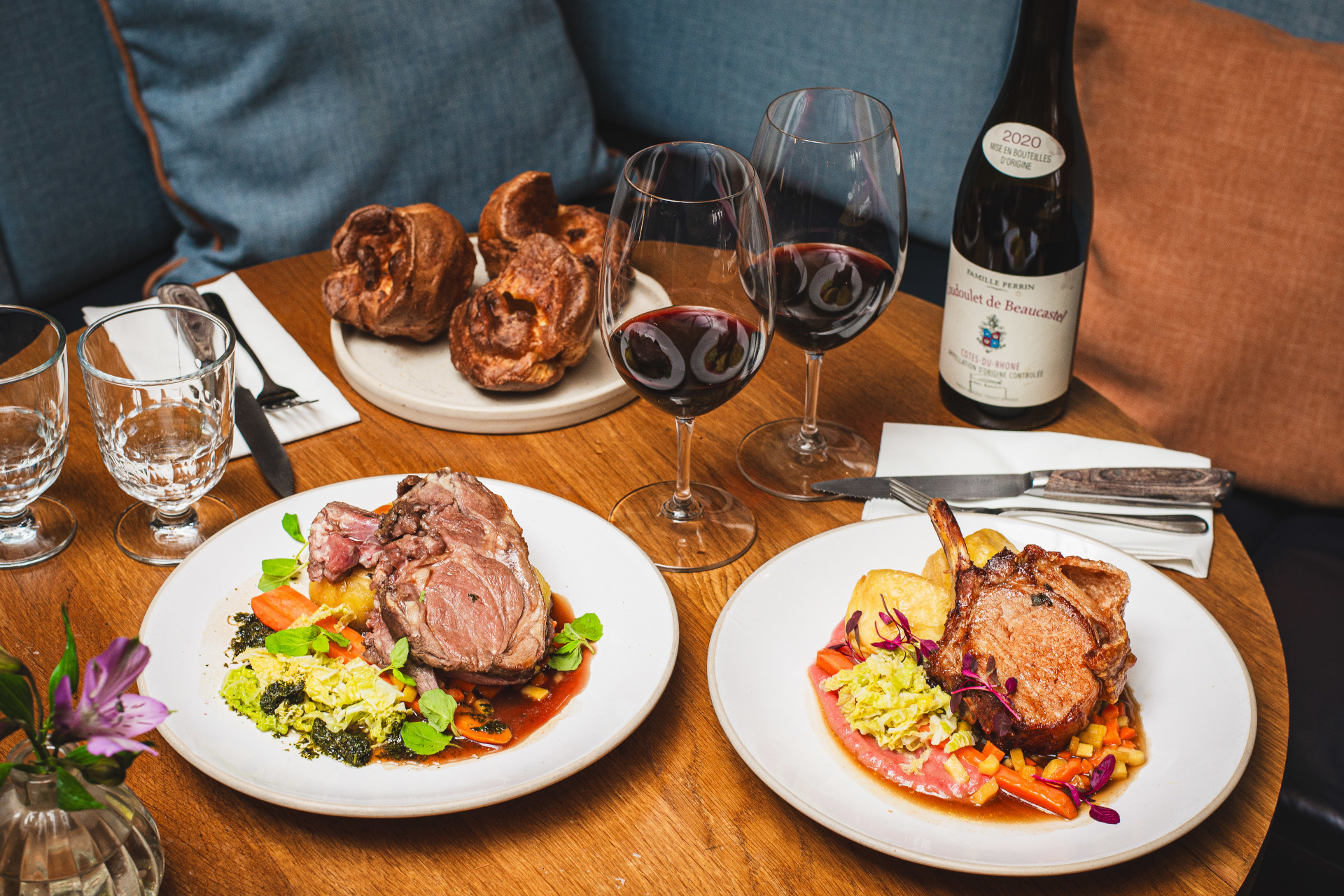 Is this Soho's best kept secret? On a Sunday, it is. Tucked around the corner from Tottenham Court Road tube station, Sussex Restaurant is perhaps best known as the place to go with friends after work – but on Sundays, it becomes an affair for friends and family alike. Chillier weather in the capital signals the return of the restaurant's legendary roast menu, with the 23/24 season being dubbed 'Sundays From The Farm'. Here, roast ravers are treated to wild, foraged and locally grown produce as well as sustainable livestock from the founding Gladwin's biodynamic family farm in West Sussex.
It might be on the streets of Soho, but a few steps inside the restaurant will have you feeling like you've ambled into a cosy countryside pub – complete with low, amber lighting, a glossy bar, plush seats and artworks decorated with ducks in wellies.
While our main goal for the day was dinner, we couldn't resist trying Sussex's signature mushroom marmite eclairs, filled with a creamy confit egg yolk. As a self-confessed marmite-hater, I was sceptical – but I didn't need to be. These bite-sized appetisers are nothing short of delicious, with a soft umami flavour and fluffy texture. If you can still fit something in before the main course, then make sure to snag a serving of the goat's cheese with caramelised red onions and fried mint leaves – again, more creamy delights, but cut through with a tang of salt and sweetness.
And when it comes to a Sunday roast, expect the works: your choice of meats (lamb, pork or partridge for solo ventures, beef, chicken or wellington to share with a fellow diner), seasonal Sussex vegetables, fluffy Yorkshire puddings and golden roast potatoes. (Oh, the roast potatoes. They had the most satisfying crunch ever.) All doused in a rich, hearty gravy. It's worth adding a side of cauliflower cheese to the selection too – especially if you want to experience a good cheese pull.
Separate dessert stomach permitting, it's then onto the puddings. At this time of year, you can expect mini mince pies dabbed with clotted cream and warm date pudding covered in toffee sauce – both wonderfully festive and warming enough to give you the strength for a cold evening trek through London – but diners can also expect a carousel of different desserts based on what's in season. Think orange and almond cake, chocolate eclairs (round two: the sweet edition) and a generous English cheese board decked out with chutneys and crispbreads. Delicious.
Expect to waddle away with a full belly and a very happy outlook on the week ahead. By Charlie Colville
Hero dish: The roast potatoes here are on another level. Crispy on the outside, fluffy on the inside – and best served with a glass of Nutbourne wine.
Address: 63-64 Frith Street, Soho, Greater, London W1D 3JW
BOOK: sussex-restaurant.com
The Audley Public House, Mayfair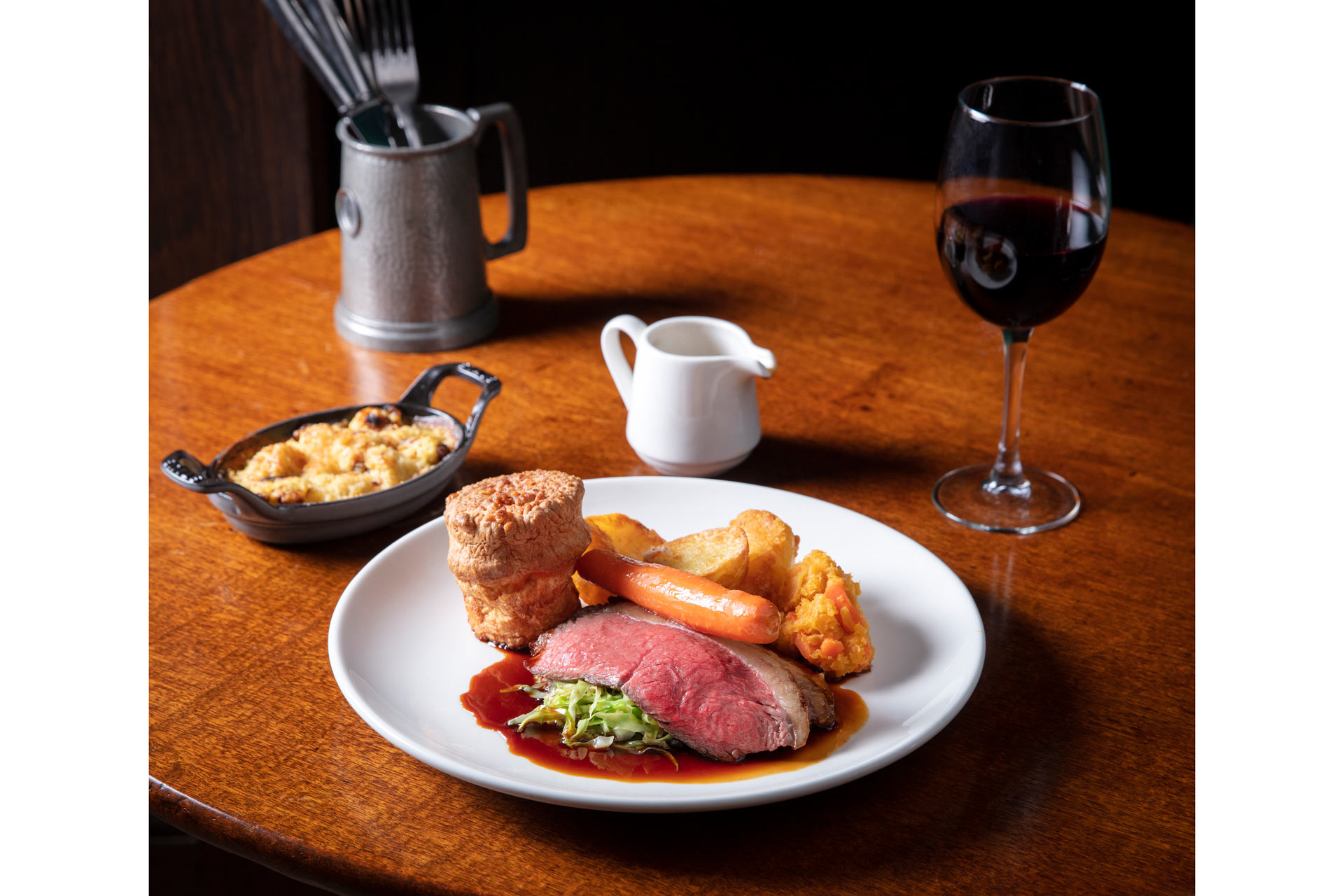 Long-standing Mayfair pub The Audley was revamped last year under the helm of Artfarm, the hospitality arm of Hauser & Wirth. The smart new venue features two spaces: a traditional British pub, The Audley Public House, alongside a more formal restaurant upstairs, Mount St. Restaurant. If you're after a roast in central London, head to the former: a stylish and relaxed space decked out with an impressive collection of art – typical of Artfarm projects. You'll be served a generous portion of premium quality beef, perfectly crispy and fluffy roasties, seasonal veg and a large Yorkshire pudding filled with some extra pulled beef inside. 
Hero dish: The cauliflower cheese side is pure buttery, crispy, cheesy joy.
Address: 41-43 Mount St, London W1K 2RX
BOOK: theaudleypublichouse.com
The Libertine, Bank
The spooky vaults beneath the Royal Exchange have never looked so chic. The Libertine, having opened at the end of 2022, sprawls through the ancient exposed brick arches across a spacious bar, and separate dining space. Sporadic pops of foliage and radius windows keep the subterranean area airy, while an amber glow emanating from sconces and iron sticks topped with globular balls of light keep it suitably moody. Get ready to indulge: befitting its name, this has always been a space of hedonism and revelry, occupying the site where Britain's first royal alcohol licence was granted. Amid centuries of history, sip on tipples from some of the city's finest distilleries; in particular, the house's own 'The Libertine London Dry Gin' is showcased best in a humble G&T. 
This is all before the main event, of course – The Libertine's Sunday roast. Crispy rosemary roast potatoes, plump Yorkshire puddings, roasted maple glazed carrots, moreish confit garlic greens, mellow parsnip puree, and rich Bordeaux red wine gravy are all a given. Simply choose between the 42-day Dry Aged Beef Rump (basted with thyme and garlic beurre noisette), the butcher's cuts of beef to share (chateaubriand, porterhouse or cote de beouf), the Free-Range Chicken Supreme (a tender, butter-basted, sizeable chicken breast), or vegans are well catered for with the Lincolnshire Squash Pithivier (squash, savoy cabbage, beetroot, wild mushroom duxelle and sage mustard in flaky golden pastry). Douse everything in the indulgent gravy, served in a tiny copper saucepan. 
Top it all off with dessert (there's always space). The comforting Treacle Syrup Sponge Pudding with a flood of vanilla custard is a natural go-to, or the more mature among us can opt for sorbet. The more indecisive, however, are treated with Petit Fours: perfect macarons, delectable salted caramel truffles, satisfying treacle tarts, and luscious fudge brownie bites topped with a sticky layer of caramel. By Olivia Emily
Hero dish: Don't miss a side of cauliflower cheese: al dente cauliflower immersed in rich cheese with a crispy top and a satisfying cheese pull.
Address: 1 Royal Exchange, London EC3V 3LL
BOOK: libertinelondon.co.uk
The Twenty Two, Mayfair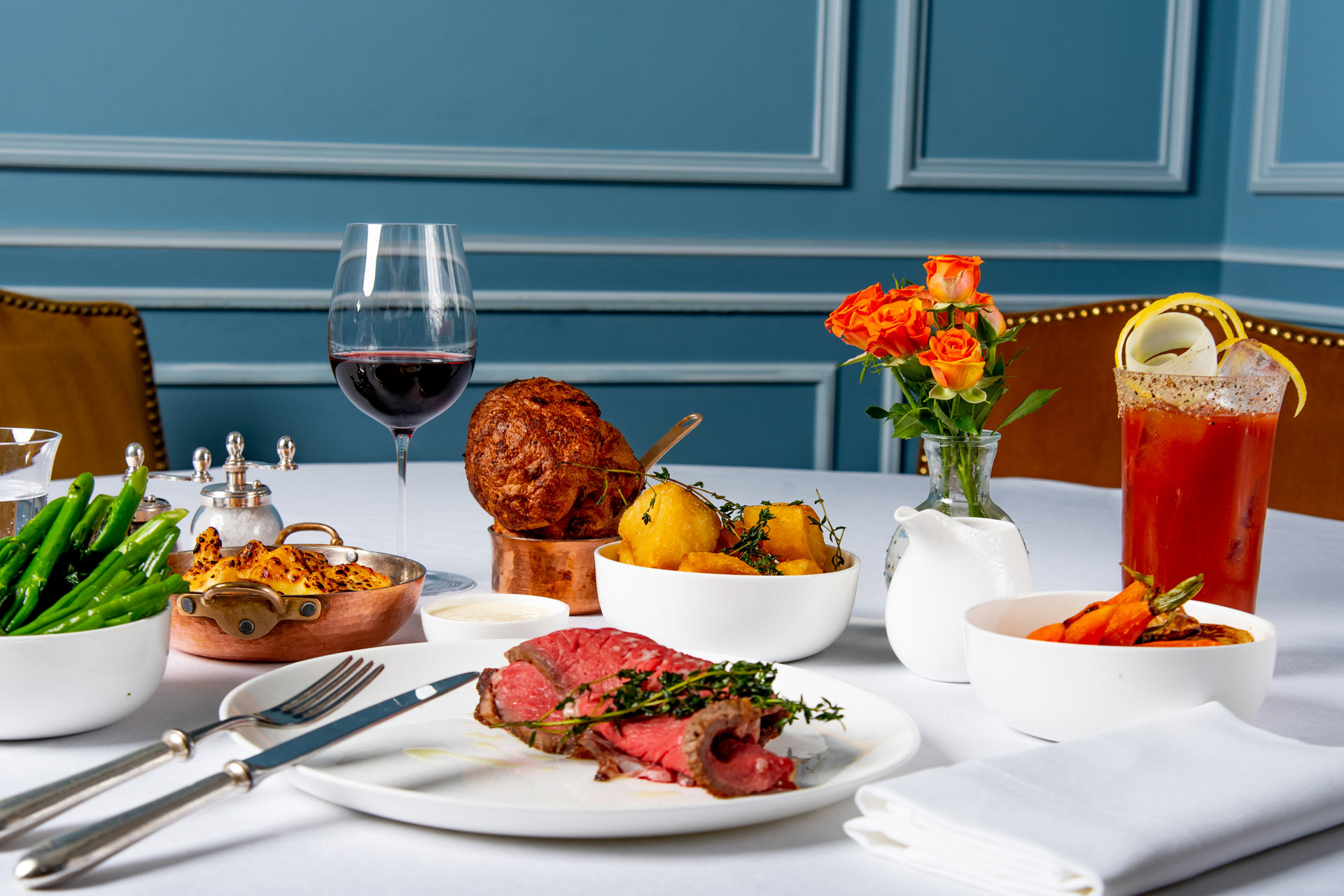 While part of Mayfair hotspot The Twenty Two is members' only, the restaurant is open to all – and it's well worth a visit to try the top-notch roast. Executive Chef Alan Christie has crafted a traditional Sunday lunch menu with high-quality ingredients, offering a choice of chicken, lamb or beef served with a Yorkshire pudding, roast potatoes, cauliflower cheese and seasonal vegetables. Pair with wines from the impressive list – and be sure to get a snap or two of the gorgeous interiors: think blue walls, velvet banquettes and brass chandeliers.
Hero dish: The beef gets our vote here.
Address: 22 Grosvenor Square, London W1K 6LF
BOOK: the22.london
Oblix West, Southwark
When it comes to Sunday lunch with a view, they don't come much better than Oblix West at the Shard. Check out the open kitchen en route to your table to see what takes your fancy, but be sure to start with your meal with an excellent Bloody Mary. You may want to dive straight into the main (the roast here is pretty sizeable) but if you do want something to start, the burrata is our pick. Book early for a table by the window and settle in for a long and leisurely lunch with all the trimmings.
Hero dish: The rib of beef is perfectly cooked but the surprise hero was the creamy mash, that threw the roast potatoes into the shade.
Address: The Shard, 31 St Thomas St, London SE1 9RY
BOOK: oblixrestaurant.com
Jones Family Kitchen, Belgravia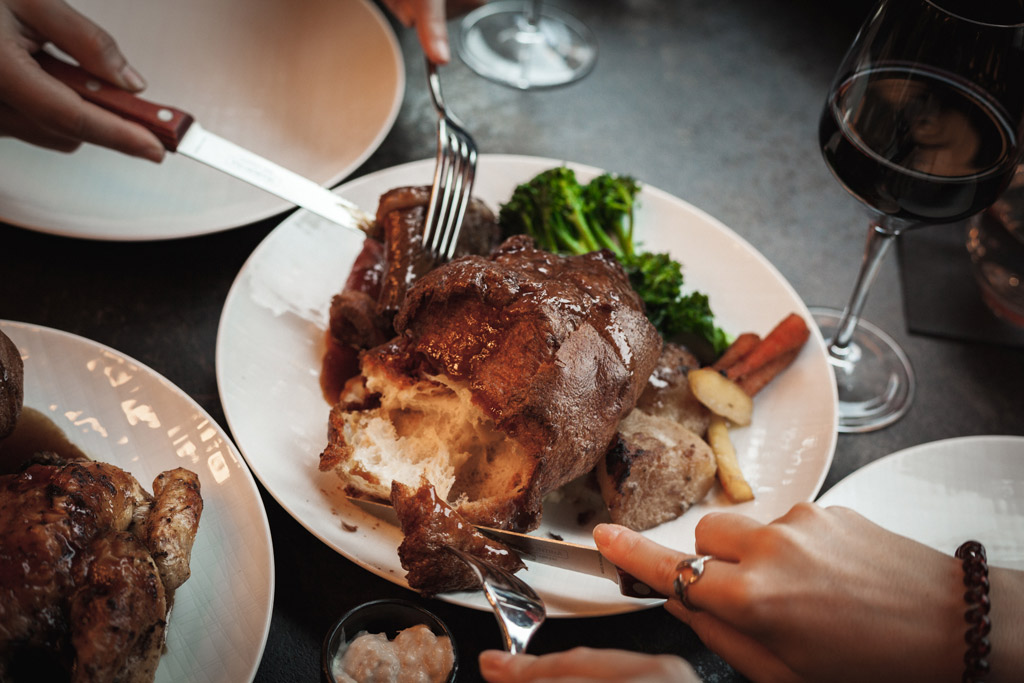 After a hiatus, the roast has returned to The Jones Family Kitchen, located in Belgravia's buzzing Eccleston Yards. If you remember just one thing about The Jones Family Kitchen, it should be that they know how to cook meat that melts in your mouth. Renowned for their Josper grilled steaks – which should be consumed dripping in red wine beef jus and scoffed with truffle macaroni cheese for the full luxurious experience and foodie memories that'll last for weeks – it's safe to say that the beef picaña is a roast dinner winner. All their meat is sourced from The Ginger Pig, who farm their contented free-range animals up north in Yorkshire. Plus, each roast is served alongside duck fat roast potatoes, honey roast parsnips, seasonal greens, Yorkshire puddings and gravy. A special shout out must also go to their lovingly and cleverly curated wine menu – they have incredibly knowledgeable staff and a well recommended red will round your meal off to perfection.
Hero dish: The succulent beef sirloin, chosen for its tenderness and rich flavours.
Address: 7-8 Eccleston Yards, London SW1W 9AZ
BOOK: jonesfamilykitchen.co.uk
Roast, Borough Market
This restaurant overlooking Borough Market is named after what it does best, a good old-fashioned roast with top-notch ingredients. This is the place to go if you don't want to wait until Sunday – they have different roast meat and fish specials every day to keep things interesting. But the Sunday menu still reigns, with some of the best beef and Yorkshire puddings we've had. A failsafe bet for a great roast in central London.
Hero dish: The potatoes are perfectly cooked every time – try the cheese and truffle fries for a treat.
Address: The Floral Hall, Stoney St, London SE1 1TL
BOOK: roast-restaurant.com
temper, Soho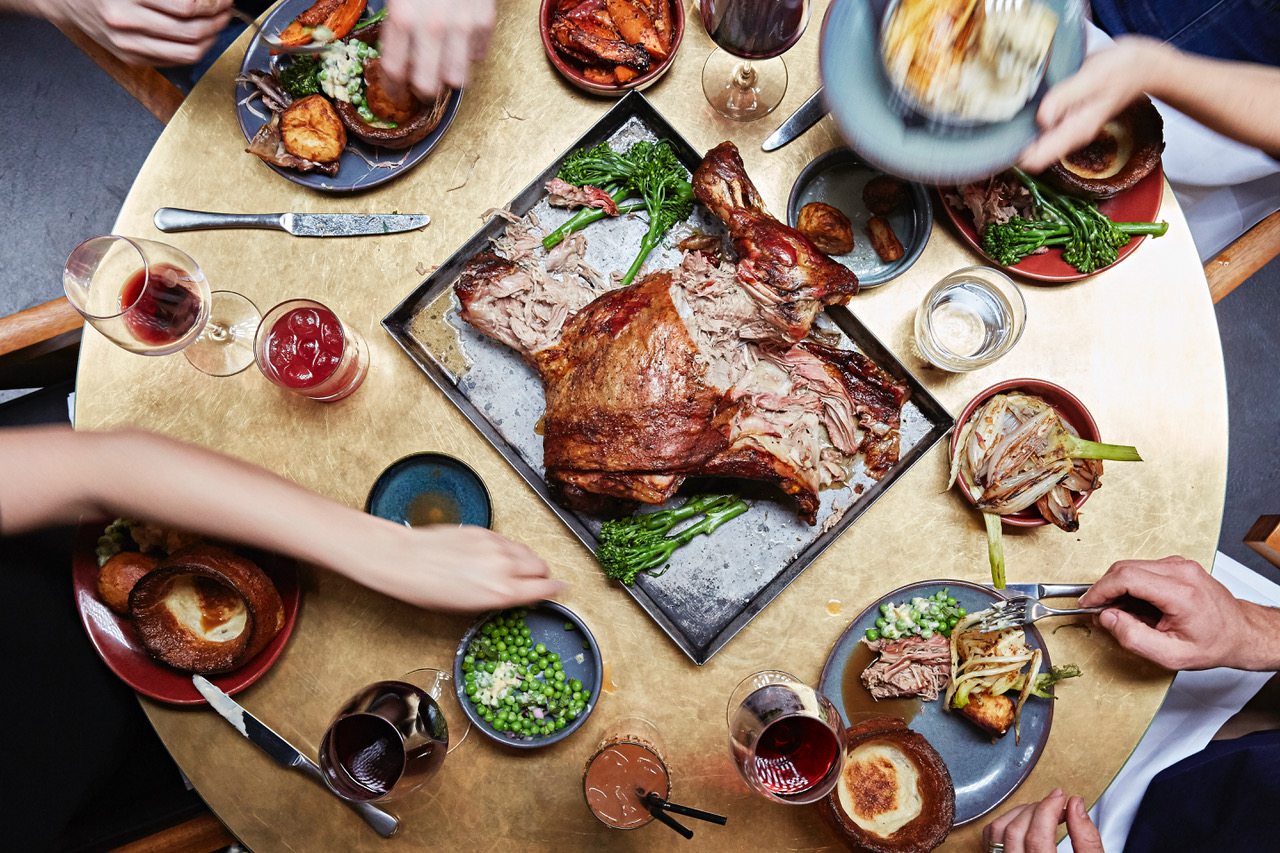 The smell of the leeks and shallots roasting over coals will have you salivating from the moment you walk through the door. Extra bonus points for being the only roast that starts with a round of tacos. On offer to guests is a selection of smoked meats such as smoked pork belly with smoked apple sauce and smoked baby chicken with chimichurri served with all the trimmings and a wicked 16-hour gravy. There's an ever-changing selection of roast meats, plus sharing platters like the Three Beast Feast, which includes smoked and pulled lamb shoulder, roast aged beef and roast pork, a perfect sharer for two people.
Hero dish: This is the best cauliflower cheese in town. Forget tasteless milky mess, this is smoky, cheesy, gloopy goodness.
Address: 25 Broadwick St, London W1F 0DF
BOOK: temperrestaurant.com
Savoy Grill, the Strand
If it's glitz and old-school glamour you seek for your ultimate Sunday roast in London, check into the Savoy Grill for a lunch date to remember. You'll be presented with the dish of the day on the silver trolley; Sunday means rib of Hereford beef and Yorkshire pudding. Allow the sommelier to recommend the perfect accompaniment to your meal and remember to start with bubbles – after all, this is not your everyday beef dinner.
Hero dish: Nothing polishes off a delicious roast dinner quite like sticky toffee pudding. As you'd expect, the Savoy's take is absolute perfection.
Address: 100 Strand, London WC2R 0EZ
BOOK: gordonramsayrestaurants.com
Hawksmoor, across London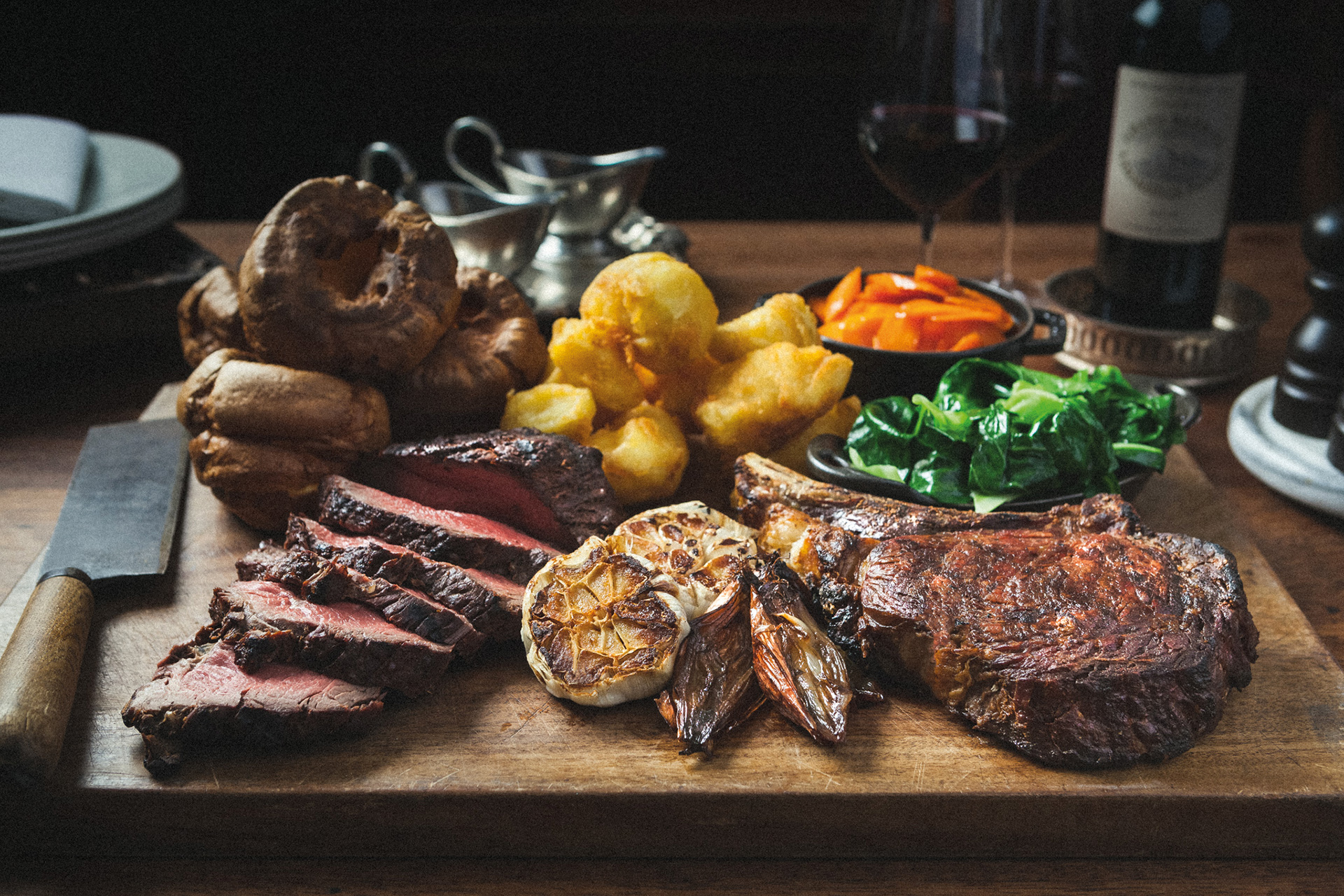 You already know and love Hawksmoor for their steak, but check out their roast offering when you get the chance and you'll be suitably impressed. Add an array of their famous sides and don't forget to try their duck-fat potatoes and tasty onion gravy. There are a few branches across central London including one in Borough and another in Seven Dials.
Hero dish: The beef. Obviously.
Address: Various locations
BOOK: thehawksmoor.com
Blacklock Soho
If you're really hungry, subterranean Soho chop house is sure to satisfy, serving one of the best (and biggest) roasts in central London. Nab one of the long sharing tables and go for the All-In option (£25pp): a hefty sharing platter of beef, lamb, pork and all the trimmings. Sides include massive Yorkshire puddings, cauliflower cheese, crispy roast potatoes, seasonal vegetables and a large boat of gravy. Not one for the faint-hearted!
Hero dish: Being a chop house, it's not surprising the succulent, medium-rare chops are the star of the show.
Address: 24 Great Windmill St, London W1D 7LG
BOOK: theblacklock.com
The Royal Oak, Marylebone
With former Duck & Waffle chef Dan Doherty at its helm, it's no surprise Marylebone pub The Royal Oak serves up a stellar Sunday roast. For meat-eaters, offerings include a succulent seven-hour roast lamb shoulder, Hereford beef and free range chicken, and for veggies there's a tasty stuffed roast pumpkin served with fig, chestnut and leek stuffing. All roasts come with huge Yorkshire puds, crispy roasties, green vegetables and roasted carrots, and the pub has a friendly, relaxed ambience – perfect for a cosy Sunday afternoon.
Hero dish: The beef, hands down.
Address: 74-76 York St, London W1H 1QN
BOOK: theroyaloakmarylebone.co.uk