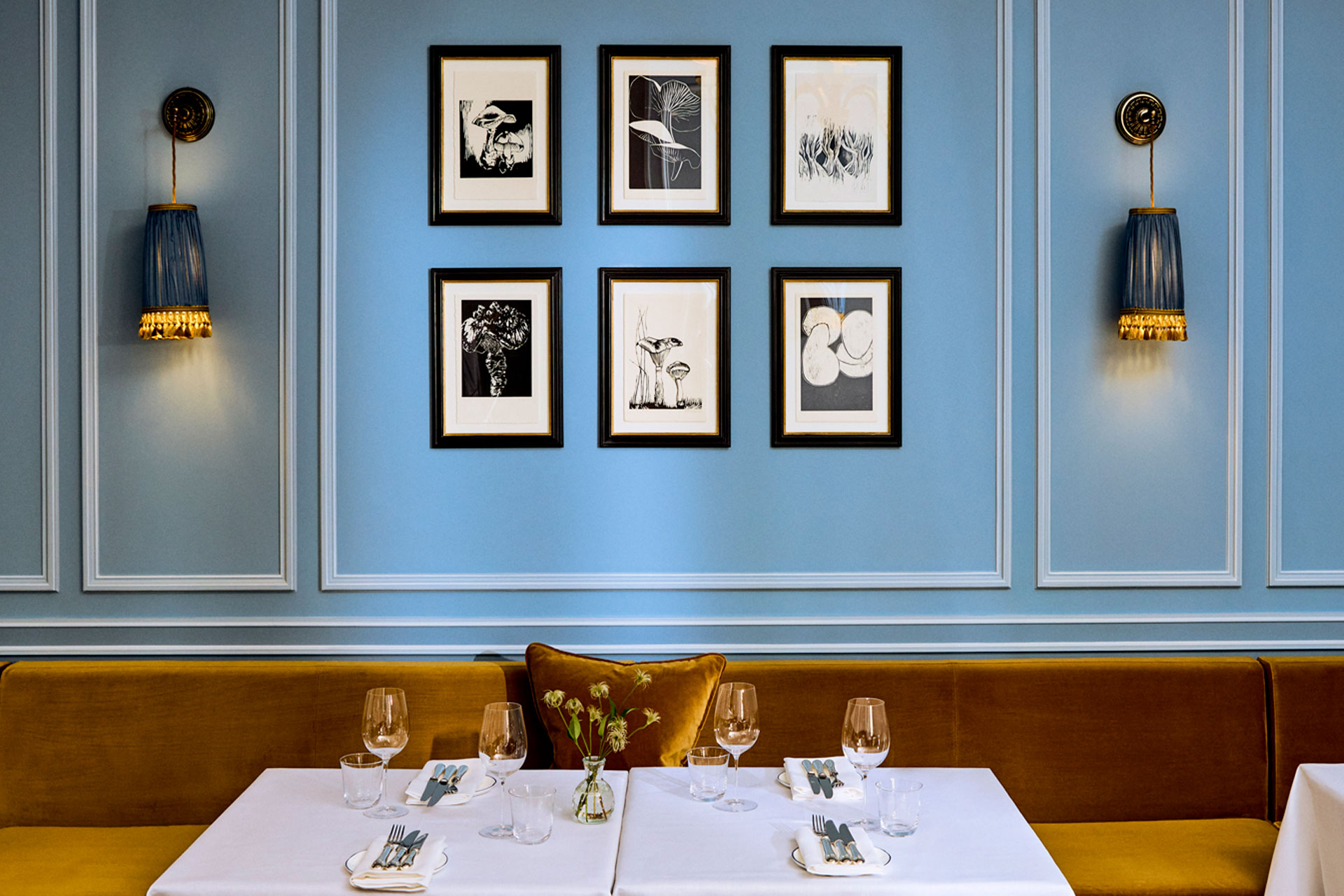 Restaurant of the Week: The Twenty Two
---
Bevelled Mirrors, banquettes and …. Jeff Bezos?
It was a recent restaurant of choice for Jeff Bezos. But also Naomi Campbell. Confused? So are we. Which got us wondering: is The Twenty Two, *really* Mayfair's hot new honeypot for 'the creative and curious' as it claims? We head over to its restaurant to find out…
The Twenty Two Restaurant Review
What's it Like Walking in?
A wash of Edwardian white Portland stone greets you from the somewhat intimidating Parisian façade of The Twenty Two, that's just off Grosvenor Square. 
And from the get go, it's a bit of a sensory overload. Walk in, and you'll get a waft of Catholic incense swinging Frankincense. Look down, and it's a punchy cabochon marbled floor. Look up? Yep, it's still the floor. Because it's a matching trompe l'oeil mirrored ceiling. Obviously. 
And before you've had time to take it all in, you'll be welcomed like an old friend by charming staff in uniformed suits (there's no 'sirs' or 'madams' here).  
What's the Aesthetic?
You'll be ushered over to the restaurant, where we'd call it a tie between decadent old worldly Mayfair and zeitgeisty next-gen design. Rectilinear Edwardian interiors, replete with bevelled mirrors and dark blue velvetted banquettes shoulder fungi and leopard prints. And it's all lowly lit by candlelight that twinkles off brass chandeliers and hand blown glass that give it that glam grown up feel. 
Aesthetic attention to detail here, is fastidious. It took 28 different shades of blue before hotelier Navid Mirtorabi was satisfied with the restaurant's wall colour (cue Miranda Priestly's 'cerulean blue' monologue in The Devil Wears Prada). We also saw this perfectionistic touch for visuals when a splodge of sauce hit the table. Within minutes, it was quickly concealed over with a perfectly small square cloth. So consider it a 'white gloves' service here, only without the white gloves. 
If you fancy a little exploration, saunter down some prowling leopard carpeted stairs, and you'll find deep red walls that enclose a plush, louche, sexy basement situation that looks like it will almost certainly be a London Fashion Week watering hole for the fashion pack. There's also some fabulous bathrooms. And easily the most glamorous gender neutral bathrooms you'll come across in London. 
The Most Beautiful Hotel Bathrooms
Who Comes Here?
There's an eclectic mix of diners: suited and booted finance types, an artsy group of twenty somethings, plenty of dates, but all under the umbrella of international West London clientele. It definitely felt a few shades younger than typical Mayfair members clubs. Either way: it's certainly not a family fish 'n' fingers set up. An official dress code has been given the sack, but the reality is that it's still a pretty smartly dressed affair, but room for sartorial experimentation. 
What's the Food Like?
It's excellent, but not in a self-conscious way. It's just seriously good quality ingredients with a lightness of touch. Its sell to a younger, artsy crowd is suggested in its cocktail names (always revealing), since it's named after the kind of old school films you'd stream on Mubi (so sip on a Grande Bellezza or a Mr Ripley to start with). 
Executive Chef, Alan Christie goes for British seasonality with a bit of a brush to Mediterranean cuisine, so expect: oysters with fennel mignonette, Dover sole meunière, or share a Cornish Red Chicken that sides with some swirly whirly potato mash. 
Such good food needs a good wine to pair. And the list at The Twenty Two, is impressive. The knowledge and pairing suggestions from the staff was even more so. So no need to feel intimidated. 
Interiors Inspiration: Home Wine Cellars
The Lowdown
The Twenty Two is a hotel and private members' club, but anyone can reserve a table at their restaurant. Opening back in April this year, the Edwardian manor, with 31 bedrooms, suites, and a mews house is packaged as a space for 'the creative and curious' types of West London. 
It's strategically — self-consciously — not a Mayfair kind of members club. But it has a totally different feel and sell point to a Soho House. The Twenty Two is actually more affordable than a Soho House membership for younger folk (despite it feeling far more lux) and there were plenty of remote next gen workers tapping away at their laptops in its suitably plush library lounge area during the week, looking like they were living the dream. 
Having a predominantly younger clientele was dreamt up by Hotelier Navid Mirtorabi, and managing director Darius Namdar (ex-Chiltern Firehouse). The contemporary maximalist interiors were spearheaded by Natalia Miyar, complimenting the previous work by French interior designer, Bambi Sloan. 
The Twenty Two, the22.london
SEE MORE