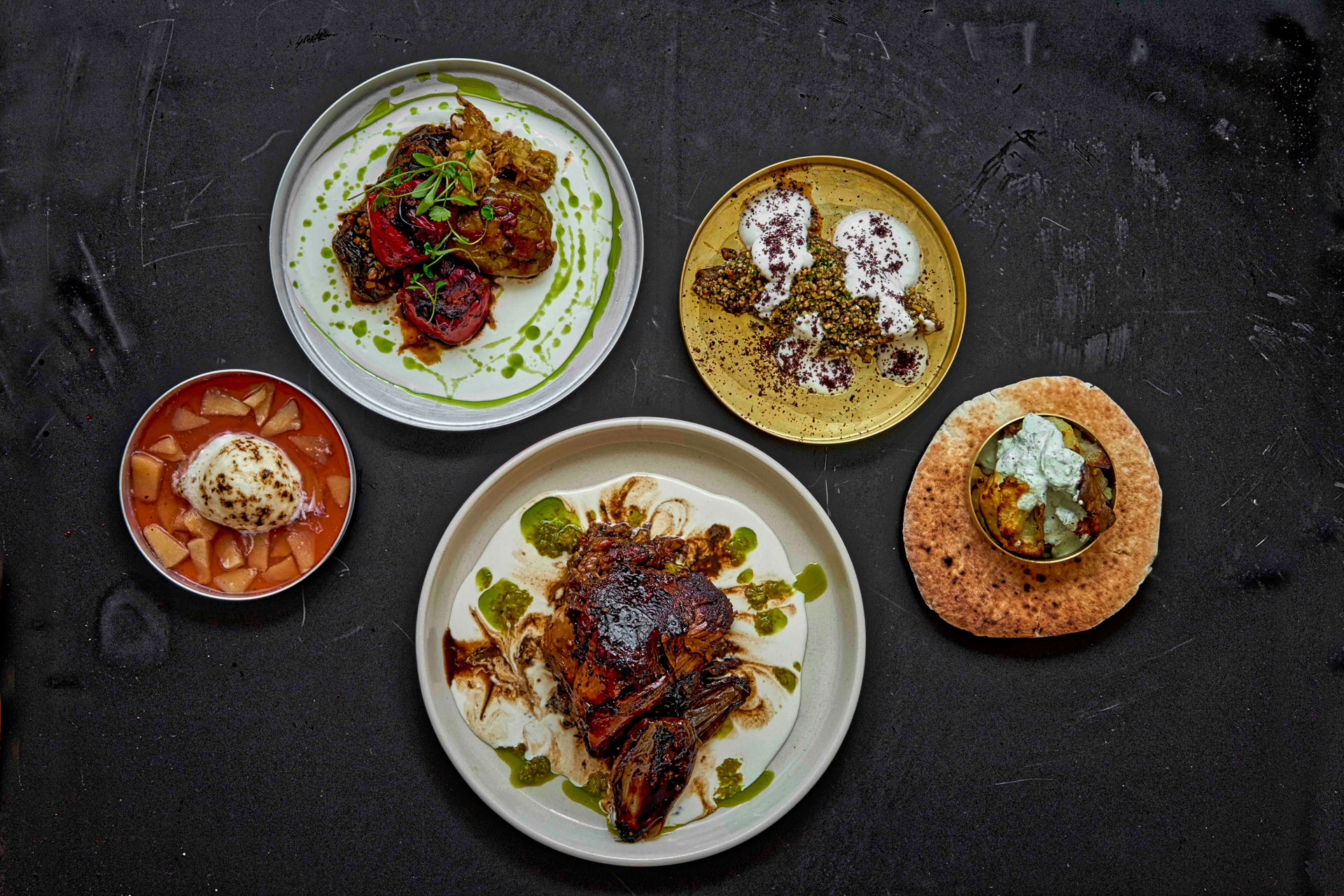 The New Tapas: Best Small Plates Restaurants in London
---
There are two types of people in this world: those who like to share food, and those who don't. If you're in the former category, you're probably a fan of small plates restaurants, which offer diners the chance to try lots of different things in a sharing-style format. From Indian to Israeli and Peruvian, these are London's best small plates restaurants, offering a convival atmosphere and plenty of delicious dishes. And if you're in the latter category, fear not: we have plenty more London restaurant recommendations where you can keep your plate to yourself.
The Best Small Plate Restaurants in London
Gold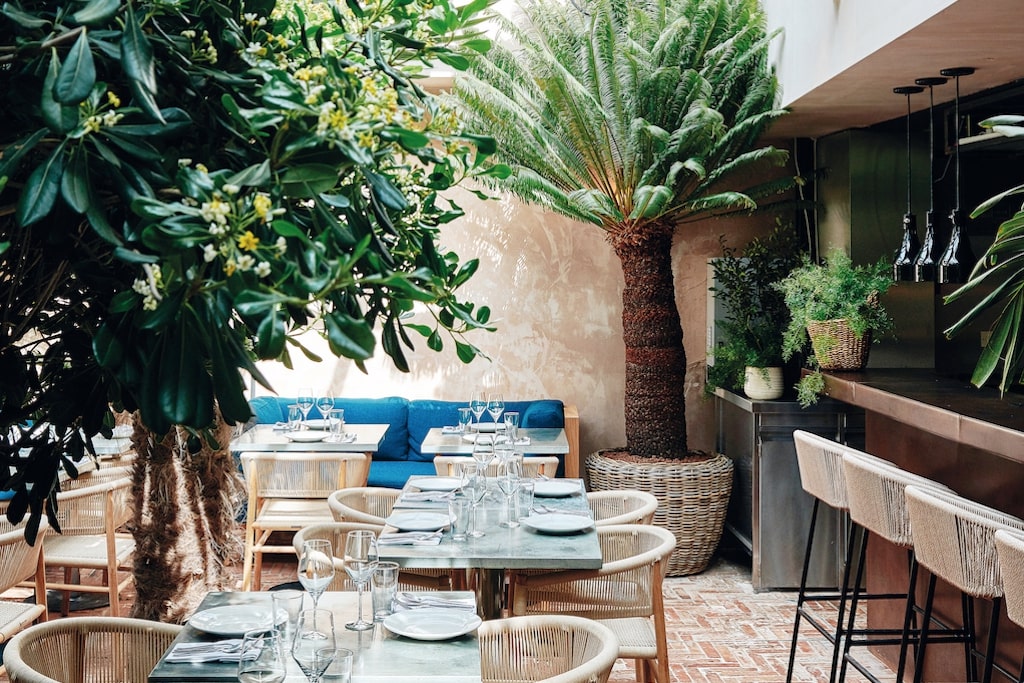 Notting Hill's Gold became an immediate hit after it opened in 2019, with Princess Eugenie, Princess Beatrice, Jourdan Dunn and Lady Amelia Windsor all visiting within weeks of its launch. If you go there you'll quickly see why: it's an endlessly chic spot, designed to reflect the bohemian spirit of the area – think stripped back interiors exposing the shell of the building and a garden room filled with pretty trees and greenery. But it's certainly not style over substance: the kitchen is headed up by ex-River Cafe chef Theo Hill, with an eclectic mix of modern European dishes alongside an equally cool cocktail list from Scout's Matt Whiley and Rich Woods.
95-97 Portobello Rd, London W11 2QB; goldnottinghill.com
Bala Baya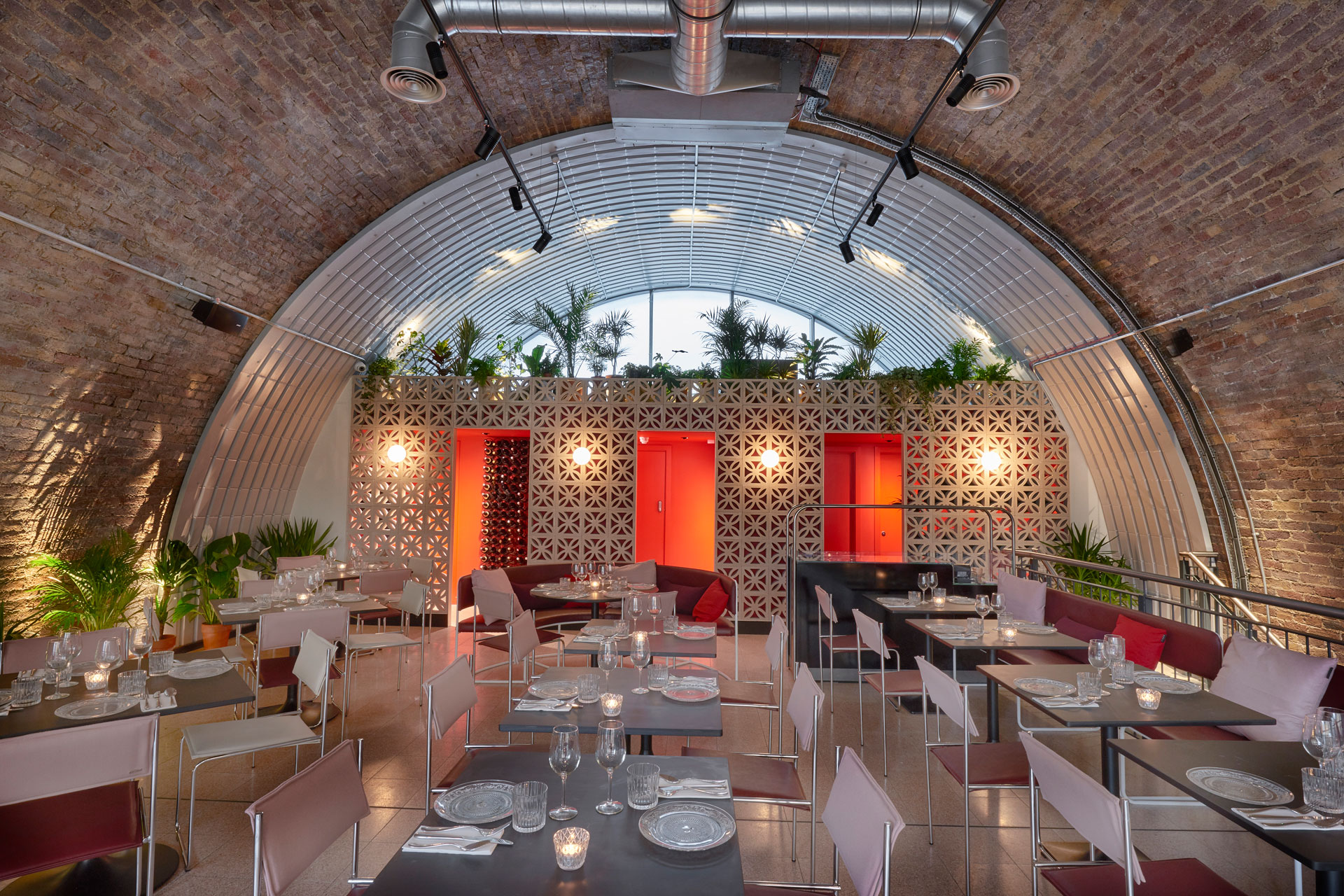 Vibrant Israeli cuisine sits at the heart of Bala Baya, a buzzy eatery found beneath the Union Street railway arches in Southwark. It's the first solo project from chef Eran Tibi, with a menu focused on family-style small plates dining. Everything is packed with flavour, with ingredients like harissa, tahini, sumac and oregano featuring heavily. There's blackened aubergine with pomegranate, lamb dumplings with shawarma spice, sea bream ceviche and a fried cauliflower steak which gives ribeye a run for its money – alongside lashings of hummus and pita to mop it up. For dessert, the hazelnut and dark chocolate babka is a must. On the drinks side, meanwhile, the 'Gazoz' infusions are the star of the show. These old school Israeli sodas come in a range of fruity, herbal flavours and can be mixed with prosecco, vodka, gin or arak. The restaurant's surroundings are equally lively, with minimalist décor combined with pops of colour, plus a mezzanine well suited to groups.
Arch 25, Old union yard arches, 229 Union St, London SE1 0LR; balabaya.co.uk
Larry's
Larry's in Peckham was open for all of two days when lockdown struck in March 2020. The latest name to know from the talented team behind Levan and Salon, it survived The Big Pause, however, and relaunched. Specialising in small, shareable plates inspired by the corner bars, diners and cafes of New York, Larry's is a coffee shop, restaurant and bar all rolled into one; expect coffee and pastries in the morning, hefty deli-style sandwiches at lunchtime and a concise but perfectly formed menu of sharing plates for dinner. Although small and colourful (check out the bright green Eames chairs and orange tables) with an informal, 1970s NYC vibe, the food here packs a serious punch. Don't miss the signature n'duja focaccia, steeped in spicy, sausage-y oil, or the crispy potato latkes with tasty fermented chilli mayo. It's also worth ordering one each of the pork schnitzel with red cabbage and gochujang – trust me, you won't want to share. The drinks menu is pretty impressive, too, with a small selection of cocktails, beers from Braybrooke near Market Harborough, and a fine selection of English French and Spanish wines by the glass or bottle. This is sophisticated food, served in a funky, chilled-out space.
Unit 5, 12-16 Blenheim Grove, London SE15 4QL; larryspeckham.co.uk
ULI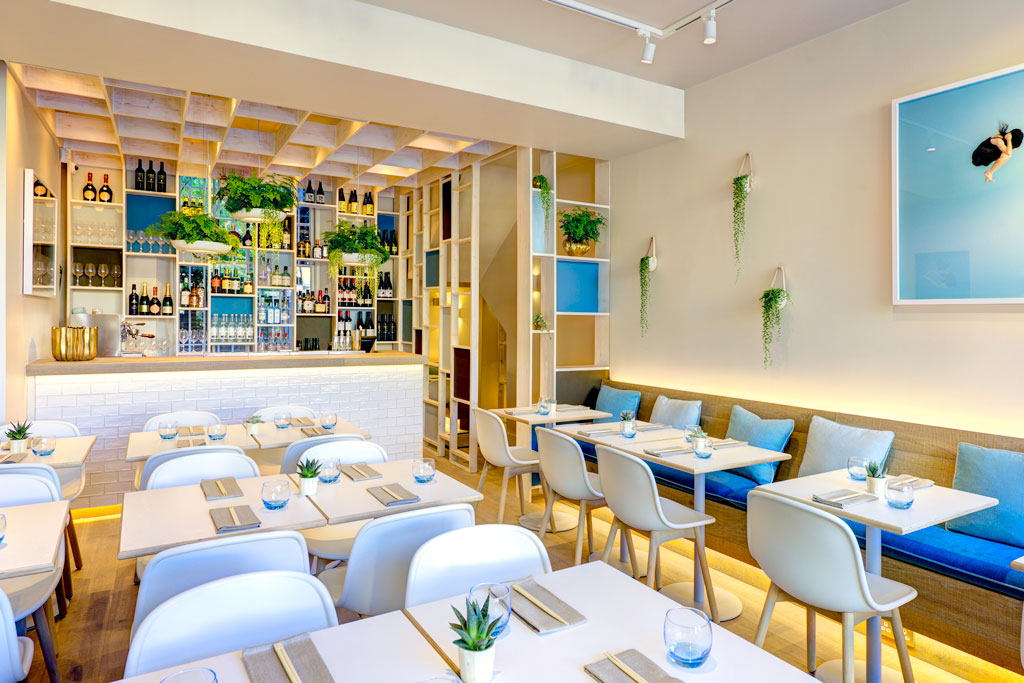 Tucked behind Notting Hill Gate on Ladbroke Grove, just before the road winds through West London's leafiest neighbourhood is the local favourite, ULI. If you fancy fresh, healthy and flavour-loaded Asian food spanning Malay, Singaporean, Chinese and Thai disciplines in a laid-back setting, this is where to come. Not only is the menu MSG-free (so you can forgo the gooey Chinese hangover), but all the dishes are made from scratch, even the stock. And gosh does it shine through, from the crispy aromatic duck pancakes to the asparagus with black bean, chilli and ginger, this restaurant is a much-needed reminder that healthy eating need not be confined to the overpriced orbit of almond butter balls, kale salads and culinary gloom. It can be a rich, hearty and inclusive affair. It helps that the interior design is as deliciously fresh as the cavalcade of dishes painting the white tables, the relaxed but conscious aesthetic typifying the area. It comes as little surprise then that this unsung hero of Notting Hill has been firing up aromatic glee since 1997.
5 Ladbroke Rd, London W11 3PA; ulilondon.com
Tamarind Kitchen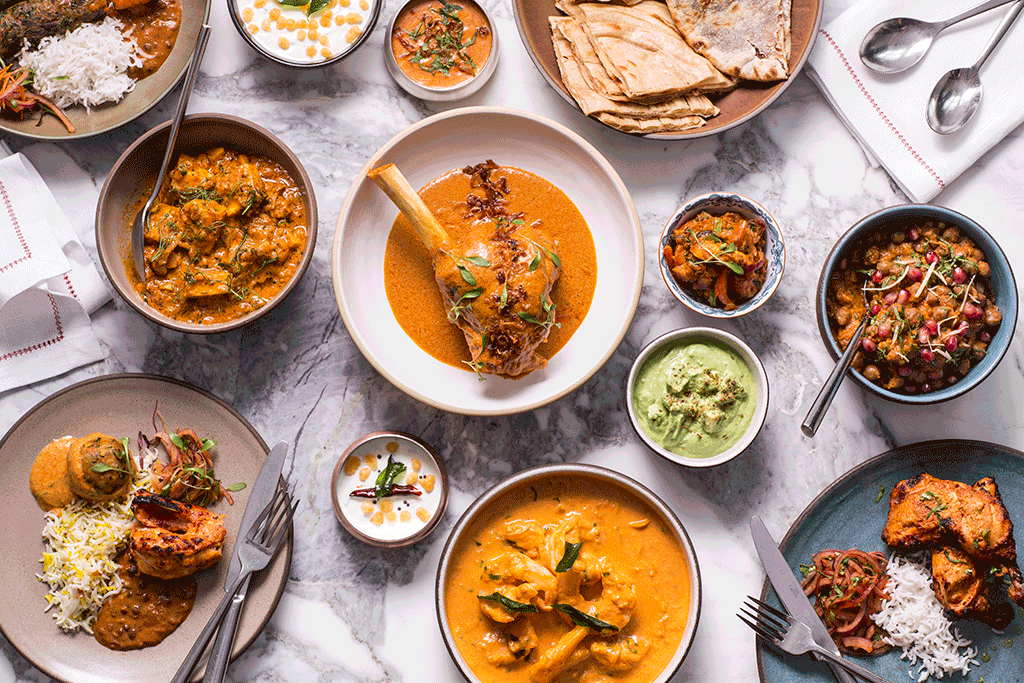 Fancy Indian food is taking London by storm, with its opulent colonial décor and curiously 'tapas' style giving taste buds a journey through India as opposed to settling on the traditional 'one curry'. Tamarind Kitchen Soho (sister restaurant to the Michelin-starred Mayfair haunt of the same name) is no exception to this. A simple spot with decadent trimmings within Soho's bustling food quarter, Tamarind Kitchen harks back to the Maharaja era with mahogany hues, velvet sofas and the yesteryear flicker of an oil lamp on tables.
It's more relaxed here. Start with a cocktail – their passion and chilli martinis are punchy. Exotic small plates to start, from lighter Mango and Avocado Salad to heartier Tandoori lamb Sheekh Kebabs come in small or regular sized portions. The Lotus Root Kebab with dates and plum chutney is highly recommended, as is their carefully curated wine list. Those resolute on a curry can start light and graduate to the 'Late Arrivals' section where they'll find familiar (but adorned) favourites such as Kerala Prawn Curry, Chicken Chettinad Biryani or Nizami Vegetable Kofta curry (the vegetable dumplings in this dish are divine). The warm welcome you receive as you enter the restaurant is as sweet and refreshing as the Gulab Jamun Indian milk dumpling pudding.
167-169 Wardour St, London W1F 8WR; tamarindkitchen.co.uk
MNKY HSE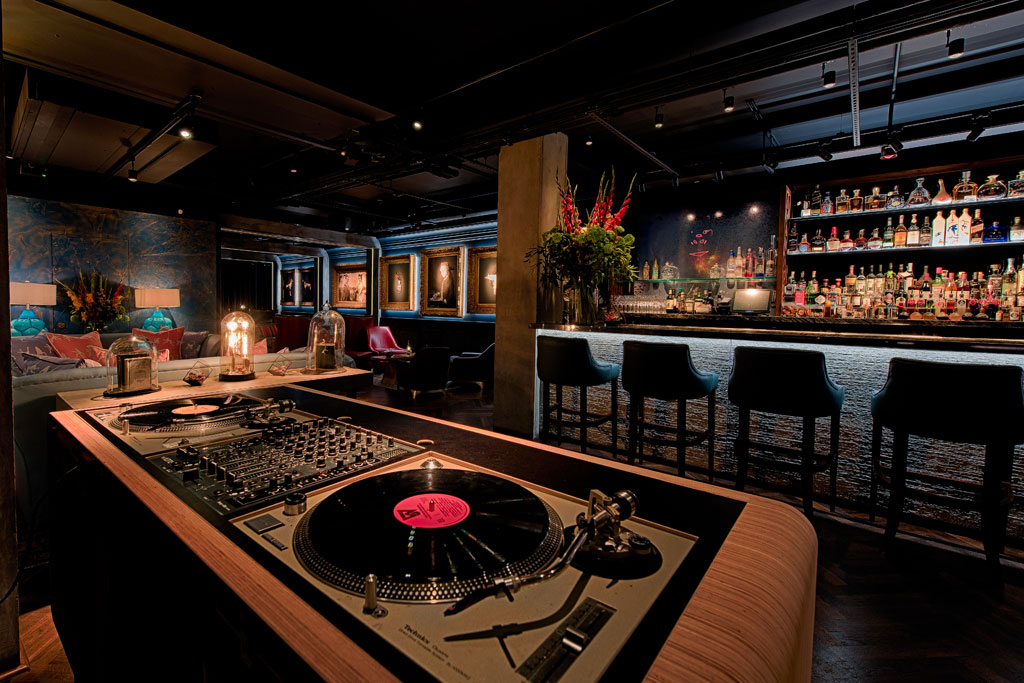 'The problem with London', the New Yorker says, 'is that everything shuts at midnight, save a few dubious clubs'. Well, not at Latin American restaurant-bar-club haunt MNKY HSE. While they've clocked this gap, they're also aware that no one enjoys eating succulent wagyu tomahawk with chimichurri sauce next to Jimmy Choo's chipping away at the dance floor; the restaurant is sectioned off from the bar and dance floor upstairs, but open enough to let the buzz flow throughout. And there's a real buzz here amidst a moody Latino setting.
The music gradually picks up and by the time you're good friends with the mixologists and on Pisco Sour no. 5, the place is practically on its feet. Drinks, dinner and dancing… Embrace the flash Mayfair party scene, leave your snob at home and just let go. You can really park yourself here and enjoy the evening without fussing over Ubers or herding friends onto the next stop. Head chef, Mark Morrans (latterly Group Head Chef at Senor Ceviche,) has combined those lively Latino classics with seasonal British produce, condensing this into a tapas menu to be paired with punchy cocktails. Highlights include the beef brisket tacos, Prawn tostadas with chorizo cider mayo, baby chicken marinated in spices and chu-toro ceviche. The staff's mission is to make sure you're having fun. If you want to lift your Thursday/Friday above the flickering candles of a lukewarm restaurant, head to MNKY HSE (and remember the Choos).
10 Dover St, London W1S 4LQ; mnky-hse.com
May Fair Kitchen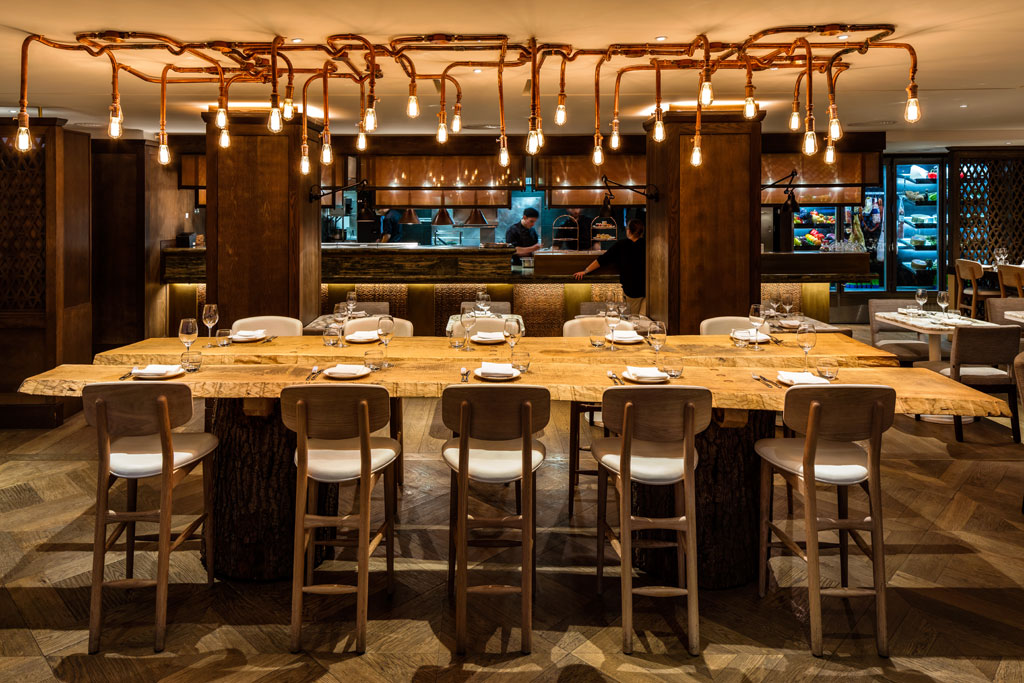 Tapas is increasingly synonymous with uncomfortable stools, overpriced small-plates and squashed soirées. The Kitchen concept (including May Fair Kitchen, Leicester Square Kitchen and Monmouth Kitchen) caters to those loath to sacrifice a sophisticated setting and comfortable chairs in the name of tapas. As their flagship, May Fair Kitchen sits just off Berkeley Square, a chic and warm space wrapped in floor to ceiling windows to let the light spill in. Naked bulbs hang over jagged wooden tables with plush chairs (no wonky hipster stools here). The open kitchen is both immersive and tantalising (tasty smells waft towards you when you enter).
Delectable Italian and Spanish small plates are combined with a few Mexican dishes from Monmouth Kitchen & Leicester Square Kitchen. From gnocchi and spinach gorgonzola to smoked lamb carpaccio with crème fraîche, jamón and manchego croquettas to robata pisco-glazed smoked paprika ribs, the choice is a little overwhelming but perfect for larger groups. Ask to pair your choices with their impressive wine list and sit back for a Mediterranean-style lengthy lunch or dinner. The setting here is so beautiful, you'll want to park yourself for at least a few hours. Make sure you pin this elegant but easy restaurant to the map as it's perfect for client lunches and friends and family soirées alike.
Stratton St, London W1J 8LT; thekitchensrestaurants.co.uk
Holborn Dining Room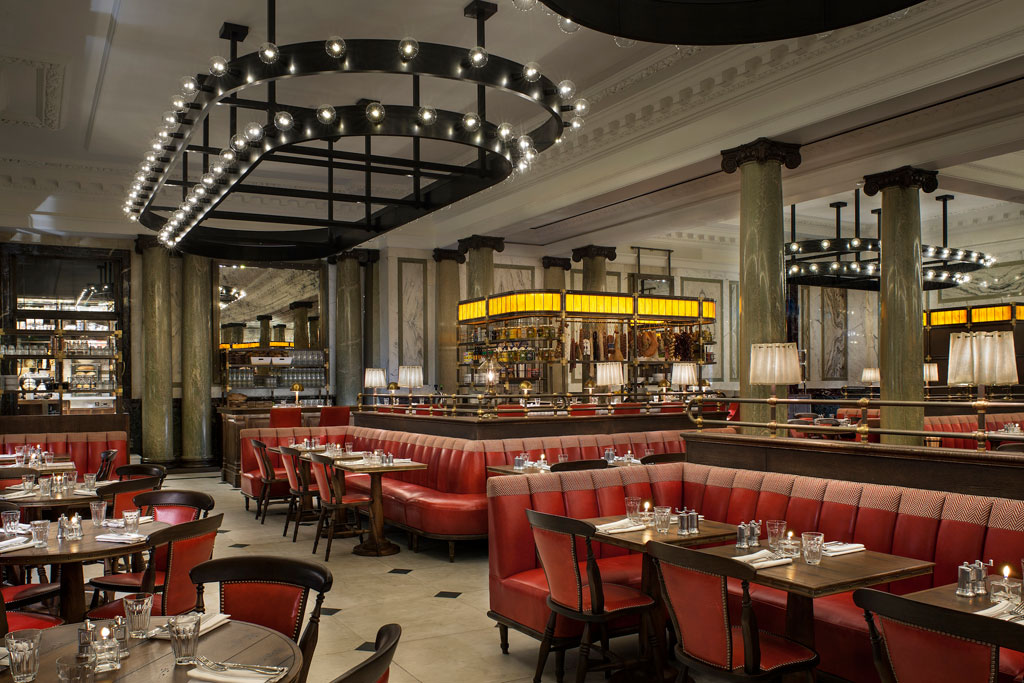 The Holborn Dining Room assumes a Jekyll and Hyde identity – British brasserie by day; plush, vibrant haunt by night with opulent wafts of a member's club. The hotel itself is a Holborn oasis, surrounded by lawyers, business meetings and Covent Garden tourists. The atmosphere in the restaurant is warm and decadent, smart enough to dress up for, yet relaxed enough to offer a new 'pie menu' (and be proud of it). Think well-heeled pub food with a few (almost Aussie) options for those on the healthy-hearty bandwagon. Their Monkshill Farm scotch egg epitomises why you get serious bang for your buck here, simple food cooked well with the very best ingredients (expect tender, verging on fluffy pork wrapped around a perfectly cooked egg).
From chicken and mushroom tarragon pie to chickpea panisse, the menu oscillates between traditional British food and something 'a little exotic' or brasserie inclined for those with refined palates. And in the city that has everything, nothing says exotic more than a return to tradition. The pie room harks back to classic British comfort food and will operate as a kitchen by day and a private dining room by night (the décor is reminiscent of a scene from Sweeney Todd just with marble worktops and smart decanters). Curried mutton to the classic steak and kidney are wrapped by pastry Picassos, epitomising the grand back-to-basics gastro-movement sweeping London. The gin here is a reason to come alone, Holborn Dining Room's gin bar offers an infinite choice from international brands to small-batch and local distillers – try the sloe gin cocktail, it hits the spot.
252 High Holborn, London WC1V 7EN; holborndiningroom.com
Wild By Tart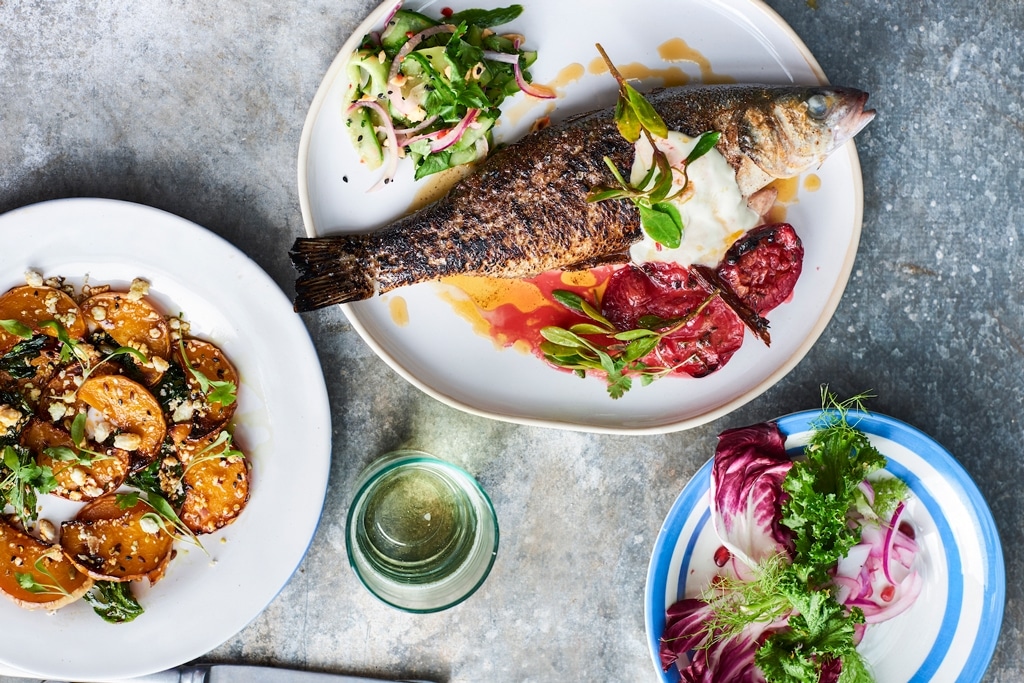 Wild by Tart is the latest venture from Lucy Carr-Ellison and Jemima Jones, the foodie duo behind boutique catering company Tart London. After a few years spent feeding the world's fashion elite, they set their sights on transforming a former power station in Belgravia into a manifestation of their blossoming brand. This is comprised of a deli, event space, photography studio, retail store, and the most recent addition: an all-day restaurant. There's a touch of New York to this endlessly cool spot, which is in fact where the pair first met – think industrial-inspired interiors, high ceilings and plants galore. When asked what kind of food they cook, Lucy and Jemima simply say they make what they love. Wild by Tart is a farm-to-table style restaurant, with a menu focused around seasonal and local dishes designed to be shared. Expect vibrant colours and big flavours: we particularly loved the grilled halloumi with honey, lime, chilli and coriander; the flamed lamb chops with red curry paste and peanut; and the pumpkin, gorgonzola and pickled chilli flatbread, cooked in the wood oven. Everything has a wholesome feel – though it's not overly healthy, and the dessert menu is well worth exploring: there's a particularly delicious miso caramel cookie skillet, designed to be shared between two. The intimate corner tables make for ideal date settings, while the long communal tables are perfect for bigger groups – and wherever you sit, you'll be in view of the long open kitchen, which is a lovely touch.
3-4 Eccleston Yards, London SW1W 9AZ; wildbytart.com
Chicama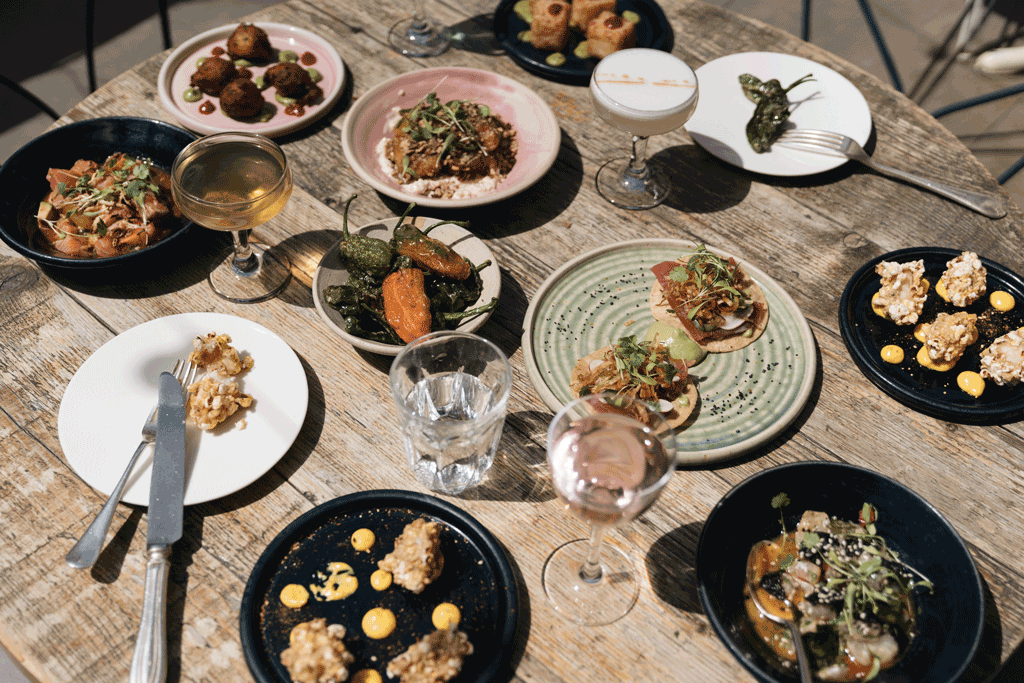 The second restaurant from the Pachamama group, Chelsea's Chicama is a charming restaurant named after a coastal town in Peru – not the word chic, although that does describe it well. Unlike its sister, Chicama is meat-free, focusing instead on fish served small plates-style. Seafood is delivered daily from Cornwall and given a South American twist – the squid is marinated in garlic and ají panca, for instance, while the trout is cooked in banana leaf and served with red quinoa. But there are also plenty of delicious, flavoursome vegetarian options, like the fried aubergines with plantain miso (our highlight) and the smoked mushroom ceviche with ceps tiger's milk. Don't knock the tapioca marshmallows before you've tried them: made without eggs or sugar, these bitesize snacks have the texture of fluffy marshmallows but the flavour of cheese – they're made with deep-fried parmesan, and served with a chilli sauce. Pisco Sours are the natural drink of choice, though the Spicy Margarita shouldn't be overlooked. Eat al fresco on the lovely plant-filled outdoor terrace, or watch the chefs working their magic up close from the pastel pink marble counter, which looks onto the open kitchen.
383 King's Rd, London SW10 0LP; chicamalondon.com