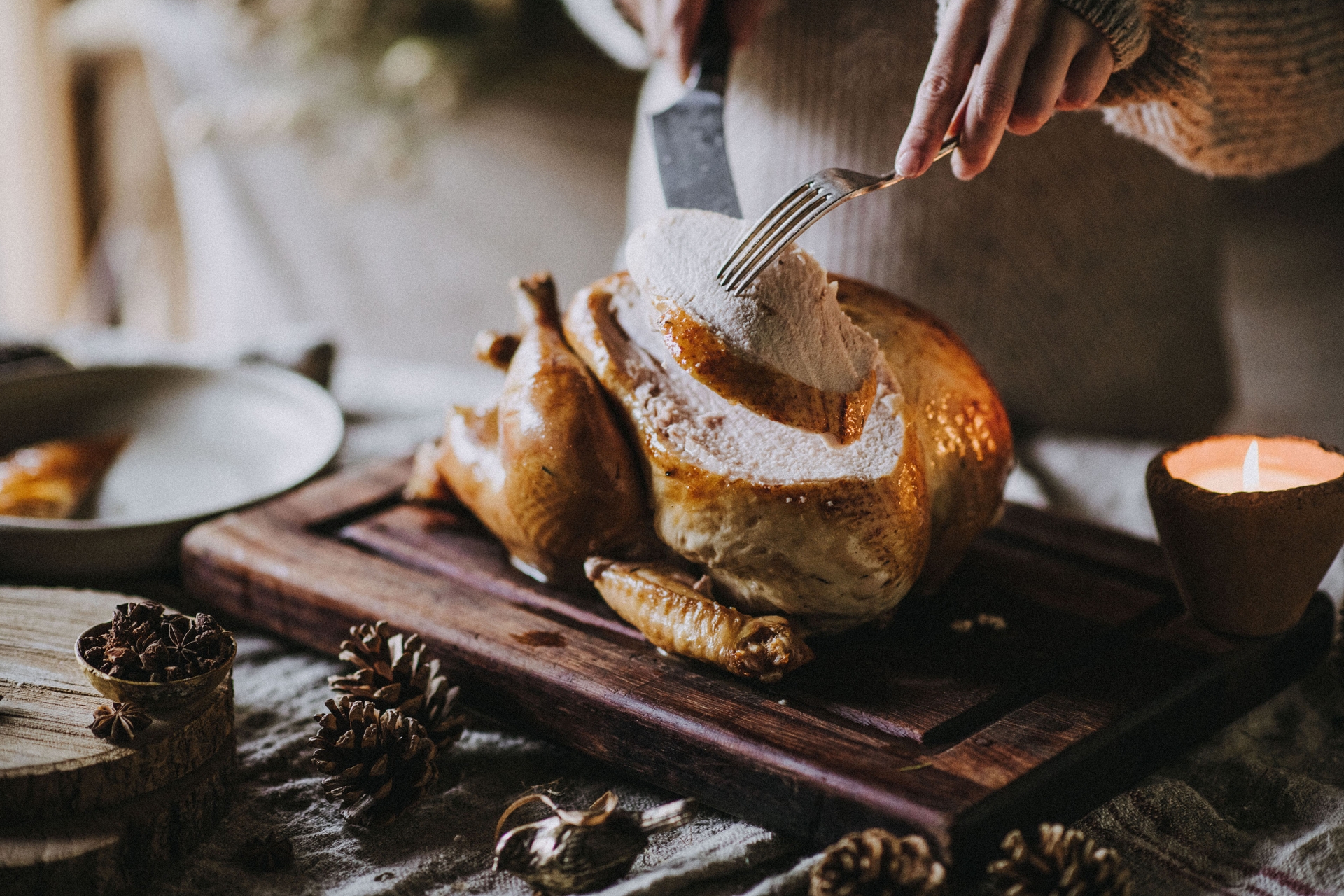 How To Have a More Considered Christmas Dinner
---
Top tips from Pipers Farm
With 66 percent of people admitting to buying more Christmas food than what's needed, it's all too easy to over shop, especially at Christmas time. To help combat this, Abby Allen of ethical producer and retailer Pipers Farm (known for offering sustainable meat, poultry, and dairy), has shared her tips for having a more sustainable Christmas dinner.   
How to Have a More Sustainable Christmas Dinner
How to buy greener and more ethical meat 
Buying direct from a farmer or box scheme is a great way to ensure that you're supporting local producers who grow food in harmony with nature, so take the time to shop at nearby farmers markets or source meat online from trusted farmers. Be sure to look out for beef, lamb and mutton that has been 100 percent pasture-fed. The food that farmers feed the livestock can have a big impact on nature, so you want to look out for grass fed meat as a minimum standard. Don't be afraid to ask your farmer questions – if they are anything like us, they will love sharing with you how your food has been produced.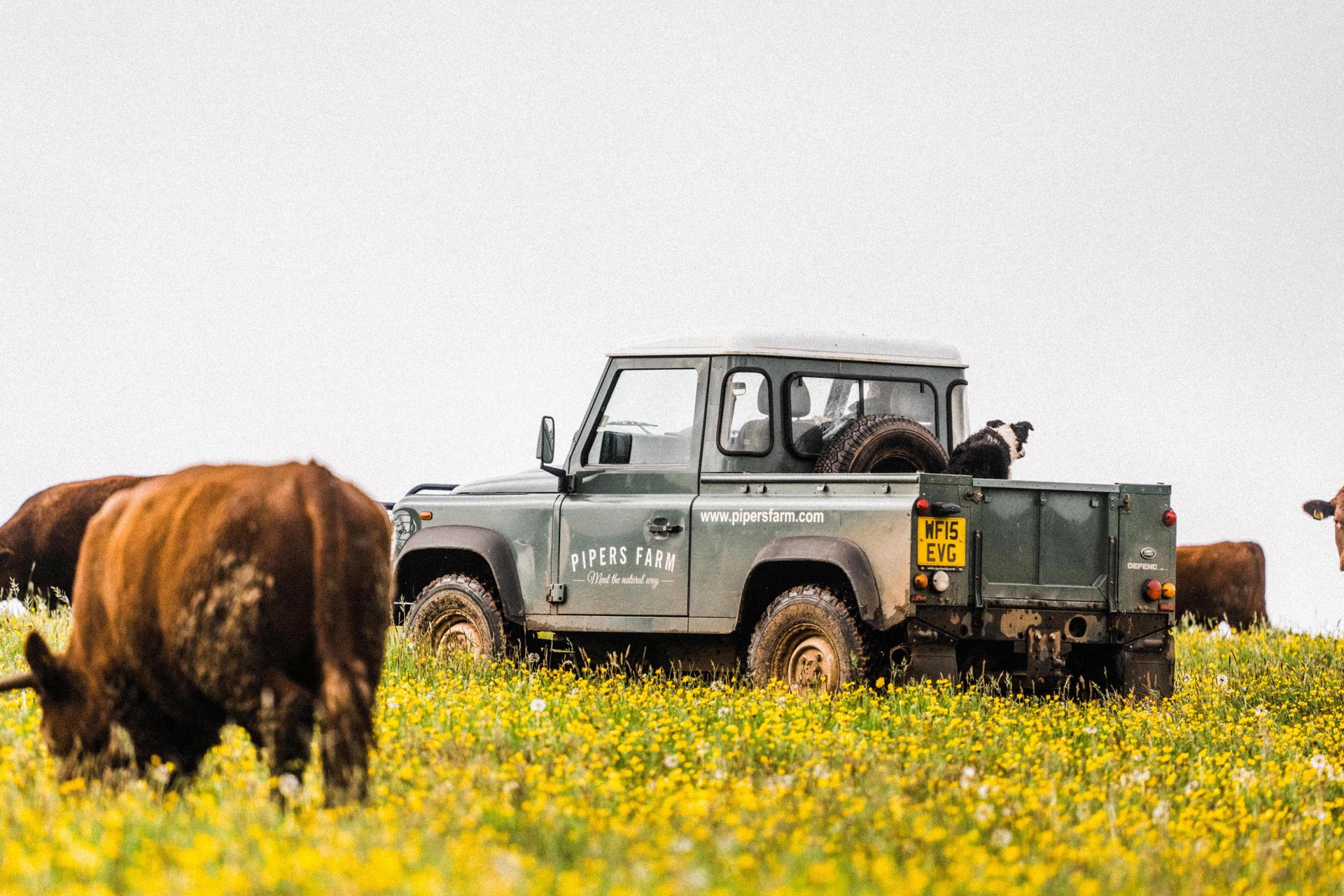 Preventing food waste
Buy more, but less often. We love the ethos of slow food – and this means growing but also shopping. Choosing a whole bird or larger meat joint than you usually would means that you can use the oven less often and get more creative with recipes that help the food go further. This is especially helpful over the Christmas period, where you can cook one joint and then find recipes to use up the leftover food, such as bubble and squeak, turkey stock, turkey curry, turkey casserole, and cold cuts. Don't forget to use your freezer to store any leftovers and gluts to reduce your food waste. 
This also helps you to be mindful of packaging and transport miles and ensure that you do fewer last-minute dashes to the shops because you've prepared in advance. 
Plan your festive feast
Avoiding the crush of last-minute food shopping is not only better for your bank balance, but also better for your stress levels. By planning and ordering your food in advance, you'll waste less money on buying food items that you don't need, at a time of year when food prices are notoriously high. You can squirrel away your meat, seafood and other items in the freezer and enjoy a stress-free countdown to Christmas festivities. 
Avoiding the last few weeks of Christmas also helps your grower and farmer, as it helps them plan their production and leads to less waste in the food chain. 
Vegetables and trimmings: keep it local, keep it seasonal
So often we spend time carefully sourcing the turkey or roasting joint but forget about the other items that go into Christmas feasting. Whether you're shopping for milk and cheese, vegetables and flour for your festive baking, there's so many simple swaps and changes you can make to have a more considered meal. 
We have recently expanded our range to include a whole array of sustainable ingredients including grass fed dairy, artisan cheeses, British pulses and sustainable seafood. 
Where possible, buy your festive extras from independent businesses. In the UK, we are blessed with so many incredible cheesemongers, greengrocers, and artisan bakeries. If you don't have one in your area, many independent businesses can be found online and offer nationwide delivery. Our vibrant food community means that there is less reason than ever to give our well-earned money to globalised food corporates who care more about profit than planet and people. 
When it comes to the veg on your plate, vegetable staples like red cabbage, parsnips, Brussels sprouts, carrots, potatoes, chestnuts, leeks, mushrooms, onions, and cauliflower are largely local and seasonal in the winter months, so we can easily avoid shipping and forced ripening methods. Think seasonally and locally.   
And it doesn't need to end with the vegetables! There are so many amazing sustainably grown British pulses available for use in Christmas curries and stews, including beans and peas, that are not only delicious, but they will help stretch your meaty leftovers. Our friends Hodmedod's produce some of the best tasting lentils, chickpeas, and flour. Cooking with British flours and grains that have been grown and milled on British farms are so important too – these farmers are passionate about using regenerative techniques, which makes all the difference.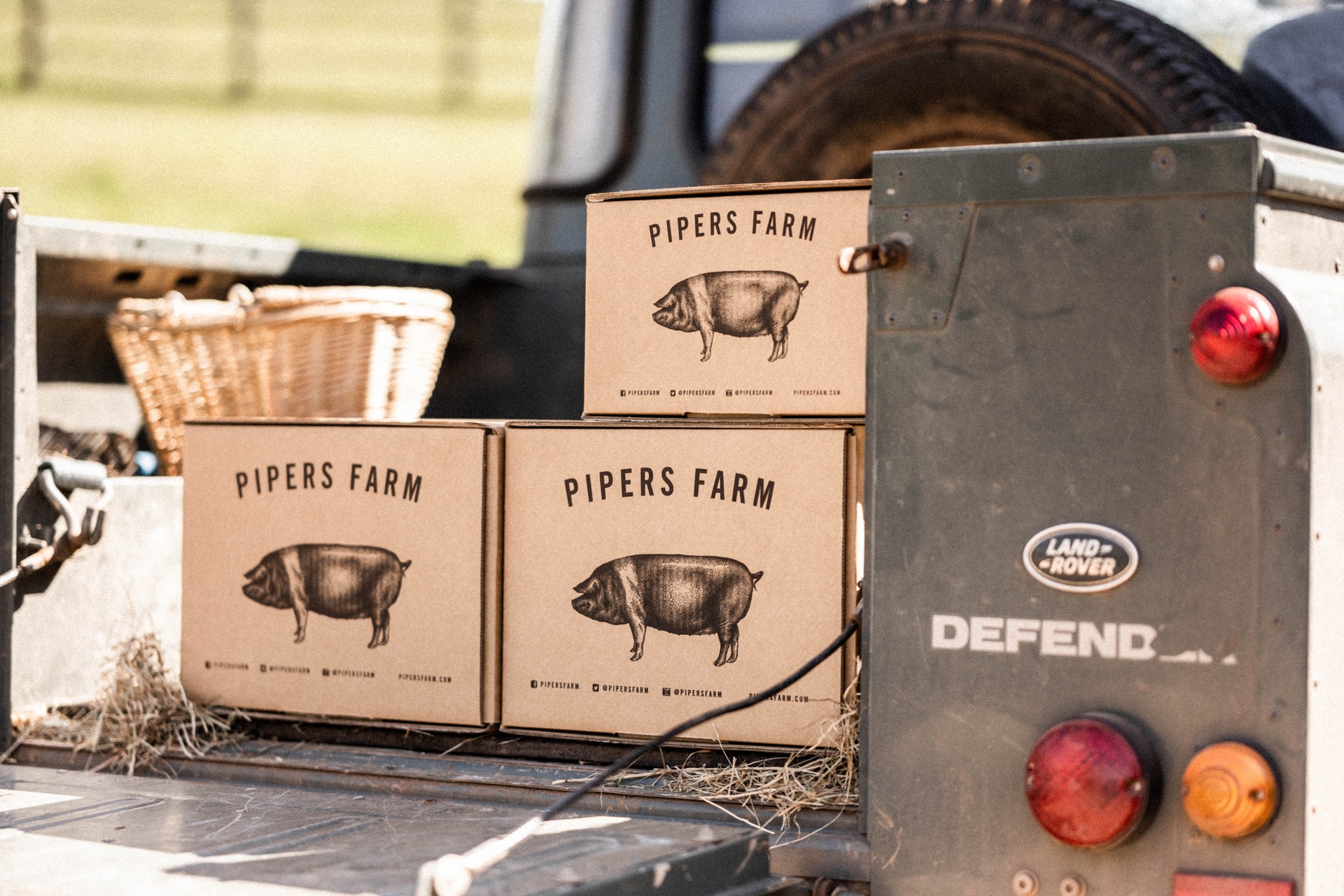 Remember, it doesn't always need to be meat
We are all about seasonality which means that we tend to follow a seasonal pattern when it comes to eating.  In the colder months it's great to have more proteins and fat in the diet, but this doesn't mean that you must have meat every day throughout the festive season. 
Seafood is also a delicious option for Christmas day and can be a great option for anyone who doesn't eat red meat. At Pipers Farm, we source the very best local fish and seafood from abundant species, which are landed using the most ecologically sound catch methods. To absolutely guarantee the fish you are eating is truly sustainable over the winter months, choose from Ling, Coley, Gurnard, or Smoked British Haddock.  This means you can enjoy each meal while knowing you are supporting the local fishing community and protecting marine ecology.
We're also really big on making your meat go further and putting leftovers to good use.  For example, if you hold back the fat that renders out of your pigs in blankets on Christmas day, this can be used to sauté onions for a boxing day pie!
Sustainability is not just for Christmas
As well as thinking about Christmas, these tips are also just good habits to get into throughout the year. Supporting local and ethical producers is not just good for this year but voting with your purchases will help to make change in the future.