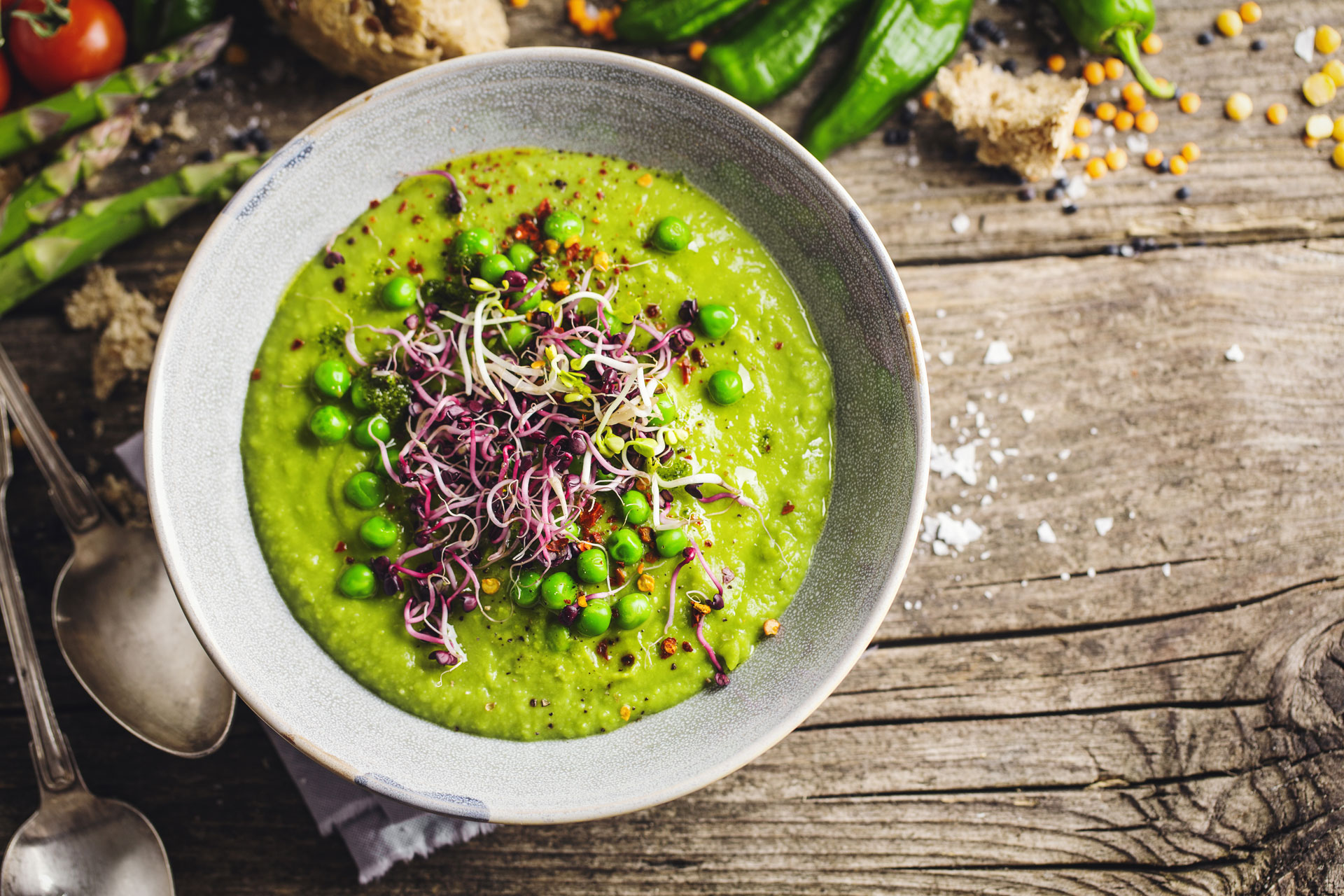 Ingredient of the Week: Frozen Peas
---
Cheap and cheerful, but with bags of potential
Each week plant-based cook Bettina Campolucci Bordi, founder of Bettina's Kitchen, gives us the lowdown on a particular seasonal fruit, vegetable or ingredient, offering cooking tips and a recipe. This week it's frozen peas.
Ingredient of the Week: Frozen Peas
Frozen peas are one of the best ingredients to keep in your freezer, in my opinion. They are so much more than just a simple side dish to a meal, and can be used in lots of different ways. Peas originally came from the Middle East and Asia, however they are now produced all over the world. The UK is the largest producer of peas for freezing and what I love about them is that they can be available all year round. 
Benefits
You may be surprised to know that in most cases, frozen peas are better for you than fresh peas. This is because they are snap frozen at the source as soon as they are picked, meaning the nutrients are maintained from their ripest and hence most nutrient dense stage. Generally, unless picked from your own veggie patch and eaten straight away, fresh peas will deteriorate in quality during the time it takes to get from the farm to your kitchen table. 
Another major plus about frozen peas is their low price point, making them a very affordable ingredient to get creative with. Some of the ways I love to use peas are to add them to bulk out a guacamole (making it a much more economical dish), or making a creamed pea puree to sit roasted veggies on, to blend up into a pesto, or even simply adding them to a lovely fresh salad.
One of my favourite and most popular dishes featuring frozen peas is from my latest book Celebrate: the Pea & Mint Fritters. The basic act of mixing peas and potatoes with a couple of other ingredients and herbs and spices, and frying them in a small amount of oil, may just change your opinion of the humble pea.
How To Cook Them
I also love taking frozen peas and making them into a lovely thick and creamy soup. Not only is this really quick and one of the simplest meals, it's also full of nutrients and goodness. Peas are super high in protein and full of Vitamin C & A, while being low in fat. They are in fact one of the highest protein vegetables you can eat with great levels of antioxidants.
They are so versatile and easy to use. Once you remove them from the freezer, you can either steam or add to boiling water, or they will defrost by themselves at room temperature in no time. You can also pop them straight from the freezer into curries, stews, casseroles or soups.  
To retain as many nutrients as possible when cooking peas, the best way is to boil a small amount of water, add peas and turn down to a simmer for five to ten minutes until the peas are bright green and tender. 
Recipe: Pea and Mint Fritters
Serves 4-6
Ingredients
For the fritters:
250g potatoes, peeled

1 red onion, sliced into half-moons olive oil, for frying

500g frozen peas

35g chickpea (gram) flour

Handful of mint leaves, chopped

Salt and pepper, to taste

Lemon wedges, to serve
For the garlic mayo:
200g plant mayonnaise

30g chives, snipped

½ garlic clove, peeled and grated

Juice of 1⁄2 lemon

Salt and pepper, to taste
Method
Cook the potatoes in a saucepan of boiling water, drain well, then mash in a big bowl.

Fry the onion in some olive oil in a saucepan over a medium heat for 5–10 minutes until caramelised. Set aside.

Add the peas to a food processor or blender and pulse until almost smooth, but still slightly chunky. Mix the pulsed peas, chickpea flour, caramelised onion, mint, and salt and pepper into the mashed potato.

Warm a layer of olive oil in a large frying pan (skillet) over a medium heat. Using a small ice-cream scoop, or two spoons to form quenelles, gently add the fritters to the frying pan and cook until nice and crispy on each side.

While the fritters are cooking, mix the garlic mayo ingredients together in a bowl and set aside.

Once the fritters are cooked, drain on a piece of paper towel and serve with the garlic mayo and lemon wedges on the side.