Ingredient of the Week: Ginger
The zingy root has numerous health benefits
Each week plant-based cook Bettina Campolucci Bordi, founder of Bettina's Kitchen, gives us the lowdown on a particular fruit, vegetable or ingredient, offering cooking tips and a recipe. This week it's ginger.
Ingredient of the Week: Ginger
Ginger, that earthy root with its fiery kick, has been a significant part of my life for as long as I can remember. It's more than a spice, it's an integral component of my health and culinary journey, offering not just taste but wellness benefits too. 
Ginger's journey from the quiet farmlands to urban kitchens resonates with me. The root thrives in the nurturing environment of the countryside, only to be harvested and brought into homes around the world. Where I grew up, ginger was a part of daily life. The smell of gingerbread cookies baking on a winter's afternoon or the spicy kick of ginger beer on a hot summer's evening, the root is interwoven with my memories. I enjoy it in so many ways: in the cold months, there's nothing like a warming ginger tea to soothe the soul and boost immunity. In the summer, a glass of cold ginger beer is the perfect refreshment. Ginger is versatile, and that's part of its beauty.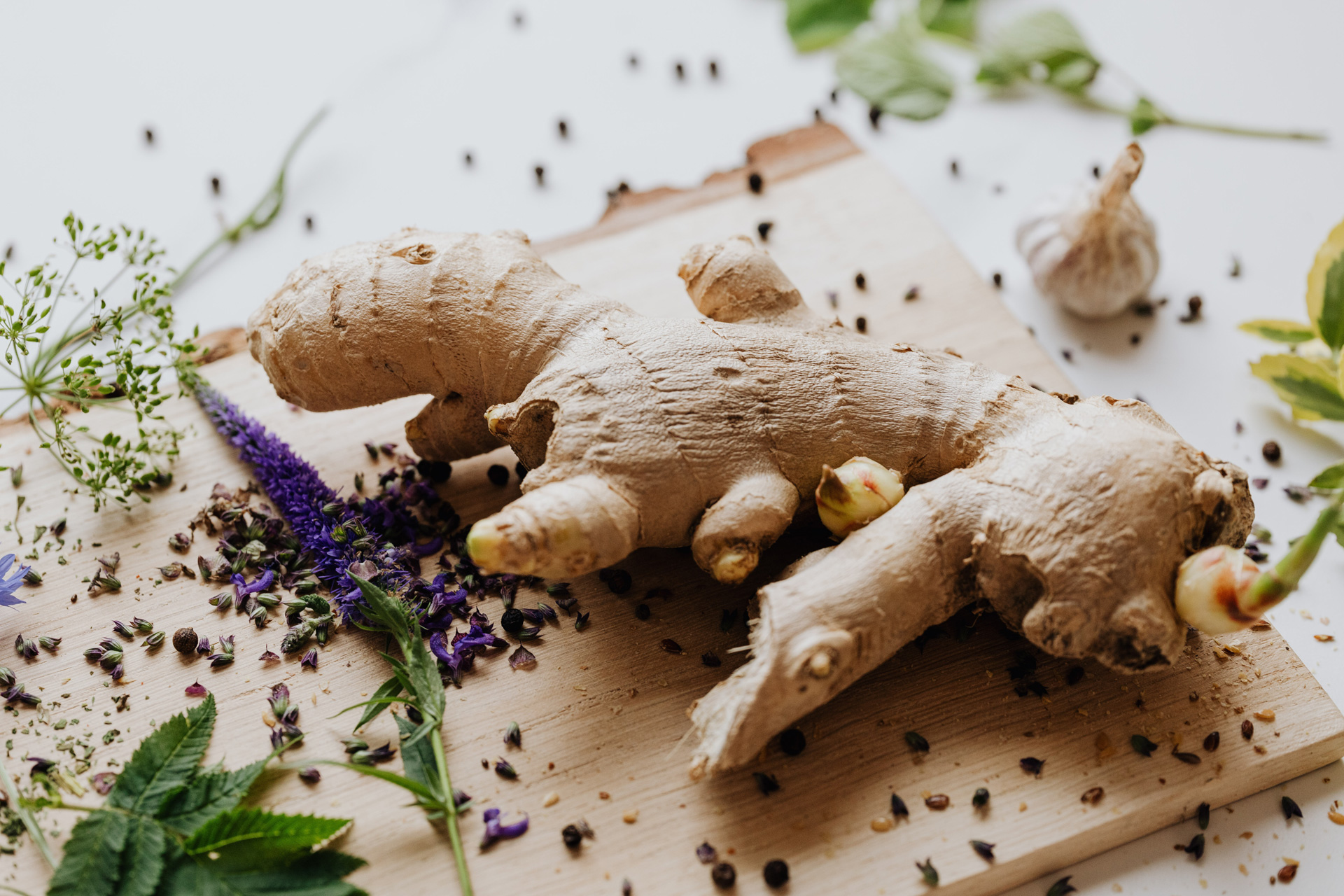 One thing about ginger is its unmistakable aroma. It's strong, almost aggressive, yet it holds a warmth that comforts and soothes. You might not immediately link this distinctive scent with wellbeing, but ginger is packed full of a compound called gingerol. This is the stuff that gives ginger its pungent smell and spicy taste. It's also a potent anti-inflammatory and antioxidant, making it an excellent ally for our bodies.
You can take ginger in many forms, fresh, dried, powdered or as an oil or juice. It's used worldwide, in cooking, as well as for its health properties. From helping with muscle pain and soreness to soothing nausea and fighting off colds, the root has a lot of tricks up its sleeve.
Uses
In cooking, ginger's robust flavor can elevate even the simplest dishes. Asian cuisines are where you'll see ginger used to its full potential. It's a critical part of the flavour profile in Thai, Chinese and Indian dishes, among others. Stir-fries, broths and curries get an invigorating kick from this root. 
But it's not just savoury dishes that benefit from ginger's unique taste. In European-inspired baked goods, ginger adds a sweet spiciness that's simply delightful. Gingerbread cookies or a moist ginger cake wouldn't be the same without it. 
Now, I'd like to share a favorite ginger-infused recipe of mine. It's a simple yet delicious dish that works equally well on a hot summer day or a cold winter night.
Recipe: Ginger-Infused Broth
For the broth and greens:
Ingredients
1⁄2 yellow onion, sliced

3 garlic cloves, chopped

1 teaspoon five-spice

1 tablespoon miso paste

1 cinnamon stick

500 ml (17 oz/2 cups) vegan stock

2 pak choy (bok choy), cut in half

100g (31⁄2 oz) tenderstem broccoli, cut in bite-size pieces

1 handful of kale

260g (91⁄2 oz/2 cups/heaped 11⁄3 cups) precooked brown or white rice

1 thumb-sized piece of ginger root, freshly grated

1 tablespoon tamari

Olive oil, for frying
To serve:
Sriracha hot sauce

Chopped fresh chilli

Spring onions (scallions), green and all, chopped
Boosters:
Hemp hearts

Pumpkin seeds

Sesame seeds
Method:
Heat a little olive oil in a large saucepan, add the onions, garlic and five-spice and fry gently for about 5 minutes.

Add the cinnamon stick and stock and bring to a simmer. Once simmering, add the pak choy, the tenderstem broccoli and kale. Simmer for a few more minutes. Lastly add the precooked rice, freshly grated ginger, miso paste and tamari.

Serve immediately with your favourite toppings. I love sriracha, spring onions and chilli for extra kick.