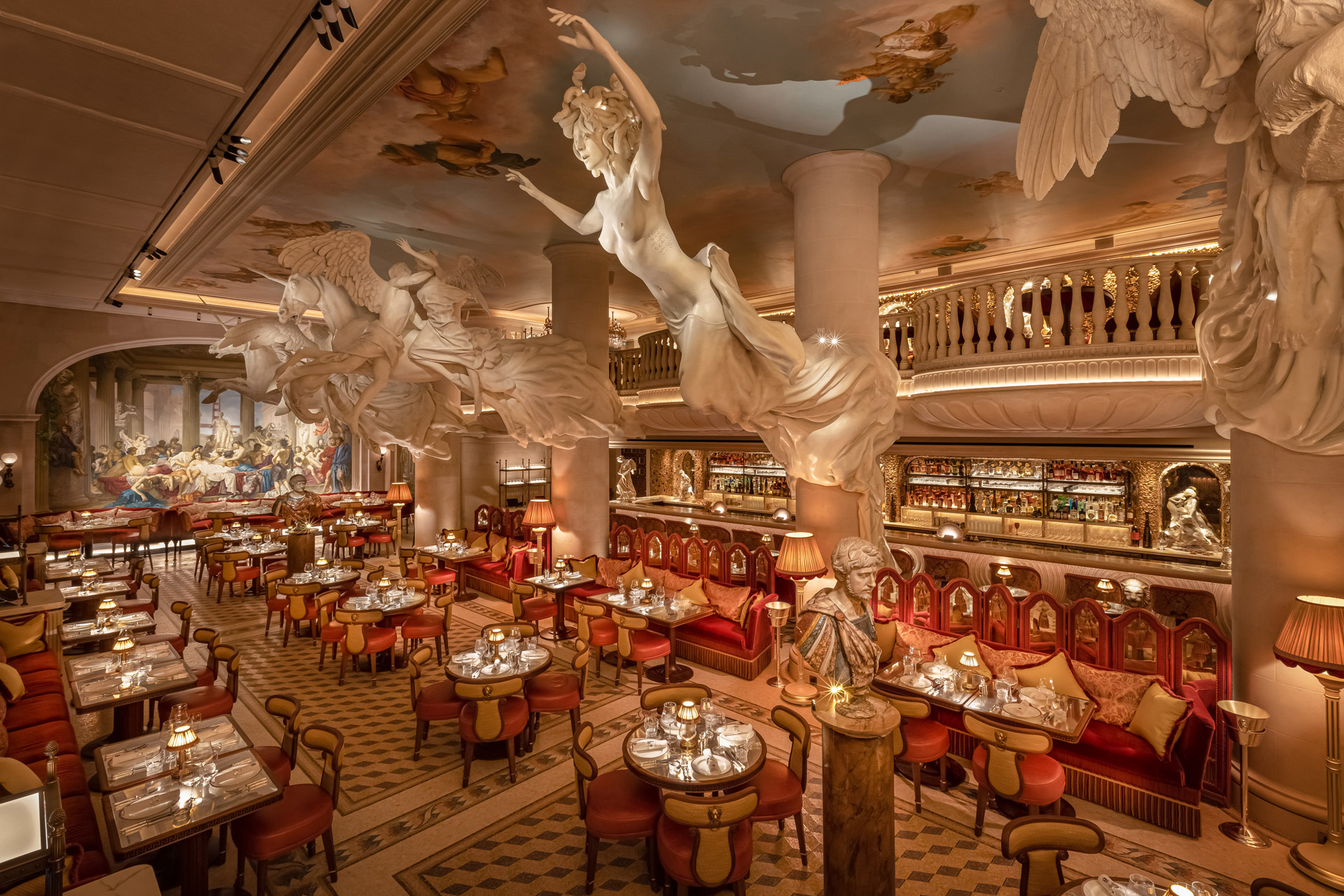 Restaurant of the Week: Bacchanalia
It's impossible to resist the charms of this hedonistic palace
Standing out on the Mayfair restaurant scene is no mean feat. From the 13,000 square foot, rainforest-themed Amazonico to Piccadilly's multi-floored dining emporium Hide, the area is famed for its ultra-lavish venues, with every new launch pulling out all the stops to outdo its neighbours. The latest to enter the competition? Bacchanalia, a Greek-inspired dining room which opened on Mount Street at the end of 2022.

Restaurant Of The Week: Bacchanalia
With Richard Caring – the name behind some of London's most glamorous clubs and restaurants, including Annabel's just down the road – at the helm, it was always clear Bacchanalia was going to be big. Even before it had been announced it was hitting the headlines, after Caprice Holdings posted a tongue-in-cheek job advert for 'London's first grape feeder' – requirements included 'gorgeous hands', and 'regular manicures' were promised. It's unclear whether this was an actual role or just a PR stunt, but nonetheless it set the tone for what was to come: a fun, beautiful, otherworldly palace which would get people talking.
As the name suggests, the restaurant is inspired by the Bacchanalian feasts of the ancient world: large parties put on by the wealthy Roman elite, held in honour of Bacchus (the god of wine and festivity). Bacchanalia certainly embodies this jovial spirit – when I visited on a recent Wednesday evening it had the buzz of a Saturday night, with tropical house music providing the soundtrack and not a single seat empty (heads up: the restaurant gets booked up far in advance, so plan ahead). When we left at 10pm, many groups were just settling in at their post-dinner bar tables – drinks flowing, the real world a distant memory.
But before we go any further, we must talk about the interiors. You'll no doubt already be familiar with them from Instagram, but they really are far more impactful in real life – and with Martin Brudnizki at the forefront, we'd expect no less. 
Arriving feels like entering a kind of fantastical scene which blends the ancient and modern worlds. You're greeted by waiters wearing Greek-inspired togas and sandals, before stepping through to the curtain to the main dining room. Here marble sculptures by Damien Hirst hover above diners, depicting unicorns, Medusa and Bacchus, and a winged lion, sitting alongside 2,000-year-old statues which are dotted around the venue. 
The walls, meanwhile, are covered in floor-to-ceiling murals by artist Gary Myatt, who has given a modern twist to Thomas Couture's 1847 painting Romance in their Decadence, with classically dressed figures seen using laptops and iPhones. 
Upstairs there's a mezzanine dining area which continues the burnt gold and burgundy palette (fun fact: apparently over 300 books of 24-carat gold leaf were used across the interiors). But the most visually appealing spot of all? The toilets. The women's bathroom tells the story of the Garden of Hesperides, the orchard of Greek god Hera where immortality-giving golden apples grew, with 400,000 mosaic tiles surrounding a circular basin which glows with orange lights. The men's loos, meanwhile, take inspiration from Hades' underworld, featuring an immersive scene of snakes and bulls. In case you hadn't gathered already, this place is a haven for Instagrammers, and even non selfie types will likely be swayed to pose for a snap or two.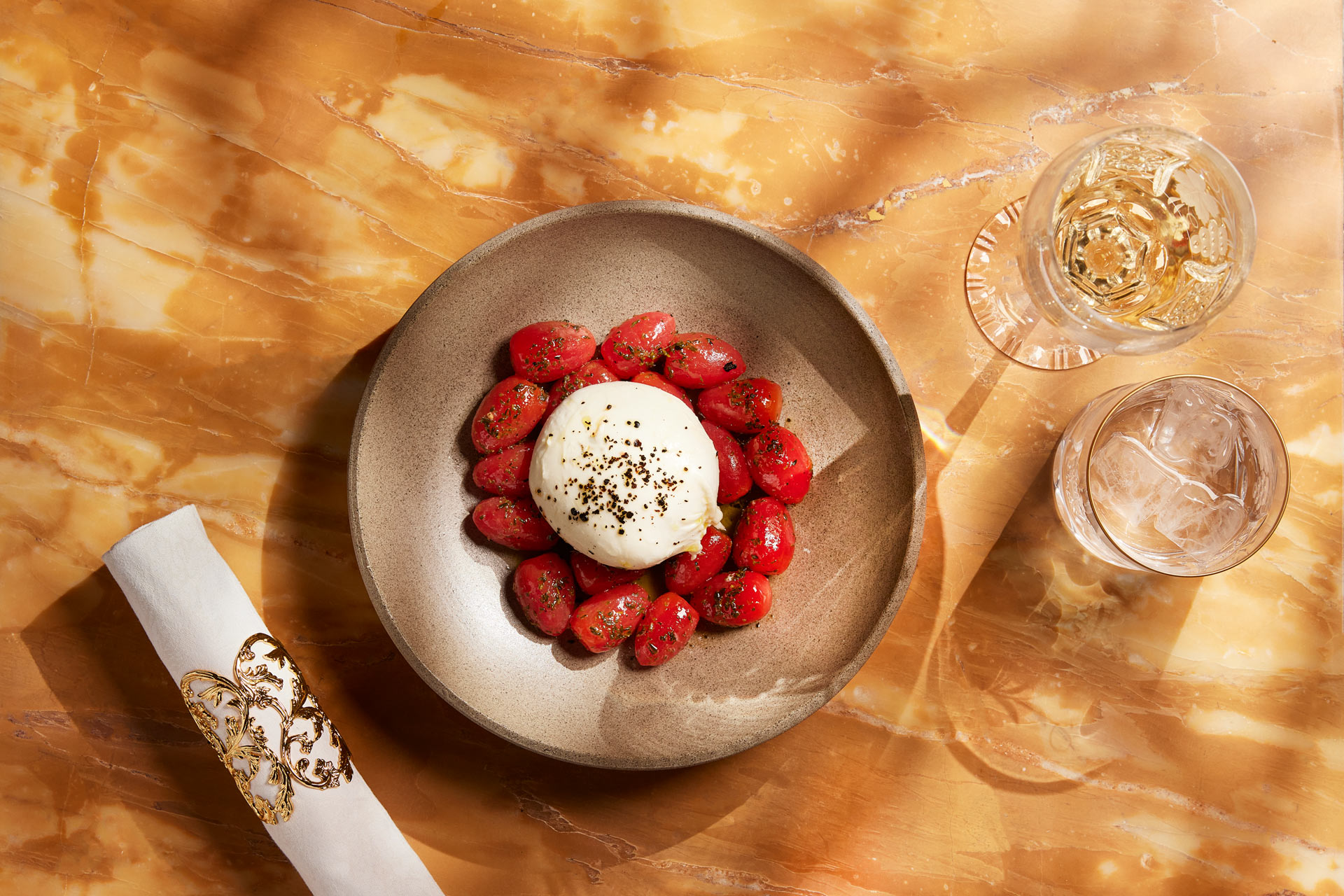 All this opulence is matched by the food, which focuses on Mediterranean cuisine, with Greco-Roman dishes reimagined for a modern audience. Head chef Athinagoras Kostakos has plenty of experience in the sphere of glitzy fine dining, having cooked at prestigious Mykonos restaurants Scorpios and Bill and Coo.
Continuing the convivial theme, everything here is designed to be shared. Naturally, the menu is dripping in luxury: there's a selection of caviar (including, we must mention, a £935 Beluga variety), a lobster pasta dish, and the option to elevate your dish with a sprinkling of black truffle. Other dishes are presented with a sense of theatre, like the huge salt crust sea bass, which is cut up tableside.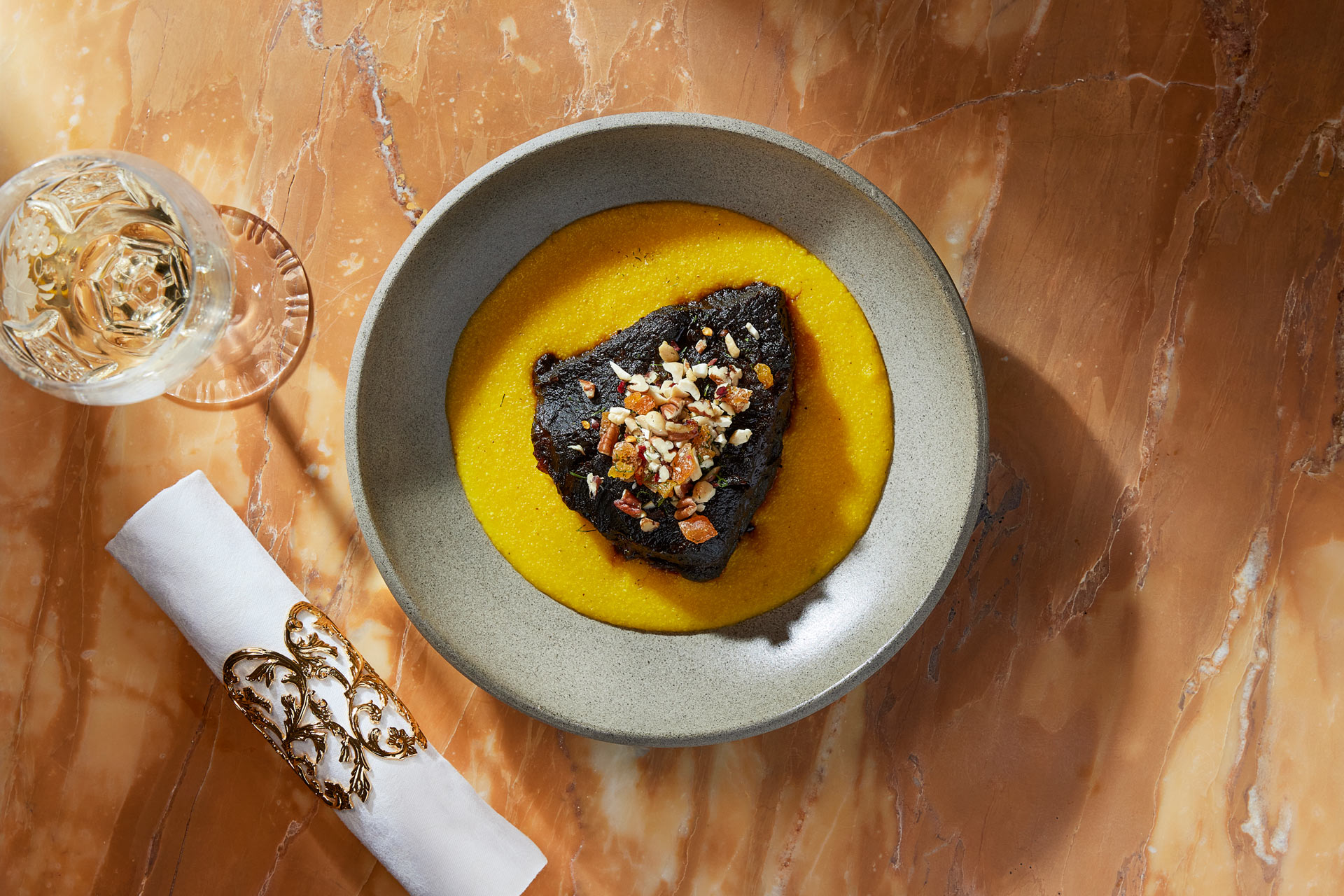 But my highlights were the more low-key dishes, which draw upon the Italian principles of simple cooking made with top-quality ingredients. The burrata, for instance, is paired with some of the juiciest datterini tomatoes I've ever tried; and the tuna tartare is the perfect fresh, light starter, with a citrus dressing and served with crispy phyllo pastry. For mains, you can't go wrong with a pasta (the bucatini bolognese is heavenly), but if you want the wow factor, the sharing wood-fired lamb is a winner. Finish with the signature Bacchanalia Tiramisu, made with mascarpone cream and savoiardi biscuit, or the Bonet Al Cioccolato, an indulgent chocolate brulee with amaretto crumble. 
It's only fitting that the wine list is huge, with over 650 varieties from Greece, Italy and France selected by Caprice Holdings' group wine director Terry Kandylis – including 25 Italian 100-point wines (a rating which essentially means they are really good). Pre or post dinner, it's also well worth sampling a cocktail or two at the dazzling black onyx bar. The drinks list features an array of intriguing concoctions featuring unlikely ingredients: the Karpouzi, for example, is a twist on an Aperol Spritz featuring feta and Grey Goose vodka; while the Maenad is a mix of Roku Gin, white chocolate, Greek yoghurt and egg white (it works). 
THE FINAL WORD
Even the most discerning diner will struggle to not be enthralled by the spectacle that is Bacchanalia. Yes it's over the top, yes it's very expensive, but it's undeniably impressive – and unashamed in its hedonistic glory. In Mayfair's battle of the restaurants, we crown a new winner. Bacchus would be proud.
BOOK IT
1-3 Mount St, London W1K 3NA, bacchanalia.co.uk