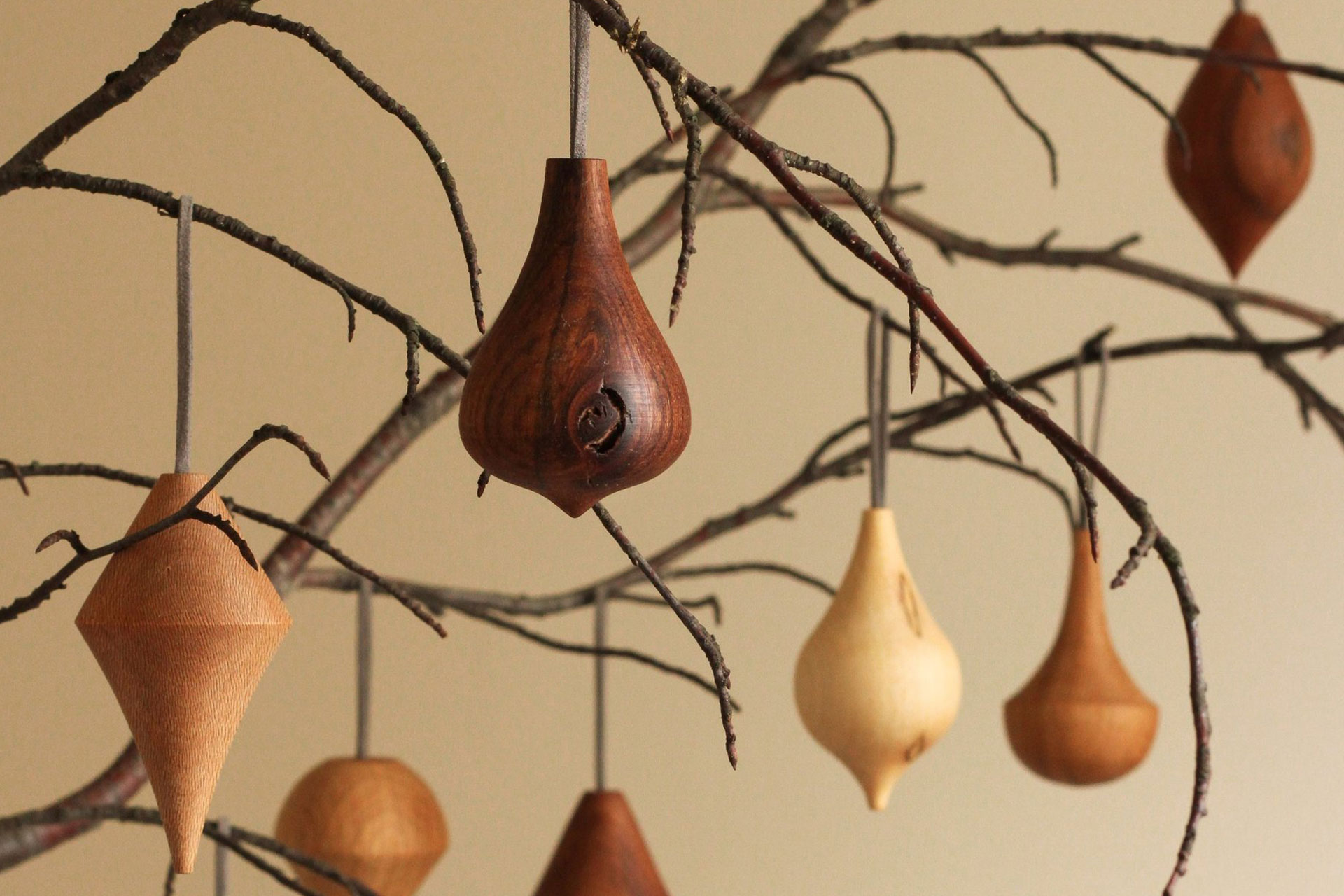 How To: Minimalist Christmas
---
Minimalist and Scandi-style Christmas decorating and entertaining ideas to get you inspired
Christmas is usually the time when maximalism reigns supreme, but if piles of presents, trees festooned with decorations and mountains of mince pies all leave you feeling a little overwhelmed, there's another way. From foraging for decorations to eco-friendly present wrapping ideas and trees that don't shed a thousand pine needles, here's how to do a more natural, minimalist and Scandi-style Christmas yourself.
How To: Minimalist Christmas Decorating
The key to minimalist Christmas decorating is creative thinking. Natural and foraged materials are ideal to give your interior a beautiful and eco-friendly festive lift – take a country walk to collect fallen pine cones, branches, holly and ivy from the hedgerows and red berries for colour. Mix together your materials (with the help of chicken wire to anchor your installations in place) and then drape over mantlepieces, bookshelves or up stair rails.
For colour, dried orange slices on string are a creative way of adding texture to your decorative scheme, or to string on the Christmas tree.
How To: Dried Orange Christmas Decorations
What you'll need
2-4 oranges
Cloves
Cinnamon sticks
Twine, string or ribbon
2 x baking sheets
Baking parchment
Method
Preheat your oven to 140C/120C fan
Cut your oranges into 1-2cm thick slices
Lay on a baking sheet lined with parchment
Add to the oven and bake for 45 minutes to an hour, turning halfway through
Leave to cool
Once cooled, thread twine or string through (depending on what you have around), and stud with cloves or tie in cinnamon sticks to finish
Ideas For Minimalist Present Wrapping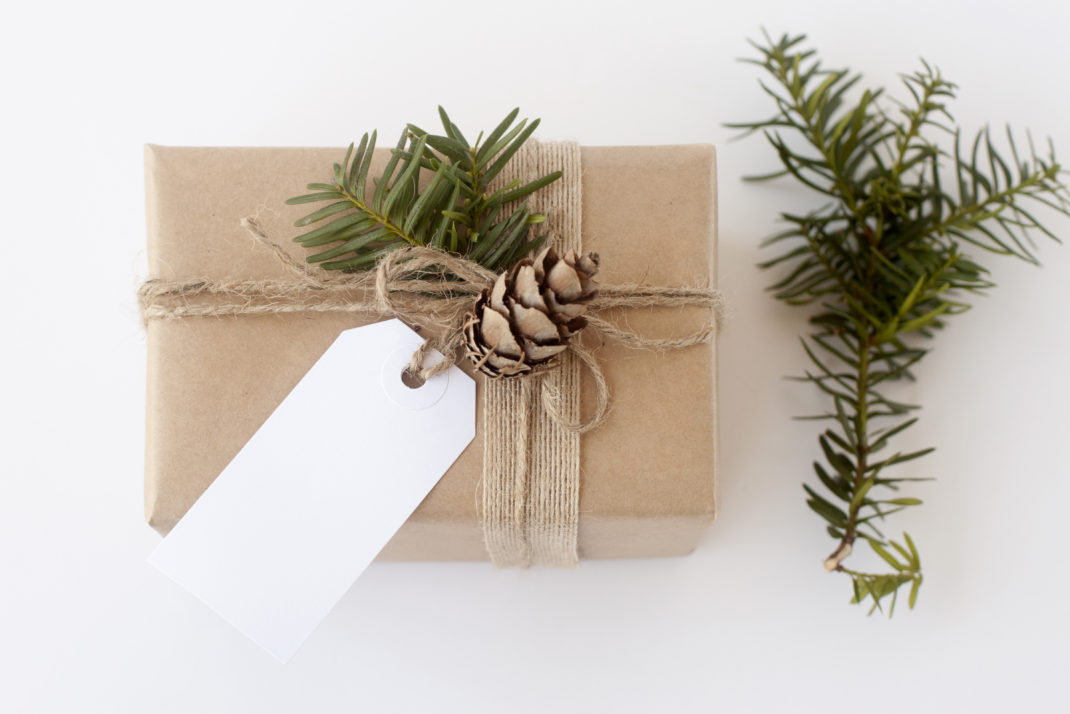 Each year in the UK, a massive 227,000 miles of wrapping paper is thrown away in the aftermath of Christmas. The good news is that recyclable materials make an ideal minimal base for wrapping, in addition to saving a few pennies. Newspaper, recyclable brown paper, or even hand-making your own designs by block printing with potatoes are all more sustainable and minimal ways of wrapping presents. Create a little finishing flourish with string or twine (in the place of ribbons), and sprigs of pine, ivy, holly and foraged pine cones, berries or feathers tucked under the bow.
Why not try your hand at the Japanese tradition of wrapping presents, furoshiki. Pieces of cloth are used to wrap gifts which can be passed on and used every Christmas, instead of using single-use wrapping paper that's more wasteful. There are YouTube videos aplenty that will help you try out various stunning folding techniques. Furoshiki Gift Wrapping Cloth, £16, anthropologie.com
Minimalist Christmas Trees
Wooden Christmas trees have been gaining popularity as an alternative to real and artificial firs, and no wonder: not only are wooden trees ultra-chic (and save a lot of time hoovering up pine needles) but they're also generally more eco friendly investment than other artificial trees, which are mostly made of carcinogen-producing PVC. Plus, if well-looked, a wooden tree can be used year after year. Our pick is Libra's large rustic wooden tree, at 100 x 40 cm, for £120. Just add your favourite handmade decorations, and a string of twinkly fairylights.
How to Re-think Your Bedroom for Winter
Minimalist Christmas Decorations
Minimalist Christmas wreaths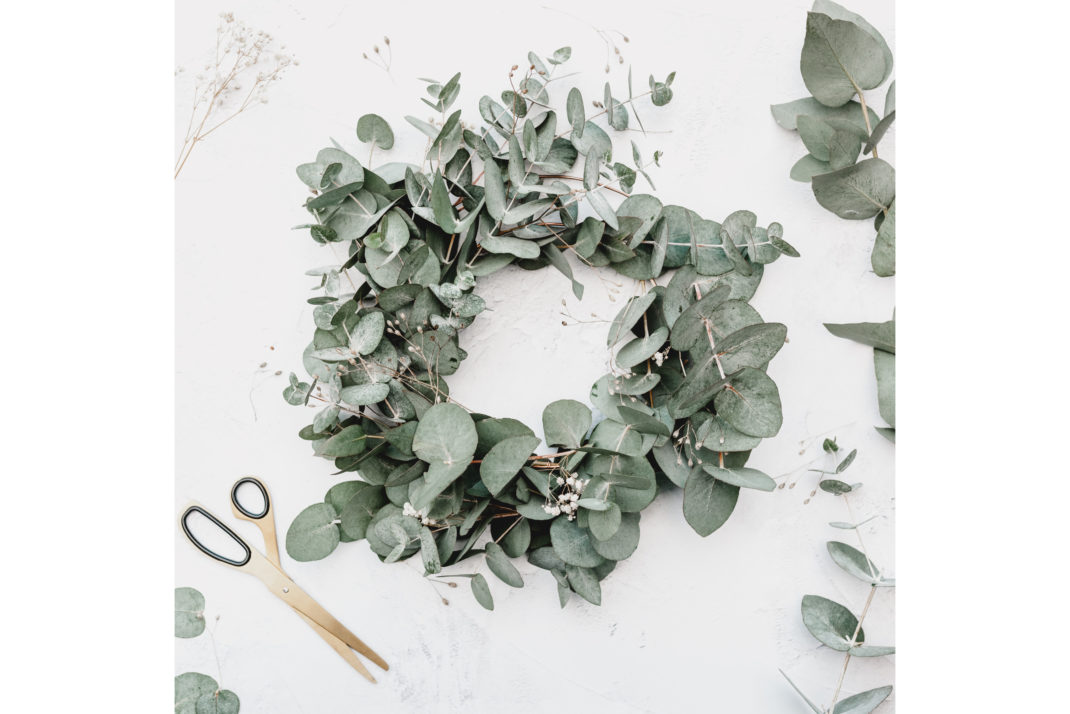 Twigs, sprigs of pine, ivy, mistletoe and pine cones are all easily-sourced materials to create your own minimal wreath. Start by collecting all your materials and a length of floral wire for the base. Cut sprigs and evergreen into 6-8cm lengths, bunch together, and attach to a double-wire circlet as your base. Weave in pine cones, berries or mistletoe as a finishing touch (for a minimal look – stick to one to three materials). For a twig wreath, cut twigs into 6-8cm lengths, begin by bending your longest twig into a loop, add another twig to guide around the loop. Repeat the weave, building in as many twigs as you like until you have a secure wreath. Finish with intertwined fir sprigs, scarlet holly berries or mistletoe.
Minimalist Christmas snacks and drinks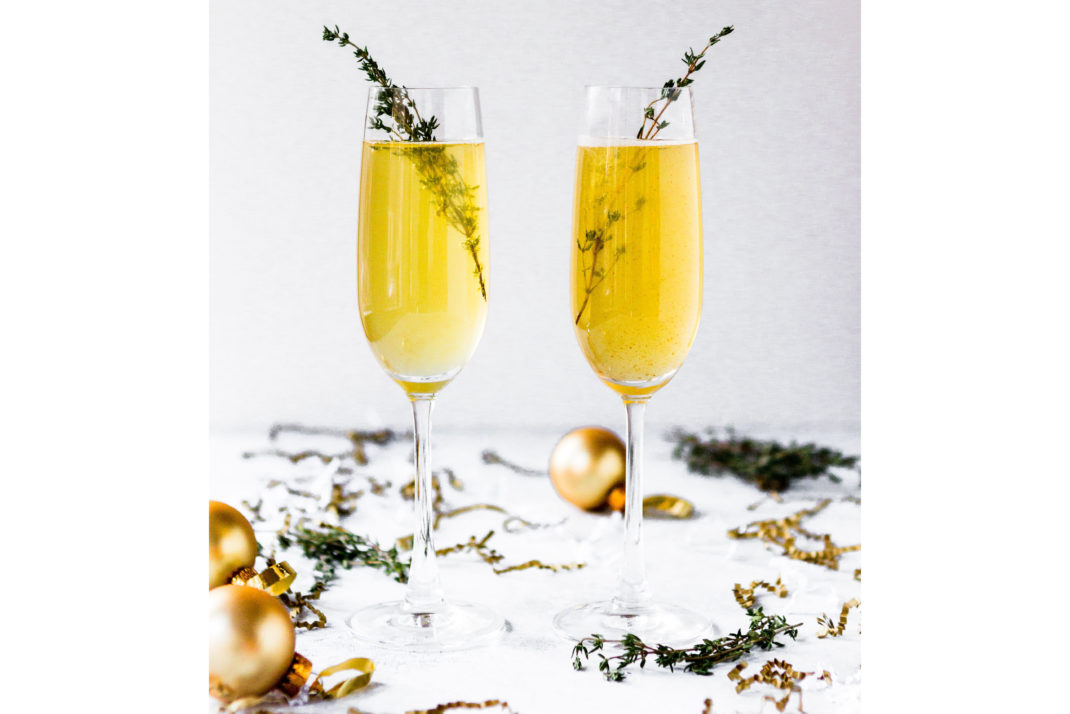 Christmas cooking is one of the most stressful activities of the festive season, so practice a bit of Swedish Lagom and take it easy (your guests will thank you for the extra time you get to spend socialising and enjoying yourself). To avoid being chained to the stove, create less labour intensive platters like cheese boards with fruit, chocolate squares and chopped celery, carrot and cucumber woven in for colour. When it comes to minimal (but instagrammable) Christmas cocktails, try mixing sparkling with the juice of 1/4 of a blood orange and a tablespoon of Aperol for festive twist on a mimosa. Or, add sprigs of thyme or rosemary, fresh cranberries and raspberries to flutes of prosecco for a Christmassy garnish.
Main Image: Courtesy of Radical Giving.
READ MORE 
A Guide to Buying Your Christmas Tree Sustainably / 12 of the Best Bar Trolleys and What to Put On Them / How to Create a Beautiful Christmas Tablescape