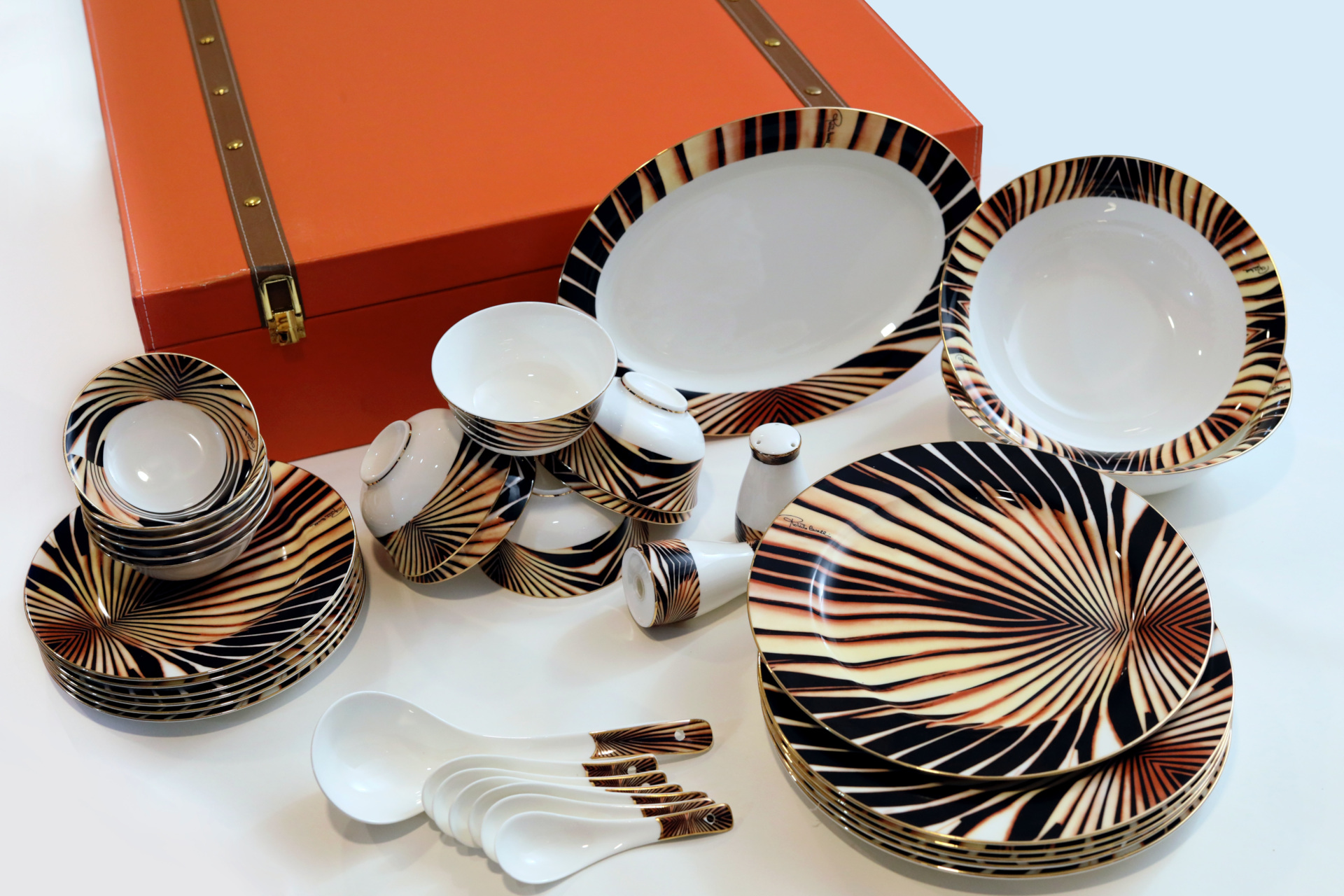 A Guide To Giving The Perfect Wedding Gift
Plus 22 wedding gift ideas for every type of couple
Someone in your life will soon be walking down the aisle to say 'I do' – and you'll be there to help celebrate the special day. You've sorted out your wardrobe, found a date and booked the hotel, and all that's left to do is find the perfect gift. If you're looking to shop for your favourite newlyweds (or you're the couple in question compiling a gift list), you're in luck; here you'll find the best wedding gift recommendations for every kind of couple.
A Guide To Giving The Perfect Wedding Gift
What To Consider
Price Point
How much you spend on a gift depends on your relationship with the happy couple. In a study conducted by Ocean Finance, it was found that acquaintances and night guests spend around £20 to £30 on a wedding gift, while all-day guests, close friends, family and the bridal party bought presents priced from £50 to £100. Plus-ones are usually also expected to chip something in, if possible.
Let The Couple Decide
Most couples will have a list full of ideas for their guests to choose from, with varied price points giving a bit of wriggle room for everyone to get involved.
No List? No Problem!
While not ideal, not every couple puts a list together before their big day. If you're not especially close or you just don't know where to start, then opt for a monetary gift or gift card. Rather than splash the cash on something they might not love, a small contribution to the newlyweds' rainy day fund can go a long way – if not towards a lovely time on their honeymoon.
Wedding Gift Ideas For Every Couple
If you're stuck for choice (as a guest or a soon-to-be-spouse), have a browse through our edit of wedding gift ideas below…
5 Places To shop Wedding Gifts Online
1. Buy Me Once
Last year, Buy Me Once launched its wedding registry, which sources gifts that can truly last a lifetime. The idea is to reduce an individual's (or couple's) eco footprint radically by eradicating the need to buy anything more than once.
EXPLORE: buymeonce.com
2. HoneyFund
Opt for a honeymoon fund versus a physical registry. And the money doesn't need to go to a honeymoon – it could fund a down payment towards a big, necessary purchase, or be donated to a charity of choice.
EXPLORE: honeyfund.co.uk
3. Patchwork
Friends and family can contribute their money – or time and skills – to a patchwork of 'gifts' decided by the couple. Whether that's purchasing tiles for a kitchen renovation or helping paint the hallway, it's an alternative registry filled with a 'patchwork' of tasks and asks.
EXPLORE: patchworkit.com
4. Wedding Present Company
Now this is more for soon-to-be-newlyweds who aren't quite sure where to start The Wedding Present Company works with hundreds of brands across multiple industries, allowing couples to curate a gift list online that guests can directly buy or part-buy from.
Start the process with an appointment (virtual or in-person), where your dedicated Wedding List Advisor will guide you through the products available – this includes brands, custom presents, antiques and fund options – to make a bespoke list. Once decided, simply send out your list to guests and let them browse through your options. The best part? The Wedding Present Company houses all of your gifts in one warehouse, meaning they can be delivered to your home all together on a date that works for you. Find out more about how the Wedding Present Company works here.
EXPLORE: weddingpresentco.com
5. The White Company
The best way to wind down after a busy year of wedding planning? A hot bath with plenty of bubbles, velvety skincare products and a sweet-smelling candle burning in the corner. The White Company can bundle all of these things up for you in a cute little hamper, or alternatively you can mix and match gift items from different product lines to create a tailored present. Alongside bath and beauty, you'll also find a range of home products that could be just what your newlyweds need for a new home.
EXPLORE: thewhitecompany.com
6. Fortnum & Mason
The perfect match for foodies, heritage London department store Fortnum & Mason is known for its rich selection of teas, biscuits, sweet and savoury treats and wonderfully stuffed hampers. If your lovebirds don't have a list to speak of (or you just want to spoil them a little bit), then you can't go wrong with something luxuriously tasty. Happy munching.
EXPLORE: fortnumandmason.com
7. Not On The Highstreet
The UK's treasure trove of personalised gifting, Not On The Highstreet is great for memento gifts that you can personalise with names, dates and messages. Gifting literally spans EVERYTHING, from chopping boards and jewellery to biscuits, candles, plants and home decor. To make things all the more handy for shoppers, the website has a 'Wedding Gifts' section with ideas for all kinds of couples with all kinds of interests.
EXPLORE: notonthehighstreet.com
8. Harrods
Luxury gifting is made easy with the help of the iconic Harrods. The department store has over 3000 brands on tap, spanning clothing, jewellery, beauty and skincare, home, food, wine and – most importantly – gifting. It's pretty much guaranteed that you'll come away the favourite guest of the night if you bag the happy couple (now happier than before) something from here. If you like the look of its wares online, but would like to see it in person first, you can also pay the store a visit. Check out our guide to visiting Harrods to make your trip all the smoother.
EXPLORE: harrods.com
Featured image: akshay bajaj, Unsplash