TV Shows That Inspired Fashion Trends In 2023
These shows are trending for an entirely different reason than you think
Despite industry strikes going on for several months now, 2023 has been a big year for TV. From new releases and book adaptations to spin-offs and series finales, we've been treated to some fantastic stories on the small screen – so fantastic, in fact, that their influence has spread all the way into fashion. These are the TV shows that inspired some of the biggest fashion trends of 2023 (so, if you haven't already, make sure to add them to your watchlist).
The Country & Town House Responsible Buyers' Guide
TV Fashion: Shows That Gave Us 2023's Biggest Trends
Succession – Quiet Luxury
Quiet luxury crept up on us all this year, with whispers (and later, shouts) of the trend taking social media by storm. Discreet style lies at the heart of this movement, with an emphasis on simple designs, neutral colours and sleek tailoring – as well as an aversion to excessive branding and, God forbid, designer logos.
Bu while quiet luxury quietly secured a spot for itself on the AW23 runway, it was HBO's Succession that really showed us how the trend translated into mainstream dressing. The show, which released its fourth and final season back in spring, is known for dressing its characters for the boardroom – think smart suits, silky blouses and a underlining office chic aesthetic. Here, the characters look expensive without flaunting designer branding (although we're sure the Roy family's wardrobe could rival a moderately sized home in price), and so perfectly demonstrate the subtle flair of quiet luxury. Keen to learn more? We break down the 'stealth wealth' look here.
Top Boy – London Street Uniform
When we think of the most fashionable cities in the world, London ranks pretty highly on the list (we're definitely not biased). The city is a melting pot of sub-cultures, which all have their own unique visual identity and street style.
But in 2023, we've been tapping into the East London aesthetic of Top Boy. Releasing its fifth and final season on Netflix in September, the British crime drama focuses on gang and drug crime in Hackney. Through it all, Top Boy stays true to the area's streetwear codes, with classic brands like Nike, Trapstar and Stone Island mixed in with lesser-known names and Black-owned brands. The closest comparison you could make is the Roadman sub-culture, but with an emphasis on recognisable streetwear brands (with more high-end names coming into the fray as characters reach a more elevated status). Stylist Lauren Miller, who worked on the show's penultimate season, told the Evening Standard: 'The characters are supposed to feel like someone you could walk past on the streets of East London.'
Daisy Jones & The Six – 70s Vintage
Does vintage ever go out of style? Prime Video's limited series Daisy Jones & The Six would certainly argue 'no'. The ultimate testament to the motto that trends come, go and then come back again, vintage fashion is all about interweaving the past into present styles – or simply embodying the best of an era.
It was the '70s, though, that had us in a chokehold throughout 2023, thanks to Daisy Jones & The Six. Fans of the show would no doubt have coveted the wardrobe of frontwoman Daisy Jones, latching on to her funky coats, billowing shirts, cowboy boots and denim shorts. The ultimate boho woman, Daisy was modelled after real-life musician Stevie Nicks and gave us plenty of style notes for our next thrift shop raid. Emulate some of the characters from the show with our guide here, or find out how costume designer Denise Wingate brought the characters to life here.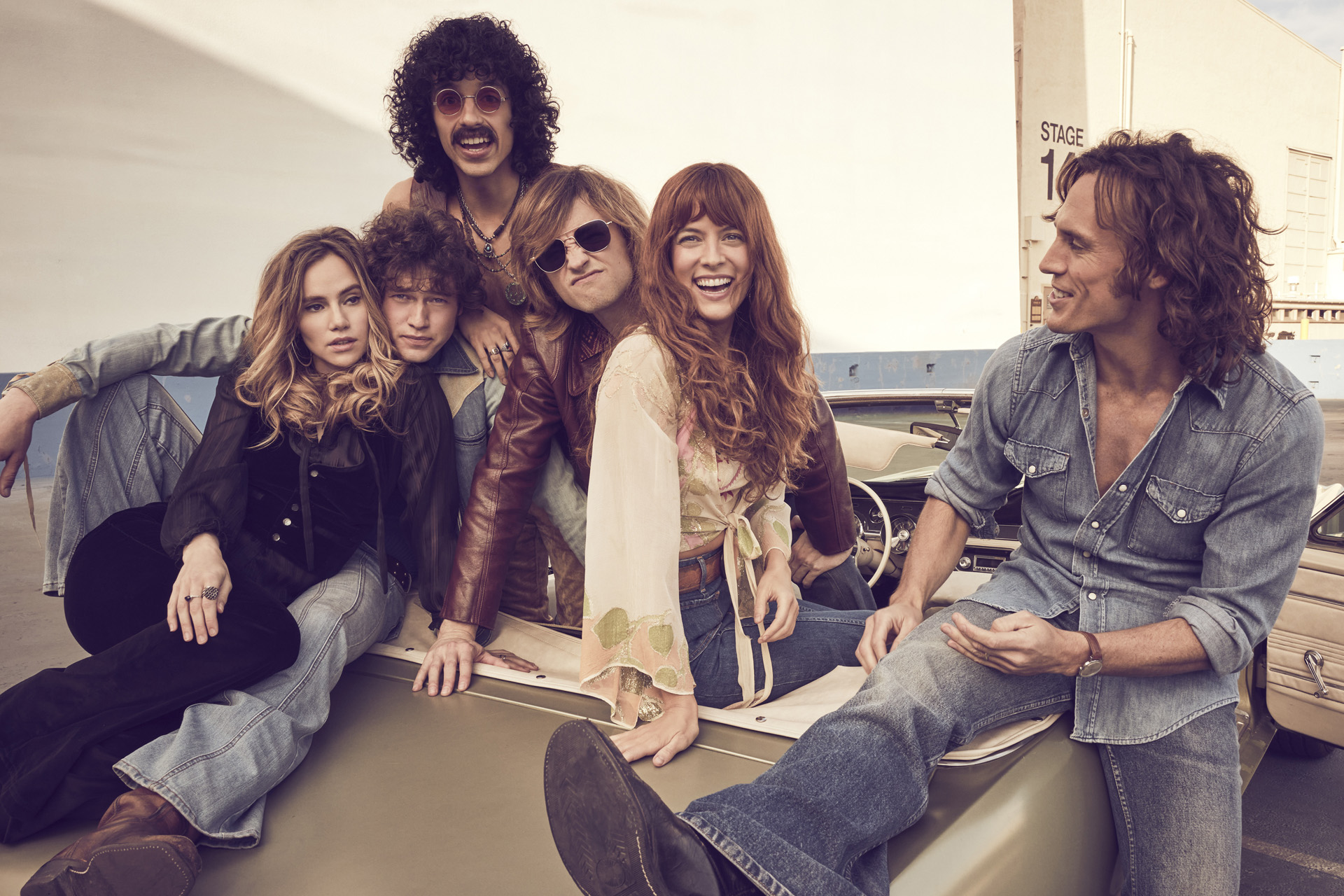 The White Lotus – Vacation Chic
With most (if not all) travel restrictions now no longer enforced, 2023 became the year of the big holiday. Many of us turned our wanderlust into real-life adventures this year, packing up for a few days of calm in sunnier climes (or in the next county, if you like a good staycation) – giving rise to the return of the vacation wardrobe.
And where best to get out inspiration? The White Lotus, of course. The HBO Max show released its second season earlier this year, moving from the tropical beaches of Hawaii to the stunning shores of Sicily – with Jennifer Coolidge in tow, of course. The characters all have wildly differing styles, but the general vibe seems to focus on chaotic, hyper-holiday styles. Think clashing prints (hello, Portia), linen on linen (we're still thinking about Harper's striped shirt and summer dresses), giant straw tote bags (for all the free hotel goodies, obvs) and plenty of floaty gowns with puff sleeves and florals (this one is Tanya-approved).
Sex Education – Jumbo Hair Accessories
We know, this one sounds like a rather hairy situation – but trust us, bold hair accessories have been on the rise recently. From huge hairbows to supersized scrunchies, high-maintenance hairdos are all the rage these days (especially accompanied with a high ponytail, despite the runway's love of a low pony).
And when Sex Education unveiled its fourth (and sadly, final) season on Netflix, our suspicions were proven correct: larger-than-life hair accessories are back in full force. Characters like Ruby Matthews, proud wearer of a strawberry pink broderie anglaise scrunchie (which you can find out how to bag for yourself here), and Aimee Gibbs, who dons yet another pink hairpiece (this one a girly bow), gave us a crash course on elevating hairstyles with maximalist flair. It's safe to say we're hooked.
Featured image: Sex Education Season 4. (L to R) Mimi Keene as Ruby, Asa Butterfield as Otis in Sex Education Season 4. Cr. Samuel Taylor/Netflix © 2023.