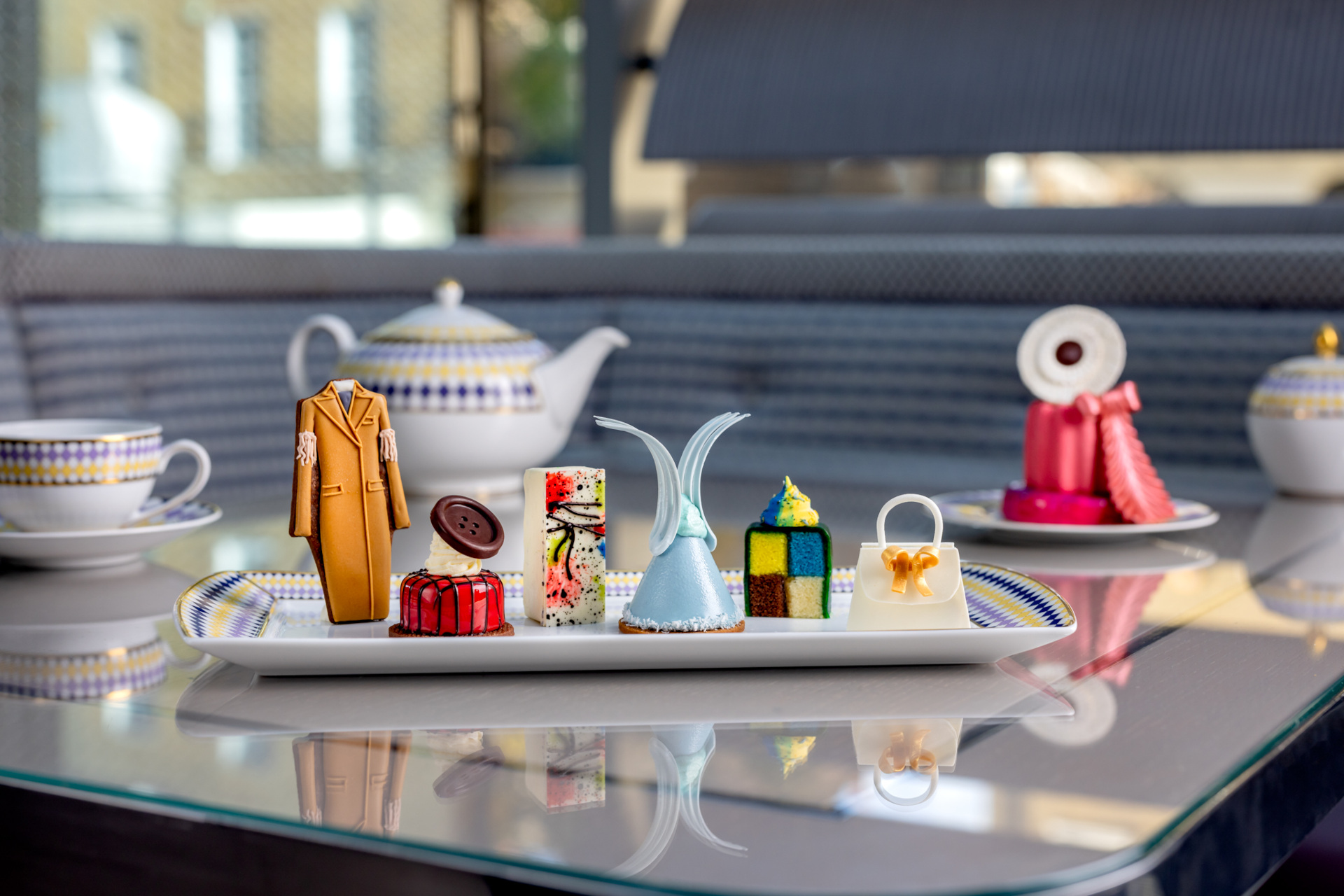 10 Ways to Lift the Winter Blues
---
Say 'bye bye' to the blues
The weather, the back to work, the resolutions that you already failed to keep – is it any wonder January hosts the most depressing day of the year? But you can beat these long dark days. Simply pull back your duvet and try one of our mood-boosting ways to bring back your smile and help banish the blues. From afternoon tea and day spa visits to dinner plans and art exhibitions, these are the best ways to lift the winter blues this January.
10 Ways to Lift the Winter Blues
1. Visit the new Donutelier
Can changing what you eat really impact your mood? It can when doughnuts are involved, and haute couture ones at that. Welcome to the world's first doughnut atelier, Donutelier by Roladin. Opened in London's Leicester Square this month, discover treats as carefully handcrafted as the finest patisserie. Choose from the Pink Royal topped with wild berries, cream and strawberry meringues, or the Black Forest with cherry coulis, Chantilly cream and chocolate pieces and the most creamy hot chocolate. These artisan designs really are love at first bite.
EXPLORE: donutelier.co.uk
2. Brighten your world with Yayoi Kusama
From the Infinity Mirror Rooms exhibition at the Tate Modern to the Infinite Possibility Louis Vuitton collaboration at Harrods, there is no escaping the unending colour and joy of Japanese artist Yayoi Kusama right now. There is currently a 15m sculpture of the nonagenarian painting dots across the Knightsbridge department store and her installation at the Tate has been extended until April, so there is even more opportunity to immerse yourself in her colorful world. It's hard not to feel uplifted.
BOOK: tate.org.uk
3. Get your chakras in order at the Corinthia
Harmonise your body's energy centres and enjoy a more relaxed and renewed state of wellbeing with the new Chakra Balancing treatment at ESPA life at the glorious Corinthia hotel. Calm the mind and soothe the muscles with a full body and scalp massage, while the gentle sounds of the tingsha (mini cymbols) resonate with your energy source to exchange spiritual awareness and elevate your state of consciousness. In short, its time to drift away.
BOOK: espalifeatcorinthia.com
4. Indulge in Pret-a-Portea at The Berkeley
A Prada trench, a Self Portrait bag and a Christopher Kane dress, afternoon tea at The Berkeley Hotel in Knightsbridge is the kind of retail therapy that we love. The haute couture of fashionable teas in the capital, it has long been considered the pinnacle and is soon to launch its spring incarnation. If you want a taste of fashion history there's still time to try the autumn/winter collection. The combination of colours and textures are hard to resist – just what the soul needs at this time of year.
BOOK: the-berkeley.co.uk
5. Treat yourself to a Townhouse manicure
A surefire way to brighten a grey day is with an envy-inducing manicure, especially if you're in the safe hands of leading luxury nail salon Townhouse. Scroll through an iPad featuring the impressive customised color-range while you sip a glass of Rose, or sample one of the exclusive nail oils – the combination of expert staff and state of the art technology in beautiful surroundings makes for a flawless and very relaxing experience. With its ninth salon in Mayfair just opened and a new venue on the King's Road coming soon, it's not one to miss.
BOOK: townhouse.co.uk
6. Forget cooking with The Good Prep
Feel like a personal chef would help you achieve your health and fitness goals this winter? Let us introduce The Good Prep, the premium meal prep service that offers fresh, ready-to-eat, chef-cooked meals delivered to your door. Brimming with nutrients and great taste, you can improve your diet, save time and reduce your food waste. Our favourites are the sticky Thai meatballs with kale and supergreens, and the red pepper salmon with cabbage and carrot. There are also healthy snacks like granola bites and fresh juices to try. Plus new meals are added every few weeks. It's a great way to kickstart your healthy eating plan.
EXPLORE: thegoodprep.com
7. Get to the bottom of your health with the Effect Doctors at Bamford Spa
Launching this month, Bamford has teamed up with leading health concierge service Effect Doctors to offer a more comprehensive approach to your wellness, with a host of intravenous infusions to help you feel more refreshed, energised and restored. Everything is prescribed by a team of doctors and administered by highly-trained nurses. The spa also has intramuscular booster shots of Vitamin D and Vitamin B12, especially important at this time of year. There is blood testing and analysis, as well as hormone replacement therapy referrals – it is time to get to the core of your wellbeing.
BOOK: bamford.com
8. Go Danish and Japanese
Eat yourself happy with that perfect mix of Danish hygge and Japanese wellness at popular Copenhagen eatery Sticks'n'Sushi's new venue. The restaurant has just launched at Westfield London, where you can indulge in the unique mix of traditional sushi and grilled yakitori sticks. Don't miss the Ebi Bites (tempura shrimp) and the Hotate Kataifi (scallops, miso aioli and trout roe). It's the perfect warm winter hug without feeling like you have overdone it.
BOOK: sticksnsushi.com
9. Unwind in style at The Beaumont
Take time out at Mayfair home-from-home The Beaumont's spa with its host of new treatments launching this month. Filled with glamour and art deco charm, you can relax in the steam room and sauna followed by the marble plunge pool, or indulge in one of the signature treatments in the four luxurious treatment rooms. Whether it's a signature Nutri Glow facial by OSKIA, or a hammam with artisanal beauty brand La Sultane de Saba or the new Akwaterra hot stone massage using an innovative massage technique. Our must try is The Beaumont Haven, complete with foot ritual, body scrub and wrap, and full body massage, as well as a mini facial. Finished with classic afternoon tea – what could be better?
BOOK: thebeaumont.com
10. And try scent by post with a floral subscription service
A perennial favourite and one of the easiest ways to brighten your mood is with a floral delivery subscription, and there are a host of new services to choose from. From big, bright and beautiful bouquets from Bunches to artistic dried flowers from Amarante London as well as incredible sculptural displays from Sage Flowers – why wait for Valentine's Day? Your doorstep is about to get a whole lot more colourful.
TRY IT: bunches.co.uk | amarantelondon.com | sageflowers.co.uk
Featured image: Pret-A-Portea, The Berkeley