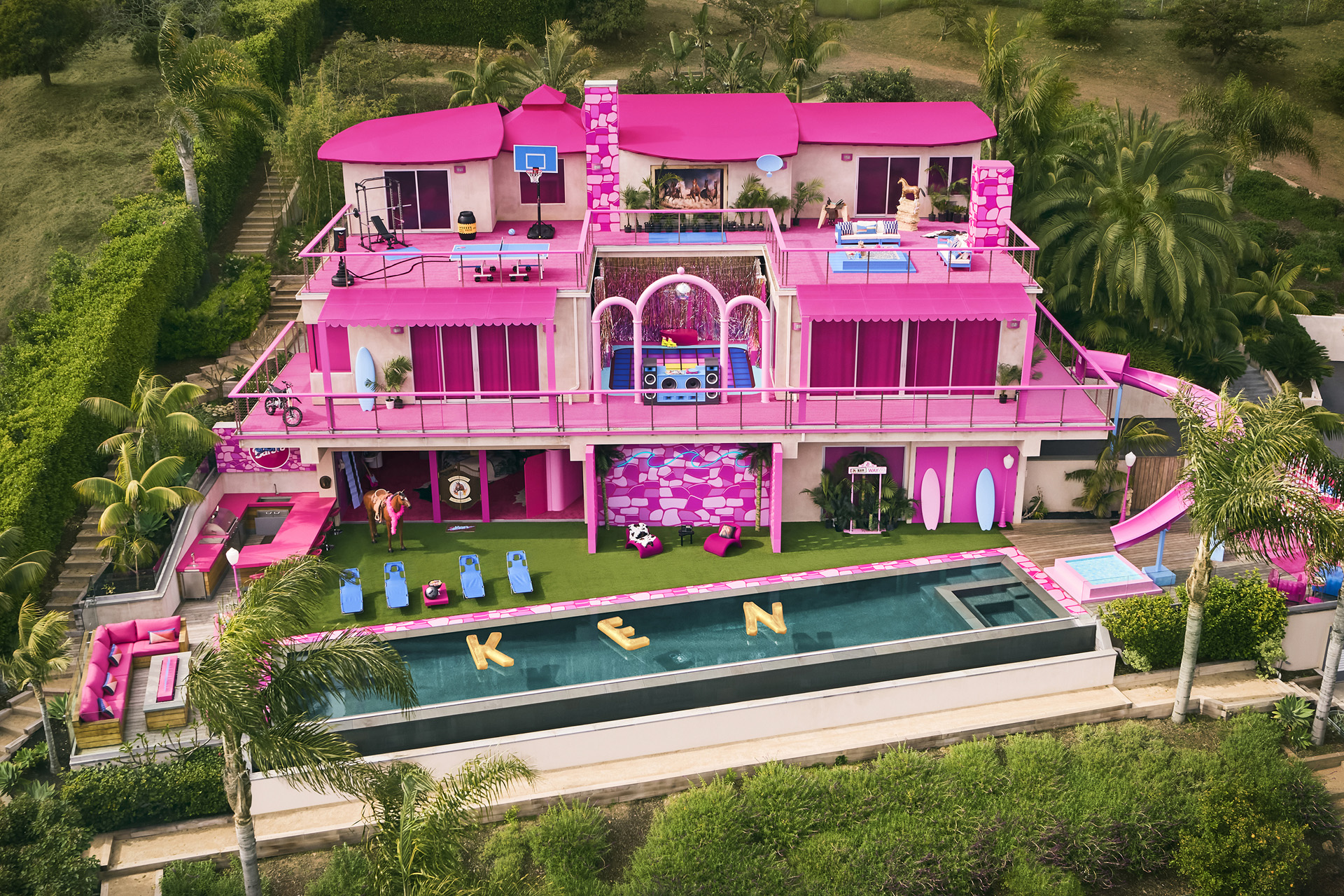 Here's How To Stay In Barbie's Malibu DreamHouse
And yes, it really is in Malibu
While Barbie is away (promoting her brand new film), Ken… rents out her Malibu DreamHouse? Airbnb is the latest in a long line of brands collaborating with Barbie in the lead up to Greta Gerwig's soon-to-be blockbuster. Here's how to book Barbie's Malibu DreamHouse. (Or just look at these gorgeous photos…)
Here's How To Stay In Barbie's Malibu Dreamhouse
Airbnb is back with its iconic movie collaborations, previously offering lucky holidaymakers the opportunity to stay in the likes of the palace from The Empress and the Hocus Pocus cottage. Now it's Barbie's turn: an incredible Malibu DreamHouse has appeared in Florida, and here's exactly how to get your hands on the keys.
Barbie fans can request to book Ken's bedroom in the Malibu DreamHouse for a one-night stay for two on either 21 or 22 July 2023 (to coincide with the movie release, of course). Two lucky fans will win one of the individual stays, and will rest their head in Barbie's house free of charge. Booking requests will open on 17 July 2023 at 10 am PT (that's 6 pm in the UK). 
The DreamHouse is, indeed, dreamy – and by that we mean something plucked right out of the head of a pink-obsessed Barbieland resident. An oceanfront mansion genuinely located in Malibu, visitors can expect panoramic sea views, a wardrobe brimming with Ken-tastic beach fits, an outdoor disco dancefloor (line dancing, anyone?), and a stunning infinity pool. This year, however, there's a new Kenergy about the place. Take a look inside…
Clearly, pink still reigns supreme at the toy-inspired property. Plus, the winning guests will get to take home a piece of the Kendom with their very own set of Impala rollerblades and surfboards.
'We all have dreams, and Barbie is lucky enough to have a house full of them,' says Ken. 'But now, it's my turn, and I can't wait to host guests inside these one-of-a-kind – dare I say, one-of-a-Ken? – digs.'
BOOK IT
So, fancy living it up in this slightly surreal, toy-tastic Barbie world? Ken's Bedroom in the Barbie Malibu DreamHouse opens for booking requests on 17 July 2023 at 10 am PT (6 pm BST) at airbnb.com/kendreamhouse. Two requesters will win a free-of-charge one-night stay on either 21 or 22 July 2023 – but the eventual lucky guests are responsible for their own travel to and from Malibu.
Missed out, but still fancy a Barbie-tastic holiday? Check out these hot pink hotels